Video: Gor Mahia vs Esperance in 1987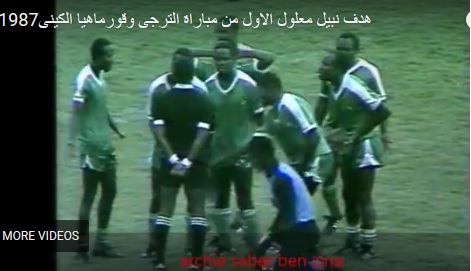 Its a rare treat for Kogalo fans to be able to watch players from the legendary side that won the Africa cup in 1987.The video is heavily edited to show mostly Esperance highlights despite the fact that this match was evenly balanced. Indeed this match was televised and replayed on KBC TV several times in the run-up to the epic second leg at Kasarani. Those like myself who watched will tell you that the match was evenly balanced.
Resolute defending by the backline quartet of Peter Otieno Bassanga (15), George Otieno Solo (11), Tobias Ocholla (4) and Austin Oduor(6) Kept Kogalo in the game and David Ochieng Kamoga was solid between the posts.
At the 23 second mark he is called upon to parry a corner kick then has to quickly react to punch a powerful shot from Nabil Maaloul out for another corner. It is this second corner that results in the first controversial penalty awarded to Esperance. The ball hits Bassanga in the stomach and the referee inexplicably gives Taraji a penalty which Maaloul converted with class.
Kogalo players surround the referee and beseech him to reconsider. Perhaps sensing that a scene like Zamalek 1984 is about to erupt, skipper Austin Oduor asks the players to leave so he can talk to the referee. Bassange is yellow carded for his dissent and has to be further calmed down by Solo.
At the 4:30 mark, Anthony Ndolo comes on for an injured Sammy Onyango Jogoo. Ndolo would be instrumental in Kogalo's second goal.
At the 6:22 mark, Charles Otieno wins the ball in midfield and puts George Nyangi "Artillery" through. Nyangi attempts to cross the ball and it is seemingly handled by an Esperance defender Ali Ben Neji. No penalty.
At the one minute mark, Charles Otieno finds Sammy Onyango on the right wing. Jogoo deftly loses his marker and unleashes one of hos trademark grass-cutters which forces a save from the goalkeeper.
It was Abbas Magongo who started the move that ended with the first goal and it is he who finished it at the 3:00 mark of the video. He plays the ball to Janabi who sends a long ball to Dawo. But Dawo can't shake off the close attention of two defenders but the lose ball falls to Magongo who calmly controls the ball on his chest and unleashes a screamer that goes in via the cross bar.
The penalty awarded due to a supposed Isaiah Omondi handball happens in the 6:30 mark and is highly controversial.
The comical scene where Isaiah Omondi chases an Esperance player who in turn runs away for dear life happens at the 8:10 mark. Kenyan fans were laughing about this scene for days.
With time waning and Kogalo seemingly headed for a 2-1 defeat, Peter Dawo wins an aerial duel off a David Ochieng punt. The ball goes to Ndolo who heads back to Dawo. Dawo in turns scores with a scorcher that leaves Esparance stunned to tie the game at 2-2.
Line-Up:
David Ochieng(1), Tobias Ocholla(4), George Otieno Solo(11), Peter Otieno Bassanga(15), Austin Oduor(6), Isaiah Omondi(5), Charles Otieno(3), George Nyangi Artillery(9), Peter Ochieng Pierre(12), Peter Dawo(7), Sammy Onyango(14).