Of all the Gor Mahia players who have gone overseas to pursue professional contracts, virtually none have succeeded with the exception of those who headed to neighbouring countries like Sudan and Tanzania. Those who ventured further afield came back with stories of poor treatment at the hands of coaches and other members of the technical bench.
Kevin Omondi banned from South Africa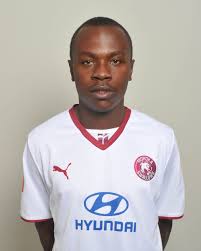 Kevin Omondi has apparently been banned from returning to South Africa after his visa expired and he was unable to renew it. Omondi was declared an 'undesirable person in the republic of South Africa (SA) as from October 29, 2014.' He received the shocking news on arrival at Oliver R Tambo International Airport while leaving for Nairobi.
"When I got to the airport, the immigration staff took my passport then gave me papers to sign saying that I had outlived my welcome by months. I tried talking to the immigration officials about the contractual obligations between me and Moroka Swallows but they could not listen.
A furious Omondi lashed out at the South Africans
"Wanafikiria huko kwao ni heaven. Wanaona nikama hapa Kenya, sisi tunateseka sana (they think their country is heaven and behave as if we are suffering in Kenya)," said the midfielder popularly known as "Ade". said Omondi to the Nairobian.
In essence Omondi was banned from South Africa for overstaying his visa. Omondi however declared that he never wishes to go back there.
"Who told them that I ever want to go back there? I have no desire to go back to South Africa. Those people have no respect for humanity. They treated me like a dog. Not even my childhood club FISA could subject me to such conditions," he said.
Omondi's travails can be traced down to Moroka Swallows, the club that had expressed an interest in signing him. He stated that before leaving Nairobi for Johannesburg in June, Swallows president had agreed to help him get a work permit. The entire time I was with them, it was clear that the coach did not want me at the club. There was a feeling at Swallows that I was a player signed by the president. For four months, I stayed in a guest house. Two weeks before my return, they sent me to Cape Town, where I stayed in a small room with four other players. I could not take it anymore. I had to leave," lamented Omondi.
Omondi narrated that before leaving Kenya, he had a chance at Bloemfontein Celtic FC on trials, but Swallows' president offered to sign him after watching videos of his previous games. "I had an opportunity of cutting a deal with Ajax Cape Town as well, but Swallows came calling too soon and I thought it was a good opportunity to take. After deliberately frustrating my efforts to acquire a work permit, the president sent me word that I should try playing for Cape Town FC in the lower tier league," revealed Omondi.
According to Omondi, the trip to Cape Town was an effort in futility because he had already given up on ever playing in South Africa after consultations with his agent. "I am done with them and now I want to focus on my career as a Kenyan footballer. I am in no hurry to leave. If God planned that I will one day turn pro, then there should be no hurry. As for now, my local fans should expect me back soon," explained the 24-year-old. Omondi, who is a father one, said that he regrets leaving Gor and will not forget his experience in South Africa.
Injury sidelines Lavatsa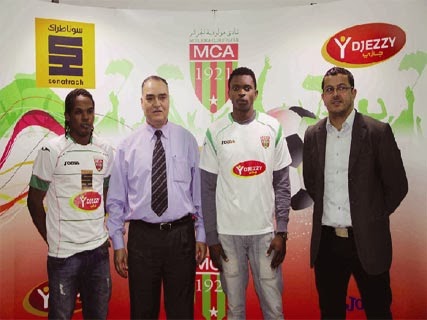 Unlike Kenya where a club can be patient with a player through multiple injuries , foreign teams will drop a player the moment he picks up what appears to be a recurring injury or a long term injury. Such was the case with Edwin Lavatsa.
He revealed to goal.com that  says that an ankle injury and change in the coaching department is the reason he was dropped by top Algerian club MC Algiers."I sprained my ankle four weeks ago and it became difficult to train. The club called me and gave me an ultimatum, either to take a huge salary cut or terminate my contract and get paid half of its remaining value. I opted for the latter," Lavatsa told Goal.He added: "Things were made even more difficult by the fact that the coach, who signed me was fired and the new man in charge wanted fit players."
Lavatsa had left the Gor Mahia camp unceremoniously prior to the start of the 2014 season
Blackberry sidelined in Denmark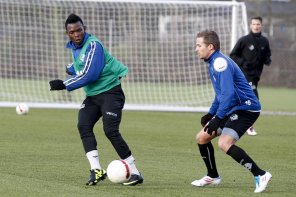 George Odhiambo "Blackberry" had been the Kenya player of the year in 2011 when he embarked on what looked like a promising career in Denmark. The Danish side indicated that they had been watching him for a long time and that he was the perfect fit for the club.
Things however went south when he arrcived in Denmark. He could not get any playing time. The coach did not bother to explain why.  Even when Randers were demoted to the Danish second tier, he was still not getting to play.  They finally claimed he was not adjusting to Danish football.
The writing was on the wall when Randers went to Turkey for a pre-season trip to Turkey but Blackberry was not included. So he asked to be released for tryouts in Finland with club side Kups. Despite impressing, the Finnish side did not select him.
In his  last few weeks, Blackberry lost his patience and had a run in with his coach Michael Hemmingsen as the reason why he and Randers FCand finally they both decided mutually to terminate the contract. It is likely that Blackberry was frustrated at his lack of playing time. Indeed he made his frustrations known to the Danish media.
Rama Salim
Rama Salim went to Qatar to join second tier side Al Markhiya. Despite working very hard, Salim barely saw any playing time. Then one time during a training session, he physically accosted a team-mate who had tackled him roughly. Al Markhiya suspended him. He would return a month later but by then he had become surplus to requirements. Rama also attended trials with Bloemfontein Celtic of South Africa but he was not selected.