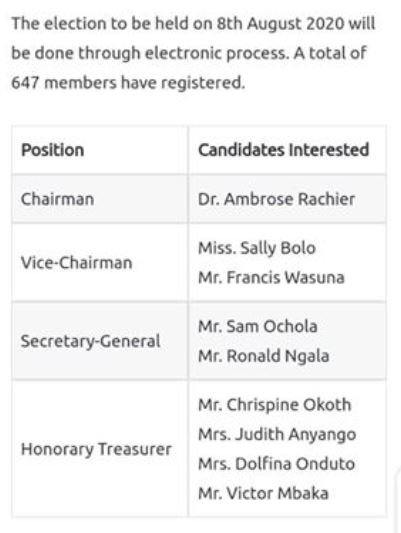 Gor Mahia chairman Ambrose Rachier is adamant that a degree from a University is a minimum requirement to vie for an elected position at Gor Mahia. And he is adamant that the club will not turn back on the position despite protestations from Judith Nyangi who is interested in vying for the position of treasurer.
Additional reporting from the Nation
Gor Mahia chairman Ambrose Rachier maintains the club will hold its forthcoming elections under a new constitution that dictates all elected officials must, among other qualifications, possess a university degree.
This requirement has, however, been opposed in some quarters.
Outgoing organising secretary Judith "Nyangi" Anyango, who is eyeing the treasurer's seat, vowed to challenge the new document at the Sports Disputes Tribunal (SDT).
The Kenyan Premier League champions will head to the polls on August 8, and Rachier, who is gunning for a fourth term in office asserted that the new constitution had already been deposited at the Sports Registrar's office.
The senior city lawyer, who has been at the helm of Gor for the past decade, also fell short of confirming whether or not he will serve for a final if re-elected.
"There is no turning back," said Rachier.
"This club is no longer governed under the Societies Act and the Sports Act 2013 demands we register as a sports organisation. We have to align our constitution with the (Sports) Act, which we did last year when members met at Jukwaa Lounge and adopted what is now commonly known as the 'Jukwaa Constitution'."
As opposed to the previous constitution which had 11 elective positions in the club's National Executive Committee (NEC), the new document provides from five elected positions namely chairman, vice-chairman, secretary-general, treasurer, and organising secretary.
An elected official will serve for four years, and not three as is currently the case.
"Someone is trying to lock us out (of office) and he is using this degree thing," said Anyango, a diploma holder.
"But we will not allow that. Most members of parliament and County Assembly do not have degrees and yet they handle more sensitive and taxing roles. I will petition the Registrar and move to the SDT," said Anyango
Rachier also said the club members will for the first time virtually elect the new officials via mobile phones, owing to a government ban on public gathering to tame the spread of Covid-19.
"Technology is key in today's world. I'm virtually studying my Master's degree at Trinity University in the USA. I am in my third year and yet have never set foot at the institution in Illinois," said Rachier.
"It will be a cheaper and transparent exercise. We do not need the police as there will be no unruly people."K'Ogalo is one of the most popular and successful football club in East Africa.
Both Dolfina and Nyangi posted their qualifications online