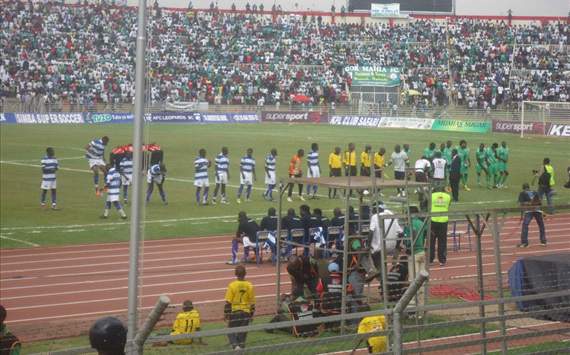 Courtesy of futaa.com
Kenyan Premier League traditional rivals Gor Mahia and AFC Leopards will clash in the second edition of the annual KPL Top 8 tournament set to kick off on 7 March 2012.
The draw conducted on Wednesday 22 February at the Hilton Hotel Nairobi Amboseli Room placed the two head to head.
dates could change
This match could be the curtain raiser though that will depend on Gor Mahia's tricky Confederations Cup and KPL fixtures. Any of the other top8 fixtures could then take the slot.
The Top 8 fixtures are spread across all Wednesdays starting the 7 March 2012.
KPL Top 8 inaugural and defending Champions Ulinzi Stars who are also the KPL 2010 Champions will sweat it out against the millers from Chemelil while current KPL champions Tusker FC will face Rangers FC.
Running for the second year
Another former league Champion Sofapaka will also be in the milling plant to face SoNy Sugar with the teams contesting for the Kshs 1 million jack pot set aside for the eventual winners.
The tournament will be running for the second year now after the first ever last season won by Ulinzi Stars. The military side carried the trophy after seeing off fellow finalists Western Stima 2-1 at the Nyayo National Stadium.
Draw in full:
AFC Leopards Vs Gor Mahia 7 March 2012
Tusker FC Vs Rangers FC 14 March 2012
Ulinzi Stars Vs Chemelil Sugar 21 March 2012
Sofapaka FC Vs SoNy Sugar 28 March 2012
20 comments
motema pembe posted on February 22, 2012:

Bring it on Ingwe we are ready for you guys.

Jack Okello posted on February 22, 2012:

AA must go

bob obingo posted on February 22, 2012:

Hi i hate to say this but i must. I hace just watched kogalo play debutants muhoroni and : 1) the team has no philosophy and are playing an open game. 2) there is no recognisable system 3) the coach haals no idea of a first 11 so i wonder why there were friendlies before the season started
Way forward :
There is nothing to look forward to except a trophyless season

Dan posted on February 22, 2012:

why?

Mark Kirario posted on February 22, 2012:

Ingwe get ready to be feathered and cloned …..mtatwangwa mbaya mbovu

Dan posted on February 22, 2012:

From what I read looks like we are having a bad spell over us. We need to exorcise that ghost. How to do it I don't know. At this rate the players confidence will go down. Poor GM. I hope we will not start pointing fingers and calling each other names. Let's be objective and make sure we build and not demolish. If it's the players we have the best, the office got the officials we wanted. Now I wonder what's missing. Do we do a Zambia and go to GM's burial site? Someone tell us. Hizi aibu ndogo we don't need this year. And we were optimistic of turning the tables against Ferravario? No way. I feat that even fans will desert the team. And in two weeks we meet Ingwe!! Someone blogged that to win the league you need to beat the small teams and afford to lose the big matches. He couldn't be further from the truth.

Ochigah posted on February 22, 2012:

it is very sad indeed. Look at the lost opportunities, players getting disorganised when they get at the goal mouth, ball possesion 68% against 32% Ngwa hitting goal post, Gatusso missing a penalty,

Eblazing posted on February 22, 2012:

Gor is dead and buried. Someone said this team going nowhere this year and he was almost slaughtered. This coach for sure has no 1st eleven. I dint see the reason we over recruited. This team misses so many chances and then start blaming black magic from the other team. A leopard is coming to gore us. There is no stand out leader in the team. Am tired. Ati Ahono? Just because he took charge of the team's last three games and followed what fans wanted in fielding and you guys thought he is the best? Let him go for EngSwa lessons to communicate properly!

Ja Ngere posted on February 22, 2012:

The only problem with Gor is that we do not have AA's CV,which clubs he coached b4 he came to mahia.Ogango trailer pls know that niko ngangari kama mawe the only issue is that my team hiko chini tu sana. 4 Gor forever.

arrumtiddi posted on February 22, 2012:

We are still Gor mahia!!!!

jakoyo posted on February 23, 2012:

I knew it , I knew it , I knew it………….gor mahia players are overrated. the new signings do not have the basics in football. we are paying the price for the pre season panic buying. truth be told…..gor mahia did not need all the players they acquired

otieno okwiri posted on February 23, 2012:

i think aa alikuwa anafanya kazi ya welding befor he came here, masika went and we needed a replcaement of his calibre or higher, not mosoti and yusuf juma, in kenya the only guyz of that pedigree are pascal ochieng and george audi owino (is he still injured?) @ left back yusuf juma is a waste we shld have gone for john leftie njoroge with versatile wekesa as cover, we still need a good attacking midfielder like jamal mohamed or better, gor shld not play second fiddle to any club bcoz even ingwe supporters dont have the passion and the drive of the green army

Benson Disi posted on February 23, 2012:

My friends, why is it that you Guys dont learn from your mistakes…..you consistently commit so many mistakes that your opponents are able to know and capitalise on them! I said before on this blog that you lost the best Coach you had and will ever have in the name of Zico and the time to realise is nigh!

Arthur okello posted on February 23, 2012:

I feel there is lack of command from our head coach comparable to previous one.we keep on gambling players in different position.Its high time gm identify winning team.Lets not please player or management by fielding specific player to justify their transfer to GOR MAHIA.We spent a lot of money for that purpose to strengthen team not to bench others

Jakajimbo posted on February 23, 2012:

Wen is the next game?

Otuol Otuol posted on February 23, 2012:

Shame on Kogalo player. lets wait and see what will hapen. W ho doesnt know that the biggest fans base are pple froim nyanza anmd by the way did you know that Gor Mahia is not the only team fron the tregion? what about Muhoroni Youth, Sony, and Chemelil? Which of the three teams is/are from the region? to hell with the non performing teams we can not waste our time every stupid people are playing leaving our wives, husbands children and other members of our families only to end up with zero points. to hell with traditional looser. what would happen if every team had such a b9ig fan base like the one that Kogallo enjoys? Nonsense shame on Gor mahia we are watching you fools.

vallary james posted on February 24, 2012:

manze gor this season hamuna bahati ingwe wamewaka moto anzenu kununua gunia zakubebea mabao.!!!!!

Engineer posted on February 24, 2012:

All you hopeless GM fans go unleash ua emotions somewhere or mature up in your analytical thinking, one good game on a bad day is very normal in Futa, guys we played well against muhoroni, i guess some of these bloggers are the same dudes who just smoke bhang and not watch futbal and r quick to blame people on what they understand and know nothing about. Please let us behave like people who stepped in to a university and did abit of fourier series or laplace transfromation ie lets be practical and not let our emotions run over our reasoning and make us look like fools , you guys are the same pple who will fail Jakom .Guys get real and practical Muhoroni just had alicky day and Gor had one of those bad days in football.

odera posted on February 26, 2012:

y complain about leaving your wife, husband, children or family members in the house to come and watch GM, when coming to support GM one comes at his own will and nobody is always forced to come and cheer the team so if the the looses that is none of ur business. when coming to watch a football match one should get ready for three results i.e a win, a loss or a draw. grow up. will support gor to the last game.

Gabriel Namisi posted on March 21, 2012:

Gor must be prepared to accept defeat and should be ready to disband the whole team coz this season hawana chao. Let them prepare to be relegated. I bet AFC will win the league unbeaten.
RSS feed for comments on this post.
Leave a comment
---
Read more