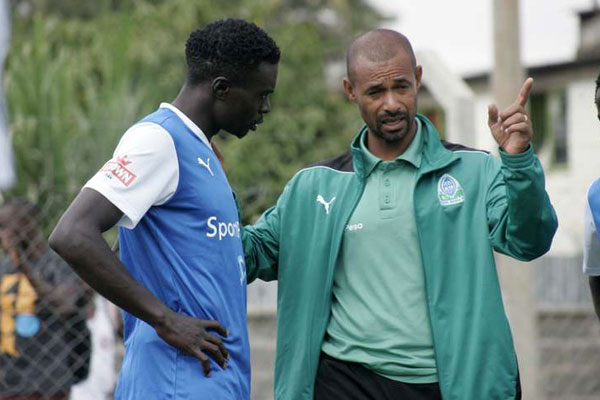 Speculation has been rife that Gor Mahia's Brazilian tactician, Ze Maria could be shown the door soon. This comes after a series of poor results in the Kenya Premier League and most notably in the GoTV shield where Gor Mahia were eliminated by second tier side Nzoia United. Arch rivals AFC Leopards who were also eliminated from the GoTV shield and promptly jettisoned their Belgian coach Kim Minnaert. However club official Ronald Ngala has said that no discussion of the coach's status has happened.
"The coach (Jose Marcelo) is with us and at the moment he is here to stay. Just like any other person, he is concerned about the team's form and we understand he has been trying to work so hard but results are not coming," said Ngala to the Standard.
Ngala did say that the club Executive Committee is concerned about the run of poor results and is monitoring the situation closely.
"With the current form, you will hear a lot of things about the team, but when the results start coming they will die. Nobody has given him an ultimatum, but we are trying to do everything possible to ensure the team gets back to its winning ways," Ngala continued.
The current run of poor results has puzzled many fans. When Ze Maria joined, the club was very close to the relegation zone. However with the recovery from injury of Tuyisenge, the club shot straight to the top of the standings. But since then it has been downhill. Suddenly Tuyisenge who was on a scoring spree can no longer find the net. Kagere's form from 2015 is all but a memory. One explanation is that with Khalid Aucho gone, the midfield has lost an important ball winner and passer. But that alone cannot explain the current run of poor form.
Another explanation is that When Ze Maria arrived, he injected new tactics which caught many teams by surprise, resulting in good results. But teams have now adapted to those tactics and have figured out how to defend against the system. The mark of a great coach is the ability to adapt and change tactics from game to game and from situation to situation. When one playing style is not working, its up to the coach to change and adapt new tactics.
Ze Maria has had almost two weeks and now has five more days to show some improvement. The next match is against Chemelil at Nyayo stadium on Saturday. Later this month, Gor Mahia will face Ulinzi and arch rivals AFC Leopards.