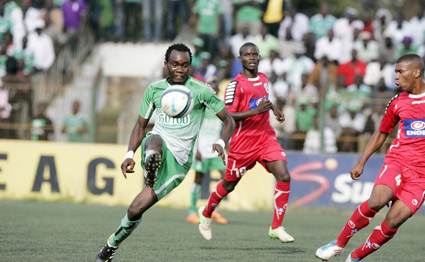 The future of Timothy Otieno at Gor Mahia has become uncertain. Otieno who joined Gor Mahia on a 6 month contract in July is now outof contract. Negotiations with the club have stalled. The club has offered a two year contract but Otieno wants money upfront.
"My current contract expires this month and we are still negotiating an extension. The club has offered another two-year contract, but I can't sign without getting the down-payment," said Otieno to the Standard.
"It's my first experience in topflight football and I really enjoyed it at Gor. Sofapaka and Tusker have already approached me, but I love Gor and I am more than willing to extend my stay here. At the moment, talks have stalled because we have failed to agree on some of my demands. Let's wait and see what happens. I am expecting the officials to call me again." continued Otieno.
When contacted, assistant Secretary General Ronald Ngala, the official denied that the contract extension negotiations with Otieno had stuck. In the meantime other clubs like Sofapaka and Tusker have expressed interest in signing the youngster.
The former Kakamega high school star showed a lot of promise when he joined Kogalo in mid-season, replacing Rama Salim in the starting line-up. He soon became a favourite of coach Bobby Williamson.
Gor Mahia and Tusker chase Olunga
Both Gor Mahia and Tusker have shown an interest in signing towering Thika United forward Michael Olunga. This according to a report by the Star newspaper. Olunga is another product of Kakamega high school. When he was named secondary school player of the year, he immediately announced that he was interested in playing for Gor Mahia. But Gor Mahia already had several strikers like  Sserunkuma, Lavatsa, Rama Salim and were pursuing Kiongera.  Olunga most recently featured for Thika United where he is now out of contract.
Gor Mahia to pursue young players
With purse strings tight, Gor Mahia will be pursuing younger players for the upcoming season according to CEO Lordvick Aduda
"We have had a strategy in place which we formulated alongside the club technical bench and we will be working on it as you know the transfer window only opened up on Monday and it is too soon to declare our targets," said  Aduda to the Star.
Aside from Olunga and Otuoma, Aduda indicated that they would be pursuing Ronald Omino of Muhoroni Youth.