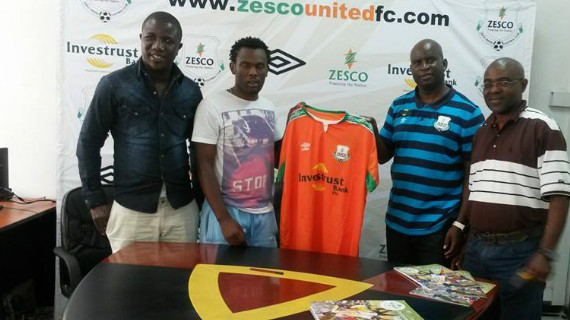 David Owino "Calabar" has finally put pen to paper with Zambian side Zesco United after having passed the club's medical exam. The move ends months of speculation about his future.
"Calabar" joined Gor Mahia in December of 2011. He has played for the club for three seasons. In those seasons, Gor Mahia won the league twice and finished second once. His contribution to the club's success during these years cannot be gainsaid. He has been the most consistent defender not just at the club but in the Kenya Premier League, able to slot in at either right back, left back or central defence. His solid play saw him earn KPL defender of the year honours twice in a row.
Defining Moment
It also enabled him to be a permanent fixture for the national team where he extended his solid play. His defining moment came during a national team encounter with the Nigeria Super Eagles where he bottled Victor Moses who at the time was playing for Chelsea in the English premier league. Though the match is mostly remembered for the memorable free-kick that Francis Kahata struck. It is also remembered for the marking job that David Owino executed on Victor Moses. It had shades of the marking job that Austin Oduor executed on the Liberian George Weah in 1989. Weah was the best striker in Africa at the time and would later become European player of the year. That match earned Owino the nickname "Calabar" a reference to the fact that the Kenya-Nigeria match was played in the town of Calabar. Prior to that he had been nicknamed "Jashirati" in reference to the famous Tanzanian musician Daniel Owino Misiani who is from Shirati village in Northern Tanzania.
Crucial Goals
His solid marking has been evident in every match he played. But also evident were his brilliant forays upfront that saw him score crucial goals for both club and national team. None was more important than the equalizing goal that he scored against AFC Leopards in 2013 as Gor Mahia marched towards their first title in 18 years with AFC breathing down their neck. A loss to AFC would have been devastating. Calabar saved the day.
At national team level, he enchanted Harambee stars fans with his menacing forays on the wings. He also scored several superb goals. The most memorable was the goal against South Sudan in the 2013 CECAFA cup in which Calabar made a mazy run on the left flanking before finishing with aplomb. He also scored the winning goal as Kenya fought gamely to beat Namibia 1-0.
Suffice to say that his solid play has been instrumental in enabling Gor Mahia to win two titles. Also important has been his leadership, hard work and self discipline which served a s good example to other players and saw him voted as Vice Captain.
Shades of past Gor Mahia defenders
Looking back at other right full backs, who have played for the club, Calabar ranks right up there with the best. Paul Oduwo "Cobra" was famous for his tireless runs up and down the flank and his robust tackles. Zedekiah Otieno "Zico" also made several runs upfront and was a brilliant crosser. Tobias Ocholla was famous for his tight marking and long throws. Swaleh Ochieng was a solid tackler and marker with out of this world fitness and discipline. Peter Otieno "Bassanga" was a leader of men and was elected captain within 2 years of joining the team. Owino "calabar" appears to have many of these attributes.
Early Days
Owino Calabar started at the youth team of Nakuru All Stars Academy in 2004 which was then called St. Josephs academy. At the time he was nicknamed "Angoloma" in reference to the big French central defender Jocelyn Angoloma.  Owino played for Nakuru All Stars senior side until 2008 then moved to Karuturi sports club. In 2011 when he signed for Gor Mahia. His move to Gor Mahia was not successful at first as he found himself warming the bench as Croatian Coach Zdravko Logarusic cited his lack of height as a reason for not fielding him more often.
Zesco
Owino "Calabar" said he was happy to finally join Zesco.
"I am happy to join Zesco United, I know it's a result oriented team, am from Gor Mahia that has the same stance and both teams are champions. I love to play for champions because I believe a team attains the status of champions because of hard work," he said to the Zesco website.
This column would like to thank Calabar for three solid seasons and wish him the best in future endeavors. He will always be welcome back at Kogalo in the future.