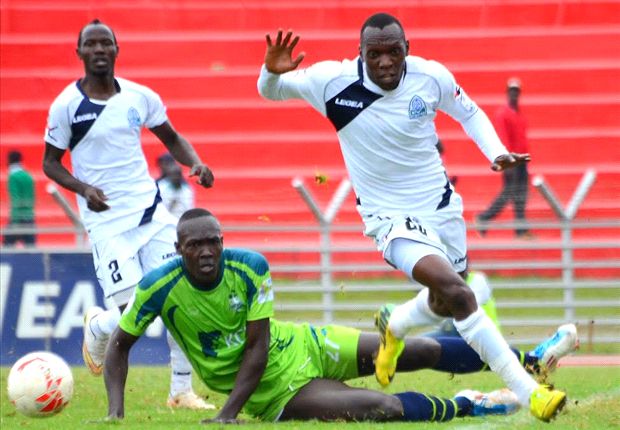 Gor Mahia chairman Ambrose Rachier has told Capital FM that the club is in contact with Rwandese striker Meddie Kagere and is weighing options to bring him back. Kagere was one of the pivotal players in Gor Mahia's record breaking season in 2015 and scored what is arguably the goal of the year, a gem against Nakuru All Stars.
"We are talking with Meddie and also consulting with the coach because he has to be involved. Meddie is interested in coming back and we are also interested in bringing him back but it will depend on the dynamics of the coach. We are definitely looking for a striker," Rachier said to Capital FM.
Gor Mahia are hamstrung by the fact that the quota of foreigners is limited to five per team and Gor Mahia has already reached that quota. And all five foreign players are playing well.
"For sure it is giving us a headache if we get in any foreigner because we already have five. We are quite satisfied with the performance of those we already have, but one may be sacrificed in the interest of having a balanced team," Rachier added.
The addition of Kagere would create a formidable partnership upfront. Tuyisenge and Kagere are familiar with each other's style of play and would mesh together quickly. Tuyisenge has a phenomenal strike rate of six goals and seven games.  Yet he does not think he has hit his best form yet.
"I did not participate in Gor Mahia's pre season due to injury. I came in when others had already played several matches and I have had to play catch up. But I am happy so far with my form but I am yet to hit my peak," he said in a TV interview on Supersport.
Tuyisenge went on to state that the welcome he received from Gor Mahia players and officials was one of the factors that has enabled his success at the club
"They welcomed me well, encouraged me when I was still out injured and now that I am playing often, they are giving me all the support."
"Mine now is to work hard to improve and help my team. I know everybody wants me to perform better than Olunga (Michael) and (Kagere) Meddie, but I will need some time to get to my best. However I can also add that I am surprised by my scoring record to this point." he continued.
Meanwhile former Gor Mahia striker Timothy Otieno has categorically stated that he has no intention of returning to Gor Mahia.
"My form had been affected by an injury and by the time I came back, Nuttall made it clear that he did not need my services. He even suggested that I go on loan to  Muhoroni Youth but when I declined, he told me categorically that he will not use me and it got so bad we were not even on talking terms. I was therefore glad when the opportunity came to join Rangers and I do not intend to go back to Gor Mahia anytime soon," he said according to betway.co.ke
At this point Otieno who has scored four goals this season and won player of the month in March, has stated that he will either join AFC Leopards in June or stay at Rangers to complete his loan spell.