2019-2020: The Year Gor Mahia overcame adversity
The 2019-2020 season will be remembered as one of the most tumultuous seasons not only in the history of Gor Mahia but also in the history of Kenya Football. The local football scene had to deal with the loss of its primary sponsor Sportpesa, which had been sponsoring both the local league and the two top clubs Gor Mahia and AFC Leopards. Then the league was interrupted by the Covid 19 pandemic that engulfed the entire globe. Through all this, coach Steve Polack had to keep the team motivated even as players went several months without salaries, key players quit the team for greener pastures while several players went on strike amid constant rumours of key players leaving.
End of 2019 season: Departure of key players and coach
2019 was a good season for Kogallo. Aside from winning the local league, the team reached new heights when they surpassed the group stage of the CAF Confederations cup, by reaching the quarter-finals. However things started to come off the rails from there. Key Gor Mahia players were busy looking for better deals. Jacque Tuyisenge who had been a reliable scorer for the team for several seasons and who in 2019 became the 5th highest scorer in the history of the team, departed for Angola. Playmaker Francis Kahata, who fell out with Chairman Rachier after the debacle where he was photographed sleeping in an airport, left for Simba Sports club. Harun Shakava who had also been rumoured to be leaving, finally left for Zambia.
Beginning of 2019-2020 season: Sponsor Departs
Betting company Sportpesa had been sponsoring several sports teams and Federations all over the country. In April of 2019, the government instituted tough new regulations for the betting sector and Sportpesa was their primary target. As a result, Sportpesa threatened to withdraw all their sponsorships. They finally did in August of 2019. Gor Mahia were hard hit as they had been receiving money from Sportpesa both as title sponsor and as league sponsor.
Gor Mahia were now in dire financial straits with no sponsor, no money coming from a broadcast deal and no money from a league sponsor. To make matters worse, attendance at Gor Mahia matches had plummeted significantly due to the unavailability of City stadium which was closed for repairs in 2016 and Nyayo stadium which was also closed for upgrades. Attendance also fell because fans no longer trusted the stewards and officials whom they suspected of pocketing gate collections. Even with a sponsor, Gor Mahia often struggled to pay players and the technical bench in a timely manner. Without a sponsor, matters were bound to take  bad turn and they did.
Gor Mahia unveils new coach and new players
After the departure of Hassan Oktay, Gor Mahia unveiled a new coach with Finnish and English connections. In came Steven Polack who had previously coached Asante Kotoko of Ghana.
Gor Mahia also unveiled 17 new signings for the 2019-2020 season: Caleb Omondi, Alphonce Ombija, Lloyd Khavuchi, Godfrey Ombijo, Richdonald Bolo, Samuel Osok, (promoted from the club's youth team), Abdalla Shira and Tobias Otieno (from Sony Sugar), Elvis Ronack (Nzoia Sugar), Maurice Ojwang (Western Stima), Robert Mapigano (Singida United, Tanzania), Dickson Ambundo (Alliance, Tanzania), Curtis Wekesa, Dennis Oalo (Nairobi Stima), Francis Afiriye (Ivory Coast), Gieslin Gikpe (Ghana)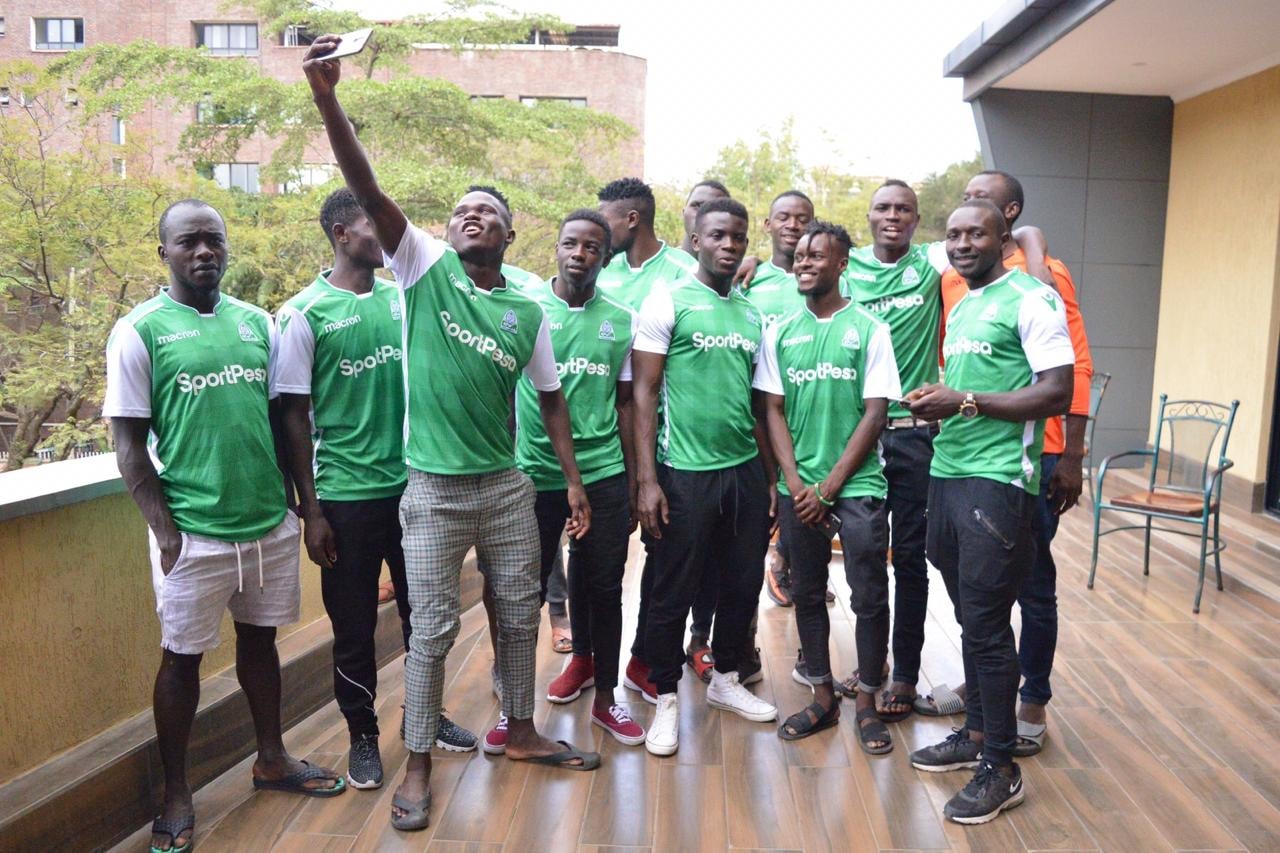 Insufficient Number of Players
In the opening round of the CAF Champions League, Gor Mahia were pitted against  Aigle Noir  of Burundi. Gor Mahia's problems started to mount when they were only able to travel with 15 players for the opening leg played in Bujumbura. Gor Mahia had earlier registered 25 players for their CAF assignments but later made several changes that led to late registrations. They thus had to make do without some players notably new signings Gislain Yikpe, Clifford Miheso and Francis Afryie.
Polack Starts with a bang
Polack's first assignment came in the away match against AS Aigle. He had only put pen to paper a few days before taking charge for this game.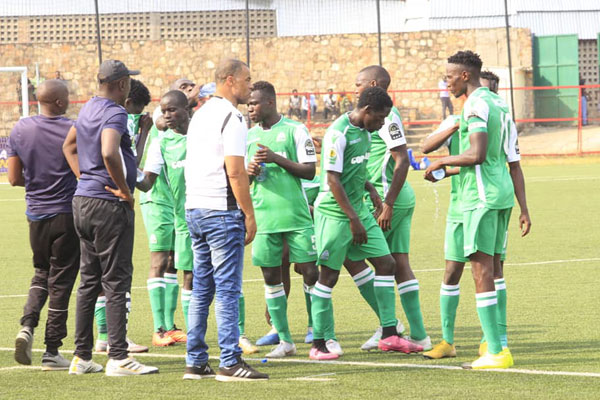 Despite playing under difficult circumstances, Gor Mahia were able to hold the Burundians scoreless in Bujumbura.
"I think it went well because we were never in danger of losing," explained Polack in his post-match comments.
"We were short of bodies but we found a way to go around that. It's just half-time in this tie and now that we have a feel of what the opposition is capable of, we will prepare for them at home."
It was during the return leg at Kasarani that Polack started to show his true worth. Having studied the Burundians, Polack devised a game plan that sliced open the Burundian defence and Gor Mahia hammered the visitors 5-1. The goals came from Kenneth Muguna, Kipkirui(2), Ambundo and Boniface Omondi.
Shortly thereafter, Polack showed once again that he was a master tactician when he led Kogalo to a 5-2 victory over Tusker.  The goals cme from Nicholas Kipkirui in the first half, before Kenneth Muguna, Boniface Omondi, Charles Momanyi added four more in the second half.
Continental Debacle
Having defeated Aigle Noir, Gor Mahia were now pitted against USM Alger, a team that Kogalo had played only two seasons earlier and had recorded decent performances against. Gor Mahia's travel plans were thrown into dissaray when the Ministry of Sport initially declined to fund Gor Mahia's travel.
"The Ministry has no money and Gor Mahia management should have written to us through the federation to get money from the sports fund instead of the ministry itself. The ministry has no money and their request has fallen through as at now," said Mr Kirimi Kaberia, the Permanent Secretary.
"We have tried looking for ways to help them but it has not been successful. We shall have a meeting on Tuesday to find a way out but as you know, the ministry does not budget for funds to cater for such travels," added Mr Kaberia.
Unlike two years earlier, Gor Mahia were no match for the Algerians this time around. They lost the opening leg 4-1 before going down 2-0 at home.
It did not help that Gor Mahia were still playing without their new signings who had been registered late.
With Gor Mahia having been eliminated from the CAF Champions League, they were relegated to the CAF Confederations cup where they were pitted against Congolese side DC Motema Pembe.
Player Revolt
With Gor Mahia's financial problems mounting, a player revolt started. First it was captain Kenneth Muguna and Vice captain Joash Onyango who stopped attending training. Coach Polack was incredulous.
"It's not my job to know whereabouts of players but the team manager (Jolawi Abondo) has briefed me that Onyango and Muguna are no longer picking his calls and communicating with him. I don't know if they have valid reasons for that but I take it as an act of indiscipline," Gor coach Steven Polack told Nation Sport on Saturday.
Despite financial issues, Gor Mahia were recording good results in the local league thanks largely to coach Steve Polack's ability to keep players motivated.
Gor Mahia vs DC Motema Pembe
Gor Mahia Now had the services of some new signings such as Ivorian Yikpe Ghislain.  Missing was Philemon Otieno who had picked up an injurry while playing for Harambee Stars. It was an injury that required surgery. Yet FKF refused to pay for Otieno's surgery. Gor Mahia for their part could not finance the surgery, resulting in a tussle between Gor Mahia and FKF. In the end, Otieno got the surgery he needed thanskl to financial assistance from Harambee Stars team-mates like Johana Omollo, Victor Wanyama and Michael Olunga.
Shafiq Butambuze, the Ugandan left fullback suffered a similar fate. After getting an injury, he did not get the surgery he needed and had to seek assistance which he got 7 months later.
Gor Mahia put on a fight. Ghislain, who started on the bench, scored with his first touch when he came on as a substitute. But the lead was short lived as the Congolese side equalized minutes later following a defensive blunder. Late in the game, defender Charles Momanyi handled in the box and was shown red by match referee Lofti Bekoussa who also awarded a penalty. But then in a twist of events Mapigano made a heroic save to deny Vinny Bongonga from the spot.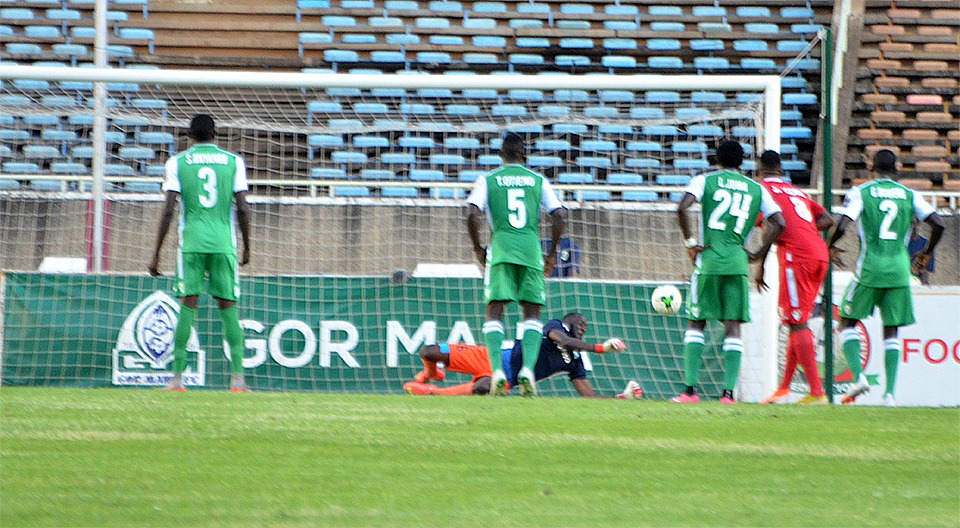 The return leg was played at the Stade Tata Raphaël Stadium. Wellington Ochieng handed Gor Mahia the lead in the 10th minute before Vinny Bongonga drew the hosts level in stoppage time of first half. Junior Kone then scored the winner for Motema Pembe in the 64th minute.
Polack blamed the lack of top class players.
"I'm not castigating the current players but Gor Mahia needs to sign top class players who can do well in continental matches. I have only stayed here for a few months and can't name the players the club is supposed to buy but in future I will know who to sign," he added.
Return to the League
Gor Mahia returned to the local league. By this time (November 2019), Kogalo still held an unbeaten record in the local league. This was impressive considering that the players had not been paid salaries since August. But the financial issues finally took their toll as Gor Mahia lost their unbeaten run to Mathare United.
Polack blamed the fact that players had boycotted training due to non-payment of salaries.
"How can you have a last training session and players don't show up? Yesterday [Tuesday] was very important for us to do the tactics ahead of the match but the players did not show up. I had at least six players who did not start from the last game and the reason we needed to train together for the match.
Mashemeji Derby
With Gor Mahia players completely unmotivated due to non-payment of salaries, arch rivals AFC Leopards saw an opportunity to beat Gor Mahia, something they had not done in over two years. The match between the two arch-rivals started on a slow note for Gor Mahia. The players looked unmotivated in the first half as AFC dominated proceedings. Apparently the players were staging a go slow to protest unpaid salaries.
At halftime coach Polack read the riot act to the players and lit a fire under their chairs. Gor Mahia came back a completely changed team in the second half and took control of proceedings.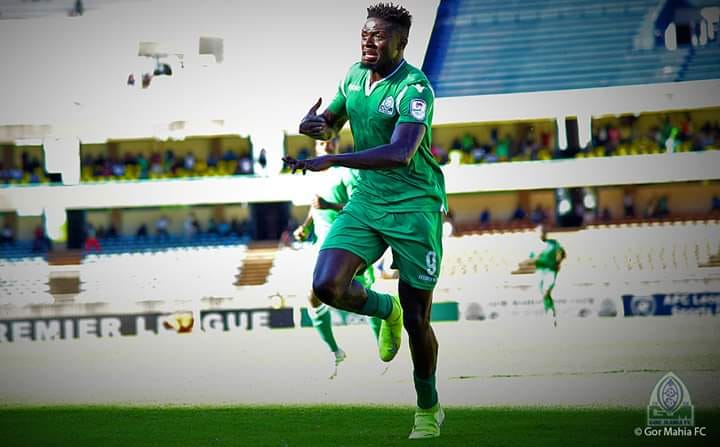 Towering Ivorian Yikpe Ghislain put Kogalo ahead at the 55th minute, towering above the Leopards defense to power in a header from a Kenneth Muguna corner.
The Ivory Coast striker was to score his and Gor Mahia's second ten minutes later after a sumptuous move from the home side. Yikpe was to start a move that ended with Clifton Miheso with the winger beating off a series of players before cutting it back for the striker who tapped the effort past Benjamin Ochan.
. A quick counter saw Omondi spring the ball to Miheso with the former Leopards man sending a long ranger shot that beat keeper Ochan at the near post; the player refusing to celebrate his effort as a show of respect to his former employers.
Leopards were to pull a goal back seven minutes from time through Tresor Ndikumana Lawrence Juma scored a fourth following some good work from Boniface Omondi down the right.
Remaining League Campaign
Having started the league campaign on a high note, Gor Mahia was ending on a low note thanks in large part to financial issues. The next game after the Mashemeji derby was a scoreless draw with Ulinzi. Coach Polack stated that players lacked motivation due to non-payment of salaries.
"To win matches we have to sort all this issues so that players can concentrate. The league is very competitive and we have to get focused so as to win our matches," Polack told Nation Sport
Polack himself contemplated quitting.
"Things are continuing to be tough not only to the players but also for me. I'm the sole breadwinner for my family back at home and I have to pay for their house and take care of them. I will have to make a decision in a few days on the way forward," said Polack, who admitted he is very broke.
During the month of Decemeber, Gor Mahia went through a period of two weeks where players did not train. Again this was due to non-payment of salaries.
"We are not in a good position, we have not trained for two weeks, everybody knows we have not been training, we only trained two weeks ago,"
Soon thereafter, Ivorian Yikpe Ghislain, left the club to join Young Africans of Tanzania and Ghanaian Francis Afiriyie left to join Township Rollers of Botswana.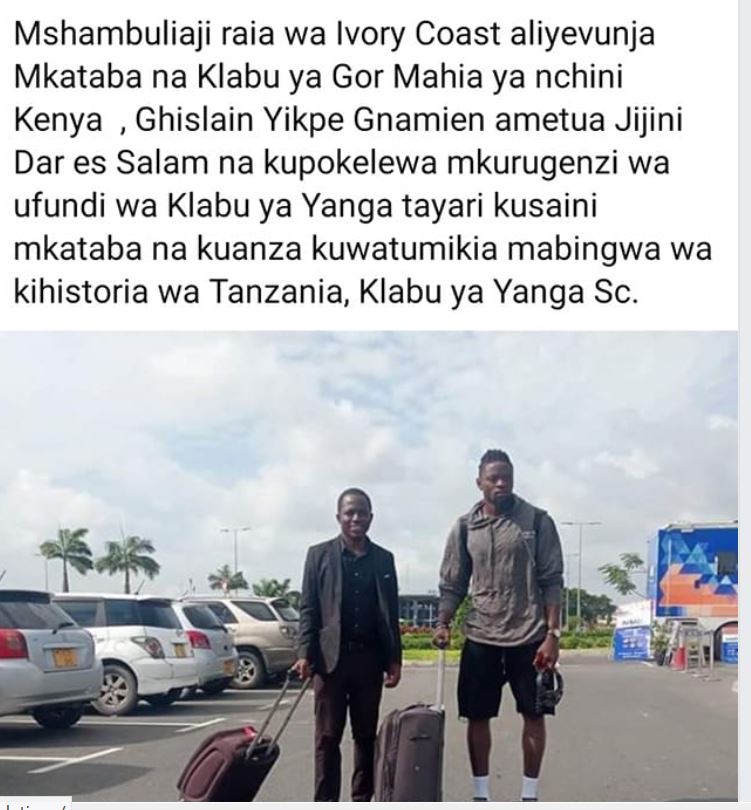 When the league resumed, the slump continued as Gor Mahia barely escaped defeat against Posta Rangers. A late goal from Muguna salvaged a 1-1 draw.
In January, Gor Mahia managed a 1-0 win over moneybags Wazito. Polack was happy that the team had won despite not training.
"In the half-time break, I had to give the players both good and bad words and I am happy they woke up in the second half. It has been a long week, to be honest, we trained just twice so I am happy with the way we played in the 90 plus minutes and won the game." said Polack.
A week later however, Gor Mahia succumbed to a 2-1 defeat away to Kakamega Homeboyz who were now proving to be Gor Mahia's most capable challengers.
K'Ogalo looked exhausted during the match having travelled to Kakamega the same day and Homeboyz outclassed them in the entire match.
Gor Mahia would recover in late January, beating Bandari 3-0 at Afraha. The match featured a rare goal by goalkeeper David Mapigano who caught his opposite number by surprise.
Gor Mahia continued to record good results in the remaining league matches. This was however interspersed by some surprise losses such as a 3-1 loss to Sofapaka.
A key win that put Gor Mahia in good position to retain the title was the 1-0 win over arch rivals AFC Leopards in the second leg of the mashemeji derby. Boniface Omondi scored the all important goal. Gor Mahia was recording wins despite players constantly going on strike to pay non-payment of salaries. By February, Gor Mahia players had now gone 6 months with no salary.
Gor Mahia went on strike in the second week of March right before they were to play Posta Rangers in the FKF cup.
A player who sought anonymity said they have had enough of empty promises from the management.
"Our houses have been locked and have find it rough to go for training with empty stomachs. We understand the club doesn't have a sponsor but we also have families to feed. It is really tough," said the player.
Government suspends sports activities.
The match against Posta Rangers was scheduled for March 14. A day earlier, the government of Kenya suspended all football activities due to the Coronavirus pandemic. Posta Rangers showed up at the venue but Gor Mahia were nowhere to be seen.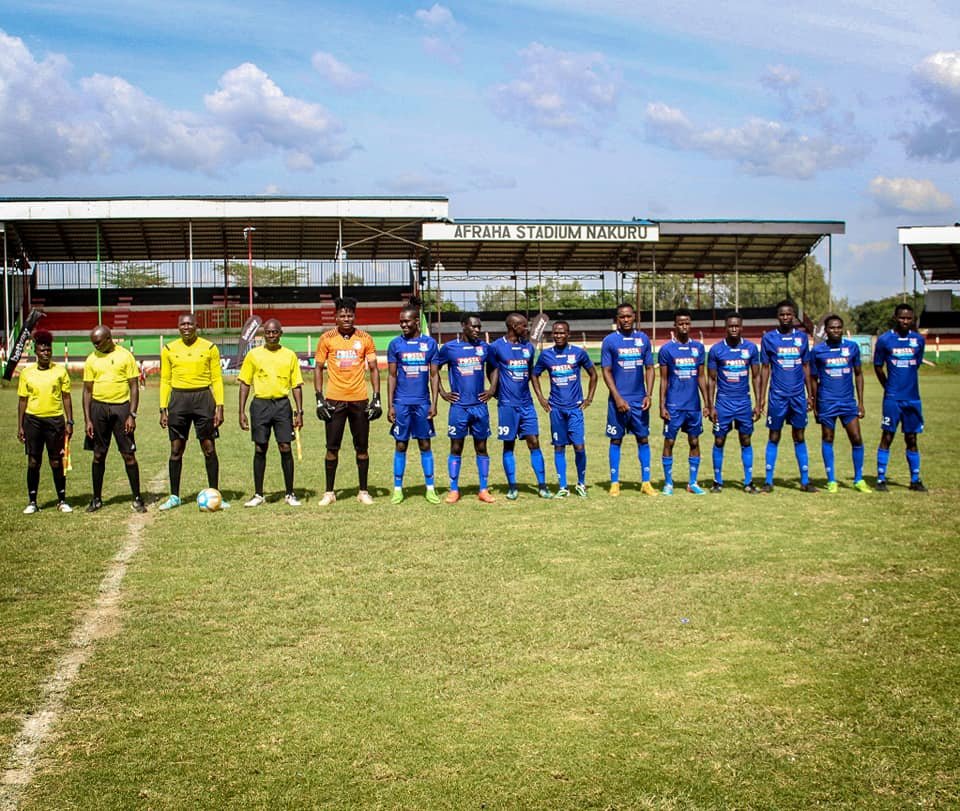 "It was all over in the media that the government had stopped all sports activities for a period of time and it is the reason we did not travel to Nakuru for our match against Rangers," Gor Mahia CEO Omondi Aduda.
Financial Problems continued.
With football activities suspended, Gor Mahia's financial problems were set to escalate since gate collections which is the club's only source of revenue was now shut down.
During the month of March, the players were given only Ksh 3000 each.
"When my phone vibrated on Friday I checked and saw an Mpesa SMS only to be shocked that it was only Sh3,000. To make matters worse, I had a Fuliza loan and the whole amount was swallowed," said a player.
"I don't think the money was a salary as such, but was meant to help them buy vegetables and maize flour. There is no money, but we are trying our best to find something for their upkeep," said club official Ronald Ngala.
Gor Mahia declared league champions
With the league suspended, KPL CEO Jack Oguda was adamant that the league would resume. However FKF Chairman Nick Mwendwa had other ideas. He declared Gor Mahia as league champions on April 30th, citing FIFA rules. Gor Mahia were leading the league by seven points by the time the league was terminated.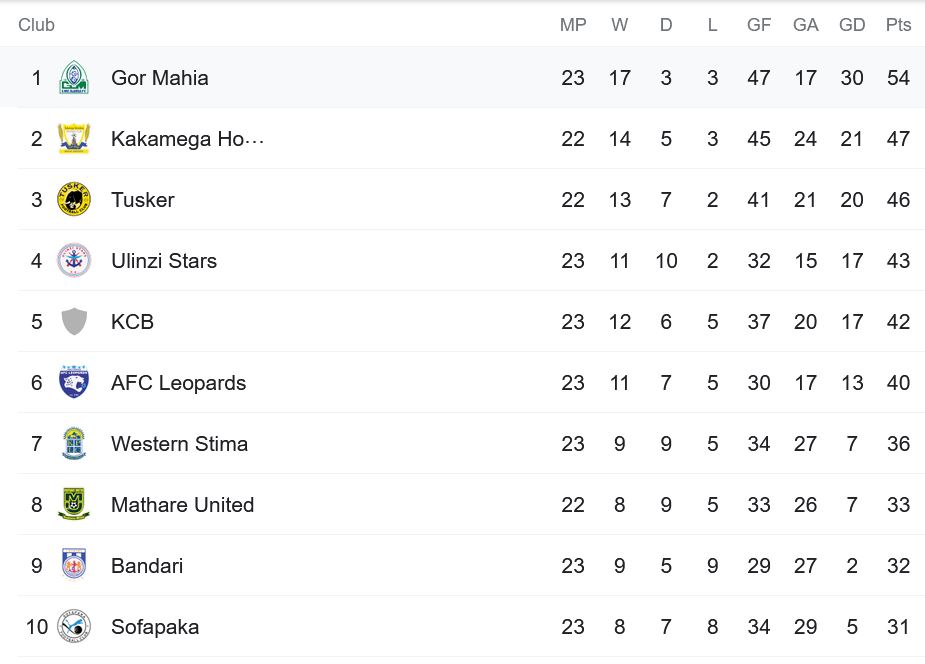 "Congratulations Gor Mahia! You are champions once again and you will represent Kenya on the champions league Next season. Lets do this !" Mwendwa tweeted.
Oguda protested and took the decision to the Sports Disputes Tribunal (SDT). It would take the SDT five months to make their decision. Finally in September of 2020, SDT declared Gor Mahia teh champion, siding with the FKF.