2019: The year Gor Mahia soared to new heights
When the year 2019 started, Gor Mahia were handed a difficult assignment. A month earlier in December 2018, Gor Mahia became the first Kenyan team ever to qualify for the group stages of any continental competition. They did this by beating New Star De Douala of Cameroon, 2-1 at home and holding them 0-0 away. Upon qualifying for the group stage, Kogalo were placed in group D of the 2018-2019 CAF Confederations cup. The other teams in the group were Zamalek of Egypt, NA Hussein Dey of Algeria and Petro De Luanda. A daunting task indeed.
In the group opener, Gor Mahia surprised everyone by beating Egyptian giants Zamalek 4-2. Not much was expected from Kogalo here. Zamalek had eliminated Gor Mahia three times in the past: 1998, 1994 and controversially in 1984. When Zamalek took the lead in the 7th minute via Ibrahim Hassan, it looked like the same old script. But Gor Mahia struck twice in the first half via Jacque Tuyisenge, sending the crowd at Kasarani into raptures. The first goal was thanks to a beautiful setup by Francis Kahata which Tuyisenge finished with a low shot. The second was thanks to a cross from Boniface Omondi which Tuyisenge nodded in from a difficult angle.  Hassan was on target again on the stroke of halftime, silencing the crowd to tie the score at 2-2. Hassan beat the Kogalo defence to run to a good through pass and Boniface Oluoch with what looked like a feeble shot that Oluoch bobbled. in the Kogalo  But Gor Mahia were not done yet. Nicholas Kipkirui scored the 3rd goal when he headed home a cross from Tuyisenge. Dennis Oliech who came on as second half substitute, showed his esperience when he scored the fourth goal, easily shrugging off the attention of three defenders to calmy slot the ball home. He then celebrated in a manner similar to his brother Steve Okumu who scored against Zamalek in 1998.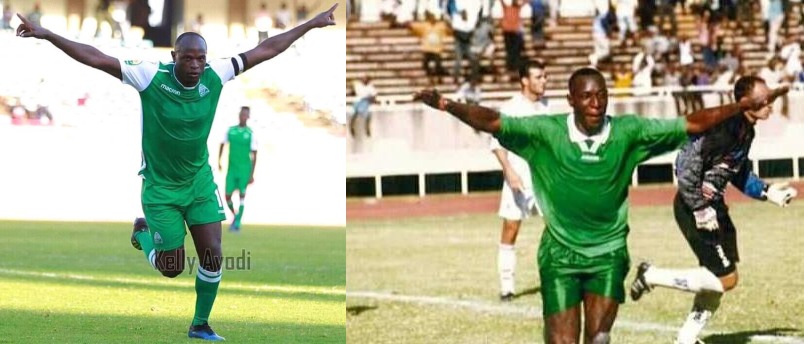 In the second match, Gor Mahia played Petro De Luanda away, hoping to force a draw which would keep them atop the group standings. It was not to be as the Angolans won 2-1 with Kipkirui scoring a late goal in the 90th minute. Teh Angolan side boasted two Brazilians. Missing from the Kogalo squad was talisman Jacque Tuyisenge as well as Dennis Oliech.
It was back to Kasarani for matchday 3 against NA Hussein Dey of Algeria. The match seemed headed for a scoreless draw as Gor Mahia missed chance after chance. Gor Mahia finally broke the deadlock in the 84th minute: Shafiq Butambuze's cross was deflected by a defender into the path of Francis Kahata who finished from close range. With the Algerian side reduced to 10 men, Gor Mahia took advantage. Jacque Tuyisenge raced to a catch a through ball and beat the Algerian keeper with a well placed shot. And Gor Mahia were back on track.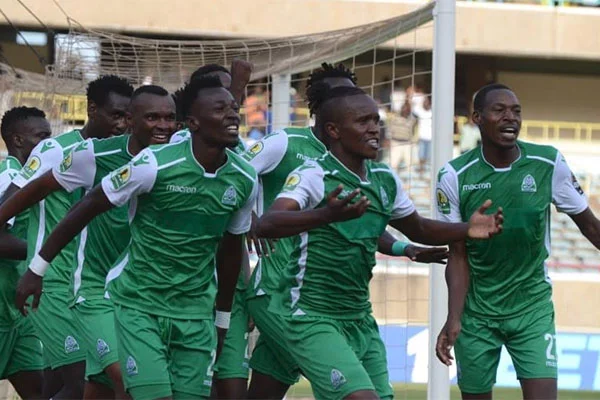 Gor Mahia would then lose the fourth match against Hussein Dey in controversial circumstances. The Goal scored by the Algerians was highly debatable. Defender Charles Momanyi appeared to have cleared the goal-bound shot before it crossed the line. The referee hesitated then awarded the goal. Then Gor Mahia scored from a corner kick in the second half. The referee disallowed the goal citing an infringement. Replays did not show any infringements. It was a crass display of incompetence by Malian referee Boubou Traore.
FKF filed a complaint to CAF on behalf of Gor Mahia.
"We would like to single out the performance of the Centre Referee, Mr Boubou Traore. The specific criticism of his performance is during the 58th minute where he disallowed a goal scored by the visiting from a corner kick.
From the video obtained from Caf on the match highlights, it is evident that there was no contact/infringement from the attacking players on the goalkeeper neither was there an offside call it being a corner kick and as such, we would like to seek clarification from Caf as to why the goal was disallowed," read part of the letter written by FKF Secretary General Robert Muthomi.
Gor Mahia stayed on in North Africa for their next match against Zamalek. They set up camp in Alexandria Egypt where the match was to be played for several days. Zamalek were too good for Kogalo on this day, scoring two goals in each half to win 4-0.
On the last match day, Gor Mahia were at the bottom of the table but all four teams were in contention to proceed to the quarter-finals. This was crucial as Zamalek also needed a good result against Hussein Dey. A win for Gor Mahia would not have been enough had Hussein Dey beaten Zamalek. Gor Mahia held their end of the bargain, beating Petro De Luanda 1-0 at Kasarani thanks to a Jacque Tuyisenge penalty. Zamalek, who needed a draw to proceed, held Hussein Dey 0-0. Gor Mahia thus finished second in the group with 9 points, equal to Zamalek who won the group thanks to a better goal difference.
By finishing second in the group, Gor Mahia proceeded to the quarter-finals, thus becoming the first Kenyan team to proceed past the group stage of a continental competition.
In the quarter-finals, Gor Mahia were pitted against RS Berkane. Gor Mahia players went on strike three days before the first leg against Berkane. According to Chairman Rachier, they had just been paid their March salaries a day earlier.  By going on strike, they denied coach Hassan Oktay the opportunity to put his finishing touches on match preparations. Plus their state of mind was clearly not focused on the game. The predictable result was that they lost 2-0.
The second leg was a disaster. Gor Mahia was notified by CAF of the match schedule a good 24 days before the team was to travel to Berkane. That was ample time to plan the trip. But both Gor Mahia and the Ministry of sports left travel planning and ticket allocation to the very last moment. The net result was a shambolic traveling program. Players arrived mere hours before the match, some after having spent nights sleeping on airport floors. It came as no surprise when they lost 5-1 to the Moroccan side in the second leg.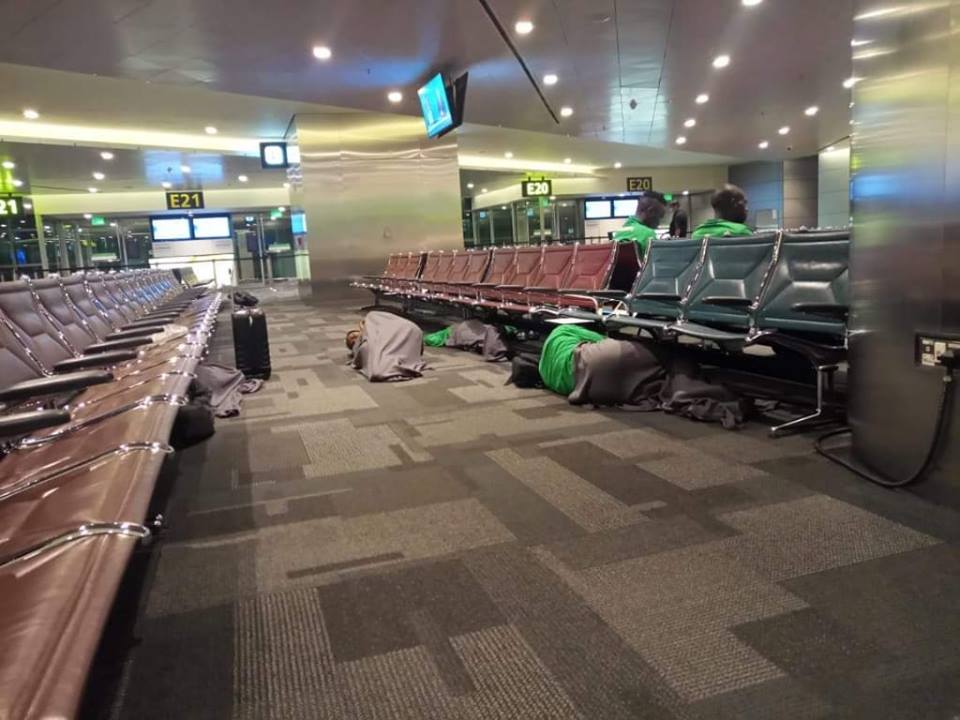 2018-2019 Kenya Premier League
In the mashemeji derby first leg,  Gor Mahia floored arch rivals AFC Loepards 2-0. The goals came from Kenneth Muguna and a sublime free-kick from Francis Kahata.
In the second leg of the mashemeji derby, Gor Mahia trounced AFC Leopards 3-1 with Nicholas Kipkirui scoring twice and Tuyisenge added the third.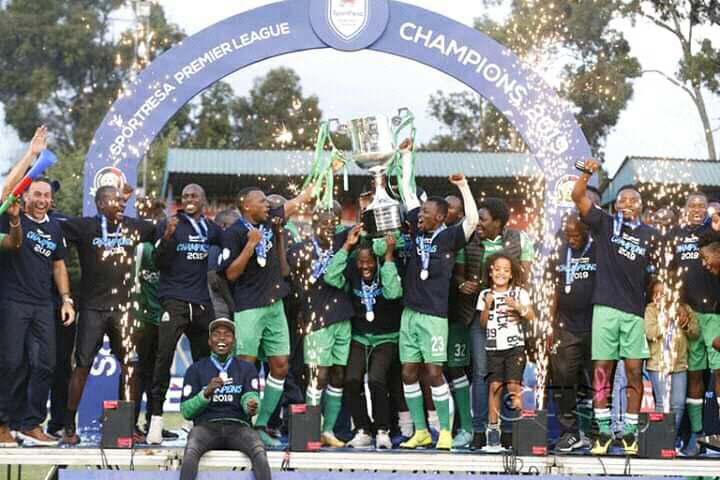 Sportpesa Shield
Gor Mahia started their cup campaign by hammering Kenpoly 4-0. Ugandan Erisa Ssekisambu bagged a brace, before Nicholas Kipkirui and Eric Ombija added their names to the score-sheet with a goal each.
2019 CECAFA Club Cup
Gor Mahia opened their campaign with a match against AS Maniema of DR Congo. The match was played in Rubavu which is a short distance from the home area of Maniema. As a result, a large crowd attended the match to support the Congolese side. Geoffrey Ochieng and Boniface Omondi were the marksmen as Kogalo beat Maniema 2-1
In the second group match, Gor Mahia beat AS Ports of Djibouti. The goals came via Boniface Omondi and new signing Dennis Oalo
In the last group match against KMKM, coach Oktay rested most of the starting line-up. With the match seemingly headed for a scoreless tie, Gor Mahia scored through Eric Ombija who scored with a glancing header off a Hasheem Sempala cross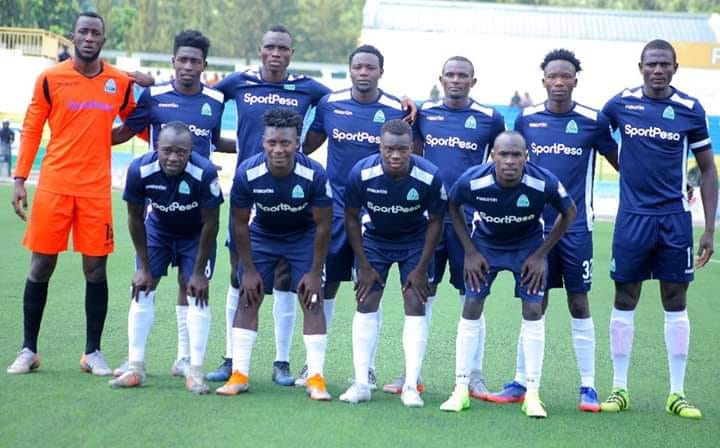 In the semi-finals, Gor Mahia were shocked by Zambian representatives Green Eagles who beat them by a score of 2-1. Nicholas Kipkirui scored Gor Mahia's goal when he intercepted an errant pass.
Hassan Oktay was unhappy after the match.
"It (the result) has something to do with our fitness levels," moaned Oktay.
"You know we are in pre-season. We only trained for a few days before coming here and we have had to play a game every two or three days." he said.
Departures
Throughout 2019, rumors ran rampant that Gor Mahia were on the verge of losing key players: Francis Kahata and Jacque Tuyisenge. Coach Hassan Oktay was concerned about their imminent departures and described Kahata as a peerless player.
"All the shops to buy a player of Kahata caliber are unfortunately close, none is open because such players are very rare. He is a magician and every player at Gor Mahia loves to play alongside him. Everyone knows what I call him, and they love it in training. He is a gem and a player we should try as hard as possible to keep." said Oktay
In June of 2019, Kahata announced the inevitable, that he was leaving to join Simba FC of Tanzania
"I believe I have done my job well here at the club together with my teammates. Gor has been like my second home since leaving Thika and I believe that I have given them my best in all those years,"  he said
Long serving assistant coach, Zedekiah Otieno "Zico" also left in June to take over the head coaching job at KCB. Team captain Harun Shakava who had also been rumoured to be leaving, left for Zambian side Nkana FC.
At the end of July, coach Hassan Oktay announced that he was heading home to Turkey to attend to his ailing parents and was not sure he would return. A week later while in Turkey he announced that he would indeed not be returning. He would soon be replaced by British/Finish coach Steve Polack who had previously coached Asante Kotoko.
July 2019 Transfer season
To replace the departed players, Gor Mahia signed two West African strikers, Ghanaian Francis Afiriyie, Ivorian Yikpe Ghislain as well as Tanzanians Dickson Ambundo and Robert Mapigano. The four were joined by Clifton Miheso, Caleb Omondi, Alphonce Ombija, Lloyd Khavuchi, Godfrey Ombijo, Richdonald Bolo, Samuel Osok, (promoted from the club's youth team), Abdalla Shira and Tobias Otieno (from Sony Sugar), Elvis Ronack (Nzoia Sugar), Maurice Ojwang (Western Stima), Curtis Wekesa, Dennis Oalo (Nairobi Stima).
Erisa Sekisambu, Cercidy Okeyo, Pascal Ogweno and Shaban Odhoji were released by the club. Meanwhile unsettled Ugandan Hashim Sempala left soon after the 2019 CECAFA club cup.
Gor Mahia were also pursing Derrick Otanga who later joined Wazito. He would later claim that a Gor Mahia official demanded a cut of the transfer fee
"It is only after I was about to sign for Wazito that Gor Mahia showed intense interest for my services thereafter. It later emerged that four people inside Gor Mahia wanted a share of my sign-on fee," Otanga confesses in the audio. The official in question is said to be CEO Omondi Aduda.
Sportpesa withdraws Sponsorship
In August of 2019, Sportpesa who were sponsoring Gor Mahia, withdrew from all sponsorship. It was a double blow. Aside from sponsoring the club, they were also the title sponsors of the Kenya Premier League. This in addition to the withdrawal of TV rights a year earlier hit KPL clubs and left many clubs struggling. Gor Mahia players would go for over four months without receiving salaries.
2019-2020 CAF Champions League
In the preliminary round, Gor Mahia were pitted against Aigle Noir of Burundi. The first leg was played in Bujumbura. New coach Steve Polack had just arrived in the country and immediately took charge. The first leg ended 0-0.
In the second leg, Gor Mahia surprised everyone by beating the Burundian side by a score of 5-1. Kipkirui and Boniface Omondi both scored a brace and Dennis Oalo added another. The Polack era had started with a loud bang.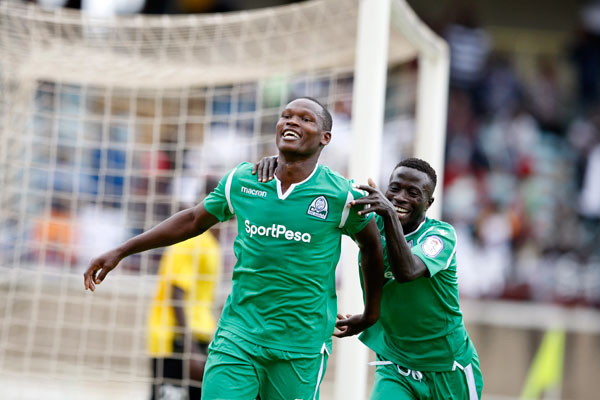 In September, Gor Mahia faced off with USM Alger of Algeria. However a demoralized Gor Mahia side was no match for the Algerians who beat them 4-1 in Algiers before winning 2-0 in Nairobi.
Other achievements
An August 2019, defender Joash Onyango, nicknamed as the "Great wall of Berlin", was named the most valuable player of the 2018-2019 season. It was quite an achievement for a defender. He beat out team-mate Francis Kahata.
Also in August, Gor Mahia were crowned the 2019 Super cup champions when they beat Bandari 1-0. Lawrence Juma scored the all important goal. Gor Mahia were on a revenge mission as it was Bandari who eliminated Gor Mahia from the 2018-2019 Sportpesa cup on their way to winning it.