Afiriyie sticking with Kogalo despite offers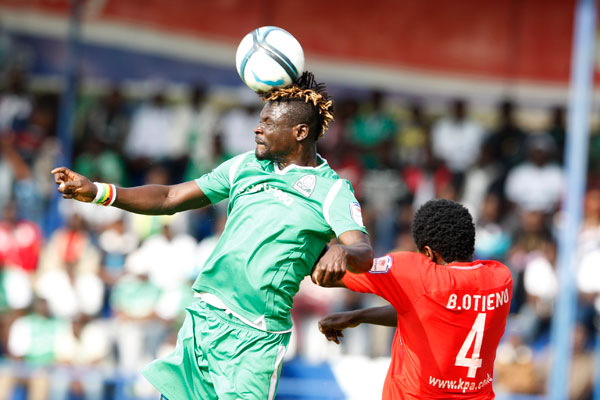 Despite rumours to the contrary, Ghanaian striker Francis Afiriyie has said that he is staying with Gor Mahia
Additional reporting from goal.com
Gor Mahia striker Francis Afriyie has stated he is keen on helping the team get a transfer fee when he eventually leaves.
The Ghanaian is yet to report back after leaving for his native country for the festive season and many believe he is pondering a K'Ogalo exit. However, the forward has explained his intentions and confirmed he will be back in the Kenyan Premier League (KPL) soon.
"I must admit many "Spanish side Zaragoza, Saltillo and Matamoros from Mexico have shown interest in my services, but I am not leaving yet. I am taking my time and [will] let Gor Mahia get transfer money.
"I want to help Gor to get big transfer money from me, that is why I am rejecting all these offers."
The striker states it is up to the management to decide whether they will keep him beyond this season or not.
"My contract with Gor expires in July this year; if the team can suit my demands then we will be good to go. Currently, I am working on my flight and will join my colleagues this week. I am still focused on helping the team win their 19th league title," Afriyie concluded.
On Monday, Gor Mahia lost Ivorian striker Gnamien Yikpe to Yanga SC who snapped him up on a two-year deal.
Polack: We will not miss Yikpe
Meanwhile coach Steve Polack says the club will not miss departed Ivorian striker Yikpe Ghislain.
"I don't think the club will miss his services," Polack told Goal. "He managed to score a couple of goals for us while he was around but if he got a good deal, then you have no option but to wish him well.
"[Yikpe] is a good striker but equally we have quality players who can play very well in his role, so that is the reason why I am not worried at all, we will cope well and we will play well.
"Also it is good to let players move because he got a good deal out there, so I don't think we should have asked him to stay. No."