As Gor Mahia FC approaches the eagerly awaited Annual General Meeting and elections slated for December, this blog will give equal time to all the candidates. In the spirit of equal time, here is the second pillar of Chris Omondi's manifesto. Omondi, a former secretary general of the club, is vying for the position of chairman
---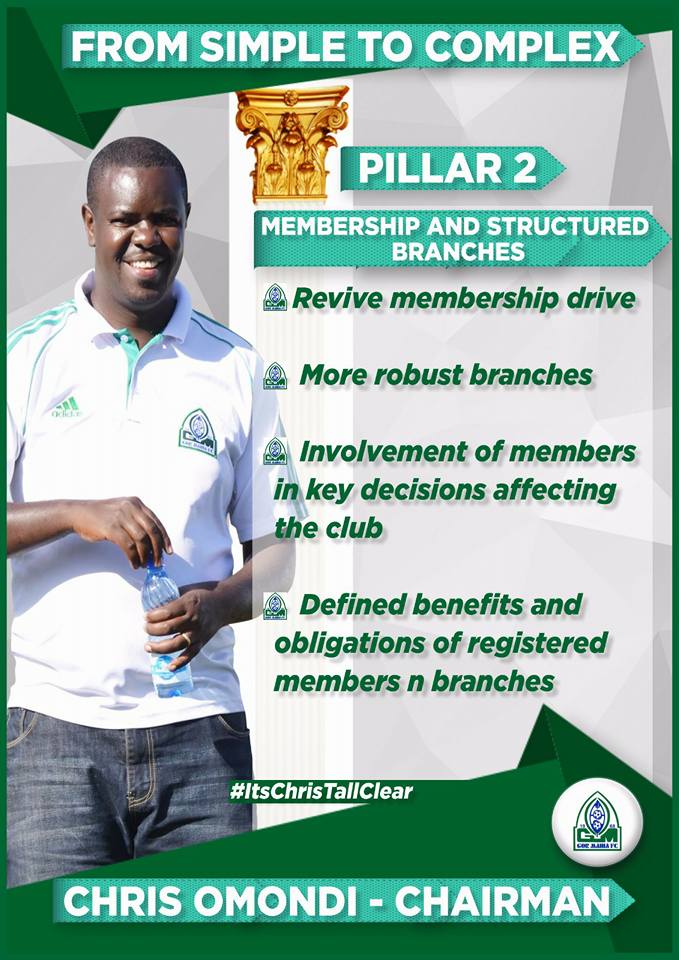 Morning fellow Gor Mahia followers;
As promised last week, I hereby submit the SECOND PILLAR of my campaign manifesto. As alluded to in the first pillar, there is an interdependence among these pillars with positive performance on one informing the "health" of the other and vice versa…
MEMBERSHIP in my opinion remains the only surest way of UNLOCKING our clubs potential…I have always attributed our underdevelopment as a club to our leadership's failure to STRUCTURALLY HARNESS THE GOODWILL THE CLUB ENJOYS and it is on the same breath that I opine that structurally defined MEMBERSHIP remains a viable option out of our current mess….it is a high time we DIFFERENTIATE between FANS AND MEMBERS….I strongly posit that FANS should be partakers of the brand Gor Mahia, while MEMBERS should be the owners and decision makers of the club…let fans be "the clients" of the brand (by paying gate charges, buying club merchandise e.t.c.). BUT when it comes to decision making in such matters as elections, referendum e.t.c., then it is the members, affiliated branches and club leadership who should be responsible. The current scenario (which I can humorously refer to as "MANYWANDA OD OTENGA") where everybody and 'everynobody' can purport to have authority on Gor issues should be overcome/transcended!!
In this 2nd Pillar, our manifesto proposes:
1. Direct registration of Gor Mahia members to the club OR through affiliated branches…..we shall spell out different BENEFITS that a club member would get over being an ordinary fan. Benefits that may include:
– Discounted match day tickets (home matches)
– Discounts on Gor Mahia merchandise (that will be centrally sold from our envisaged merchandise shop).
– Discounts on Seasonal Tickets once implemented.
– Eligibility to vote in club elections or other weighty club matters fronted the club Executive.
-In future, once we have such club facilities as gym, club house, museum e.t.c., members would use them at discounted rates
– Participation in monthly draws/ticket raffles of club merchandise.
The membership will be renewed annually with the exception of MAYBE LIFE MEMBERSHIP if passed by members during the debates on the new constitution. We propose that renewals and new registration be done between December and February 28th of every year such that by March 31st we have a verified membership register.
Cognizant of the economic classes in our society, we propose different levels of membership with attendant differences in BENEFITS….Put differently, it is foolhardy to have different economic class in one level of membership, I opine such differentials can be exploited for the benefit of the club….we suggest Gold/Life Members, Silver and Ordinary Members with each member having one vote. Benefits, Privilege, and powers to be enjoyed by these tiers of members, as well as membership fee, shall be determined in a Constitutional Conference.
From the foregoing, it is my belief that I have outlined the structure of membership, intended benefits, levels of membership and averred the One Man One Vote Principle as the guiding principle.
ON THE ROLE OF GOR MAHIA BRANCHES:-
In our manifesto, the envisaged roles of the branches include-
1. Promoting the interests of branch members/supporters at the club level and/or,
2. Facilitating wider members' involvement in club affairs and/or,
3. Promoting mutual supporters' ownership of the club and/or,
4. Acting as recruitment sites for non-direct club members and/or,
5. Leadership socialization sites as it is envisaged ,ideally, that leaders ought to have "cut their teeth" from branch levels and/or,
6. Social roles such as CSR activities and related ventures as the concerned branch(es) will deem appropriate to them.
I am not afraid to share further, my opinion on the role of branches…..fellow Gor Mahia followers, we need A RADICAL RETHINK on the role of branches in Gor Mahia FC…I opine that BRANCHES AS CURRENTLY CONSTITUTED CANNOT NEITHER UNDERGIRD NOR CATALYSE THE ENVISAGED TRANSFORMATION OF OUR CLUB. Some radical changes need to be made to transform them from social clubs to agents of change in our club. I suggest that we need to INCREASE THE THRESHOLD of what constitutes a branch for such a body to be recognized and affiliate to the club. Membership and Branch affiliations SHOULD BE one major stream of revenue for our club but that isn't the case because of lower thresholds in terms of fees paid. For instance, why should we have over seven branches in Mathare 4A, 5 in Umoja, 5 in Kibera, 3 in Huruma, 3 in Kariobangi North, 5 in the "Social media"? Personally, this does not add up. JoK'Ogalo, as stated above, Branches have greater roles to play in our club that include being the first markets for club's products/merchandise. However, to maximize on their potential, things have to change. I propose that a minimum number be set on how many registered Gor Mahia members should a branch have as the first requirement. Regarding this I propose a minimum of 50 registered Gor Mahia members.The affiliation fee need to be adjusted upwards to make it prohibitive for "personality cults" disguised as branches. Kshs.10,000 is too little in my opinion and an individual can pay that and possess a briefcase branch. Adjusting the figure upwards would go a long way in "killing" such briefcase entities, raise revenue for the club and sound a death knell to branches that come to life only on the eve of elections.
A little mathematics would suffice:-
We currently have 109 branches that do not re-affiliate annually but when elections are called, some 80-90 will pay the 10k affiliation fee (mostly paid by aspirants) bringing in a paltry 800-900k to the club-there was no direct membership to the club in this scenario.
Scenario 2 has an increased threshold where each branch must have a minimum 50 registered club members e.g. at Ksh. 1,000 each and the affiliation fee is pegged at say Ksh. 50,000-100,000 if we have 50 branches we could be talking of Ksh 2.5 million in terms of affiliation and another Ksh. 2.5 million from their members. What of those directly registered!? Aren't we talking of over Ksh. 5million per annum from Membership and Branches!?!? Just one revenue stream. On branches as the first market for club merchandise, are we not talking of a minimum 2500 kits, what of their households? Do the math.
Ladies and gentlemen, structurally harnessing the GOODWILL the club enjoys will call for SERIOUS DECISIONS and SACRIFICES to be made. Under our leadership we shall involve all the current members and branches so that they own this envisaged transformation process. I don't think there are any other shortcuts unless we want to go the Roman Abramovichs, Glazers route.
Lastly, when the branches become restructured and are playing their anticipated roles, we can start thinking of a SUPPORTERS TRUST. with such we can pull resources and mutate to SUPPORTES OWNERSHIP of the club in which 50+1%-60% can be controlled by members and the remaining sold to corporate entities to INJECT the required capital for mega projects such as club house, gym and stadium. Here is an example, Bayern Munich is largely fans owned and only sold 18% to Adidas and Audi in 2009 in return for 165 million Euros that went into the building of the Allianz Arena and with the selling the naming rights to Allianz Insurance company, the stadium was built and the loan is still being repaid.
Put differently, it is obvious MEMBERS can own and manage a big club.
Structured Membership and revitalized branches are the panacea to the ills afflicting our club.
God Bless you and God bless Gor Mahia F.C.