As Gor Mahia FC approaches the eagerly awaited Annual General Meeting and elections slated for December, this blog will give equal time to all the candidates. In the spirit of equal time, here is the first pillar of Chris Omondi's manifesto. Omondi, a former secretary general of the club, is vying for the position of chairman
---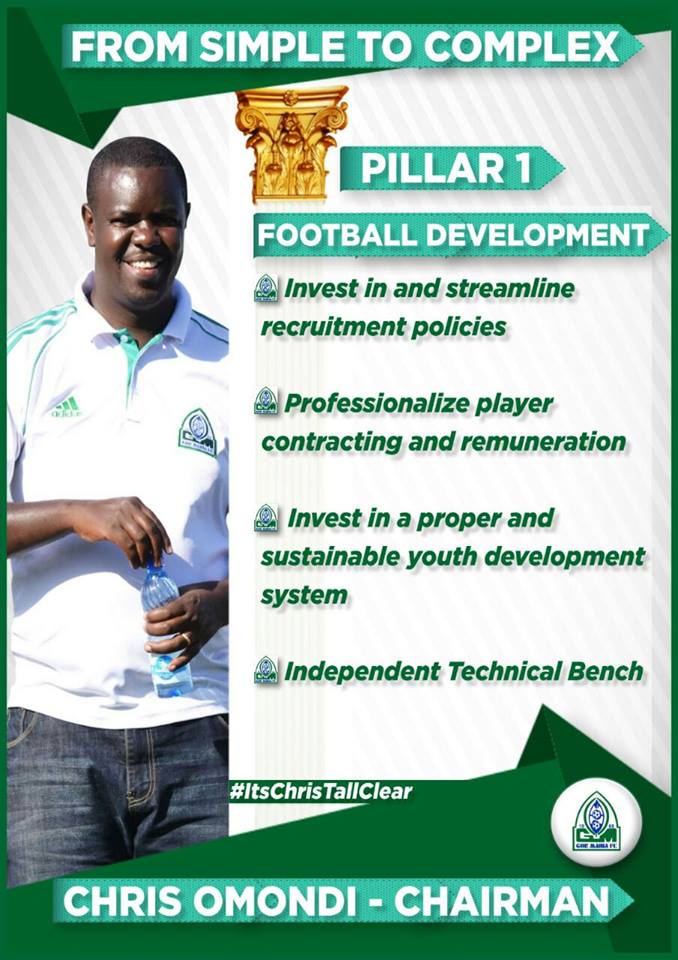 To the Gor Mahia fraternity; it is my pleasure to present the first pillar of my manifesto and invite you to critique it- an act that I want to believe would go a long way in not only refining it, but also building consensus on the transformational path the club needs to adopt…
I have always held the belief that we cannot talk of any transformation in our club without being cognizant of our key resource- THE FOOTBALL TEAM- which, metaphorically, I refer to as "our cow." A cow that if well taken care of would enable us derive several products in its lifetime. I opine that it is by only having a successful football team on the pitch-sustained success that we can dare discuss other pillars like Membership, Revenue Collection, Professionalised Secretariat, Progressive Constitution e.t.c.
Without a perfoming football team, these other pillars that are equally interdependent become affected.
From the foregoing I humbly submit that our FOOTBALL TEAM comprising the players, technical bench and other "workers" become my 1st major PILLAR (focal point).
Getting the basics right in terms of developing our football would largely provide the BASE and catalyse the envisaged transformation of our club. I propose to provide a leadership that would adopt these measures to undergird the development of football within our club, sustain success on and off the pitch and thereby inform the implementation of the other pillars. On the FOOTBALL TEAM, I oversee the following:
a. Adoption of merit based recruitment policies on players, technical bench members and other football team employees.
On recruitment of players, we will reactivate the scouting networks the club had in the yester-years and build new ones with more emphasis on identifying young talents that would be nurtured n developed. We endeavour to go back to the days when our club was the domicile of national team materials/players. We will partner with selected Primary and Secondary schools in terms of identifying and developing such young talents. For a start, such partnerships will involve providing football equipment and expertise. But resources allowing, in the near future, the club will have a fully fledged academy.
Summarily, we shall adopt recruitment policies that would build into our vision of FOOTBALL AS BUSINESS where sale of players ought to be one of the major revenue streams available to the club.
b.We believe in internal capacity building and to this end, we shall endeavour to have our own conveyor belt of not only players but also members of the technical bench. We will seek to have U23, U20, U17 and U15 teams either through the initially stated partnerships with schools or as an Academy (resources allowing). We are greatful that, through our fans, we have a Youth Team we can build from/on.
On the technical bench, we opine that our senior players interested in delving into coaching will be supported and allowed to sharpen their skills with our junior teams. We hasten to point out that this would not only propagate club philosophy over generations but would in the long run act as cost cutting measure.
c. On player contracts, the already stated philosophy of FOOTBALL AS BUSINESS shall be the guiding factor. Clauses that protect the club's business interests will be introduced to ensure the envisaged model that includes sale of players as a stream of revenue is jealously protected. Young promising players will be given full proof contracts such that we don't buttress this notion of Gor Mahia as a platform. I believe that if we are to be a "platform", then we ought to maximise on that by having contracts that protects club's interests.
3.To enable the players and the technical bench concentrate on their business of winning and playing attractive soccer,we shall seek to provide incentives in the form of proper medical covers for themselves and their determined family members…furthermore we shall seek to provide the most competitive salaries commensurate with the expected performance levels and minimise huge disparities in their salaries as we endeavour to build one functional juggernaut…..
Ladies and Gentlemen,it is only when the football team is consistently perfoming that we can dare dream of its transformation….when winning and playing attractive soccer it attracts fans to the stadium hence enhanced revenues in terms of gate collections,merchandise sales,membership etc…..and that is why OUR FOOTBALL TEAM becomes the first pillar in our envisaged transformation……
GOD BLESS GOR MAHIA