Bobby says emotional farewell as search continues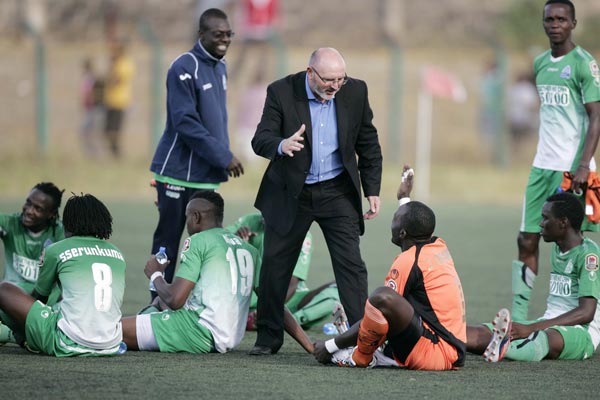 Coach Bobby Williamson bade an emotional farewell to the club on Sunday. It was a fitting goodbye as Gor Mahia won 1-0 thanks to a high quality strike from Ugandan international Geoffrey Kizito.
And clearly Bobby has been very popular among the players. In a moving gesture, the players hoisted him to a lap of honour at the end of the match to thunderous reception from the fans.
Bobby thanked the club management and the players.
"Gor has wonderful players and I hope they go ahead to win the league because it has a good bunch of players. I thank the chairman for having faith in me and giving me this opportunity to manage the club.
"I also express my sincere gratitude to players who made extra effort to go ahead and win the game today," .
He also said why he was unable to manage both the club and the national team.
"I don't think I could stay any longer at Gor because I don't want to look impartial when selecting players for the national team, I would like to concentrate on national team and hopefully develop some talent and introduce academies but we have a lot of work to do," he declared.
"I will miss the fans that were always fantastic and crazy and I'm happy they behaved today which is a good thing because the club needs a sponsor.
"It's been tremendous though I experienced some highs and lows but I can't complain because that's the experience in football," Williamson stated in homage to the fans who gave him the rousing 'green carpet' send-off.
Bobby also said he was proud of his record in the Mashemeji derby despite having not won in four attempts.
"My best match in Gor was two weeks ago against Leopards when we were 2-0 down and thought the game was over but it wasn't because we should have won that match, Sserunkuma should have been given a penalty but the referee denied us because he wanted the match to end 2-2 to avoid trouble.
"I feel disappointed I leave the club having not won any derby in four attempts but I'm happy I leave the club in good position to defend the title and everybody seems to love the way we play," .
Williamson's statement about the club needing a sponsor is very apt. There are reports that the club did not wear the Joma kit because they did not settle the laundry bill when the Joma kits were taken for cleaning.
Search for a new coach
Meanwhile there is no word yet on whom the new coach will be. Former player Sammy Omollo led Tusker to a league title. So he proved that with good players he can win. He later took over at SoNy before being replaced by current coach "Zico" Otieno.
Among the names that have been mentioned is current team manager Frank Ouna. According to former Kenya international, Ezekiel Akwana, Ouna would make a good replacement.
"Now that Bobby has left, I would advise the Gor management to elevate Frank Ouna to be the replacement, he told futaa.com Ouna has worked under different coaches at Gor and understands how the club has been coached in the recent past said Akwana. "
But Ouna has no coaching experience and this is not the time for Gor Mahia to be experimenting.
Others have backed current assistant coach Bobby Ogolla to take over. But Bobby legend has still not recuperated completely. The pressure that comes with being coach might cause him to relapse.
What Gor Mahia needs now is an experienced person with established credentials.