EABL offers fans a chance to finance KPL teams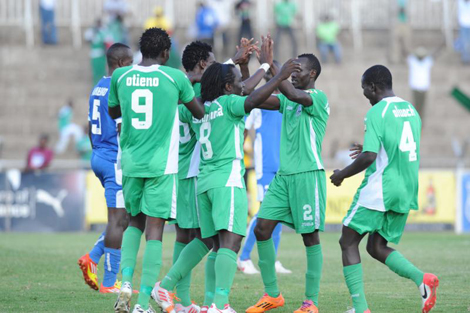 East Africa Breweries have offered fans of Kenya Premier league teams as well as Kenya cup rugby teams a chance to finance their teams to the tune of up to KES 5 million by the end of this year.
According to the East Africa Standard, EABL have created a competition dubbed Jenga Game allows fans who take Tusker to contribute Sh2 to their clubs every time they consume their preferred drinks. East African Breweries Limited (EABL), who are the title sponsors of the league, will also top up the amount of money going to teams. Fans will be able to contribute money to their preferred teams by sending their teams' code to the number 21450. All the 16 Kenyan Premier League (KPL) clubs have been given a code to help fans easily identify with their teams. The standard report did not give information on what the specific codes for each club is.
An excited Tusker marketing manager Martin Esyalai made the announcement.
" Tusker has played a major role in the development of football and rugby, which have provided memorable moments for Kenyans. "Our brand is synonymous with the good times these iconic players have given us and it's only appropriate that they are the face of Twende Game," said Esyalai to the Standard.
Former Gor Mahia full back Tobias Ocholla has been selected to promote the competition along with other legends like Josphat Murila (formely of AFC), George Sunguti  who played for AFC and later joined Gor Mahia in the early 1990s and Lavin Asego who plays rugby for Mwamba and formerly with the Kenya sevens team.
Gor Mahia typically leads in these competitions and it will be disappointing if the club does not win this time. So next time you buy crates of beer for your party, remember to apply this code.
The last time such a promotion was mooted was in 2012 when the Nation group launched the Tokelezea na jalee where nation would sell jackets and give Gor Mahia a fraction of the proceeds. The deal fell through because the then sponsors Tuzo were unhappy that the merchandize being sold by the club did not have the Tuzo logo.