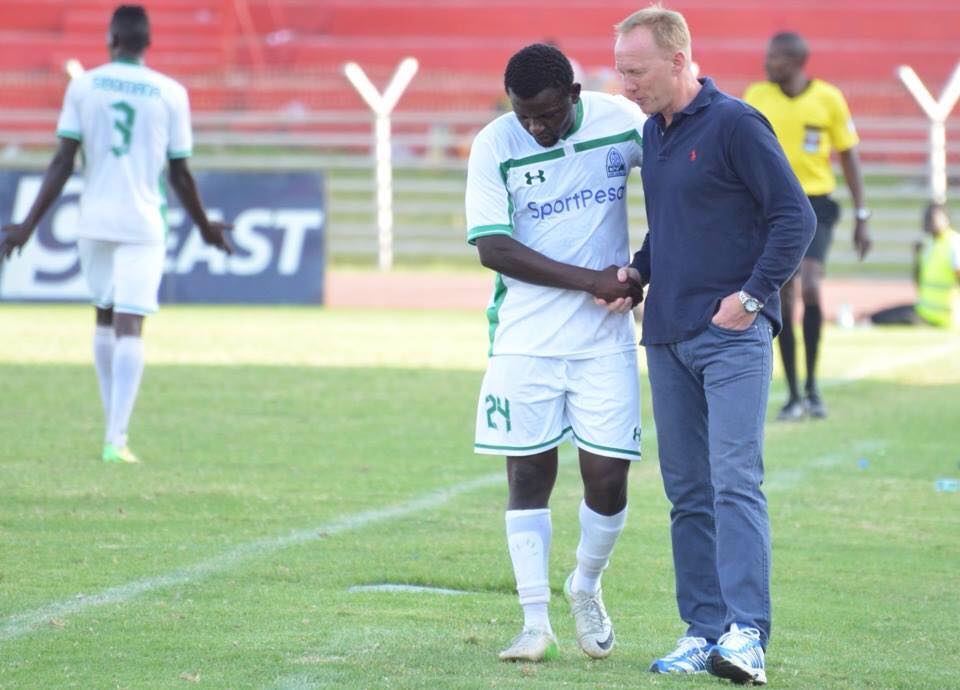 Hit man Enock Agwanda has apparently left the club. The burly striker, who joined from Sofapaka, has left the club after failing to agree on a deal.
"We had agreed on everything and all that was remaining was for the player to sign the contract, however, he stood up and just walked away saying he is going to read it. He left us seated and walked off, it was disrespectful to us. The NEC decided to release him, meaning he is no longer part of the Gor Mahia family,"  said Judith Nyangi to goal.com
It is not clear whether the technical bench including Ze Maria provided any input as to whether Agwanda should be signed.
Agwanda joined Kogalo in 2015. For the past two years he has mostly been deployed as a substitute.  Neverthless he scored six goals in 2016. The most notable one was the goal against arch rivals AFC that sealed a 2-0 win.
Agwanda has also contributed to goals via his long , well directed throw ins reminiscent of Tobias Ocholla.
He has had to play behind Kagere, Tuyisenge and Blackberry. And with Timothy Otieno returning, competition was bound to be more intense.
Bernard Ochieng deal falls through
Gor Mahia's efforts to sign Bernard Ochieng have fallen through. The promising Vihiga United defender balked because he was concerned about becoming a bench warmer at Gor Mahia.
"We wanted to sign Ochieng' (Bernard) but he was not free to join us. So we thought it would be wise if we stop the search for now until next time." said Judith Nyangi to goal.com
Other news
Former Gor Mahia midfield enforcer Khalid Aucho has been released by South African side Baroka. Aucho left Gor Mahia for trials in Scotland in June of 2016 before proceeding to South Africa. Also released by Baroka is another Ugandan player, Geoffrey Massa.
South Africa has proven a tough nut to crack for many former Gor Mahia players like Kevin Omondi and Ali Abondo.
According to Kawowo sports, The South African league has been criticized by many foreigners especially Ugandans as one that favors the natives and gives outsiders little playing time
Aucho was included in the Uganda squad to the 2017 Africa Nations cup. Its his chance to showcase his skills and attract the attention of another high profile club.