Gor Mahia get Aucho and Glay boost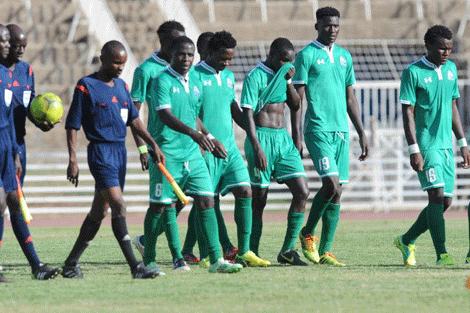 Gor Mahia's Liberian defender Dirkir Glay and midfielder Khalid Aucho are both on track to recover from injuries that left them doubtful for this weekend's Africa champions league encounter against AC Leopards of Congo-Brazza.
Aucho had picked up a hamstring injury during last weekend's friendly match against Ulinzi Stars.
"Preparations are going on well since we are overcoming few knocks and everybody is focused. Aucho and Glay trained today (Tuesday) so we will see how they will react over the next 24 hours.
"Their injuries were not major so hopefully we will have full squad to select from," said Nuttall to capital FM from the team's training base at Nyayo stadium.
Congolese Fans to turn up in droves
The Standard reports that the entire Congolese community living in Kenya will turn up for the  match on Sunday. The Congo embassy in Nairobi aims to mobilize all its citzens residing in Nairobi.
"This is a big match for us. We, Congolese, take football seriously and it is a near religion to us," said H.E Jean Pierre Ossey the Ambassador of the Republic of Congo to the Standard, adding that "students, workers and all Congolese citizens residing in Kenya are all geared to this game.
"We want to support our team and make them feel like they are playing at home." Approximately there are over one thousand Congolese working and studying in Kenya and should they all turn up for the Sunday Nyayo Stadium match, there will almost certainly be a replica of the atmosphere that AC Leopards are used to at their Stade Dennis Sassou Ngueso home in Dolisie. The Congolese also expect to get support from their neighbors from Democratic Republic of Congo whose citizens in Kenya account for almost a quarter of foreigners in Kenya.
On government support to football in Congo, the Ambassador was quick to highlight their commitment to developing and motivating sports in their home country as they (Congo government) have chartered a plane to ferry the whole AC Leopards contingent to and from Nairobi. AC Leopards will arrive in Nairobi aboard a chartered flight at a yet to be specified time and they play Gor Mahia on Sunday the 15th. This clash only promises more and more fireworks. They expect a contingent of 96 people aboard the flight.
Gor Mahia 1 Posta Rangers 1
Nuttall had been speaking after his side's friendly against Posta Rangers which ended 1-1. Gor Mahia took the lead in the 72nd minute through Ghanaian striker Zachary Taofiq. Paul Karuri equalized 10 minutes later.
"It was a useful match for players who were unable to take part in last weekend's match and those who will play on Sunday. Jerim Onyango is doing fine and he had a chance to play 90minutes today after being sidelines for long," said Nuttall to capital FM