Gor Mahia ready to go to war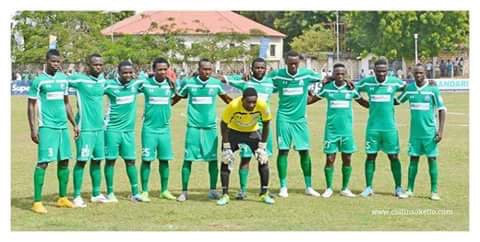 Facing a tall order in Madagascar, Gor Mahia will need to play the match of their lives to overcome two away goals and a 1-2 deficit. Experienced Central defender Musa Mohamed understands the task ahead.
We must put up a great fight and secure ourselves passage to the next round. We have been here before against this same team (CNaPS) and we have the believe that we can do it again," he said to the club site.
Musa was in Madagascar last year and should not be overawed by the raucous crowd in Mahajanga. Working in Gor Mahia's favour is that this time the crowd will be much smaller. The main stadium in Antananarivo which hosted the match last year is not available. As such the match will be played in Mahajanga whose stadium is a 10,000 seater. Still Musa understands the depth of the task ahead. Gor Mahia will need to conert the chances that come their way while maintaining defensive discipline.
"The situation is however different this time. They have the advantage over us unlike last year and we must be clinical to make our chances count. We have had a good preparation for this match and the team morale is high. We have been in that stadium and we know what the atmosphere there will be and just like last season we can score goals there." he continued.
Indeed defensive discipline is important: Madagascan sides have proven over and over that they can use their speed to capitalize on defensive lapses as BTM did in 1988 when Jean Claude Rabeamanana capitalized on a loose back pass to score. Luckily Gor Mahia were still able to win 3-1 on aggregate.
Coach Frank Nuttall while acknowledging the steep task ahead, is still optimistic that his side can turn the tables
"We are going there with one mission, to win big and hopefully make it to the next round," he said.
"The first leg was a disaster for us, but at least we have a goal. We know it is not going to be easy but we will give it our best shot. We have not lost hope yet," he told the Nation.
One player who could help resolve Gor Mahia's goal-scoring woes in Ali Abondo who recently returned from trials in South Africa. Abondo scored in Madagascar last year. However by Thursday evening, it was not even clear if Abondo would travel.
"He was expected to return on Sunday and we expect him to join the team for training tomorrow (Wednesday). Unless the coach has a problem we shall travel with him because we are yet to receive any information about him signing for another club and we need him." said Ngala to goal.com
It would be advisable for coach Nuttall to bring Abondo and assess his ability to fit with the rest of the team on Friday. His fitness is not in question since he has been training in South Africa for four weeks.