Gor Mahia team of the decade 2010 to 2019
As the decade comes to an end, lets take a look back at the players who made the most impact to the team during the decade of 2010 to 2019.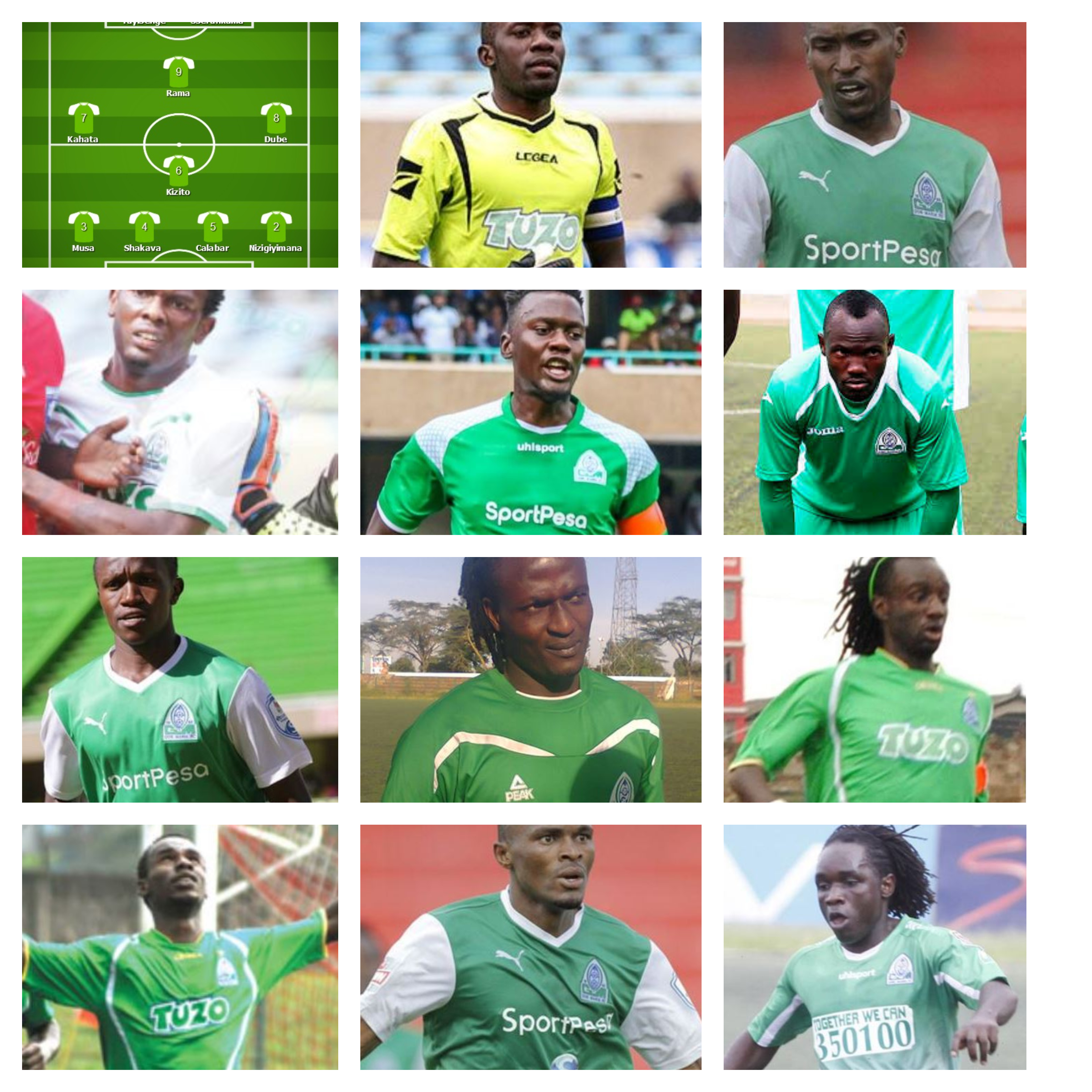 Goalkeeper: Jerim Onyango
Jerim joined Kogalo in 2009 from KRA. He was team captain for three years. A natural team leader who inspired the playing unit through words and by leading through example. He was the best goalkeeper in the country in 2013. The moment of his career came when Gor Mahia played away to US Bitam of Gabon. On that day he saved three penalties to steer Gor Mahia to the next round.
Right Back: Karim Nizigiyimana
He joined Gor Mahia in 2015 and played for three years. During this period he was a solid defender and provided an extra dimension when going forward with his precise crosses. In 2016 he was voted the defender of the year and he led the league in assists
Left Back : Godfrey Walusimbi
A solid left back who was also very useful when going forward. Comfortable at either full back or in midfield. Very well poised and controlled on the ball. He joined Gor Mahia in 2013 and stayed on for four years.
Centre Back: David Owino Calabar
When he joined from Nakuru All Stars in 2012, the then coach Zdravko Logarusic was not too impressed. The Croatian coach preferred towering centre backs like Emuge and Mosoti. But Calabar being adaptable, earned his way into the starting line-up by playing at either full back position. When Bobby Williamson became coach in 2014, Calabar cemented his place at centre back but occassionally played at full back. He earned his nickname because of the man of the match performance against Nigeria in Calabar when Kenya held Nigeria 1-1.
Centre Back: Harun Shakava
He joined Gor Mahia from Kakamega Homeboyz. A towering no-nonsense defender who solidified the centre back position and eventually became team captain in 2017
Defensive Midfielder: Godfrey Baba Kizito
A consumate midfielder who combined a strong defensive presence with superb passing and playmaking skills which he used to rapidly switch from defence to offence. He played for Kogalo in 2014, helping the club win its second successive title.
Right Midfield: Moses Odhiambo Dube
An intelligent player who always made the correct decision on the field and always made the right pass leading to several crucial goals. Before joining Gor Mahia, he had played in Rwanda and Tanzania. His experience and leadership came in handy.
Left Midfield: Francis Kahata
He is the best playmaker the club fielded in this decade. Very good at linking play. Superior vision. And precise accuracy in the delivery of his passes. Led the team in assists in all the seasons he played.
Attacking midfield: Rama Salim
Rama could play in any attacking position. His combination and understanding with Dan Sserunkuma is among the best the club has ever seen.
Striker: Jacque Tuyisenge
He gets the nod over Olunga and Kagere for the simple reason that his impact at the club was larger. He played for far more seasons and left as one of the top 5 scorers in the history of the club. He was instrumental in three league titles.
Striker Dan Sserunkuma
In 2013, the club had not won a league title for 18 seasons. Twice in the previous four years, the club had lost the league on the last day. In 2013 , Sserunkuma went on a scoring tear that helped secure the first league title since 1995. Most memorable was his goal against Sofapaka that secured the league by eliminating Sofapaka from contention. Most notable was that he almost always scored in the Mashemeji derby.