Gor Mahia 0 AC Leopards 1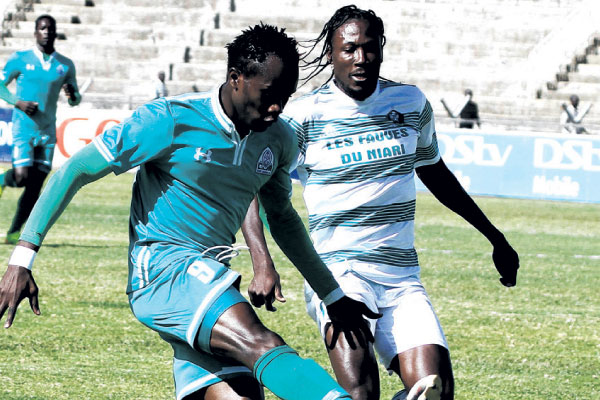 courtesy of goal.com
Gor Mahia face a mountain to climb to progress in Caf Champions League after losing at home to Congolese champions Leopards in first leg contest
Gor Mahia face an uphill task in their return leg clash of Caf Champions League against Congolese champions AC Leopards after going down 1-0 at Nyayo Stadium on Sunday.
The result means, the Kenyan champions must win return leg fixture by two clear goals so as to progress in the competition. Gor Mahia keen for an early goal went on the offensive right from the word go with Michael Olunga's first chance in the opening minutes ending up in a corner kick after he was denied by Massa Chansel in goal.
The towering striker was denied again in the seventh minute this time near the goal post as he attempted to score from a Godfrey Walusimbi free-kick. Gor Mahia won their first corner of the match from that effort but it ended up on the upright after George 'Blackberry' Odhiambo had attempted to head it inside the net.
The visitors, who took time to settle, had their first go at Gor Mahia's goal in 14th minute. Makiese Junior won a free-kick just outside Gor Mahia goal and ?Ntella Tychique delivered it well but Boniface Oluoch picked it equally well.
In 20th minute, the visitors got their first corner as they started to settle. However, it was still Gor Mahia, who should have been up by two goals as in 26th minte Khalid Aucho blasted wide from a free-kick.
Makiese Junior had the perfect opportunity to put Leopards ahead in 28th minute. He beat an off-side trap set by the Gor Mahia defenders but still failed to score with Boniface Oluoch beaten. Oluoch then failed to hold onto a corner kick from Lakoko Preston and Barbov Querros hit the cross bar as Gor Mahia survived another scare just before the half time whistle.
On resumption, AC Leopards shocked Gor Mahia with an early goal when ?Ganzbo Ceciria beat Boniface Oluoch from close range to out his side ahead. Shocked but determined the Kenyan champions fought to get back into the match. George Odhiambo could have equalised at the hour mark but he blasted wide after being put through by Michael Olunga.
Musa Mohammed was then cautioned for rough play. The same fate befell Timothy Otieno as Gor Mahia appeared imobalised by the goal and hardly had a scoring opportunity in a good part of the second half.
Gor Mahia rested Timothy Otieno for Ali Abondo in 75th minute to try and create some chances. ?George Odhiambo was also rested for Ronald Omino but nothing just seemed to work in a poor second half by the home side, who must do better in a fortnight.
Starting XI: 23. Boniface Oluoch (GK), 5. Musa Mohammed, 4. Kevin Oluoch, 18. Haron Shakava 26. Glay Dirkir, 2. Godfrey Walusimbi, 10. Khalid Aucho, 6. Collins Okoth, 9. Timothy Otieno, 25. George Odhiambo, 19. Michael Olunga
Reserves: 1. Jerim Onyango (GK), 24. Israel Emuge, 15. Bernard Odhiambo, 8. Jerry Santo 30. Ali Abondo, 7. Ronald Otieno, 17. Eric Ochieng