Simon Pierre knows the Congolese
Gor Mahia's Camerounian defender Simon Pierre is under no illusions about how difficult the match against AC Leopards will be.
"It is a big game for us and we are looking forward to it. They are well known in the continent and have a number of Congolese internationals and very good foreign players in their side." he said to supersport.com
Pierre think the club can benefit from his familiarity with Congolese players.
"I know them because we share a lot in terms of our football back in Cameroon and they are feared by many. Many will say that they are the favourites to go through but I know that on our day we can beat any side at any time."
#Operation Jaza Stadi
Pierre also called upon fans to turn out in large numbers and get behind the team.
"We will be confident and hope that the fans come out in numbers to support us, because we are capable of doing well against them," he added.
Speaking of filling the stadium, Gor Mahia fans have started a social media campaign (#OperationJazaStadi) to encourage fans to turn out in large numbers. The number of Gor Mahia fans attending matches has been plummetting over the past two years with the club generating less than half the revenue it used to generate from big matches.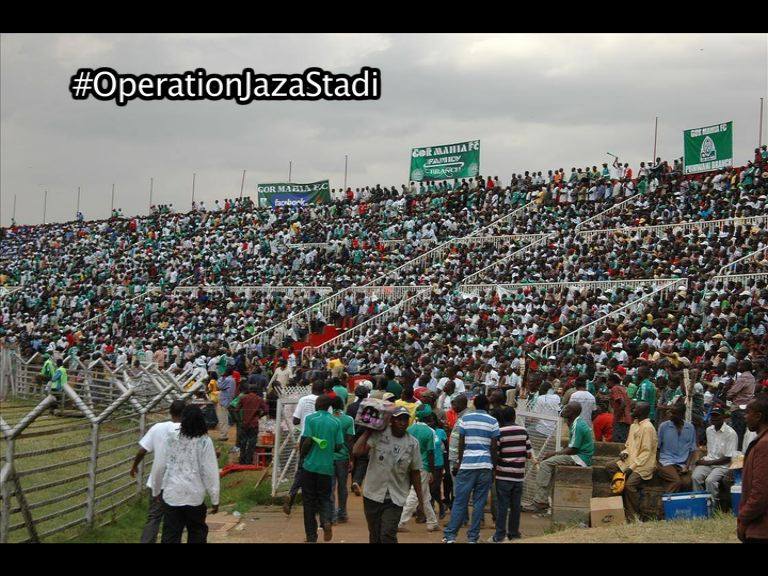 Against CNaPs, Gor Mahia were saved by the fact that they did not concede a goal at home. Against AC Leopards, keeping a clean sheet at home will be just as important as Pierre indicates.
"We need a clean sheet. It will boost us if we can keep a clean sheet. It will give us a good chance if we keep the clean sheet," he added.
Spying on Gor Mahia training sessions
AC Leopards sent an advance team of three officials to Nairobi early this week to monitor the proceedings and the party has been monitoring Gor Mahia's training sessions ahead of the Sunday tie according the daily Nation. This author does not understand why Gor Mahia's opponents would be allowed to watch them train.  The match will be broadcast live on SuperSport