Having qualified for the CECAFA club cup quarter-final by topping their group, Gor Mahia next take on Al Malakia of Sudan on Tuesday. It marks the first time in history that Gor Mahia will play a team from South Sudan in a competitive match.
On paper Gor Mahia should start as favourites. Al Malakia have scored only one win so far, a 1-0 win over Adama City of Ethiopia. They went on to lose 0-2 to Azam of Tanzania and 0-1 to KCCA of Uganda.
Founded in 1946, there continental pedigree is not much to write home about either. In the 2015 Africa champions league, they lost by a score of 0-5 to Kano Pillars of Nigeria. In the 2014 Confederations cup, they lost -15 to CARA of Brazzaville.
Gor Mahia for their part will be riding a wave of confidence having topped their group in brilliant fashion. And this was despite resting several players and rotating several players. And though Gor Mahia did not play up to their standards, they still beat Telecom 3-1.
"That was another good performance from my charges. I am impressed that we are winning matches even after rotating our squad. It was not an easy task but thank God we are now on ten points.
"Our ambition was to get past the group stages and I am glad that we have achieved that. I know that we shall have tough opponents in the quarter-finals but at this point any further achievement will be a bonus for us," he said to the Nation.
Nuttall also noted that playing 3 games in 7 days in the heat and humidity of Dar es Salaam is not easy.
"Playing four games in seven days is not easy and that is why we chose to rest some players.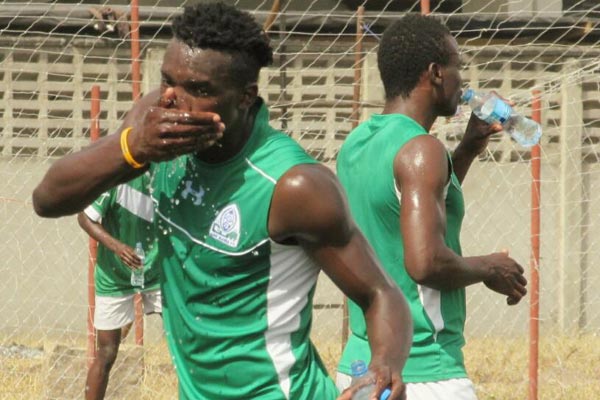 The marathon playing schedule has taken its toll on certain players. Khalid Aucho is not available for the Malakia game having sustained an injury. He will join Walusimbi on the sidelines.
Though Al Malakia have not been impressive, coach Nuttall will not be under-rating them and will field a full strength side.
"We have reached a crucial stage and no coach can gamble at this stage. I will have my regulars back," the Scot. "It will be a tough quarter-final as our opponents must have done their homework and they also have the ambition of advancing to the semifinals," added the coach.
Gor Mahia will need to play particular attention to Samuel Ssekamatte, captain David Dada and Peter Saddam Opera who have been impressive.
The winner of this match will play the winner of the contest between Al Ahly Shendi of Sudan and KCCA of Uganda.