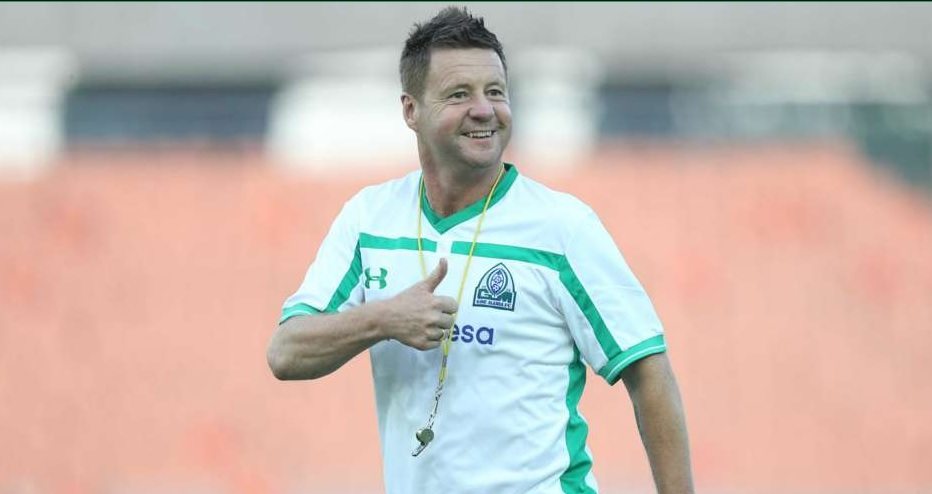 Update
Dylan Kerr used his social media page to clarify that he is not interested in the Harambee Stars job.
"I do not want the Harambee Stars job. I was asked a straight question if I can be interested in the job and I said 'NO'. I am at Gor Mahia and my contract indicates that I am a Gor Mahia coach and so, I am happy at the club. I am not in anyway interested in coaching the national team and I wouldn't want to even think about that at the moment," said Kerr.
The previous story caused a stir among many fans. Though he categorically stated that he was open to an advisory role, some fans took it to mean he wants to actively participate in Harambee Stars  training sessions.
Previous Story
Gor Mahia coach Dylan Kerr has told Capital FM that he would open to helping Harambee Stars coach Stan Okumbi in an advisory role if called upon.
"The coach needs help and I am here if he needs me to help. If he wants me to come support him I will do that because I want him to succeed; everyone wants him to succeed. Sometimes coaches need help, advice and support from other people outside the national team set up because everybody wants same thing; success," he told Capital FM.
This comes as Harambee stars fans have become increasingly dissatified with coach Okumbi who seems to lack imagination.
On whether he would leave Kogalo for Harambee stars, Kerr ws categorical that he is fully committed to Kogalo.
"My job here is at Gor Mahia and I am happy. I like my players, my staff and my club chairman who has been amazing and backed 100 percent. He has let me do my job without interference which in Africa is very rare," he continued.
In 2014, another Scottish coach Bobby Williamson left Kogalo to become Harambee stars coach. This was in August right after the fiasco that was the 2014 CECAFA   campaign.
In 2011, Zedekiah Otieno "Zico" was the Kogalo coach when he was approached by FKF to take over as Stars coach. Zico acquited himself well in that role including forcing a draw against Uganda in Kampala that doomed that Cranes chances of qualifying for AFCON.
Vojo Gardasevic, the Serb who could barely speak English, was another Kogalo coach who was recruited by Stars after having steered Kogalo to the 1995 league title.
On Harambee stars chances of qualifying for AFCON 2019, Kerr told Capital FM that poor organization was letting down Kenya football.
"I think all the stakeholders should sit down in a round table before the start of the season and sort out everything about Kenyan football,"
"We have three years to qualify for the World Cup, 18 months to AFCON… are we gonna kid ourselves and say we will qualify or are we gonna do something about it."
Gor Mahia head coach Dylan Kerr conducts a training session at the National Stadium in Dar es Salaam before the team faced Everton FC in a friendly match in July 2017
"I am not trying to rectify Kenyan football because I have no right to do that but I wanna give my experience of football around the world to make Kenyan football better," the coach further added.