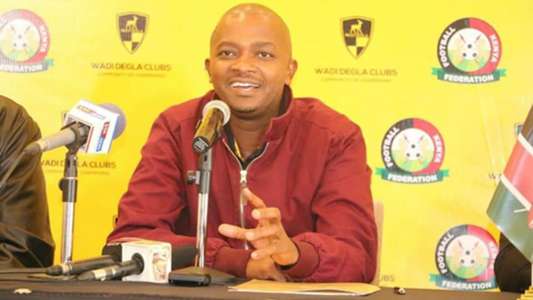 Due to a disagreement about revenue sharing and due to rising Covid 19 cases, the start of the 2020-2021 is in limbo
Additional reporting from the Nation
The Football Kenya Federation (FKF) elections may be long over, but the beautiful game's administrators are still at war.
A month after FKF President Nick Mwendwa was re-elected in an exercise marred by court battles and squabbles, the bickering between football administrators has shifted to the control of an estimated Sh350 million a year budget for Kenyan Premier League clubs.
This role was initially handled by the Kenya Premier League (KPL) Limited but the company's 17-year old mandate expired last September and Mwendwa refused to renew it.
The KPL has since been replaced by a new outfit, dubbed FKF Premier League Management Committee, which consists a six-member team chaired by Kenya Commercial Bank football club chairman Azu Ogola.
Under this new outfit, Mwendwa suggests the league's yet to be unveiled sponsors, namely StarTimes and BetKing, will wire Sh350 million annual sponsorship cash to federation accounts.
Surrender economic rights
FKF will, in turn, transfer an estimated Sh8 million a year to each of the 18 clubs in this competition in form of grants and retain the rest to help in payment of referees, handle administrative issues and pay off some commission to those who brokered the sponsorship deals.
But there's a catch.
These clubs have to surrender all their economic rights to the federation.
"We have worked hard to bring sponsors on board and the next step is to ensure our top-flight league, which provides the biggest share of national team players, is run in a professional manner," the FKF boss told Nation Sport.
"This week, we will wire Sh2 million to each club signs an undertaking for us to manage the rights and the competition. We also have imported a golden trophy that will be handed to the team that wins the league."
But then a number of clubs, including Gor Mahia, Tusker, Ulinzi Stars, Mathare United, Kakamega Homeboyz, and Zoo Kericho, will hear none of this.
"That money is for Premier League clubs. What Mwendwa now wants to do is akin to someone giving his wife all his salary and then borrowing from her money for cigarettes," argues Zoo Kericho FC chairman Ken Ochieng'.
Ochieng' insists Mwendwa should, as he promised during the campaign period, facilitate the registration of a new company to manage the league and sponsorship money.
The league clubs will then pay the federation a commission equivalent to 10 percent of the sponsorship money.
Ochieng, Gor Mahia's Ambrose Rachier, Mathare's Bob Munro, Ulinzi's Col. Erick Oloo, and Tusker's David Aduda also maintain they will not surrender their rights to the federation.
"The federation's responsibility should end at appointing referees, producing fixtures, and settling disputes. There's a big distinction between club rights and competition rights. When we compete in the domestic cup, we will never ask for the rights or question anything. But in the league, the club has as much a say in what happens," adds Ochieng'.
Rising Covid-19 cases
All this while, the players, who are the main stakeholders but have not played competitively since March, languish in uncertainty and poverty as some of them have not been paid for the past five months.
The government last week announced the rising Covid-19 cases and deaths in the country make it difficult for football and other contact sports to resume.
This life and death scenario, it appears, is not among a priority for some of these football administrators who are struggling to distinguish between lives, livelihoods and profits.