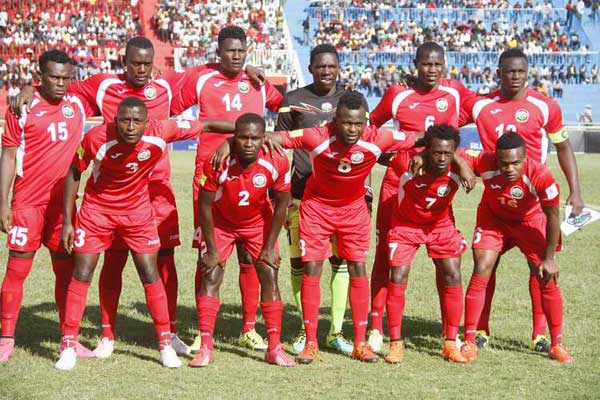 Goalkeeper Boniface Oluoch was the only Gor Mahia player in action on Sunday when Kenya were held to a disappointing 1-1 draw by Tanzania. A number of former Kogalo players were in action: David Owino, Anthony Akumu and Wycliffe Ochieng. Also in action was Humphrey Mieno who is said to be a transfer target for Gor Mahia.
Additional reporting from the Nation
Victor Wanyama scored from the spot and helped Harambee Stars hold Tanzania 1-1 in an International Friendly match played at Moi Stadium Kasarani on Sunday 29 May.
Tanzania started strongly and spent most of the opening minutes in Kenya's half but Victor Wanyama created Stars first chance of the game sending a long ball to link up with Ayube Timbe whose attempt to loop it over Tanzania keeper Don Munishi was unsuccessful.
Opener
Stand United forward star Elias Mrugao Maguli gave the visitors a lead after the half hour mark as he opened the scoring heading past Boniface Olouch after Juma Abdul hurled a dangerous ball in the 18 yard box.
Tanzania celebrations lasted for just six minutes as the hosts Harambee Stars won a penalty through Ayub Timbe after he was brought down in the 18 yard box. Victor Mugubi Wanyama converted the penalty to the right side of the goal equalizing for Kenya.
Attempts
Few minutes later Ayub Timbe sent a low cross from the left wing in the six yard box but Jesse Were was pressurized by Aggrey Morris thus missed the chance to put Harambee Stars ahead.
David Owino Calabar failed to direct his free header into the net in the first minutes of the game after Timbe delivered a corner kick to the far post where he was positioned.
Changes
Kenya's custodian Boniface Olouch made a fine save to stop Mao Mkami from putting the visitors ahead once more just after the second half started. Several chances came in the final half of the game but no team managed to find the opponents net.
Kenya Premier League top scorer Wycliffe Ochomo, second placed John Makwata and AFC Leopards winger Clifford Miheso were handed a chance to play as substitutes but their involvement could not earn Kenya a goal.
Line-Ups
Harambee Stars Starting XI: 1. Boniface Oluoch, 9. Joakins Otieno Atudo, 5. Abud Omar Khamis, 12. Eugene Ambuchi Asike, 8. David Owino Odhiambo, 14. Anthony Akumu Agay, 15. Victor Mugubi Wanyama, 23. Ayub Timbe Masika, 19. Humphrey Mieno Ochieng' 16. Eric Johanna Omondi, 29. Jesse Jackson Were
Subs: 3. David Okello Abongo, 10. Eric Ouma Otieno, 6. Mayeko Musa Mohammed, 24. Victor Ali Abondo, 27, Wycliff Okello Ochomo, 20. John Mark Makwata, 21. Clifford Miheso Ayisi
Tanzania Starting XI: 1. Bonventure Munishi, 6. Juma Abdul Jafari, 2. Mohammed Hussein, 13. Aggrey Morris, 15. Erasto Edward Nyoni, 17. Jonas Gerrald Mkude, 7. Himid Mao Mkami, 16. Shiza Ramadhan Yahya, 12. Mwinyi Kazimoto Mwitula, 10. Elias Mrugao Maguli, 4. Deus David Kaseke
Subs: 18. Aishi Salum Manula, 5. David John Mwantika, 9. Farid Mussa Shah, 11. Jeremiah Juma Ally, 8. Abrahim Hajibu Migomba, 3. Mwinyi Haji Mngwali, 14. Mohammed Ally Ibrah