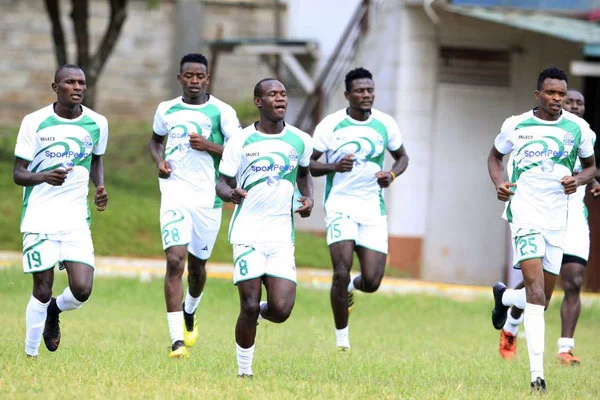 Gor Mahia coach Steve Polack has said that the decision on the 2019-2020 KPL title should be within the confines of the law
Additional reporting from the Nation
While calling on football stakeholders to leave the KPL management to give the way forward on the matter at an opportune time, Polack insisted the outcome should be within the confines of the law and comparable to other top leagues in the world.
KPL Chief Executive Officer on Tuesday through a statement, suspended the league indefinitely due to the coronavirus pandemic that has so far claimed the lives of seven people in the country.
"It is sad that people who should be holding concrete debates on this matter backed by law, have now resorted to short cuts and witch hunt. How can Kakamega Homeboyz chairman Cleophas Shimanyula propose that his team play Gor Mahia to determine the winner of the league,"? posed Polack.
"That is not acceptable and what becomes of other teams which are in pole position to bag the trophy because the points gap is not a wide margin,"? said Polack in an interview with Nation Sport.
The Briton coach though insisted that he would love to see that all the 10 remaining matches are played till the end of the season so that a credible winner is found.
"We are anticipating that the league will resume soon and that is why I am keen on training sessions on individual level among my players. We know it would be a busy intensified fixture after we shall have overcome this disaster," he added.
On the relegation fight, Polack said even the bottom-placed Chemeli Sugar still stand a chance of escaping the axe and leaving them out through the playoffs proposed matches will be totally unfair.
"As things are now, using playoffs to determine the winner of the league and relegation teams won't be fair. We should be speaking of options that are within the law," he added.
He, however supported Football Kenya Federation President Nick Mwendwa's recent remarks that Gor Mahia should be handed the title if the league doesn't resume based on the Fifa laws.
"The league is 75 percent complete and I support his assertion that we should be declared winners if this situation persists. This is what the law says and as a coach I believe it is the best way.
However, it is KPL's decision that will carry the day," he added.
Being away from his family, Polack said he was fine adding that he is keeping busy by handing individual training programs to his players on a weekly basis.
"Now football is second to me and human life is a priority. That is why I have been buying masks to those who can't afford using my own money whenever I meet them. I am in constant contact with my family and my 76-year-old mother has been indoors to avoid being infected," said Polack.
Ugandan Import Juma Balinya and the Tanzania duo of Dickson Ambudo and custodian David Mapigano are in their home countries, while Ghanaian midfielder Jackson Owusu is however in the country.
Sally Bolo: The Players have been patient
Sally Bolo spoke to the East African Standard about the situation at the club with regard to players
Gor Mahia treasurer Sally Bolo who is saddened by the situation admits that this has become a true reflection of Kenyan football.
"Right now, the clubs are generating nothing but even before Covid-19, most of the clubs were struggling to sustain themselves and pay players' salaries. Like in our situation, we were getting peanuts from the gate collections due to fan apathy. And now, things in Kenyan football have gone from bad to worse," Bolo told Standard Sports.
"I know many people always think Gor Mahia is a big club and should not depend on sponsors, but with a wage bill of five million shillings and four months arrears, where can we get such money?
She added: "I really pity our players. Most probably they don't have money now to buy food and pay rent. But as officials, we don't know what to do because even our personal businesses have been severely affected. Prior to this, we had problems so coming out of it will be difficult.
"I'm also grateful to the players because they have been patient with us since SportPesa left. I understand them and I sympathise with their situation, but they should be patient as we see what comes out after the pandemic."
Asked if she is aware of the looming player exodus at K'Ogalo after they were paid only Sh3,000 last month, the official said: "It is within their right to leave because as management, we have been unable to meet our end of the bargain. It is, however, not our making. We have not run away from them, but it's the situation that had dictated matters," said Bolo.
"The Sh3,000 send by the chairman last month was not a salary but just a token for the players. There was some communication breakdown and I think that's why the players were shocked."