Yet again Rachier promises a stadium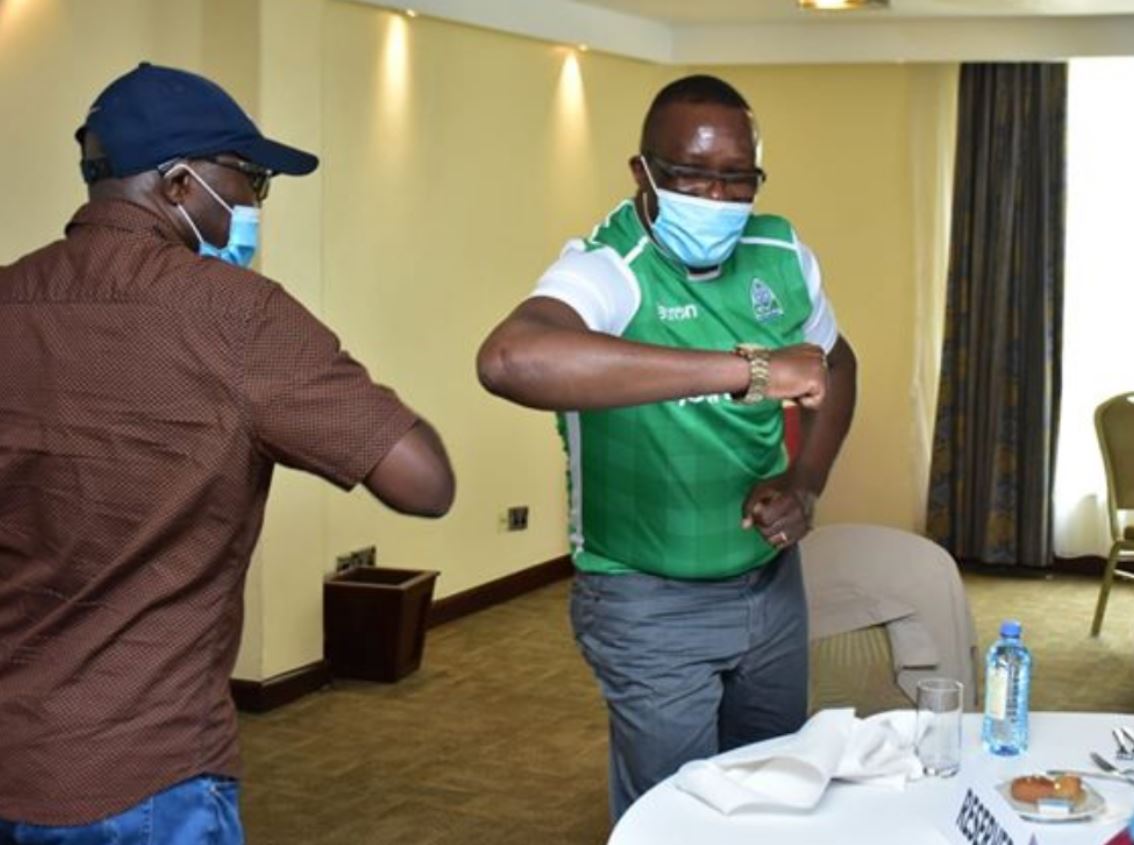 Newly re-elected Gor Mahia chairman Ambrose Rachier is promising once again to build a stadium on the land that the club owns at Kasarani. This is a promise he makes before and after every election
Additional reporting from the Nation
Was the re-election of long-serving Gor Mahia Chairman Ambrose Rachier last Saturday a new dawn for the club or the status quo remains?
This is the question many fans are asking. They doubt Rachier's ability to achieve much in the next four years having done very little for the past 11 years he has been at the helm.
The veteran lawyer has renewed his promise to build a stadium on K'Ogalo's 15 acres in Kasarani, as well as a new apartment for housing players.
He has also promised fans that the club would win a continental title before he exits the scene.
Rachier has been Gor's boss since 2008 when he took over from Erastus Okul in a smooth transition at City Stadium.
He said that he wants to surpass the record of former Chairman Douglas Oyieng' Odola, who was in charge when Gor won the prestigious Mandela Cup in 1987.
Olang' is the brother in-law of the late Foreign Affairs Minister, Robert Ouko who helped Gor Mahia retain its name when former President Daniel arap Moi had instructed community clubs to drop their tribal names in 1984.
"I want to build Gor Mahia a modern stadium at Kasarani and help the team win either the Caf Confederation Cup or Caf Champions League or even both. I promised to achieve this and leave," Rachier told Nation Sport from his home in Gem, Siaya County.
He plans to build the stadium on the land donated by the late President Moi after winning the Mandela Cup.
Despite winning the Kenyan Premier League 17 times and other domestic accolades, there are mixed feelings about Rachier's performance during his long tenure.
Compared to some of his predecessors who served in the 70s and 80s for a shorter duration compared to his, Rachier's critics thinks that he has fallen short.
When Gor was formed in 1968, its first Chairman, Zack Ramogo led the club to their maiden Kenyan Premier League glory. In 1976, under the then Chairman, Peter Anyumba, K'Ogalo won the league title unbeaten for the first time in its history.
Last Cecafa title
The run of impressive results continued in 1979 under the chairmanship of David Opar when Gor reached the final of the Caf Winners Cup for the first time after beating Guinean giants Horoya 3-0 in a two-legged match.
Gor eventually lost in the final to Sportiff Canon Younde of Cameroon.
In 1980, the Green Army clinched the Cecafa Club Championship after beating AFC Leopards 3-2 in Blantyre, Malawi.
K'Ogalo retained the trophy in 1981, beating Simba SC of Tanzania 1-0 at City Stadium.
The club last won the Cecafa title in 1985. The then Chairman, Zack Mbori, led the club to the Cecafa victories in 1980, 81 and 85.
Under Rachier's watch, Gor has only managed to reach the Confederation Cup quarter-finals in 2018. The team has always been eliminated in preliminary and group stages of the Caf competition and has never won the Cecafa Cup, only coming second to Azam in the 2015 edition.
Considering football has evolved due to multiple sponsorships which didn't exist in past, K'Ogalo supporters are of the opinion that Gor should have made a great step in building its brand.
Currently, the club is in dire financial straits and it is losing key players to local rivals and in the region.
Economic initiatives started in the past to help the club become self-supporting have fallen through due to infighting and sabotage.
Rachier, 70, has said they are tired of renting apartments for their foreign players who are often harassment when there is no cash to pay rent. He said a case in point is that of Ghanaian midfielder Jackson Owusu three months ago at Jimlizer Hotel in Buruburu.
Rachier, fondly known as "ADOR" (the acronym of his name), by K'Ogalo fans, made an about turn after promising to leave office by December last year.
"What I'm saying is I won't offer myself for re-election in the next polls. I estimate that we will need another six months to put everything in place and by December, we should hold polls," he said in May last year.
However, Rachier said he changed his mind after SportPesa withdrew its sponsorship and the club started experiencing turbulent times.
Rachier said he did this because people would have judged him harshly for leaving a sinking ship despite doing his best for the club all the times.
He also specified that he could not build the stadium and achieve other things because of the politics at the club.
"I always take personal responsibility for failure of Gor Mahia and I want to transform it from a community club to a self-reliant entity. I have worked with some officials whose interest is to take the club backwards then blame me. There have been many economic initiatives to help the club benefit before, but they have fallen off because of silent wars.
This time it will be different," he said.
His aim is now to recruit over 100,000 fans who can subscribe to the Sh100 monthly payment or the normal Sh1200 annual payment to help the club have a heavy financial base.
This will ensure the club sustains itself and compliment the money from the sponsors.
He also dismissed the accusation that he has held on to power for so long because the club generates a lot of money, which is always misappropriated by him and other club officials.
"I think the issue of money is what has been used to derail the progress of this great team. Where is the money at Gor Mahia? If we have over 100,000 fans then the question of misappropriation should arise. These are works of a few officials who are just tarnishing my name. However this time I have to deliver through all means."
Nevertheless, he promised to work hand in hand with new Secretary General Sam Ochola, veteran Vice Chairman Francis Wasuna and honorary treasurer Dolphina Odhiambo to achieve his dreams before exiting.