2015: A memorable season for Gor Mahia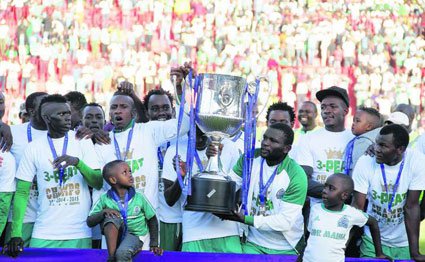 2015 is a year that will be remembered in the annals of history of this club. In 2015, Gor Mahia won 3 titles and came within a hair's breath of winning two others. Not only that, Gor Mahia went unbeaten in the league, unbeaten in the league, in the KPL top 8 and the Super Cup. In the GoTV Shield, Gor Mahia did not lose any game in regulation. They reached the semi-finals before losing on penalties to Nakumatt. Gor Mahia's losses only came in international competitions: In the CECAFA club cup, Gor Mahia reached the final before losing to Azam of Tanzania. In the Africa champions league, Kogalo overcame CNAPs of Madagascar in the preliminary round before losing to AC Leopards of Congo.
New Signings
Gor Mahia kicked off their 2015 campaign by announcing 14 new signings. (Khalid Aucho, Boniface Oluoch, Ronald Omino, Earnest Wendo, Ali Abondo, Farouk Ssentongo , James Ohawa, Dirkir Glay, Augustine Walusimbi , Jerry Santo , Zachary Toufiq , Innocent Wafula , Martin Werunga , Michael Olunga , Bernard Odhiambo)
Fans were not too impressed by the signings. Many questioned were Ali Abondo was re-signed by the club yet he had been released two years earlier due to lack of effort and was subsequently released by Tusker.
Of these signings, Ohawa, Ssentongo, Walusimbi, Werunga and Toufiq were later dropped by coach Nuttall. Gor Mahia would later sign additional players: Meddie Kagere and Abouba Sibomana from Rwanda as well as Karim Nizigiyimana from Burundi. Sadly the trio could not be included in Gor Mahia's champions league list because they were signed after the CAF deadline.
2015 Pre-season and Super Cup
Gor Mahia's performance in the 2015 pre-season left many fans alarmed. There were less than convincing wins over lower tier teams. The loss that left many fans up in arms was when Bandari beat Gor Mahia 2-0. Fans in Mombasa openly questioned the competence of coach Nuttall and his assistant Bobby Ogolla. Matters came to a head when Gor Mahia lost 0-3 to visiting Zambian side Power Dynamos. But coach Nuttall re-assured fans that trhe team was still gelling and experimenting with different combinations.
Fans finally started to believe coach Nuttall when Gor Mahia beat Sofapaka 2-1 to lift the 2015 Super cup. Both goals came via Ali Abondo. One was a penalty that resulted when Michael Olunga was fouled by the Sofapaka goalkeeper David Okello. The second was a sublime finish by Abondo after picking up a defence splitting pass from Khalid Aucho. Abondo's performance started to assuage the concerns of fans who were wondering why he was signed.
2015 Africa Champions league campaign
Gor Mahia were pitted against CNAPS of Madagascar. The Madagascans were no pushovers. Gor Mahia narrowly won the first leg 1-0. The goal came from Ali Abondo who converted a penalty after Michael Olunga was fouled. The CNAPs coach at the time stated that Gor Mahia were very lucky since in his opinion, the penalty was not deserved.
The return leg was played in Mahamasina, Madagascar in front of a hostile capacity crowd. Gor Mahia took an early lead via Ali Abondo. But CNAPS soon scored three goals in quick succession. Gor Mahia appeared buried until George Odhiambo broke the hearts of the home crowd to score Gor Mahia second goal. This was the crucial goal that Gor Mahia needed to advance on away goal rule, for they lost 2-3.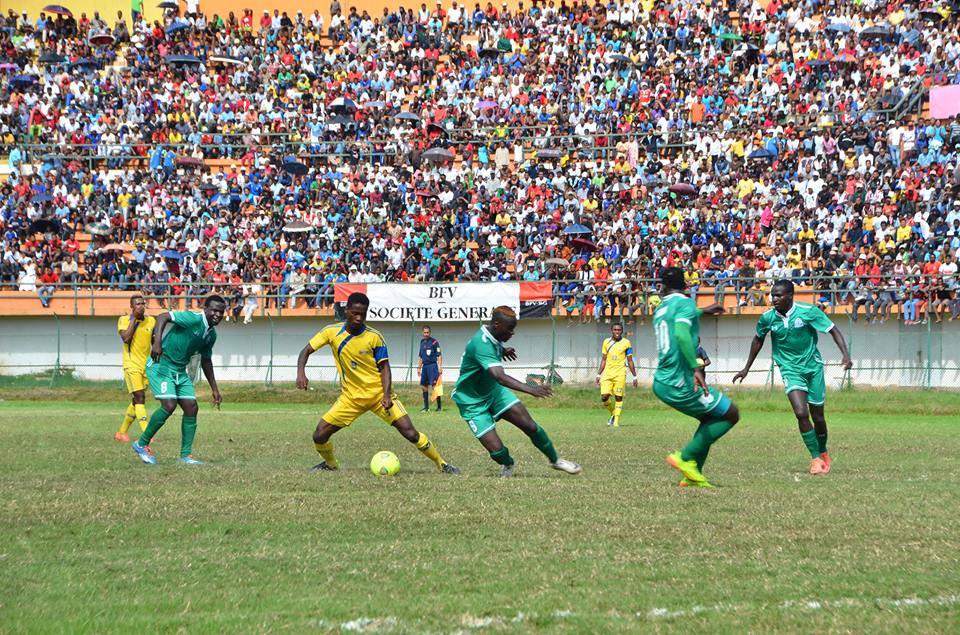 Coach Nuttall was not happy with the performance.
"Our performance was poor because we took long to settle in the game. We lost total concentration in first half and our opponents capitalized on that to score quick goals. We knew we had to come out strongly in the second half and that's exactly what we did to contain them,"
It is possible that the inexperienced Kogalo side was unnerved by the large raucous crowd.
In the first round, Gor Mahia faced a sterner test against AC Leopards of Congo republic. It is a team that had won the CAF confederations cup two years earlier. Gor Mahia lost both legs 0-1. Coach Nuttall was adamant that the team had played well.
"We played very well in both halves as the boys showed a lot of bravery. It is unfortunate that we are never given the credit we deserve especially after such a great performance against a team of this calibre. "As far as I am concerned, we are still in the match and will try and do better in the return leg," he told journalists after the game.
Nuttall attributed AC leopard's win to luck. According to him, Gor Mahia played better and deserved to win whereas the Congolese had one chance on which they capitalized.
"I really applaud the players. They dominated the first half and every player's contribution was very impressive. The opponent had one chance in the second half and nothing else. We'll see how it goes in the return match," he said.
By this time, some fans had started to lose patience with Michael Olunga, the big name signing. Many fans expected him to fit into the big shoes of Ugandan Dan Sserunkuma who had steered Gor Mahia to two succesive league wins. Olunga had a slow start and missed numerous scoring chances. Nuttall re-assured fans that Olunga would eventually
2015 League Campaign
The 2015 league campaign will be remembered forever as the year Gor Mahia went unbeaten. It was the first unbeaten record in the KPL era and the first unbeaten league campaign since 1988. But Gor Mahia did not just go unbeaten. They did it in style.
Gor Mahia started the league with a convincing 4-2 win over Mathare United. Olunga scored twice and Abondo scored twice. For Olunga, it was sheer joy as he finally quieted the naysayers and doubters. For Abondo , it was a continuation of his run of excellent form that had left his previous doubters scratching their head.
Gor Mahia went on to win their next matches 2-1, 3-1 and 3-1 against Bandari, Chemelil and KCB. Though Gor Mahia were winning, medianaysayers expressed concern about the number of goals that Gor Mahia were conceding. Whereas Gor Mahia had conceded very few goals in 2013 and 2014, they had now 5 goals in the first 4 games. But coach Nuttall dismissed such concerns stating that winning was more important than clean sheets.
But as if to silence the critics, Gor Mahia went through a stretch of 10 games where they did not concede a goal. The most notable win was a 5-0 drubbing of Nakuru All Stars. That win was most memorable for the goal that Meddie Kagere scored. He elegantly sidefooted that Nakuru goalkeeper leaving the latter befuddled. It was a goal that is easily the best goal of the 2015 KPL season.

By the time the second leg started, it was clear that Gor Mahia would win the 2015 league. Olunga had finally hit his stride and established himself as the best Kenyan striker. His partnership with Meddie Kagere and Ali Abondo proved lethal and established itself as one of the best attacks the club has seen.
Olunga's defining moment came at Afraha stadium when he scored all four goals in the 4-1 demolition of Chemelil Sugar. It was a good win for Gor Mahia to silence Chemelil coach Mike Mururi who is one of the coaches who had been advancing the theory that Gor Mahia are helped by referees. Though Olunga got the plaudits, the man who deserved man of the match honours was Karim Nizigiyimana. His industry and tireless running created almost all the goals, often leaving Olunga with the easiest of tasks to score.
In the next match, Gor Mahia demolished KCB 6-1. It was the highest number of goals scored by any team in the KPL throughout the year. It established Kogalo as an unstoppable juggernaut in the eyes of other teams and the media. So much that when Gor Mahia faced AFC Leopards, in the second leg match 3 weeks later, AFC fans had resigned themselves to an inevitable loss and decided that their sole aim was to ruin the match. That they did, causing fracas that ended the match prematurely and resulted in Gor Mahia being awarded the match 2-0.
With Gor Mahia having an unassailable lead for most of the second leg, it was just a matter of when they would mathematically win the leg. That they did with three matches to spare when they beat SoNy Sugar 1-0 on September 15. But those who thought that Gor Mahia would take their foot off the pedal were mistaken. Gor Mahia went on to beat Sofapaka 2-0 in the next match as the relentless juggernaut continued to match on. Gor Mahia assured an unbeaten record winning their last two match 1-0 and 2-0 against Western Stima and Muhoroni Youth.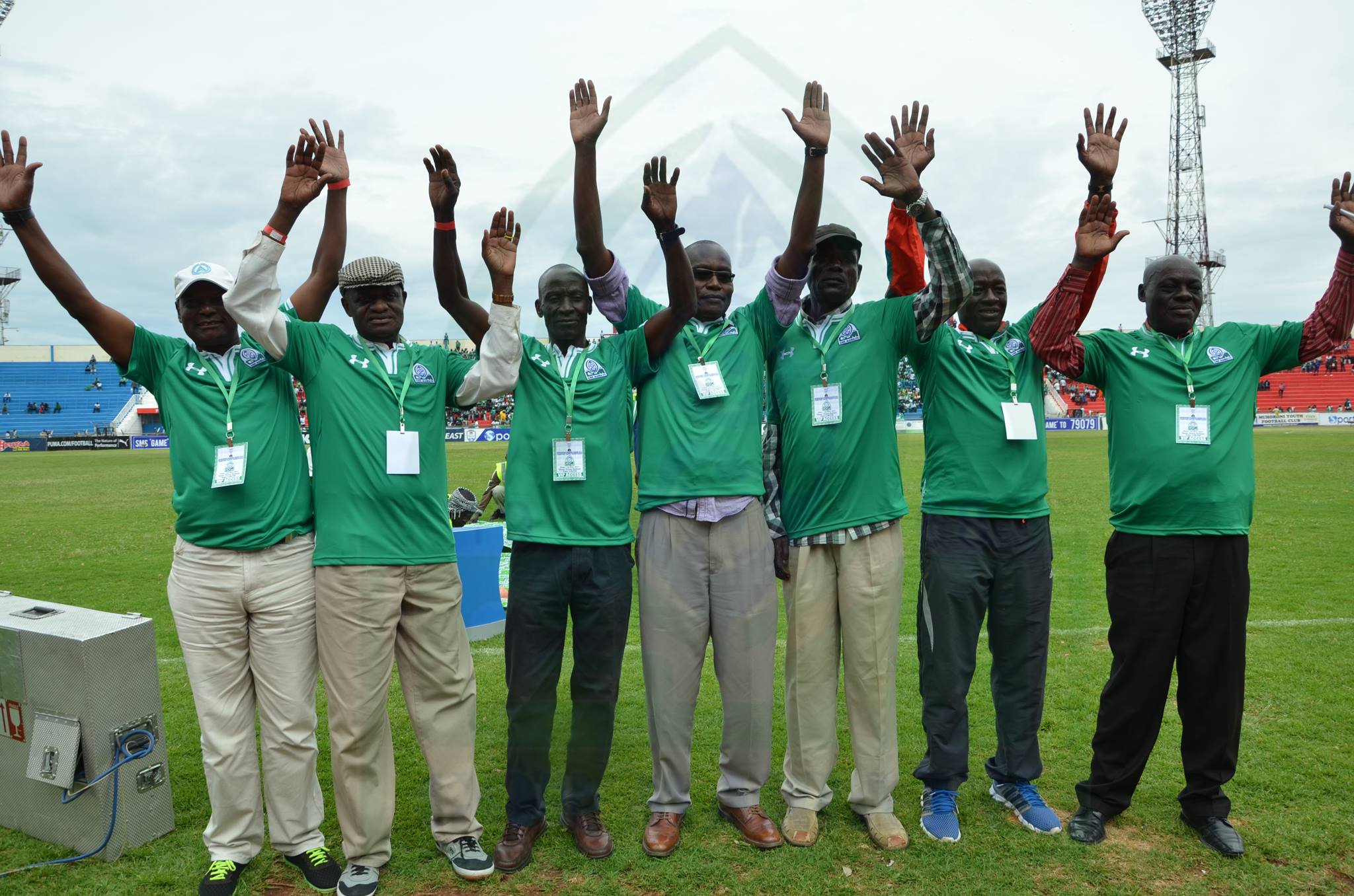 2015 CECAFA club cup
Gor Mahia were eager to put aside their below par performance in the 2014 CECAFA club cup. They started on a bright note against much fancied Young Africans of Dar es Salaam who were the host team. Gor Mahia sunk Yanga 2-1, coming from behind, thanks to goals from Harun Shakava who headed home a corner and Michael Olunga who shrugged off two attentive defenders to score.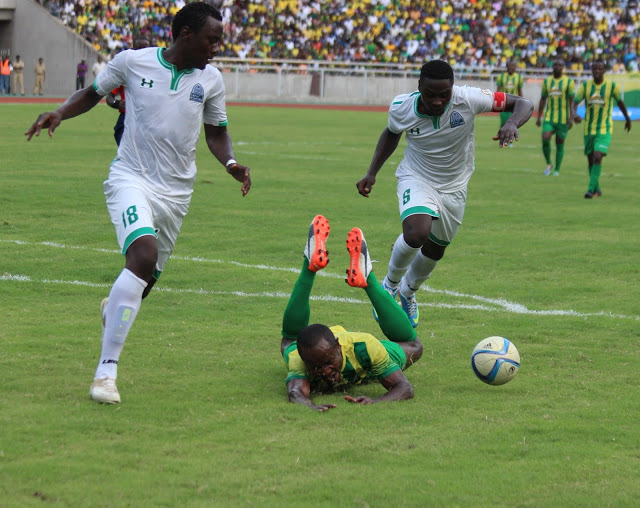 Gor Mahia went to end the preliminary stages on a brilliant note with wins over KMKM of Zanzibar (3-1), Telecom of Djibouti(3-1) before drawing 1-1 with Al Khartoum of Sudan. The win over Telecom was notable as they had forced Gor Mahia to a disappointing 2-2 draw in 2014.
In the quarter-finals, Gor Mahia beat Al Malakia of South Sudan 2-1. They then beat Al Khartoum 3-1 in the semis. Al Khartoum were featuring former Gor Mahia midfielder Anthony Akumu. Gor Mahia's dream of winning the cup for the first time since 1985 were shattered when they lost 0-2 to Azam of Tanzania in the final
Michael Olunga was voted the best player of the tournament. He was also the tournament's top scorer with 5 goals. Boniface Oluoch was voted best goalkeeper of the tournament.
2015 KPL Top 8
Gor Mahia had not won the KPL top 8 since 2011. In 2015, they started their campaign with an impressive 3-0 win over Muhoroni Youth. Next they came up against perennial rivals Tusker who had eliminated Gor Mahia from this tournament in the previous year. Gor Mahia earned a measure of revenge. They beat Tusker 4-3 on aggregate after a two legged second round (2-2 and 2-1). The final match was held in Kisumu. Gor Mahia beat SoNy Sugar 2-1 to lift their third title of the season.
2015 GoTV Shield
Gor Mahia started their cup campaign with a 3-0 win over Langata Gremio. Goals from Kagere, George Odhiambo and Dirkir Glay sunk the lower tier side. Kagere wason target again, scoring twice as Gor Mahia beat Ushuru 3-2 in the next round. Collins Okoth rounded up the scores. Then came Palos of Kisumy whom Gor Mahia dismissed 4-2. Ali Abondo struck twice with Shakava and Olunga rounding up the scores. The quarter-final match against Administration Police at City stadium was the George Odhiambo "Blackberry" show. He scored two classic goals that were reminiscent of this 2010 form. He sliced open the AP defence with quick dribbles then calmly planted the ball in the net. Kagere rounded up the score as Gor Mahia won 3-1.
By the time Gor Mahia reached the semi-final against Nakumatt, fatigue had taken its toll on the players. Gor Mahia had played in five tournaments all the way to the final. Numerous Gor Mahia players were involved with their national teams in various tournaments. It showed as Gor Mahia were held 1-1 before losing on penalties.
Gor Mahia's record breaking season at a glance
First team in the KPL era to finish the league with an unbeaten record (24 wins, 6 draw)
Most number of points in the KPL era (78)
Largest point differential between 1st and 2ndposition ever (20 points)
Most number of goals scored in a 16 team Kenyan league (60)
Least number of goals conceded in the KPL era (12)
Highest goal difference in the KPL era (48)
Three players finished among the top 5 scorers : Olunga(19), Kagere(13) & Abondo(11)
Olunga scored the most goals of any Kenyan in all competitions
Karim Nizigiyimana had the most assists (17)
Bobby Ogolla set a new record having won 9 titles : 5 as a player and 4 as a coach
Michael Olunga was voted Kenya Footballer of the year
Boniface Oluoch was voted goalkeeper of the year.
Karim Nizigiyimana was voted defender of the year
Frank Nuttall was voted coach of the year
Ten Gor Mahia playes featured for national teams in 2015: Boniface Oluoch, Musa Mohamed, Harun Shakava, Collins Okoth, Michael Olunga, Ali Abondo (Kenya) Abouba Sibomana (Rwanda) , Dirkir Glay (Liberia), Geoffrey Walusimbi and Khalid Aucho (Uganda)
 Gor Mahia players won 3 out of the 7 SJAk player of the month awards: Ali Abondo (April) , Karim Nizigiyimana(June), Meddie Kagere (September)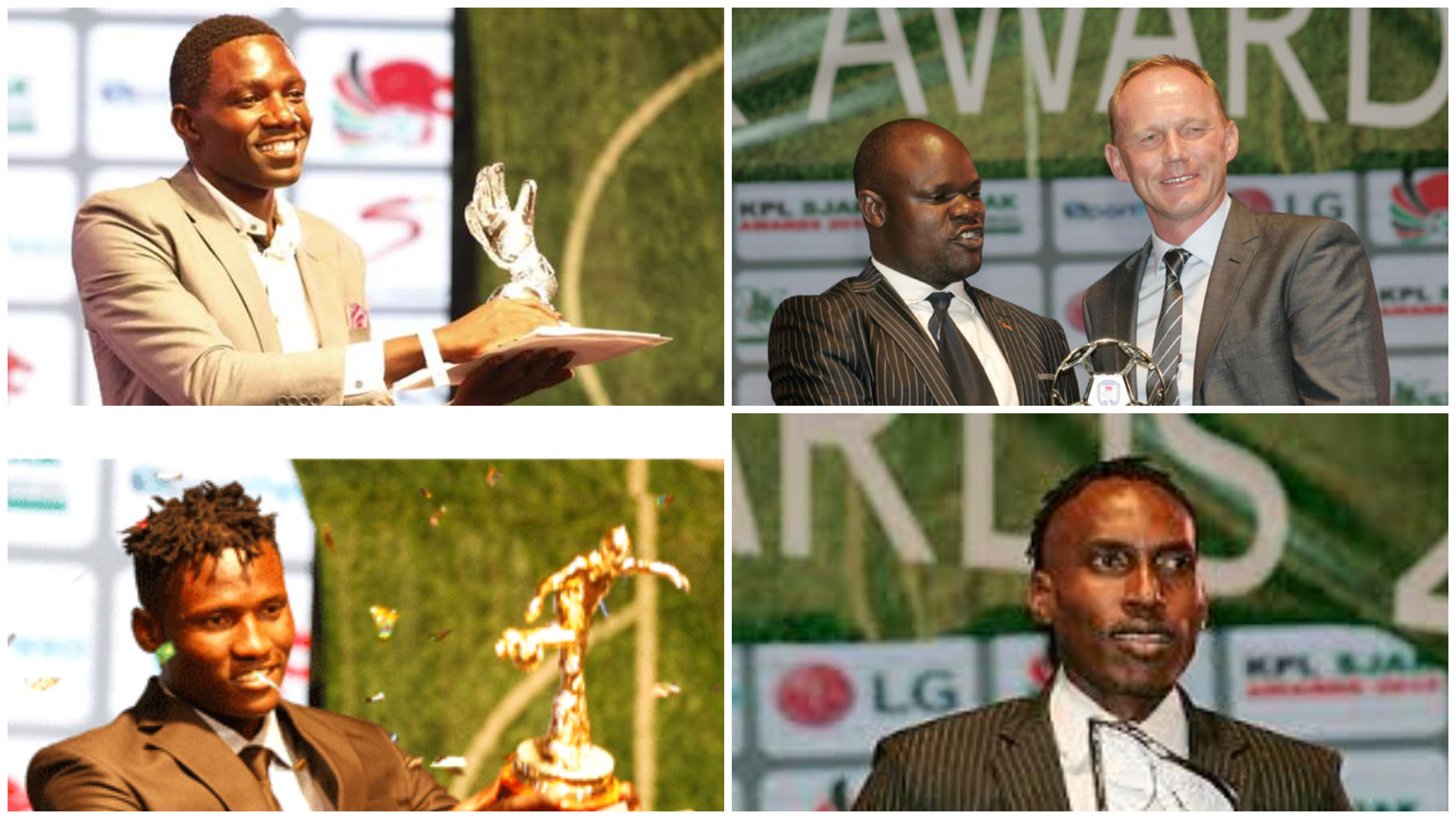 For Abondo and Boniface Oluoch it was a case of overcoming adversity after they were dismissively declared surplus to requirements by Tusker at the end of 2014. Musa Mohamed had his best season in a Gor Mahia jersey, solidifying the central defence position. He wore the captains armband for most games. If there was a club chairman of the year award,it would have gone to Ambrose Rachier for his astute signings and leadership at a time when Gor Mahia was operating without a sponsor.