Tuyisenge leaves as one of the best heading specialists ever to play for Kogalo
Jacque Tuyisenege is leaving Kogalo after an illustrious career at the club. Since joining the club in 2016he has proven to be a reliable scorer. He joined the club at a time when fans were concerned about the club'a attack given the departure of Michael Olunga and Meddie Kagere.
After an injury riddled start that left many fans wondering why he was signed without a medical test, Tuyisenge finally hit his stride and went ona goal scoring spree that ended with him being the 4th leading scorer in the 2017 KPL.
One area where Tuyisenge excelled was in the aerial division where his ability to accurately direct powerful headers resulted in numerous crucial goals. As Tuyisenege leaves, let us recall some of the best heading specialists this club has seen.
Peter Dawo
When it comes to scoring with headers Peter Dawo is second to none. Not just in Kenya but one can safeky make the claim that no African striker has ever scored so prolifically from headers.
His name is synonymous with Gor Mahia's only continental trophy in 1987. This is because he scored 10 goals to emerge as the top scorer in the tournament. 9 of the goals were from headers. The most memorable came in the semi finals when with Gor Mahia staring at elimination with only a few minutes left, he scored with a powerful back header. Just as crucial was the header he scored against Esperance when he headed home a precise corner kick from Abbas Magongo after lulling the Esperance defence to sleep by pretending to tie his shoelaces.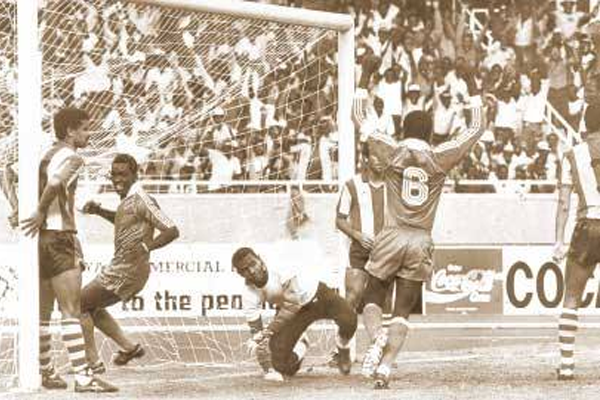 Dawo also scored numerous crucial league goals such as the 1987 Mashemeji derby. In a tense match at a packed Nyayo stadium,the game appeared headed for a scoreless draw when Dawo rose to head home a cross from Ben Oloo "Breakdance" and in the process sent fans into a near delirium.
Dawo was the kind of striker who created utter chaos and bedlam against any defence because of his hyper-activity in the goal area and his amazing leaping ability.
Allan Odhiambo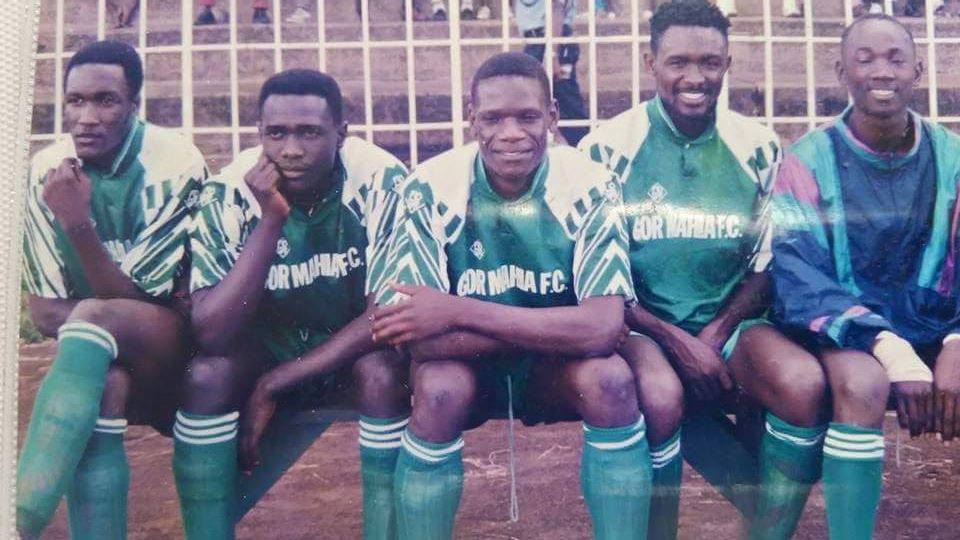 The towering Allan Odhiambo was a product of Eastleigh secondary school at a time when they were the best school team in Nairobi, winning the city title in 1988 and 1989. Odhiambo first came to prominence in 1990 as a central defender of the Kenya U21 team coached by Gerry Saurer, a coach who excellent at identifying and unearthing talents. That was the best U21 team ever in Kenya's history as nearly half of them played for the Kenya national team in later years.
Odhiambo, barely in his twenties in 1991, ended up as the leading scorer for Gor Mahia in 1991 with 12 goals. It was quite an achievement considering that he mostly played in central defence or as a defensive midfielder, a position that coach Len Julians deployed him to take advantage of his scoring . He scored in both legs of the mashemeji derby in 1991.
George Otieno "Vigo"
A powerfully built defensive stopper, Vigo was sometimes preferred in that position by coach Len Julians because unlike other defenders of that era, Vigo was good on the ball and was able to initiate moves from the defensive area.
And when Kogalo was awarded a corner kick, you could count on Sammy Onyango sending an accurate delivery exactly where Vigo anticipated the ball and Vigo would not dissapoint. He scored numerous goals from heading home corner kicks in the 1982, 83 and 84 seasons. Thsi despite playing sparingly.
Jacque Tuyisenge
His most memorable goal remains the goal he scored against English premier league side Everton in Dar es Salaam. On that occassion, Muguna took the corner to the near post and Tuyisenge, anticipating where the ball was going, left the Everton defenders flat footed and powered the ball home from a very difficult angle.
The goal was epic because it was against a premier league side and it was less than a minute after legendary Wayne Rooney had opened the scoring.
Tuyisenge would go on to score numerous other goals from the air. But also on the ground. A feat that enabled him to become the fourth leading scorer in the history of the league. Only Sammy Onyango, Hezborn Omollo, Allan Thigo and Peter Dawo have scored more goals for Kogalo.
Tuyisenge was also a humble person, a class act, a committed professional. Despite his stature, he was not one of those who was always agitating to move overseas for a better deal.
On behalf of GORMAHIA.NET and Gor Mahia online supporters club, Thank you Tuyisenge for three exceptional seasons at Gor Mahia. You will be remembered.