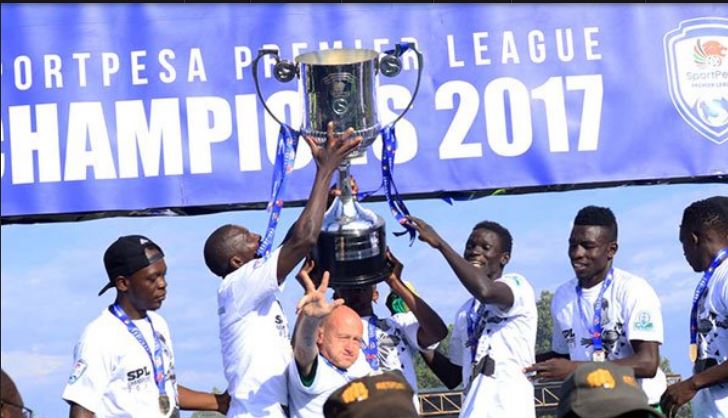 The 2018 Kenya Premier League will now be formally presented to Gor Mahia in Kisumu. The event will be held on September 30th during the match against Mathare United. This according to the club's organizing secretary Judith Nyangi.
"Gor Vs Mathare match has been moved to Moi Stadium Kisumu on Sunday 30/09/2018 at 2pm. Early kick off has been decided upon to allow for enough time for trophy presentation." said Nyangi on her social media pages.
The trophy presentation had earlier been planned for Machakos, much to the chagrin of many fans and even coach Dylan Kerr spoke out against that plan.
"The club's majority of fans, since I have been at Gor Mahia, have come out in force in Kisumu," Kerr told Goal in an interview. So as a football fan, this is where it should be held to thank them for the amazing support, but again that is in no way being disrespectful to all our fans all over Kenya." said Kerr
Much like Len Julians did 35 years ago, Kerr has marveled at the passion of Kisumu based fans.
"And when we have games outside of Kisumu, many of our fans from Kisumu travel to support us be it Nairobi, Nakuru, Narok or even Machakos." he concluded.
Gor Mahia and others chasing Abdallah Hassan
Bandari attacker, Abdallah Hassan told ESPN that Gor Mahia, AFC Leopards and Tusker have all approached him.
"There's interest from other clubs," the forward said after Bandari's league game against Zoo Kericho this weekend. "Gor Mahia, AFC Leopards and Tusker have all contacted me over a transfer. This makes me happy because it means that I have been performing well."
Hassan has been a revelation this season, and even caught the eye of national team coach Sebastian Migne, culminating in his national team debut against Malawi last week. There he was credited with the assist that led to Kahata's goal, following a cross from Eric Ouma.
Hassan is committed to Bandari for now.
"My dream is to play in Europe," he continued. "I wouldn't want to join another local club.
"Bandari has helped shape my career and I wouldn't play against Bandari in the Kenyan Premier League,' he continued. "For now, I am a Bandari player and I am committed to the club, we will see what happens at the end of the season." he concluded.
In 2014, Kogalo obtained the services of another high profile Bandari player in Shaban Kenga. He played for six months on loan before being recalled by Bandari.
Kerr Mugged on Saturday
Additional reporting from the Standard.
Love for selfies and an open arm for all left Gor Mahia coach Dylan Kerr nursing bruises after the Briton fell prey to daring Nairobi thugs last weekend.
Kerr, who was in the company of friends, including a young lady, was attacked after leaving a club along Ngong Road. The attack came moments after he had watched the international boxing match between Kenyan Fatuma Zarika and Mexican pugilist Yamileth Marcado last Saturday.
Kerr said the security guys at the club did not help them, and instead demanded money to help them get back their phones [Courtesy]
According to Kerr, who was forced into a temporary 'blackout' after he lost two expensive mobile phones, including an iPhone in the incident, a group of youth tricked him with a selfie request before descending on him and his friends.
"This is the first time in Kenya that I have been attacked and lost a phone. I don't deny people selfies even if it is a 1,000 times. I wonder why someone would go into all that trouble for an old Blackberry phone," Kerr told The Nairobian. The coach said they were forced to rush one of his friends to hospital after he was injured.
Kerr said the security guys at the club did not help them, and instead demanded money to help them get back their phones.
"I reported the matter to the security officer at the club, but they asked for money, so I never even bothered to proceed to the police (station) to make a report,"
But the club condemned the incident and distanced themselves from any blame saying the incident took place outside the club. "Our security officers are responsible and have always handled any incident professionally, but if any of their staff are found to have colluded with the attackers, disciplinary measures will be taken against them," said the customer care official at the club.
The event has apparently not dampened Kerr's enthusiasm for roaming the streets of Nairobi has he spoke about walking from Kileleshawa to Camp Toyoyo while taking selfies with fans along the way.
Today I walked from Kilileshwa to Camp Toyoyo for practice. The amount of happy smiles, greetings, handshakes and Selfies from all kinds of people K'Ogalo or Not was truly amazing and this is why Kenya has amazing people. I'm home now and I'm still smiling Erokamano Asante Sana

— Dylan Kerr (@legend3) September 14, 2018