Gor Mahia U19 team went down 3-1 to Italy Lega Pro U18. However the 3-1 loss is nothing for the young lads to hang their head down.
They were playing against a team that has been together much longer than they have. This is a team that has played in several tournaments both in Italy and abroad. Secondly it is a team that has much better facilities, better trained coaches and is generally better funded.
Yet the young Kogalo lads gave a good account of themselves, playing free flowing football and entertaining the fans.
The fact that they were able to limit the Italians to three goals and score one means this is a decent team whose players have a good future ahead of them if they continue working hard on their game.
Fans must also play their part by supporting this team financially.
Match report courtesy of futaa.com
Visiting Italy Lega Pro U18 cruised past Gor Mahia U19 with a 3-1 win in an international friendly match played on Friday 18 April at the MISC Kasarani starting 1600 hours local time.
Dellovo Andrea drew the first blood in the 12th minute before Zottini Francesco claimed a brace in the 60th and 70th minutes with Cliff Nyakeya pulling one back in the 80th minute.
Gor started brightly and had the first attempt in the opening minutes but Emmanuel Olinga's shot from a Hajj Achkobe cross was saved by Italian goalkeeper.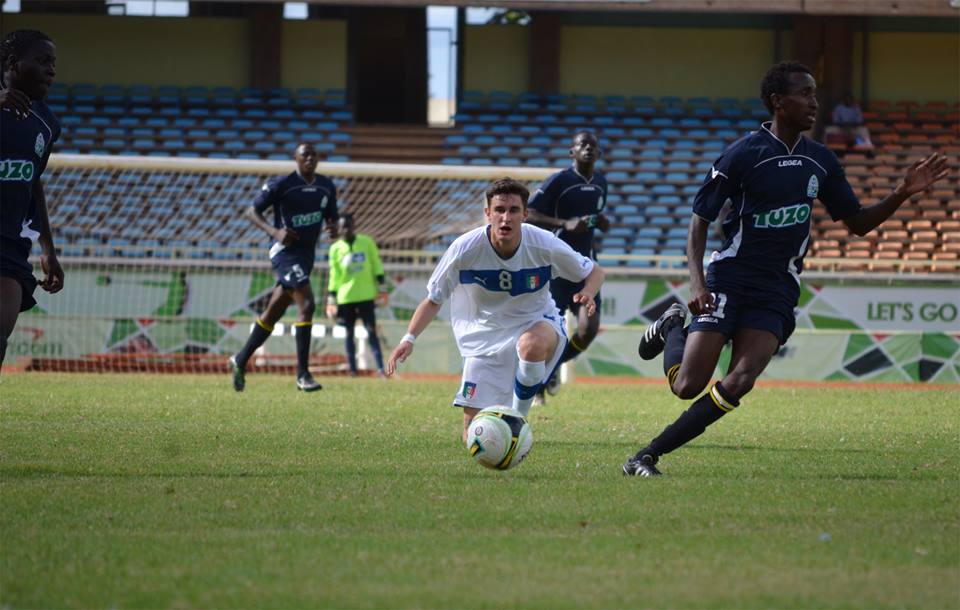 Italy then went ahead in the 12th minute after Dellovo Andrea unleashed a low shot into the back of the net from inside the box.
Three minutes to the half hour mark, Cliff Nyakeya saw his cross well collected by the Italian keeper before Gor keeper Vincent Odhiambo produced a fine save from a free header with the ball rattling off the post for a fruitless corner in the 43rd minute. Gor went for the breather trailing 0-1.
Second half
In the second half, Amos Nondi thought to have leveled matters in the 51st minute but his long range shot from outside the box was easily picked by Italian custodian.
In the 57th minute, Gor youngsters protested for a penalty in vain after their opponents' defenders seemed to have handled the ball from a corner cross.
Five minutes later, Zottino Francesco doubled the lead for Italy, heading home a cross from the left wing. Francesco was on the mark again in the 70th minute this time round getting past Vincent Odhiambo in the Gor Mahia goal before turning home for his second on the day.
Nyakeya pulled one back
Cliff Nyakeya pulled one back for the Nairobi County League (NCL) side in the 74th minute. Nyakeya had another chance to reduce the deficit in the dying moments but his attempt went straight to the Italian keeper before the centre referee blew the final whistle
Gor Mahia FC appear to be back on track. After a strong start in the league, they were briefly derailed but have won the last two games in convincing fashion. It is against this backdrop that they take on Thika United in the KPL Top 8. The last match between the two teams ended in a scoreless draw because Thika simply packed the bus then employed time wasting tactics. It is therefore ironic that coach John Kamau thinks his tactics are superior.
Rama Salim has been a key component of Gor Mahia's rejuvenation. It appears his pertanership with Ssserunkuma which wreaked havoc in KPL teams in 2012 is making a comeback. They could make life very difficult for Thika United.
Gor's head coach Bobby Williamson has expressed his delight at the duo. "It is pleasing to see them (Rama and Sserunkuma) play like they did in Nakuru. They seem to know each other's movements very well and the understanding is pivotal to the team's plans moving forward," he said to the Nation.
Alternatively, coach Williamson could opt to rest the duo and save them for the KPL. After all Gor Mahia has players like George Odhiambo who could use this opportunity to regain his form of old along with Patrick Oboya and Jared Obwoge who needs a chance to prove himself.
Despite winning the last two games, there have been momemnts of laxity that have seen Gor Mahia concede easy goals. Williamson stressed the need for concentration. "We have had two great games in the league which gave us wins. We have to give concentration and one hundred percent if we are to move to the next stage." he said.
Match in Machakos instead of Kisumu
The match will be played in Machakos on Sunday. It had earlier been slated as the grand opening of the newly refurbished  stadium in Kisumu but the Kisumu county government failed to meet KPL demands with regards to flying the players to Kisumu.
There is also the matter of a pile of rubbish outside the stadium which KPL has said must be removed before any KPL matches can be played there. Gor Mahia are due to play Chemelil in a few weeks and Kisumu based fans are hoping that match can be played in Kisumu instead of the usual Afraha.
Kisumu missed an opportunity to host the CECAFA cup, the top 8 and may now miss an opportunity to host KPL matches. "We are looking to host some matches at the venue soon. We are already in talks with KPL to have some matches played at the stadium," Ranguma told Daily Nation Sport.
Fans in Kisumu also decried the inability to put up new stands. "We don't understand if the stadium was renovated to be closed or to be used. Work on the terraces, washrooms and other facilities is still incomplete," said Dismas Ogola of the Winam branch to the Nation.
He further lamented that the County, through its sports department, had  allowed illegally erection of structures within the stadium's precincts.
"For this stadium to be considered of international standards, it must have all the required facilities  in place. Also the parcels of land that have been grabbed must be recovered," Ogola said.
Exactly one week ago, Gor Mahia officials announced that due to the reluctance of corporate sponsors to come on board as sponsors, they were embarking on a major member recruitment and fund raising drive. EC member David Kiilo announced that the club is targeting at least one million members who will be expected to pay Sh100 each. Not much has been heard from the club since then.
Naturally the die hard fans are willing to dig into their pockets to support the club they support. However many fans in the blogosphere have demanded  measures of transparency and accountability be put in place. Almost 50% of fans responded that they wanted to see financial transparency.
Unfortunately, transparency has never been a strong suit for this club. Things were much worse in the past.
Previous chairman Erastus Okul once remarked that the fans had no business inquiring about the inner goings-on at the club. Ambrose Rachier may be one of the best chairmen in the history of club football in Kenya. But even he has not assuaged the concerns of those fans who demand accountability.
Financial transparency can be enhanced for example by publishing the club's accounts and having the  accounts audited on a regular basis by reputable accounting firm such as KPMG.
Gate collections is another area where the club must assuage the skepticism of fans. The recent match pitting Gor Mahia and Bandari raised Ksh 1,049,000 at the gates. Given that City stadium is far larger than Mombasa Municipal stadium and more Gor Mahia fans attend matches at City than those who travel to Mombasa the gate collections for home games should always be much higher than that number.
Back in 2002, yours truly approached Gor Mahia officials offering to send money every month and also recruit other fans to do the same. We had an agreement with the officials at the time that they would put in place real measures to enhance accountability. But after I sent the first money for the 1st month I contacted him about the promise he made. But he just kept insisting that we send the money.
It is a given that should Gor Mahia put in place the measures need to enhance transparency, the club could raise significant amounts of money. In a way its a good thing that Tuzo pulled out. It means that club's officials must now think out of the box and find other ways to raise funds. Will they ? They better. The success of the club depends on it.
Midfielder Kevin Ade Omondi is set for a trial at Ajax Cape Town who are on the search for a consistent goal-scorer.
He is the third player to be linked with an opportunity with a South African top-flight side, following in the footsteps of team-mate Musa Mohammed and AFC Leopards winger Paul Were
Omondi's agent Basil Manousakis confirmed that the attacker will join the Urban Warriors for 10 days, so that they can have a closer look at him.
"He  is supposed to be in South Africa by Monday 28th April," he added.
Ajax Cape Town has produced several quality players in the past including South Africa national team players like Hans Vonk and Steven Pienaar.
U19 venue shifted
The match between Iataly U-18 team popularly known as Azzurrini and the Gor Mahia's U-19 side will be will be played at Kasarani on Friday and not Nyayo stadium as initially announced. This according to michezoafrika
FKF while announcing the changes on Thursday also released ticket prices for those willing to attend the match. There will be three categories of 100 shillings, 500 shillings and 200 shillings respectively.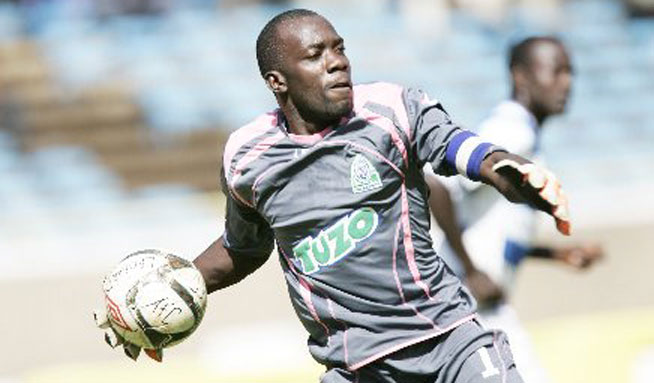 courtesy of the Standard
Eyebrows were raised when Gor Mahia goalkeeper Jerim Onyango appeared to have been overlooked prior to Sunday's Kenyan Premier League (KPL) match against Ulinzi Stars which the champions won 2-1 at Afraha Stadium. But the goalkeeper has come out to explain that he had asked for permission to be away on personal issues, but he will be available for Sunday's KPL-Top 8 match against Thika United.Onyango was heavily criticised after the team's 3-2 win over KCB for conceding a simple goal and his absence from the Ulinzi game had been a subject of debate among the fans. But he has come out to clarify his absence insisting he had asked to be away. "What happened against KCB is normal and the coach cannot use that to sideline me. I was away on personal business but now I am back and ready to get back my position in goal," he said.
"It will be a tough match and we expect Thika United to wait for us to attack. But we have a good record against them and this should motivate us to win the match," said the top goalkeeper. On the other hand, Thika United coach, John Kamau, says the team are bracing for a tough battle on Sunday.
Kamau led his side to a final appearance last year where they lost to eventual winners Tusker but believes they can do better this time around but must first get over their league champions opponents. "Gor Mahia have picked good results on the league front recently but we are also doing well. Furthermore, being a knock-out tournament sets the stage for a tough match," he pointed out.
Kamau believes the most prepared side mentally and tactically will carry the day on Sunday and not even the presence of the dreaded 'green army' will rattle his players. "I have been focusing on preparing my team tactically and mentally for the game because this is what will determine the final results. "As for the expected huge turn-out of fans, we are not intimidated. critical moments "Gor Mahia fans always bring a great atmosphere to the stadium and only a weakling can buckle under the weight of their taunts. It is something we are used to and always look forward to play against them," he said.
The Thika United coach John Kamau is exuding confidence ahead of teh KPL Top 8 match scheduled for Machakos on Sunday. In an interview with goal.com Kamau who also doubles as the coach of the Kenya U20 team predicted a tough match but insisted that his better tactics would win the day.
"Both teams are enjoying a good run in Kenyan Premier League and this makes the match very tough and especially being a knock-out competition, it is even tougher.
"However, Thika United has an edge by the fact that we are tactically better than Gor Mahia and will use it to our advantage to get the win," Kamau told Goal.
Kamau is also readying his team psychologically to confront the partisan crowd of green army  fans who are expected to turn up. We have never been intimidated by Gor Mahia fans. If anything they motivate us to do our best." said Kamau to goal.
Moses Odhiambo Back
Gor Mahia may for the first time play against former club midfielder and fan favourite Moses Odhiambo . The talismanic midfielder popularly known to fans as "Dube" was in South Africa for trials.
Moses Odhiambo is back in the country. Things did not work out as expected down there in SA and as such he will link up with the team. We have agreed on all the modalities with him and in the next few games he could be cleared to feature in our upcoming matches",  said Kamau to supersport.
Gor Mahia fans foundation has appealed to fans to assist with financing the Gor Mahia U19 side.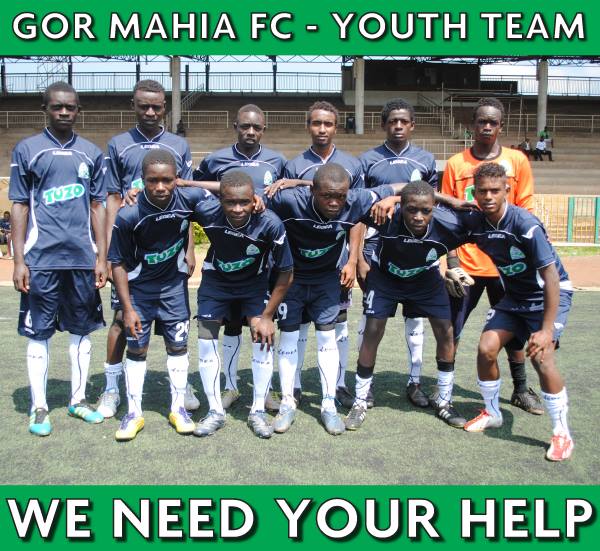 Below is the message that appears on their social media pages:
*****BE A PART OF THE GOR MAHIA FC – YOUTH TEAM PROJECT*****
The Gor Mahia FC Youth team is composed of 36 players (all under the age of 19) and three members of the technical bench. The needs of this team at the moment are: Kits for game day and training (jerseys, shorts, socks, boots, gloves, and shin guards), transport allowances, Salaries and allowances for the members of the technical bench, costs for hiring training venue, game day transportation, game day water and snacks, winning bonuses. We are hereby appealing to you to come to the aid of this team, financially, so that we can bring up a crop of K'Ogalo players for the future. Gor Mahia Fans Foundation is partnering with our club in fundraising for this team and we assure you that we will account for every single coin received from you.
To assist, please send your money directly to Gor Mahia Fans Foundation by: 1. Direct deposit to Co-operative bank account number 01134394942400 Tom Mboya Branch, 2.  MPESA Pay Bill
1. Go to Mpesa, 2. Pay Bill, 3. Pay Bill N0. 400200, 4. Account number 01134394942400, 5. Amount, 6. Send. 7. Once you receive feedback forward the same text to our official number 0708 304 895 for record purposes. 3. Lipa na MPESA number 937917: 1.Go to Mpesa, 2. Buy Goods, 3. Enter till number 937917, 4. Enter amount
5. Enter your PIN, 6. Confirm; You will get confirmation that money has been sent to GOR MAHIA FANS FOUNDATION. 7. Once you receive feedback forward the same text to our official number 0708 304 895 for record purposes.
Gor Mahia U19 to play Italy U18
Gor Mahia's Under19 side will take on the Italian U18 side Azzurini in a friendly match on Friday 18 April at the Nyayo National Stadium.
The Italians arrived on Sunday and will take the field on
Wednesday, 16 with the Kenya U-20 and Friday 18th with the
Gor Mahia U19 side .
Coach Bertotto said : " For the boys this is an important stage of growth on a technical level , on a cultural level and a personal  level." In football we will join a solidarity project
The Azzurrini made its debut last year in the UAE , winning the 3rd place in the tournament in Dubai.
Coach Valerio Bertotto said : "These are players who are fighting for places in senior teams in Serie A. We are making the trip to Kenya because we consider it essential that they should experience in the international field . For them it will be an important step growth on a technical level , cultural and personal" .
Squad
Goalkeeper : Mark Bleve ( Martina Franca ), Andrea Dini
(Rimini) , James Schoolboy ( Vecomp Virtus Verona ) ; Defenders
: Richard Barzaghi ( AlbinoLeffe ) , Gennaro Mallamaci (Catanzaro ) ,
Kevin Marconi (Perugia ), Luca Menini (Mantova ), Michele Paris (
Albinoleffe ), Luca Pellegrino ( Barletta ), Dario Spadaro (Forlì ) ; Midfielders
: Dejan Dance ( Pro Vercelli) , Andrea D' Arino (Prato ), Luca
Guadalupi (Lecce ) , Cosimo Lenzini (Pisa ), Matteo Pessina (Monza and
Brianza ), Thomas Tomanin ( Spal 2013) ; Forwards:
Andrea sandeel (Lecce ), Andrea dell 'Ovo ( Carrara ), Riccardo Moreo (
Albinoleffe ) , Matt Nardi ( Cremonese ), Francesco Zottino ( Virtus
Entella ) .
Tickets will retail at Kshs 500 for the VIP tickets while the terrace tickets will cost Kshs 200 for the late afternoon encounter.
courtesy of supersport.com
Gor Mahia tactician Bobby Williamson was elated after his charges came from a goal down to beat hosts Ulinzi Stars 2-1 in an entertaining match played at Afraha Stadium in Nakuru.
Williamson was impressed by the players' resilience despite going down early as he heaped praise on their performance of his players who had been under pressure to impress their fans.
"I am very happy with today's performance coming against all odds as we conceded early in the game. The players however proved their resilience as they fought tooth and nail to get the much needed equalizer in the tough match."
"We are heading in the right direction and if we can continue with the same tempo then we have very good chances in the league but it is important we remain consistent in every game "Williamson told supersport.com.
Gor moved to third on the log table after the impressive win and will play Thika next weekend in the ongoing KPL Top 8 knockout match.
Ulinzi Chair urges Gor Mahia to control fans
courtesy of futaa.com
Ulinzi Stars Chairperson Juma Mwinyikai has urged the Gor Mahia management to put measures to control the club's fans during matches.
 A section of Gor Mahia fans, estimated to be around 1500, arrived late at the match venue and forced their way into the stadium (without buying tickets) and in the process seriously injuring one of the ticket sellers as well as damaging the ticket-selling van belonging to Big Brother Ticketing firm.
While in the stadium, after Ulinzi Stars scored, a number of fans confronted the Ulinzi Stars chairman Juma Shee Mwinyikai, who had to leave at half time to prevent ugly scenes after directing army officers present not to engage the fans.
Measures
Speaking to futaa.com, Mwinyikai called on the Gor Mahia leadership to put up better measures to control their fans and noted that they will be waiting to see how the issue is dealt with, given that senior Kenyan Premier League (KPL) officials were present at the stadium and witnessed the occurrences.
-They threatened to cause a scene but we handled it well and I had to leave at half time to prevent a scuffle because it would not have augured well for me as the chairman to get involved. I think what they lack is leadership because no serious group can let that happen, Mwinyikai said,
-In Ulinzi Stars, if I spot our fan misbehaving I can tell him or her to stop it and they will listen. We are just waiting to see the reports from the game from the match commissioner and the top KPL officials who were at the stadium, he added.
Solutions
A meeting by the OCS Bondeni, Ulinzi Stars and the stadium management was held this morning (Monday) to seek solutions on how to handle future matches involving Gor Mahia matches at the stadium.
Gor Mahia came from behind to beat Ulinzi 2-1 in a thrilling encounter played at the Afraha stadium. Gor Mahia looked sharper from the beginning and came close in the 23rd minute when Rama Salim's header missed the target with the keeper well beaten.
But it was Ulinzi who got on the scoresheet first when Eric Apul beat David Juma in the Gor Mahia goal to score from a rebound after Stephen Waruru's attempt was blocked.
The Sserunkuma-Rama combination which worked very well for Gor Mahia in 2012 appears to be getting back on track. In the 38th minute Sserunkuma sent a cross which Rama finished for Gor Mahia's equalizer.
In the 4oth minute, a corner from Innocent Mutiso was headed towards the target by the towering Haron Shakava. But his header was blocked. David Owino in turn headed the rebound home for Gor Mahia's second goal.
The second half was marred by a downpour. But Gor Mahia cheered by the  very vocal travelling fans managed to withstand the physical and disruptive play of the soldiers to maintain the lead.
Hoping to pick up where they left off against KCB, Gor Mahia will take on military side Ulinzi stars on Sunday. Gor Mahia looked sharp against KCB scoring three clear goals but a let down saw them concede two late goals.
Gor Mahia will be buoyed by the return of dependable defensive midfielder Anthony Akumu who has resumed training after an injury. "He (Akumu) has started training though lightly and it doesnt look bad. I will assess him again on Saturday before I make a decision on whether he will be in good shape for Sunday's fixture. We need to have him back because he is one of the players, who can lift the team." said coach Williamson to goal.com
Ulinzi too are experiencing a mini resurgence following the arrival of coach Matano. They had started the league very poorly before winning last week. Matano's teams are usually difficult to beat. Though they play with little creativity, they are very good at disrupting and spoiling a game. They run tirelessly and give an all out effort. "I was very happy with them. They gave 100 percent and fought to the final whistle. This was the best game they have played this season and we deserved the three points." said Matano after his team won last week.
Gor Mahia should be ready for that kind of play on Sunday. The match kicks of at 3pm
Next Page »