League matches rarely come with such heightened importance as the one this Sunday between defending champions Gor Mahia and Sofapaka. These are the two teams at the top of the league and are seperated by only four points with three matches left.
Tusker awarded points
The KPL has inexplicably awarded Tusker all three points in their disputed match against Muhoroni. While the decision is shocking, it is not surprising when coming from Jack Oguda and KPL. Last year he SoNy caused the abandonment of their match against Gor Mahia yet instead of immediately awarding Gor Mahia the match, he dilly dallied and waited. He even went as far as disregarding a FKF directive.  It was only after Gor Mahia had basically won the league that he eventually decided to award the match to Gor Mahia. And earlier this year, Tusker escaped sanctions after their players and officials accosted and manhandled a referee.
Three Horse Race
With Tusker now back in the hunt, all three teams have a mathematical chance of winning the title. A win for Gor Mahia will knock Sofapaka out of contention. But Tusker will still be in contention whereas Gor Mahia will now need only a point from their last two matches. A draw will benefit Tusker as it will leave them with a chance to move level with Sofapaka and within four points of Gor Mahia. And of course a loss for Gor Mahia will complicate matters as all teams could now move within three points of each other.
Focus
Gor Mahia must therefore be hyper-focused and vigilant as they have been over the past few matches. Aside from the match against Tusker, Gor Mahia have been rock solid. And they will need to be even more solid against Sofapaka who are in good form. They have recently beaten KRA 3-2 before recording an impressive 2-0 win over AFC Leopards.
Coach Frank Nuttall summed up their expectations after Sunday's victory:"We played well to stop United and are looking forward to a similar performance against Sofapaka. The boys were amazing and we hope to maintain the same spirit in our coming fixture."
Recent Matches
Last season Gor Mahia met Sofapaka in a crucial league encounter at the end of the season. On that occasion it was Dan Sserunkuma who sunk Sofapaka with a well taken goal following a flick from Patrick Oboya.
Indeed Gor Mahia has had the upper hand over Sofapaka in recent matches. During the first leg match of 2013, Gor Mahia won 1-0 thanks to  a well taken goal by Kiongera following a superb run by Lavatsa on the left flank.
And in May of this season, Gor Mahia beat Sofapaka 2-1 with goals by Sserunkuma and Rama Salim who had a whale of a game, giving the Sofapaka defence nightmares.
Gor Mahia fans will be hoping that they their side continue their recent form against Sofapaka. Sserunkuma re-iterated the importance of taking the match seriously
"Sofapaka are a good side who are also keen on winning the KPL title. We expect a tough match against them on Sunday and for this reason, we must all be at our best. It will not be an easy match and we need to maintain our focus all through.
Fans are the Key but they must behave
The 12th man has carried Gor Mahia on several occasions. They must show up in large numbers for this match that is tentatively scheduled for Machakos. They must lift the team but remain peaceful while keeping in mind the harsh sanctions that have been levied against AFC Leopards. Fans remember that whatever happens on Sunday, Gor Mahia will still be leading the league with two matches left. So get behind the team but remain peaceful.
Dan Sserunkuma has been the most consistent scorer in the Kenya premier league over the past in 2012, he almost nailed the scoring title but missed by finishing only one goal behind John Baraza. In 2013, he spent much of the first leg on the bench as coach Logarusic preferred Mungai Kiongera and Rama Salim upfront. But he came on strong in the second leg, scoring 8 goals. In 2011, he had six goals, which was four behind Hugo Nzangu who was the leading scorer.
Gor Mahia rarely produces the league's leading scorer. In fact one might have to go back to the 1990s or even the 1980s to find the last time a Gor Mahia players was the top scorer. In the intervening period, other players like George Odhiambo, Emmanuel Wakata, Steve Okumu and Tom Odhiambo have been among the leading goal scorers.
This season however, Sserunkuma has topped the scoring charts for most of the season and seems destined to capture the scoring crown. With three matches left, Sserunkuma is in the drivers seat with 15 goals. Stepehen Waruru of Ulinzi is breathing down his neck with 11 goals.
But he is nonplussed and insists that winning the league is far more important.
"It is great to be the leading scorer but for me the most important thing is helping Gor Mahia win the title. Two years ago, I scored many goals but it did not give us the title," he told the Standard.
And he is under no illusions but how difficult the match against Sofapaka will be.
"Sofapaka are a good side who are also keen on winning the KPL title. We expect a tough match against them on Sunday and for this reason, we must all be at our best. It will not be an easy match and we need to maintain our focus all through.
On Saturday October 18, Gor Mahia fans congregated at the City stadium for the 2014 edition of the Gor Mahia family fun day. They came in large numbers, both men and women and in various levels of physique and fitness and played in the inter-branches tournament.
Images courtesy of Maurice Otunga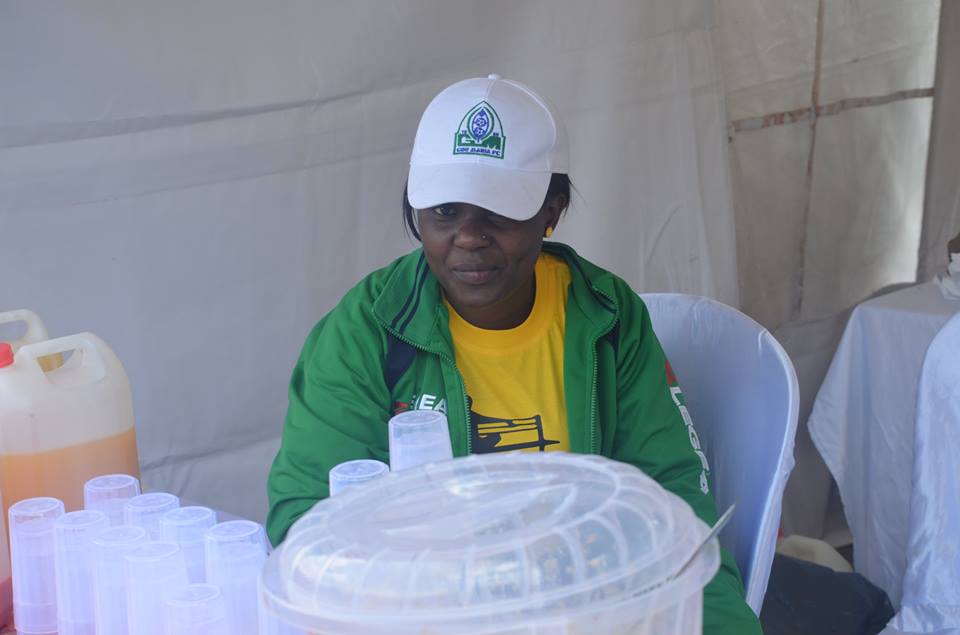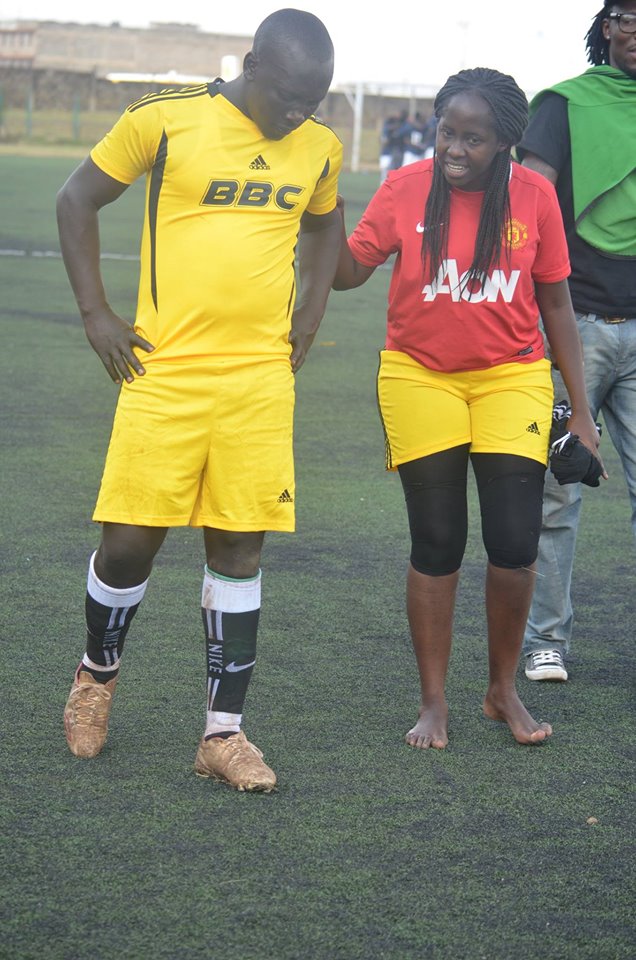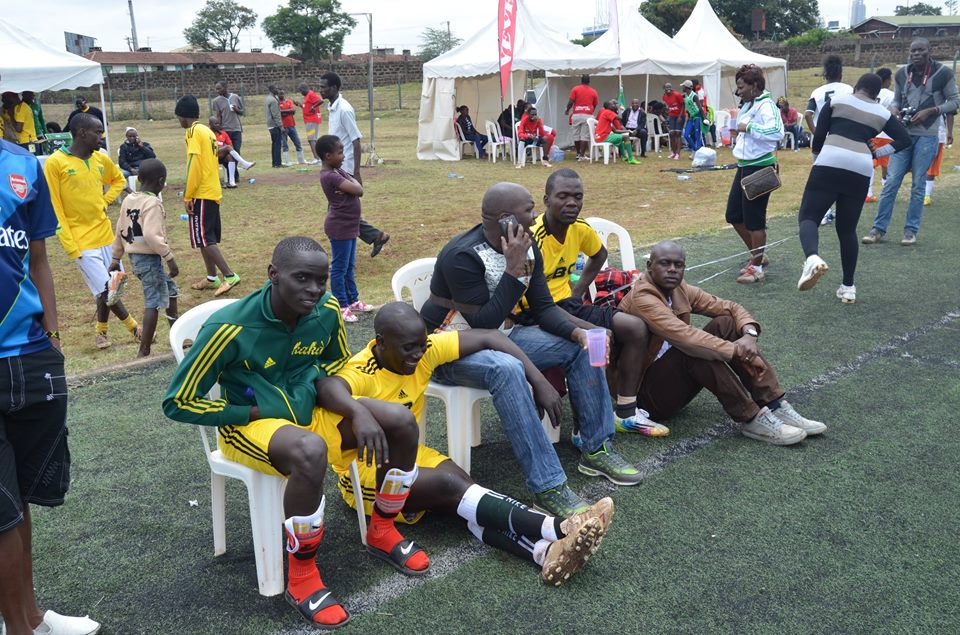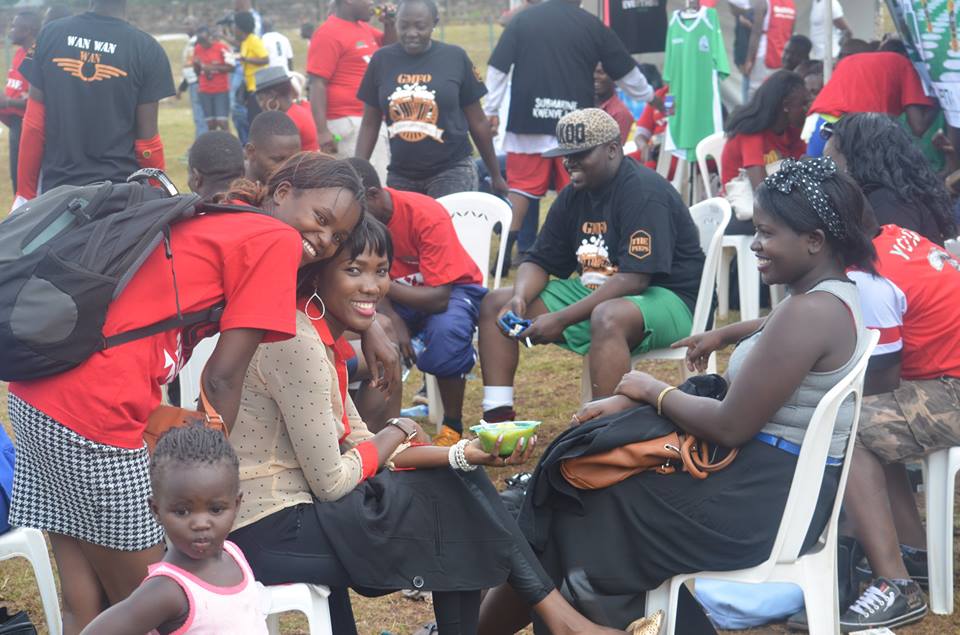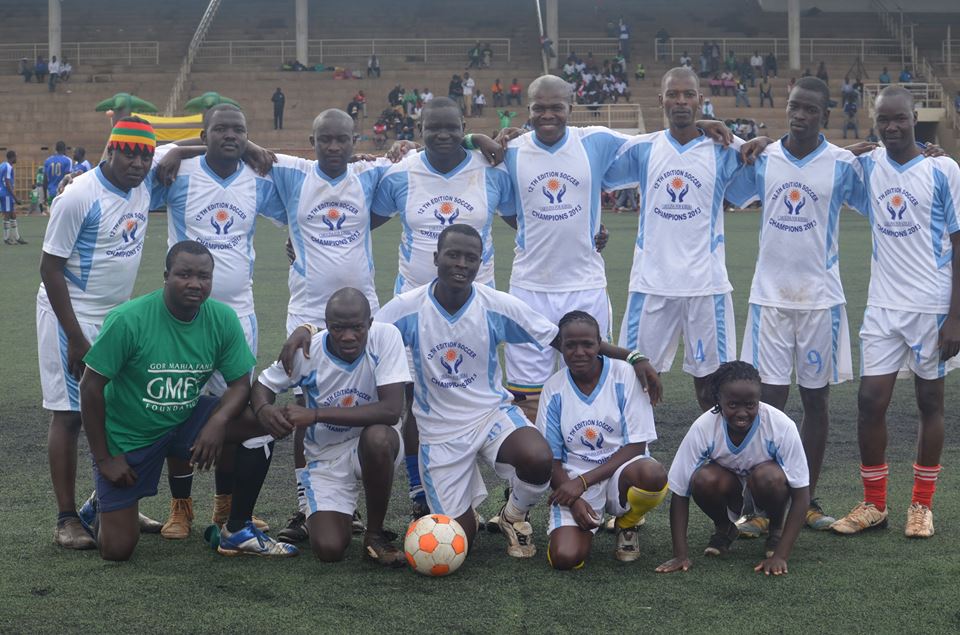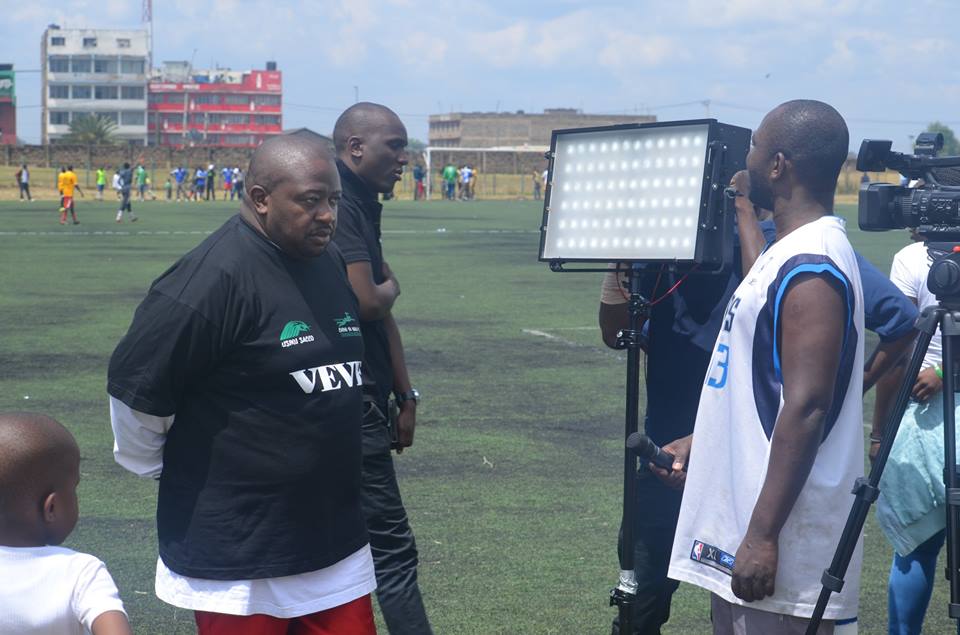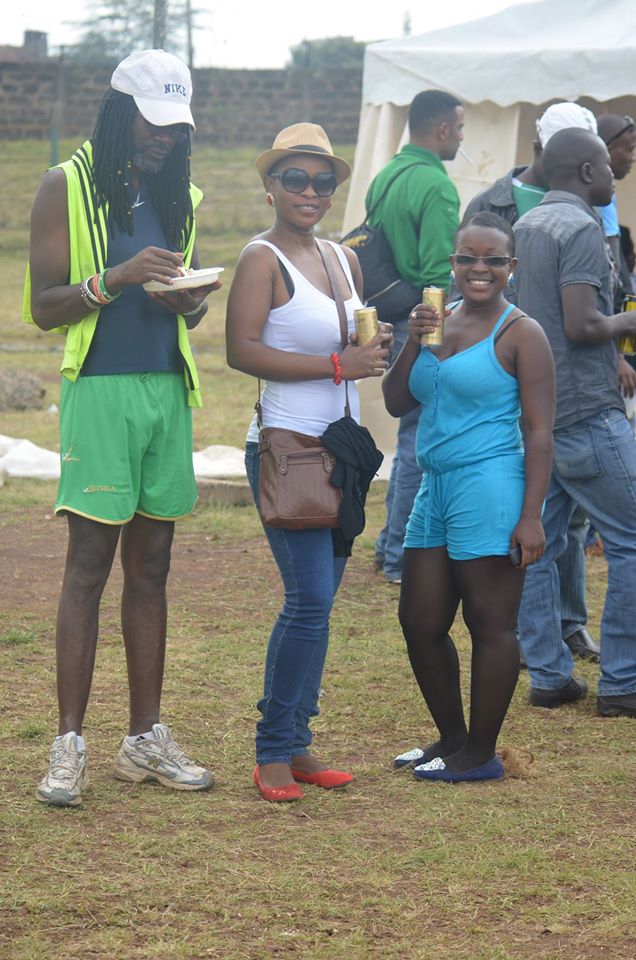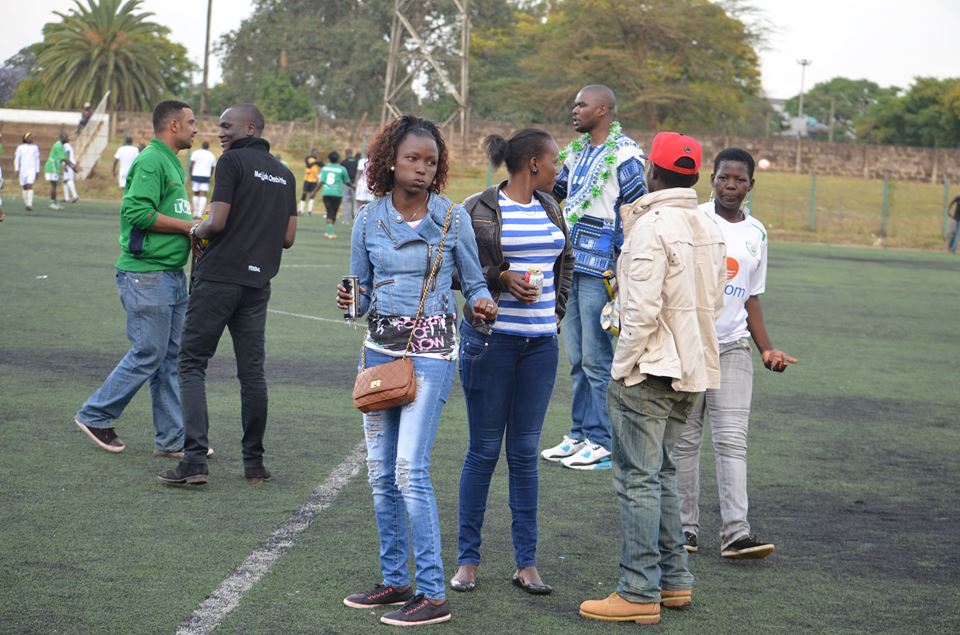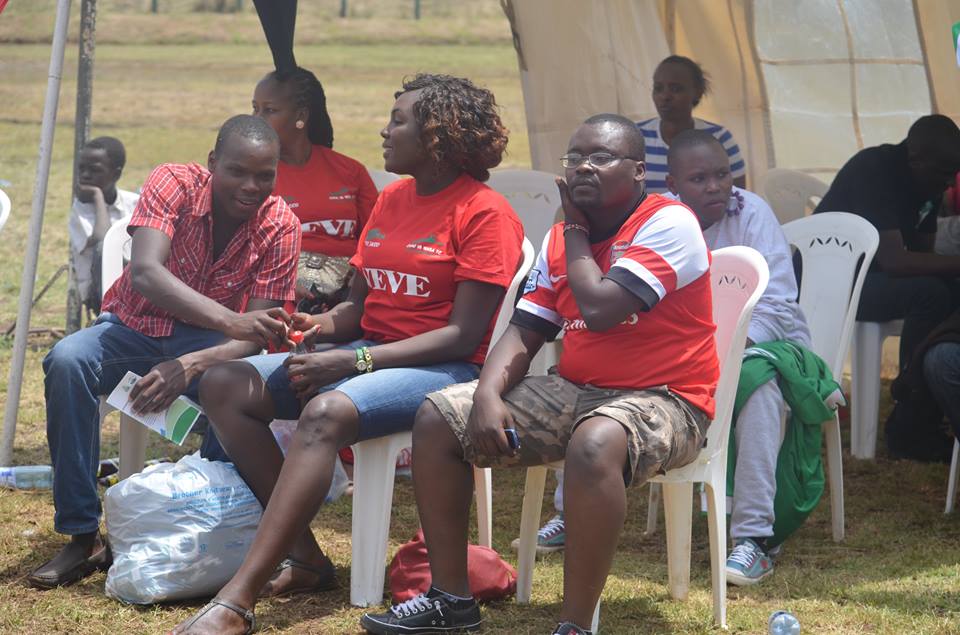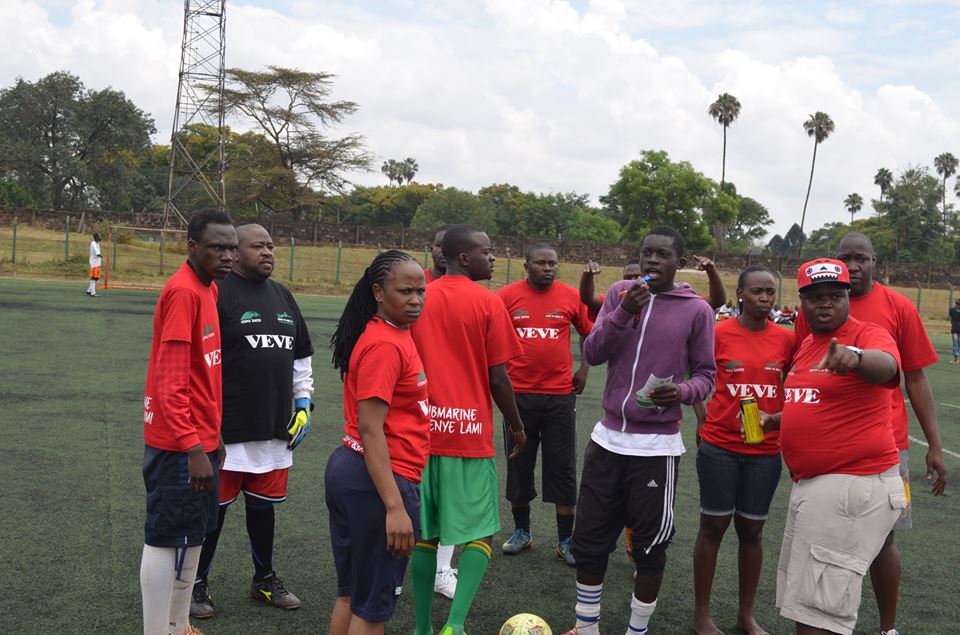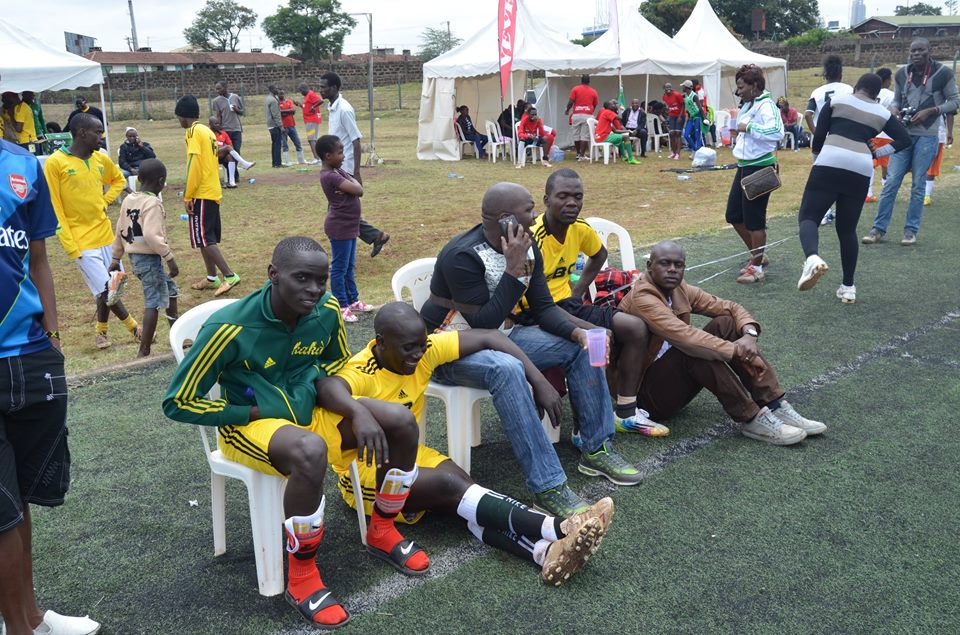 Following Gor Mahia's crucial and hard fought win over Mathare United, coach Frank Nuttall has expressed satisfaction with the way the team played. He has at the same time vowed that the team will keep their foot on the accelerator when they take on Sofapaka in an even more crucial encounter.
"We played well to stop United and are looking forward to a similar performance against Sofa"
When Nuttall first arrived, fans were skeptical given his lack of experience. But has brought an injection of new ideas that was badly needed. Though he started on a sour note with that loss to Simba, he has finally gotten his act in order. Under Nuttall, Gor Mahia have yet to lose a match but have recorded solid wins. Nuttall has also injected a dose of confidence in former KPL player of the year George Odhiambo "Blackberry". As this column once theorized, Blackberry just needed a coach who could get into his psyche and boost his confidence. many strikers have very fragile psyches and can lose confidence.
Odhiambo was in fine form today and I am happy for him especially after he scored his second goal in a row. It gives him plenty of confidence and we need that at this time." continued Nuttall.
Blackberry for his part appeared very excited at finding the net for the second match in a row, unlike last week when he barely celebrated, apparently unsure if he would be credited with the goal. And whereas Sserunkuma has of late been the beneficiary of precise assists from the likes of Musa Mohamed, Timothy Otieno and Blackberry, this time it was Sserunkuma who provided the inch perfect cross. This shows the team is in sync, once again again a credit to coach Nuttall.
Match Highlights
courtesy of goal.com
George 'Blackberry' Odhiambo scored his second goal of the season as Gor Mahia cruised past 'Slum Boys' to maintain their push for successive title
George 'Blackberry' Odhiambo scored his second goal of the season as Gor Mahia edged out Mathare United 1-0 in Sunday's Kenyan Premier League match at City Stadium.
Odhiambo headed home a Dan Sserunkuma long cross in 36th minute to enable the league champions to extend their lead at the top of the log to four points ahead of second placed Sofapaka.
It was another great afternoon for the former KPL player of the year, who is trying to recapture his old form after two tough years in which he struggled to hold down club position.
He scored his first goal of the season when Gor Mahia hammered Nairobi City Stars 4-1 at Nyayo Stadium and looks certain to play a big role in helping his club to retain league title this season.
Coming into second half of Sunday's match, Mathare United rested Titieh Olesu for Edwin Ombasa as they fought to equalise but it was Gor Mahia who had first chance at goal when Godfrey Walusimbi's goal bound effort was clumsily put out by Robert Mboya in goal to earn the champions their first corner in second half.
From the corner Haroun Shakava, who had a free header, jumped too high as his effort went wide. KPL current top scorer Dan Sserunkuma had a quite afternoon but he still managed to send some lethal crosses on target.
Apart from setting up Odhiambo for the opener. he nearly did it again in 65th minute when his long cross found the scorer on the move and he chested it but could not finish the effort.
United then made their second substitution bringing on Emmanuel Ibe for Daniel Mwaura. But they survived a scare when Edgar Ochieng headed out Godfrey Walusimbi's shot.
With a quarter of an hour to go, Whyvonne Isuza failed to take advantage of a poor clearence by Jerim Onyango to score. Onyango's clearence had landed on Isuza's feet and he fumbled with the ball before it was cleared.
Gor Mahia rested Godfrey Walusimbi for Eric Ochieng' late in the match in a bid to keep a clean sheet.
Though he came on late, Ochieng' wasted a perfect opportunity to score when he shot wide from a Dan Sserunkuma pass.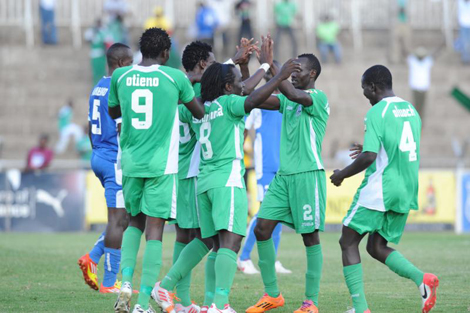 Gor Mahia will take on Mathare United on Sunday in a crucial Tusker premier league encounter. The league has reached its penultimate stage. There are only four matches left on the Gor Mahia schedule. And with a match in hand, Gor Mahia are one point ahead of Sofapaka who kept up the pressure on the league leaders by beating KRA on Thursday.
To secure the league title for the second season running, Gor Mahia will need to win 3 of their remaining four matches. On Sunday, they will have to play without dependable defender Musa Mohamed who is suspended. But Musa has expressed confidence that his side has the ability to prosecute the remaining matches on the schedule succesfully.
"We of course have respect for every team but what is important to us now is to work hard and get three points regardless of who is in front of us," he said. "We must be strong in all the remaining games and that is what can help us win the title." said Musa to the Star.
Musa went on to praise new coach Frank Nuttall for raising his sides fitness levels.
"Our physical fitness is good and I think we are in good shape and have lot of fantasy in our heads but should show that on the pitch.
However Musa and the other players would be well advised to forget about any fantasies or dreams and focus on winning one game at a time.
And as usual, the 12th man will be crucial in the last four matches, most of which will be played at Gor Mahia's home turf.
"We have a good feeling in the dressing room and our fans are supportive out there too. That is the secret and the focus that we all have on what we want to do. That is what winning is all about"remarked Musa
Mathare United for their part have warned Gor Mahia that they will be no pushovers.
"We are looking forward for Sunday's game that will be tough and interesting because each team is looking for a win so the match will be very tactical.
"Gor are looking for points to increase their chances of retaining the league while we are looking to finish above top eight," Okumbi said to Capital FM.
Based on how Gor Mahia played in their last match against City Stars, Gor Mahia fans have every reason to be optimistic. And once again coach Frank Nuttall has had two weeks in which to instill his tactical approach and raise the fitness levels of the playing unit.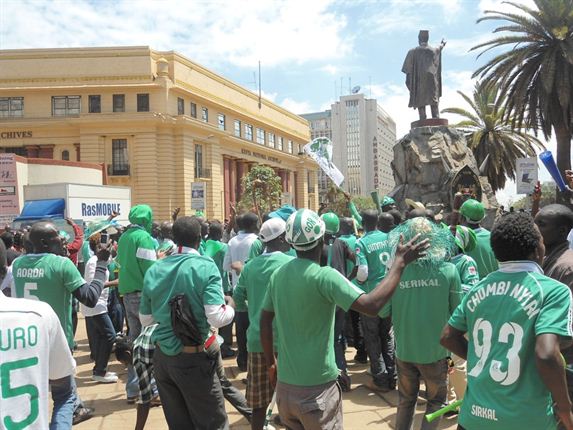 The Cabinet secretary in Charge of sports Hassan Wario, has come out strongly to warn fans that they would not be allowed to converge at the Tom Mboya statue anymore.  According to Minister Wario, any fans who converge at the statue will be arrested.
Gor Mahia fans are typically converge at the monument before matches.  Dr. Wario, in an address to the media ahead of the Mashujaa Day celebrations, called on the fans to keep off the monument or risk arrest.
"It has come to our notice that hooligans target the Tom Mboya statue and we are telling them to keep off because this is a monument of a hero yet they have been vandalizing it. It is very sad that this is happening and as a ministry we are keen to ensure that we stop this. We will repair the damaged ones but we will not hesitate to take action on people seen to deface such monuments, he said."
Several months ago, Minister Wario also lamented about hooliganism. In an agitated speech, Wario blamed clubs saying they should do more to stop the hooligans. According to him, the government provides stadiums while club fans damage the stadia.
"Clubs should take responsibility and deal with their fans. It is impossible to have a special police force to deal with that and I have talked to inspector general about it. It hasn't happened anywhere else in the world and there is nothing special about Kenya. We give you a stadium to use so ensure we get it back in good shape, he said."
We noted at the time that Mr. Wario was wrong. Clubs cannot control hooligans by themselves. They do not have the capacity to end hooliganism. It is the government, specifically the police that must deal with hooligans. This is how England dealt with its hooligan problem in the 1980s. It was not the clubs. It is the government that came up with rules on how stadia should be built, procedures for police and specific training for police. Known hooligans were banned from stadia and banned from traveling overseas to attend matches.
With regard to the Tom Mboya statue, it is indeed timely for the minister to act upon it. Fans absolutely do need to be prevented from defacing a monument of a respectable person or from defacing any public property.  However it leaves us wondering if Mr. Wario thinks hooliganism is the only problem afflicting clubs in Kenya.
Hooliganism is not the only problem facing clubs
The first thing Mr. Wario should understand is that clubs are the bedrock on which any national team is built. Without a strong club system, no country can thrive. Clubs provide the means by which young players are discovered, nurtured and developed into quality players. They provide the incentive for the youth to strive to become better players.  If the youth believe they can earn a living playing football locally, they will work harder at their game. The net result is that Kenya will have higher calibre players.  The most successful countries are those where the clubs have strong infrastructure including training grounds on which they can develop their youth systems. In Germany for example, the Federation has ensured that every club in the top tier league and in the second tier has sound youth systems in which players are scouted and nurtured from U-13 to U-16 and U19. It is no accident that Germany are consistently among the best teams.
If Wario really wants football in Kenya to thrive then he should start by getting clubs the assistance they need. Lets start at Gor Mahia. Earlier this year, Gor Mahia was slapped with a malicious KES 118 million fine by the Kenya Revenue Authority which even went as far as freezing all the club's accounts. It is true that Gor Mahia like many Kenyan businesses does owe the KRA money. But slapping the club with a KES 118m fine smacks of malice aimed at crippling the club.Virtuallu every sports organization in Kenya that pays salaries owes the KRA money. Even the Kenya Rugby Union owes tax remittances from from salaries that have been paid to Kenya rugby sevens players over the past few years. But only Gor Mahia was singled out for harsh treatment.
Crippling a club that is going to represent the country in the African champions league and the CECAFA cup is no good for football in the country. There should have been some assistance, perhaps mediation between the Ministry of sports and KRA.  Minister Wario can take the lead in harmonizing the way sports organizations remit taxes to the KRA and prevent malicious attacks.
Minister Wario can further help clubs by providing land to the top teams in Kenya. Who better than the government to assist both Gor Mahia and AFC to reclaim land they own in Embakassi. The availability of this land can make operating the club much cheaper. Gor Mahia pays KES 10,000 a day to use City Stadium whether its for the senior team or the U-19 team. In fact few clubs in Kenya have their own training ground, with the exception of corporate clubs like Bandari and Tusker.
With land of their own, clubs could also build gyms and it would make it easier to run youth development schemes which often requires multiple fields and even classrooms.
Wario can do a lot more to promote football clubs
As has been mentioned above, the only time Minister Wario ever mentions Gor Mahia or AFC leopards it is when condemning hooliganism. The only time Wario ever said publicly that he would meet club officials was when he wanted to discuss hooliganism. Far from promoting the club's Wario has done a lot to discourage fans from attending matches. Since all he says is about hooliganism, he has done a lot to discourage sponsors from wanting to associate with football.
Most fans who attend matches are peaceful. Most football matches are peaceful. Gor Mahia and AFC are not just about hooliganism. These are the points that need to be highlighted.
What he ought to be doing is personally attending football matches. Then telling fans that most football matches are actually peaceful. Only a few matches end in acts of hooliganism. He ought to be highlighting the positive aspects of club football in Kenya of which there are a lot. He ought to be highlighting the rich history and successes that club's in Kenya have accomplished. He ought to be outlining the steps the government to make stadia more peaceful so as to attract more fans to the stadia. Making stadia safer is not just about reducing hooliganism. Seating, security fences, security personnel, ticketing etc can all be improved by the government.
As former Gor Mahia official Faiz Magak once said of Wario, "His statements at the event was ill advised and ill timed – that was a national and international event thus portraying Gor Mahia and Kenya in bad light; as a leader he should be careful when addressing the public – he should use sport to promote peace not incite. It would have been better for him to call the stakeholders and talk to them as a leader rather than using the event to soil others' reputations " said Magak to futaa.com at the time.
On balance, Wario has not had a positive impact on the Kenya Premier league so far. His mere presence at several local matches would encourage fans to attend.
This column is not saying that hooliganism is not a serious issue that needs to be addressed. In fact Minister Wario is doing a good thing by highlighting behaviour of certain fans and warning them. This column is trying to encourage the sports minister to be more active in making club football better.More active in promoting local football.  It is a fact that the standards of club football in Kenya are currently below par. A significant reason is because many clubs are merely struggling to survive.  A stronger club system will making the results of the national team better in the long run.  The government and the sports ministry can help in this regard.
The Gor Mahia family fun day for 2015 will be held this coming Saturday October 18.
Speaking to futaa.com, club Executive Committee member David Kilo urged fans to seize this opportunity. It is a rare chance to have close interaction with players.
"We expect it to be a great outing and for it to be successful we are calling on fans to come in plenty. They will have a great opportunity to interact with the players because the players will be the officials in the matches and this is a great opportunity for the most important club stakeholders to bond.
-The coach will also be there so they will get the chance to speak to him up close and it will as well be a good opportunity for the fans to get to know the happenings at the club and the plans ahead" he told futaa.com.
Once again the officials deserve their due credit for organizing this event. When the officials deserve credit we must give it to them. It must be said however that like most club events, this one has received very little publicity. This author has not seen anything in the daily papers nor on television. Had this been announced earlier then perhaps the Bloggers branch would have fielded a team : )
Use this opportunity
Hopefully the club will also take this opportunity to raise funds by making the replica jerseys available for sale at the venue as well as other merchandize that is available courtesy of Joma.
And hopefully the club chairman will take this opportunity to address fans regarding pressing issues like what is the status if the standoff with the Kenya Revenue authority, is the club on track to get a sponsor and what is the status of the 35010 initiative.
Former Gor Mahia coach Bobby Williamson, who is now the national team coach, may be starting to understand the monumental task ahead of him. Harambee stars were blanked 3-0 by the Atlas Lions of Morocco. This is a team that used to be among the strongest in Africa but of late has had difficulty even qualifying for the Africa Nations cup.
All three goals came in the last 12 minutes after Harambee stars, employing a defensive formation, had held the Atlas Lions for 77 minutes. Reports suggest Calabar was solid as evidenced by the tackle in the highlight above. However coach Williamson has his work cut out when it comes to sorting out his defense. All three goals came from poor execution of the offside trap and poor coordination.
The other Kenyan in the squad was Jerim Onyango who was in the bench. Timothy Otieno pulled out due to injury. Harambee stars have lost three of their last four games and drawn one.
Dan Sserunkuma's agent Ken Joseph has indicated this his client will not sign a new deal at Gor Mahia once the current one expires.  Joseph a Briton has indicated that Sserunkuma will attempt to move to the next stage of his career by pursuing deals in Europe.
As we all know, Sserunkuma's contract runs out in a few weeks. For now, Sserunkuma has got his eyes firmly fixed on winning the KPL for Gor Mahia and helping the Uganda Cranes make it to Morocco for the African Cup of Nations in 2015.
After that, he should be heading to Europe to continue with his career development. I think it would be fair to say that even Sepp Blatter knows Sserunkuma needs a new challenge in his career, and that it's time for him to move on said Joseph to futaa.com.
Sserunkuma has in the past attended trials in Azebaijan and Armenia. He has also been linked with moves to Kaizer Chiefs of South Africa.
Most football agents are now encouraging their clients not to sign new deals. This was the case with Rama Salim and now David Owino "Calabar" has now indicated that he will not be pursuing a new deal. While Gor Mahia must continue to convince these players to sign new deals, they must also start scouting for replacements. Forward planning is always a good thing. Last year Gor Mahia's were not prepared when Tuzo announced that the sponsorship deal would not be renewed. By the time they did start looking for a new sponsor.
Next Page »