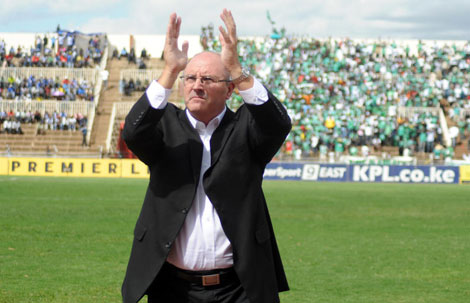 Gor Mahia secretary general William Omondi has now indicated that coach Bobby Williamson will be leaving Gor Mahia to focus entirely on Harambee stars.
"Bobby is with us for only Sunday's league match against SoNy Sugar after which he will be taking up his new role as head coach of Harambee Stars," Omondi told Gor Mahia website.
On clearing the air about reports that K'Ogalo had not received official approach from Football Kenya Federation, Omondi said the executive is now aware of the appointment and plans are underway to fill up the gap left by the Scot because they have received numerous applications.
"We are fully aware of his appointment and we, as a club, we are weighing out options whether to have an interim coach to take care of the team for the next remaining league matches or to hire a coach, who will fully take us through to next season. We have quite a number of applications and we will consider all of them and see how we can land on one coach to lead the team."
Omondi indicated that the club appreciates everything Bobby has done and that they would seek his advice as neccesary.
"We as a club truly appreciate Williamson's work since he arrived in Gor Mahia. He is a professional coach, who saw us through tough times and through his guidance, we won the title and we are at a very good position to clinch the title again this season. We wish him well and we will seek for his advice if necessary because he said he will be available for advice."
Omondi said they are in the process of finding a new coach.
" We have quite a number of applications and we will consider all of them then see how we can land on one coach to lead the team. We are weighing out options whether to have an interim coach to take care of the team for the next remaining league matches or to hire a coach who will fully take us through to next season.," he added.
This brings an end to speculation, denials and counter-denials regarding the status of coach Williamson
Rachier Rushes to City stadium to avert Go slow
Gor Mahia chairman was forced to rush to city stadium to pay players and avert a go slow.
Rachier arrived at training ground early in the morning and gave out some money to assistant coach Bob Ogolla to hand over to the players.
The players are reported to have gone on a go slow since Monday protesting at unpaid training and winning allowances.
But Rachier denied reports of a go slow insisting that all is well in camp. "It is true that we owe them some money and I have cleared a bit of it on Thursday morning. No player went on strike.
"All they did was express concern over the delay in paying what we owed them and this has been sorted out and they are all happy and looking forward to Sunday's game against Sony Sugar," Rachier told goal.com.
Reports emerged on Wednesday that Gor Mahia players' were planning to boycott their league match against Sony Sugar unless their training allowances were paid in full. It turned out that they were demanding allowances due after the CECAFA campaign.
Gor Mahia secretary general Chris Omondi has indicated that the club has started talks aimed at extending the contract of coach Bobby Williamson. Apparently Williamson's contract ends in December and the club is eager to extend Williamson's contract. This according to the Daily Nation.
Omondi also confirmed that the club has not received any official approach from the national football team handlers over the tactician's services.
"The only official approach for him (Williamson) was from (Tanzanian club) Simba SC which we rejected outright. So he is still with the team and in fact we are looking into bettering his contract because he has impressed us with the way he has handled our project," Omondi said to the Nation.
There are a number of issues that are curious about this scenario. Firstly Williamson has yet to win any trophy from scratch be it the league or the CECAFA cup, the GoTv shield or the Top 8. So it is not clear why the rush to extend his contract. Williamson is indeed a good coach. He has managed to keep the club in contention despite the constant turnover of players. He also managed to maintain the league lead in 2013. He is also very popular with the players. But they should At least let him win a trophy first.
Williamson, appears to be developing cold feet about the stars job
Secondly, with the precarious financial situation at the club, it is not clear if Gor Mahia has the wherewithal for such an endeavour.
"As far as I am concerned, Adel (Amrouche) is still Harambee Stars coach and it is therefore wrong for me to comment about the possibility of assuming his role," the former Uganda Cranes coach said.
With the below par CECAFA campaign behind them, Gor Mahia will now turn attention to the local league which happens to be their last hope for a title this season.
Coach Bobby Williamson has said the team is putting CECAFA in their rear-view mirror and focusing on the next league game.
"We have put what happened in Rwanda behind us and are focusing on the task ahead. We want to battle hard to retain the league title," said Williamson who guided K'Ogalo to winning their first league title in 18 years last season.
"Of course we are all disappointed with the performance we posted in Rwanda. There are some matches that we should have won given the dominance we enjoyed but we have picked so much positives from the tournament which we hope will be of great benefit for us in the league," he said to the Nation.
Williamson stressed the need to stay positive and realize that they are not at the top of the league.
"You cannot count points you have not yet won, and as it stands Tusker are on top of the league table. But of great consolation is that they have played three matches more and are only two points ahead of us."
Bruno vows to apply lessons
New signing defender Charles Bruno though dissapointed with the CECAFA campaign has said that the team learned some important lessons.
"I am happy at the chances we got but disappointed that we didn't advance but we pick a lot of positives from the tournament which will be pivotal as we turn our focus to defending the league title." he said to futaa.com
Bruno also saw some positives especially with regard to their performance against APR which beat Gor Mahia thoroughly in 2009
"Things did not go much as we had hoped for but generally as a team we tried our best though we feel we could have done much better. Most people didn't believe in us more so in the APR game but they were shocked at what we pulled only for bad luck to see it end in a draw."
Crucial stage
The league is at a crucial stage. The next two weeks they have four matches in a space of 12 days. After facing Sony, they will only rest for four days before taking on KCB at the same venue.
Five days later they will host Ulinzi Stars again at City Stadium before clashing with Bandari on September.
The potential title decider will be played in September 14 when Gor Mahia face league leaders Tusker at Kasarani.
Williamson knows that things will not be easy.
"I said that the CECAFA tournament came at the wrong time. Now we have a busy schedule ahead of us and I just hope we will avoid injuries. If we come out of the next three weeks unscathed, it will be great to the team and to the fans."
This comes at a time when there are unverified rumours of a go slow at the Gor Mahia camp due to non-payment of allowances.
There is also the fact that some players are beset by injuries, specifically Patrick Oboya and Innocent Mutiso.
Fan Support
As Charles Bruno said, fan support is crucial to the players.
"We did not have as many fans there as we are used to back here but of course we are thankful for the few who stood with us there and at home, he said."
Once again as has been said on this column before, fan support will be crucial. Fans will need to invest time, money and moral support in the club. These next two weeks could make or break the league campaign. If you are a true Gor Mahia follower then this is your time to show it.
In an interview with the Daily Nation, coach Bobby Williamson has indicated that he is staying with Gor Mahia for now.
"I will concentrate on my job at Gor Mahia until something comes up," he said to the Daily Nation. Pressed further he said : "I am with Gor Mahia, it is my home."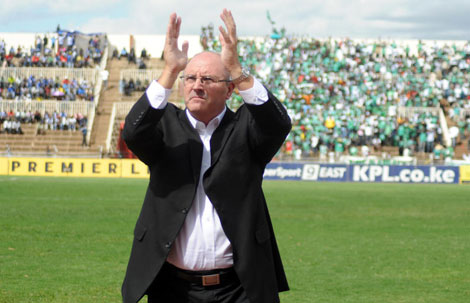 Williamson has not received a firm offer from FKF and there has been confusion over whether Amrouche's 5 year contract can be terminated. And this is why giving a coach a lengthy contract like 5 years does not make sense.
Williamson further indicated that he is not interested in handling two jobs.
"At the moment I am still the team's (Gor Mahia) coach, but I am certainly not comfortable with handling the two jobs. Those two are very demanding jobs and I do not think it is tenable for me to handle both. I am yet to make up my mind but I feel it would be very unethical to take both jobs" he said on the KPL website.
Williamson may be finding out first hand the incompetence that is in FKF.
Gor Mahia official hits back at Mururi
Gor Mahia official Ronald Ngala castigated Chemelil coach Mike Mururi for his claims that referees favoured Gor Mahia. Ngala said that Mururi's comments show his ignorance.
"Mururi's comments show only ignorance. He does not understand that performance is dictated by many things. Our own coach Bobby Williamson has been summoned by KPL disciplinary body over comments he made about refereeing. How can he say that we are being favored?" he said to goal.com
"Local referees do not help when they show open bias. It catches up with teams when they go out for international assignments." continued Mururi.
In fact Mururi is showing bias and ignorance. International referees are far more corrupt and susceptible to bribes. When Gor Mahia played US Bitam earlier this year, they referee almost single handedly eliminated them.
Mururi's views first reported on goal.com and reflected on all the Dailies suggested that Gor Mahia's inability to win in Rwanda was because referees favoured them in Kenya.
"Gor Mahia are suffering from a self-inflicted problem. They are used to local referees favouring them to win matches in Kenyan Premier League. When they get neutral officials it becomes difficult for them to perform and this is what happened in Rwanda,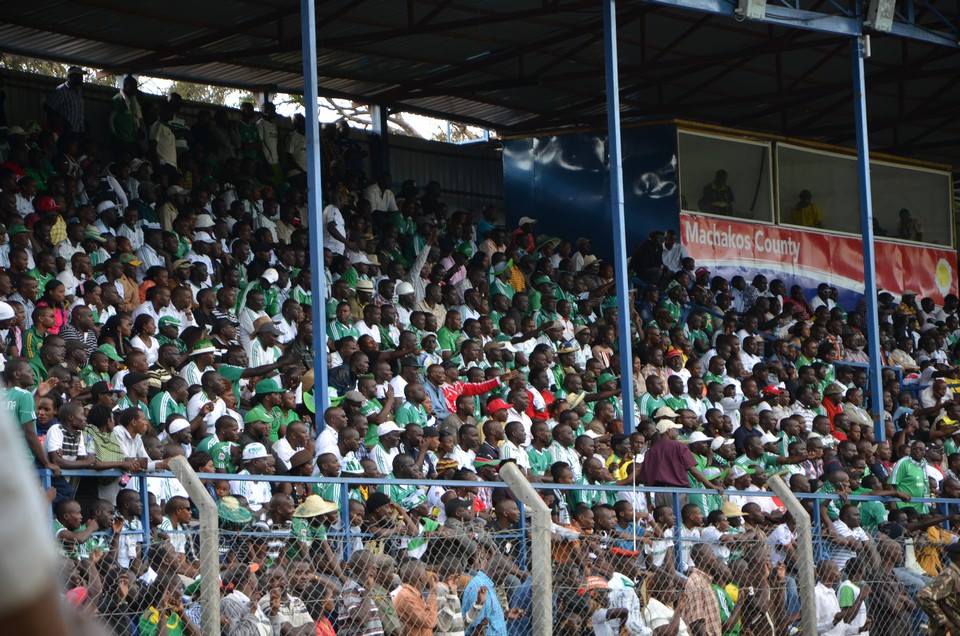 Gor Mahia players are now back in the country after the below par performance at the CECAFA club cup. The poor run came against the backdrop of a poor run locally that saw them eliminated from the GoTV shield and drop several points.
Gor Mahia will now embark on defending the league title that they won in 2013. And the players say they have learned harsh lessons in Kigali and will apply them in their league campaign. And with the club out of the GoTV shield, the KPL Top 8 and CECAFA cup, the league is all that is left in order to avoid a trophyless season, something that has not happened since 2010.
Team captain Jerim Onyango admitted that the team's below par performance was a wakeup call as they now embark on defending the league title.
"We did not expect to give such a poor show, but we have learnt the hard way that every game counts and that working hard is a must for every team, even league champions," Onyango told Daily Nation Sport.
"We will now focus on the league and hope we win it so that we can take part in the same competitions next year," he added.
Much has been said about why Gor Mahia experienced a poor run. But what is clear is that today starting on August 19 2014, The club needs its fans more than ever. The club is facing a crisis similar to the ones they faced in 1973-74,  and 1984-85. To retain the league, fans must jump in and support the team materially, physically and in spirit.
Get Involved
The club needs its voiceferous  fans to join in building the club by contributing and by becoming active members. Of late there have been several examples. During the AFC match, fans performed an impromptu fund raising and raised KES 75,000 to settle player allowances which were unpaid. Two months earlier, Kogalo fans came together to raise KES 150,000 to defray Nasio's medical expenses. Aside from helping defray expenses, it actually lifts player morale.
The above two examples show that fans are capable of seizing the initiative to help resolve the club's financial issues when the EC has proven incapable. And there are plenty of ways can contribute time and effort. There is the Gor Mahia funds foundation which actively supports the Kogalo U19 side and engages in public relations initiatives on behalf of the club. They too need your support.
Branches which used to actively bolster the club's finances have been rendered almost irrelevant in recent years because the office has not seen it fit to incorporate them into the club's structures. This is a tragic mistake because branches are the most effective means to get fans involved in supporting the club materially. In past years, whenever Gor Mahia visited Kisumu or Nakuru for example, it was the local branches that hosted the team. No such structures exist today. It is up to individual fans to take the initiative to revive these branches. And today branches need not be locational. They can be virtual, such as an online. And why not a diaspora branch for Gor Mahia followers overseas ?
Election aspirants
Taking the initiative to be active in supporting the club is especially important for those who who might be aspiring to hold office in the club. Fans tend to vote for people whose track record they know. An incumbent is likely to be re-elected barring unique circumstances. And this is why aspirants who tried to challenge Mr. Ambrose Rachier in recent elections failed miserably. Unless Gor Mahia fans know your track record, you likely will not be elected to the Chairmanship. Being antagonistic  against initiatives introduced by the club will not get you elected.  If for example you oppose the #350100 initiative due to lack of transparency then why you can  start a program of your own. Show your transparency, your organizational skills and then raise funds for the club. When you do this, the fans will see you as competent and will be more willing to elect you. In past years we even had aspirants promise to get sponsorship for the club if elected. This begs the question : If you are able to get sponsorship then why not just do it ? Why insist on being elected first ?
Back in the 1990s, one Maxwell Ombogo was elected Gor Mahia chairman unanimously because he took it upon himself to raise funds for the club and donated much of his own money. Unfortunately for Gor Mahia fans, Mr. Ombogo passed away shortly after being elected. And more recently, George Bwana was elected Secretary General in part because of fund raising efforts. At one point, online branches raised money to buy airline tickets for the team to travel to the Coast.
The point being made here is that if you aspire to hold office then involvement in positive initiatives is a sure way to get voters acquainted with you. So if you want to be elected, then do not just sit back. Get involved. The club needs all hands on deck. This will also enable the club to vote in competent, committed and  diligent officials whose track record has been seen by fans.
Go to the stadia and support the team
Player morale may be at a low point right now. There is uncertainty about whether coach Williamson is leaving. There is uncertainty over constant player turnover. And it is not clear whether players salaries and allowances are being paid on time. What all this means is that the players will need the fans to get behind them to lift their morale. Now more than ever, fans must attend matches in droves.  And just as important, fans must turn out in droves and pay for tickets. Fans who try to get in free must be confronted and handed over to the Police.
Hold the EC Accountable
The fact of the matter is that there has been gross negligence at the club over the past year or so. This negligence saw the club land in trouble with the KRA and let the sponsorship with Tuzo lapse. And now 4 months later, fans still do not know where we stand with the KRA. Has the club engaged KRA to sort out this issue ? Has the club sought any assistance from the ministry of sports ? Does the club really owe KES 118 million ? If not then what is the correct amount ? For some reason the club EC has not seen it fit to address this issue since it came up in April. The gross negligence still abounds.
The current instability at the club with players and coaches deserting at every opportunity to seek greener pastures are directly due to this issue. And unless it is resolved, there will be no sponsor forthcoming. This is  because as KRA stated in April, they will confiscate all sponsorship money until the tax issue is resolved. And which sponsor will be willing to support the club under such conditions ? Most likely none.
At this rate, the club will end this 2014 league and go into the 2015 league without this issue being resolved. This means that we will start the 2015 league still with no sponsor because the KRA issue has not been resolved. That is unless fans pressure the EC into resolving this issue.
Time to Change the constitution
Another area where fans should push for change is in the constitution. The club still has an archaic constitution that was probably created in 1968. The issues of gross negligence are precisely because the club rarely has competent people running the club. In reality, the only elected positions should be those of Chairman and one Vice Chairman. The remaining positions should be held by competent professionals such as a CEO / General Manager, Marketing and Accounting, all hired on performance contracts.
Buy Club merchandize when available
The phrase "when available" is key here because as far as I can see, even with the financial difficulties the club faces, the EC has not seen it fit to sell club merchandize. And those new Joma jerseys are not as inspiring as the "Gor Mahia" jerseys that became immensely popular starting in 2010.
………………
Once again I urge fans to get solidly behind the team as they resume the campaign to retain the league starting this Sunday against SoNy Sugar. With no sponsors in sight, fans are the only recourse the club has if the club is to retain the league title.
As Gor Mahia players pack their bags to leave Kigali for home to resume their league campaign, the various stakeholders and observers are offering their views on why Gor Mahia exited early from the CECAFA cup.
Coach Bobby Williamson has indicated that the mass exit of dependable players affected the team negatively.
"We have been through tough times and the exit of influential players like Teddy (Anthony), Rama (Salim) and Kevin (Omondi) affected us.
"We were unlucky too and you could see that a natural scorer like Sserunkuma (Dan) could not convert the many chances we had here," he told michezoafrika.com
Williamson and others such as fullback Godfrey Walusimbi faulted poor officiating.
"I cannot even celebrate that goal. I am so disappointed with the final result. We played well today and we were let down by poor officiating. The referee did not make some crucial calls and they cost us the game," explained Walusimbi after the APR  game.
Williamson concurred
"I am very upset with the referee and his assistants. The wrong calls that they made have cost as the match," said an emotional Williamson"
Musa Otieno, a long serving Kenya national team captain and now assistant coach of the national team blamed bad luck.
"When you scrutinize Gor Mahia's performances and results in Rwanda, you will agree with me the team was quite unlucky," former Harambee Stars captain and newly appointed national team assistant coach Musa Otieno opined on SuperSport's weekly football show Simba Super Soccer.
Franklin Obare a former Tusker player and KPL player of the year blamed falling standards of football in the country
"We need to take a hard look at ourselves and accept that our rivals in the region have caught up with us in terms of performances," former Kenya Breweries (Tusker's forerunner) and Harambee Stars forward Frankline Obare said to the Nation.
"We are no longer the regional superpowers, atleast that is what the results in Kigali imply," added Obare who won the competition as a Kenya Breweries player in 2001.
Former Gor Mahia coach and player James Sianga has blamed poor coaching and a lack of youth development structures.
"Football is evolving but we are standing still, we urgently need to work on improving our coaching skills and invest in spying on our opponents," James Siang'a, who is one of East Africa's most successful coaches, said.
Others like Chemelil coach Mike Mururi decided to show a lack of class and take pot shots at Gor Mahia.
"Gor Mahia are suffering from a self-inflicted problem. They are used to local referees favouring them to win matches in Kenyan Premier League. When they get neutral officials it becomes difficult for them to perform and this is what happened in Rwanda," Mururi told goal.com.
Back to the KPL
With Gor Mahia out of the GoTV shield and havuing failed to win the Top 8 and the CECAFA cup, the KPL is their last opportunity to avoid a trophyless season. Hopefully the players will learn from their mistakes and apply the lessons going forward.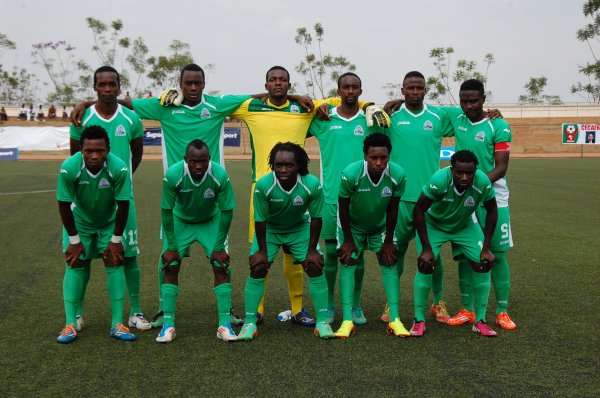 Gor Mahia ended their Cecafa Kagame Cup campaign with a 2-2 draw on Sunday evening against Djibouti's Telecom at the Kigali Regional Stadium ,Nyamirambo on Sunday evening.
Playing for nothing but pride, Kogalo  twice came from behind to salvage the point .
Telecom drew first blood via Aboubakar Djama  in the 39th minute. In the second half Timothy Otieno who replaced Blackberry , leveled the score on 59 minute of play.
Telecom took the lead again in the 74th minute when Freddy Eninga Andashango scored from the penalty after Godfrey Walusimbi fouled him in the six yard area.
When it appeared that the match would end in a 2-1 in favour of Telecom, Musa Mohamed tapped in from a goal mouth melee to hand Gor a draw head of their return to Kenya on Monday.
Gor Mahia Line-up:
David Juma, Musa Mohammed , Walusimbi Godefrey(Yellow 73) , Shakava Haron , Bruno Charles , Onyango Daniel(Odhiambo Owino), Mburu Simon Mungai , Ochieng Eric , Serunkuma Mzee Dan, Ogutu George Odhiambo(Timothy Otieno 49), Kariuki Joseph Maina(Kizito Geoffrey 70)
In Summary
Gor Mahia thus ended their campaign with two points. A disappointing campaign it was considering that Gor Mahia last participated in this this tournament 18 years ago and had experienced a long drought.
"It was my worst tournament ever as a coach and one that I could want to forget as quickly as possible. We looked like a team that was not prepared for the tournament. All in all my lads have picked some positives from the competition and this should spur them on in upcoming tournaments." said coach Williamson to goal.com
Nevertheless, the players will have learned some lessons and gained valuable experience and perhaps some big match temperament. The good news is that Gor Mahia is still in contention to retain the league title.
See this week's poll.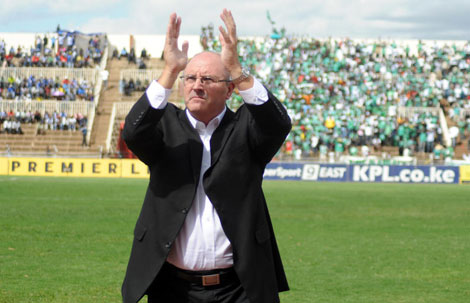 Coach Bobby Williamson has categorically stated that he has not signed a contract with Football Kenya Federation to become the national team coach.
"I was announced early this month as new coach of Kenya. We have only discussed with the authorities, but not signed a contract yet" Williamson told BBC Sport in Kigali.
This comes after it turned out that coach Adel Amrouche has not been terminated as national team coach.
He said he would wait to return to Nairobi and see how things unfold with the Kenya national side. He told the BBC that if he signs a contract to coach the Harambee Stars, he will resign from his position at Gor Mahia.
Coach Williamson denies that his association with the Kenya job played a part in Gor Mahia's exit from the east and central Africa regional club competition being held in Rwanda. This after there were rumours that some of the players were demoralized after the announcement that Williamson was leaving.
Rama Salim joins Coastal Union
Former Gor Mahia striker Rama Salim, who recently failed to earn a contract after trials in South Africa, has joined Tanzanian league side Coast Union of Tanga on a one year contract. Speaking to the press, Coastal Union secretary Kassim El Siagi stated that his side is excited about the signing and that it will enable them to challenge for honours in the upcoming season.
Gor Mahia fought valiantly to draw 2-2 with APR of Rwanda. APR dominated the match and had taken a 22nd minute lead through  through Baptiste Mugiraneza.
Gor Mahia came into the game more in the second half. The introduction of Dan Sserunkuma for Eric Ochieng spurred Kogalo as they went forward in search of an equalizer. The equalizer  came in the 60th minute via Geoffrey Kizito. It came from a free-kick which David Owino took and Kizito scored from the rebound.
Gor Mahia were now dominating and threatening the APR goal as  Timothy Otieno blasted wide from close range.
Williamson also blamed his attackers for failing to capitalize on a few chances that came their way. "It's a game of chances and when we fail to utilize chances we create, our opponents will do that even with the few chances they get to punish us.
"That's what has been happening and like we've seen in our last matches, we failed to make use of many chances we had in first half. Those are matches that we would have won but now we have ourselves to blame. Disappointing indeed."
As Gor Mahia continued to press forward, they were rewarded with a  second goal when Walusimbi scored via a direct freekick. At this point, Gor Mahia probably should have packed the bus.
In the 85th minute, Dan Sserunkuma scored but was adjudged to have fouled the goalkeeper. It was debatable call from the Tanzanian referee as sserunkuma appeared to have latched onto a loose ball that was not handled properly by the keeper.
A 92nd minute goal by Barnabe Mubumbvi of APR squared matters and eliminated Gor Mahia from the 2014 CECAFA cup.
Coach Bobby Williamson once again lamented lack of concentration in the defence that gifted APR the second goal.
Gor Mahia coach Bobby Williamson admitted once again that lack of concentration at the back had cost the team. "We were cruising to a very important victory but our defenders were costly yet again." said Williamson to goal.com.
It was a creditable performance against a team that currently leads the Rwandese league, a team that beat Gor Mahia comprehensively in 2009 and eliminated Tusker in 2011, A team that is directly funded by Rwandese president Kagame. But still not enough to salvage the tournament. With three teams already on six points in group B, Gor Mahia are now out of the 2014 CECAFA cup. Their last match against Djibouti Telecom is a formality.
Kizito named MVP
Midfielder "Baba" Kizito who scored the equalizing goal was named man of the match according to futaa.com.  "I really don't know what to say because that was just close enough but we lost out in the last minutes. That is however the nature of this game and we shall keep on pushing and hoping for better days ahead, he said.
Gor Mahia Line-up
Jerim Onyango. 5. Musa Mohammed. 18. Harun Shakava. 15. David Owino. 2. Godfrey Walusimbi. 3. Baba Kizito. 17. Eric Ochieng (Dan Sserunkuma)  6. Collins Okoth. 11. George Odhiambo . 9. Timothy Otieno. 19. Daniel Onyango.

Subs: 12. David Juma. 20. Joseph Kariuki. 13. Bruno Charles. 8. Dan Sserunkuma. 7. Simon Mburu. 16. Arthur Ssemazzi. 14. Kennedy Opiyo
After a disastrous start that has seen them lose their first two matches. Gor Mahia are now facing a must-win situation against APR of Rwanda. A loss to APR will effectively end Gor Mahia's campaign.
It will be an uphill task especially considering that APR will be playing at home.  against a team that eliminated Gor Mahia from the CAF cup in 2009 and also eliminated then Kenya champions Tusker from the Africa Champions league in 2011.
In 2009 A young George Odhiambo "Blackberry" was in the squad along with Zablon Otieno "Pro" , Julius Owino, Dan Odhiambo, Tonny Onyango, Elisha Ochieno, Peter Opiyo, Ibrahim Kitawi and Eric Masika. Almost all the players then were between 19 and 21. At the time, APR had a number of Congolese players like Fuadi Ndayisenga who scored two as well as Moses Odhiambo "Dube" who was at the centre of their midfield.
Blackberry is the only survivor from 2009 and will be eager to earn a measure of revenge to exorcise the demons of that loss. That is if he is fielded. The off colour striker did not play against Atletico on Monday. Gor Mahia fans will also be hoping for a win not just for revenge but to get the the campaign back on track.
Musonye ebcourages Gor Mahia
CECAFA chairman Nicholas Musonye has challenged Gor Mahia to emulate the glorious squads that won the CECAFA club cup in 1980, 81 and 85. At the time, Musonye was a sports journalist firstly with the Standard then the Weekly review, a magazine that used to cover Kenya Kenyan football better than any other publication.
"I have travelled with you (Gor Mahia) across Africa since 1981. I covered many of your matches during my time as a journalist and I know what you are capable of. I want to urge you to show your true character by winning the two matches," Musonye said to the Nation.
Calling the players by their names, the Cecafa boss particularly asked the team skipper Jerim Onyango to show leadership on the pitch.
"Jerim, you are the captain. I want to see your leadership. You have to do it. Owino (David) I want to see goals and Kizito (Geoffrey) I want to see what you are capable of doing," he said before handing the players a cash token of  $ 1,000 (Sh87,000).
An upbeat Jerim, who has so far been compact between the goal posts said they are highly motivated and ready for the match.
"We are okay. We have no issues troubling us and we are focused on the match. We believe all is not lost and we can still progress to the quarters and go all the way to lift the title," Onyango told Daily Nation Sport.
Gor Mahia need plenty of improvement
Gor Mahia's defence which looked shakey against KCCA will need to improve dramatically to contain the APR trio of APR's threesome of Jean-Claude Iranzi, Jean Baptista and Michel Ndahinduka which has proven to be dangerous. But they will have to defend without full back Walusimbi who is still out sick. And they will have to be sharper than they were against Atletico when they missed chance after chance.
                                             Group B Standings

                             P    W   D   L   GF   GA   GD   P
APR                     2     2     0   0     2       0      2      6
KCCA                 3     2     0    1     4       3       1     6
Telecom            2     1    0    1    2       2        0     3
Atletico             3     1    0    2    1      2       -1      3
Gor Mahia         2     0    0     2   1      3       -2     0
Starting Line-Up
Sserunkuma has shockingly been benched for Blackberry
Starting Xi:1. Fredrick Onyango. 5. Musa Mohammed. 18. Harun Shakava. 15. David Owino. 2. Godfrey Walusimbi. 3. Baba Kizito. 17. Eric Ochieng.  6. Collins Okoth. 11. George Odhiambo . 9. Timothy Otieno. 19. Daniel Onyango. 
Subs: 12. David Juma. 20. Joseph Kariuki. 13. Bruno Charles. 8. Dan Sserunkuma. 7. Simon Mburu. 16. Arthur Ssemazzi. 14. Kennedy Opiyo
Next Page »