Gor Mahia felled Mombasa combined 2-1. The match was played at the Mombasa Municipal stadium.  The goals came via Taofiq Zachary who scored his first ever goal in Kenya and Ali Abondo. Gor Mahia played much better than they had played on Saturday. The Saturday match was marred by rough play from Bandari and also marred by fans who jeered at the coaching staff and the players, most notably Jerim Onyango who returned their abuse in kind.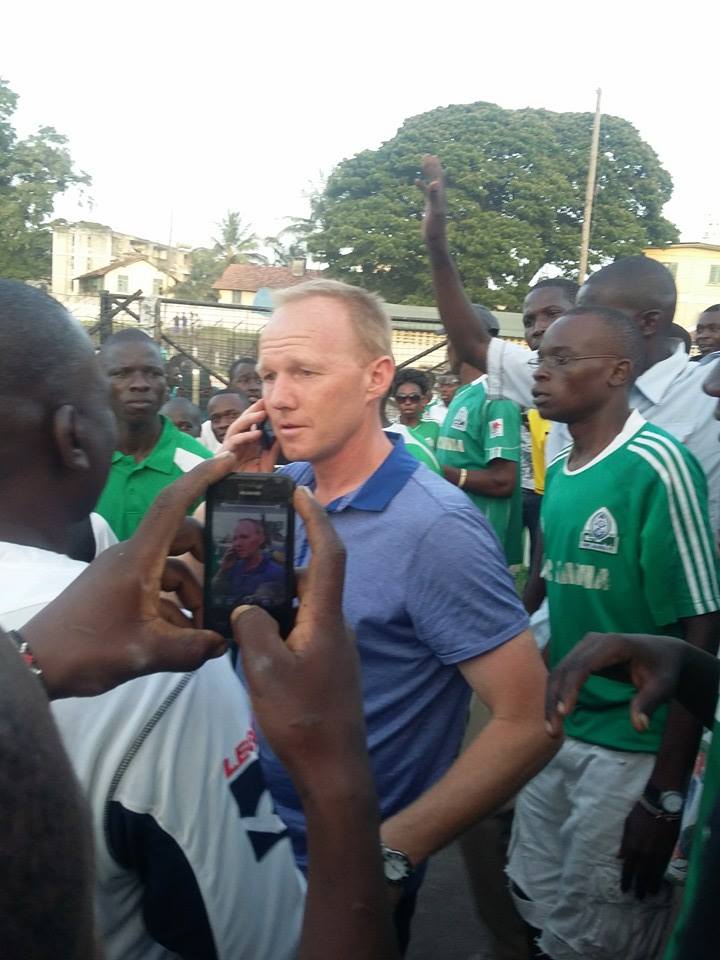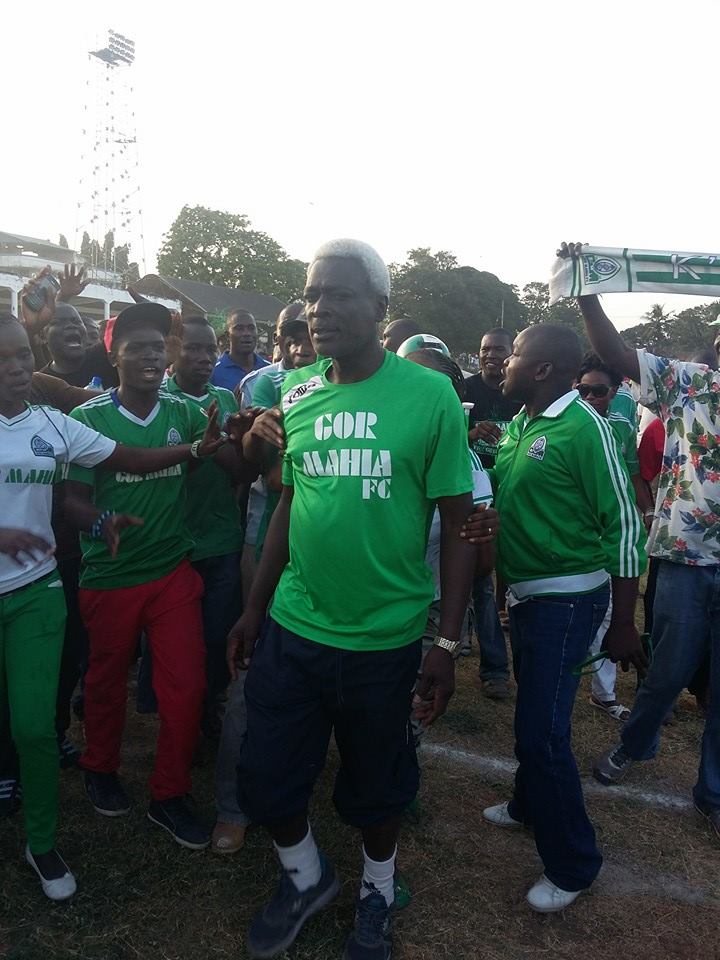 Gor Mahia suffered their first defeat of 2015 when they went down to Bandari 2-0 at the Mombasa Municipal stadium.
Mohamed Farid scored the opener after 34 minutes and the teams went to halftime with the scores at 1-0. In the second half, Gor Mahia pushed forward in search of an equalizer but it was Bandari who once again found the net in the 55th minute via Masoud Juma.
Once again the Gor Mahia attack was blunt. George Odhiambo Blackberry was decent. Mike Olunga still needs plenty of time to gel and Zakari Taofiq has yet to justify his massive transfer fee. There were reports that some fans booing the team bus and the coach and some were chanting "Jerry Must go" at the team bus for what they considered a lacklusture display. Now that is disgraceful fan behaviour.
Musa Mohamed perhaps after having watched the solid performance of Karim Nizigiyimana last weekend, also put on a very solid display.
Gor Mahia next play Mombasa combined on Sunday as coach Frank Nuttall continues to find a winning combination.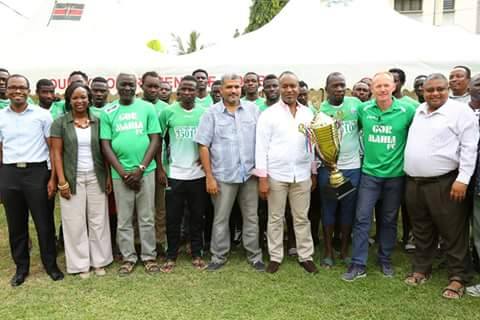 Mombasa governor Ali Joho has donated Ksh 200,000 to Gor Mahia FC to enable them to boost player morale before for the Africa champions league match against CNAPs of Madagascar.
Joho handed Sh200, 000 to K'Ogalo captain Jerim Onyango and the money was shared equally amongst players' making the trip to Mombasa for a series of build up matches.
CEO Lordvick Aduda revealed that the governor has shown an interest in helping Gor Mahia foot their continental bills.
"We discussed a lot of issues with Governor and he has promised to help this club. He gave Sh200, 000 that was shared amongst players' and also promised to host us for dinner later on Saturday.
"It was a good gesture from the governor at this time when our club is seeking for financial help. We have Kenyan Premier League coming up and also continental assignment that needs a lot finances. He has promised to help where he can." said Aduda to goal.com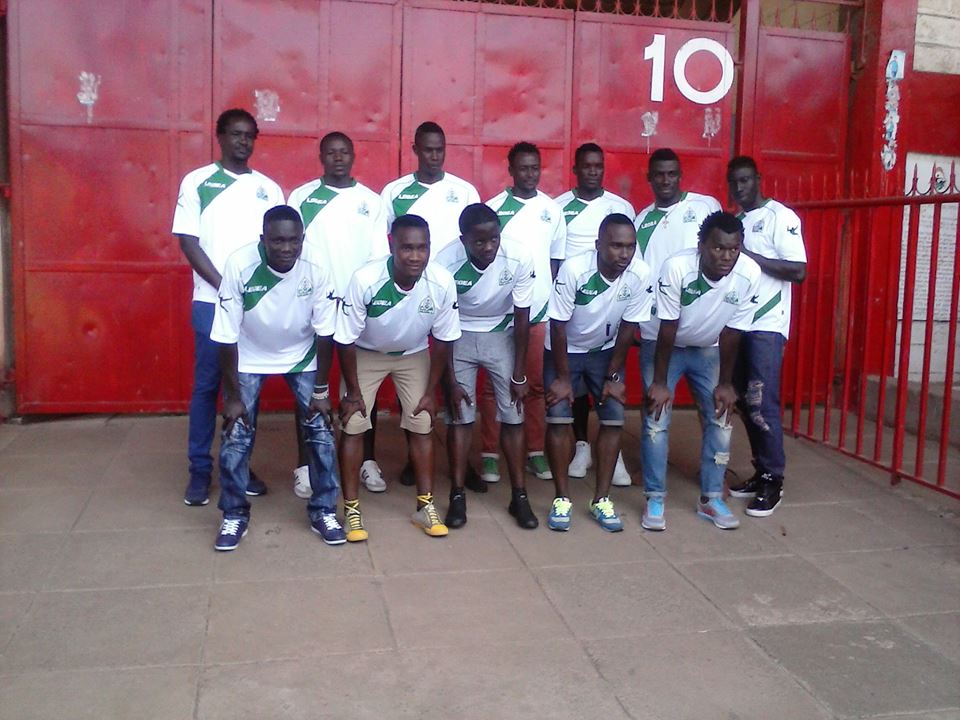 Gor Mahia CEO Lordvick Aduda has announced that contrary to earlier speculation, the club will not be pursuing AFC Leopards striker Jacob Keli.
"Keli is not in our plans .The coach has closed the door for more signings since he believes the players who have been picked are enough for the season,"said Aduda to supersport.
There had been speculation and reports that Gor Mahia were on the verge of signing keli after he appeared at the club's press conference. However Aduda has denied this.
"To be honest, we never instituted any talks with Keli. We were not interested in him because there are particular players we were targeting who could fit in our long term plans, not every Tom, Dick and Harry. I'm sorry to say our bus is fully packed with no room for any extra passenger," he continued.
With the Gor Mahia attack appearing blunt, many fans though Keli would have been a welcome addition. However he has failed to impress in 2014. Had coach Nuttall watched the Jacob Keli of 2013, he may have had a different opinion.
Bernard Odhiambo: No Comparisons please
New Gor Mahia defender Bernard Odhiambo, who is a younger brother to David Owino "Calabar" has rejected any comparisons to his elder brother.
"Of course I draw a lot of inspiration from him. He has worked hard to be where he is and I am very proud of him and I wish him well in his new club,"added Odhiambo.
"It would have been my wish to play with him at Gor Mahia but that may not happen now that he has moved but I hope Gor Mahia will make me a better player so that I can make it to the Harambee Stars and play alongside him." he said to supersport.com
Odhiambo says he was drawn to the club due to its past success and its passionate fan base.
"Gor Mahia is the biggest and most successful club in Kenya and it is the pride of any player to don the green jersey. I love the passion of the fans and commitment of the management," he continued to supersport.
Odhiambo wants to use his stint at Gor Mahia as a growth opportunity and is also aiming to win titles while at Gor Mahia.
"A player can only grow by playing for a club that offers challenge. I am ready to handle the pressure that comes with playing for Gor Mahia. My brother always encourages me. I am happy to be here and I want to win titles."
Olunga on why he joined Gor Mahia
Newly signed striker, Michael Olunga has indicated that he turned out offers from other clubs in order to play at Gor Mahia. Among the clubs that made him offers were Supersport of South Africa as well as Tusker, AFC Leopards, Ulinzi and Sofapaka.
"What prevented me from putting pen to paper (at Supersport) was the fact that they had not spelt clearly the requirements of getting a university for me. Previously, we had agreed that if I was to sign for them, they had to provide a university where I will continue with my studies but they did not spell that out in the final contract," Olunga said.
"There is life after football and having papers is very important," added Olunga of the decision that saw him opt out. "Tusker was the first team I would have joined but after advice from my manager, I turned them down." said Olunga to mediamaxnetwork.
Olunga says he turned down Ulinzi upon advice from his manager and turned down Ingwe due to their constant wrangles.
He is certain that Gor Mahia will provide him the platform he needs to ascend to greater heights.
"I always thrive under pressure and in my opinion, Gor will help me shine. I am sure if I was here last season and scored 10 goals, I would have been a regular in the national team," said Olunga. I believe in myself, I believe I can do well and I will score many goals. Their playing style suits mine and I look forward to a great season. I am not putting myself under pressure to replace Danny (Sserunkuma) but I will do my best,"
Back in 2010 when Olunga was the MVP of the national schools championships, he was tipped by many to be the next superstar. Legendary coach Mohamed Kheri compared him favourably to Mike Okoth Origi.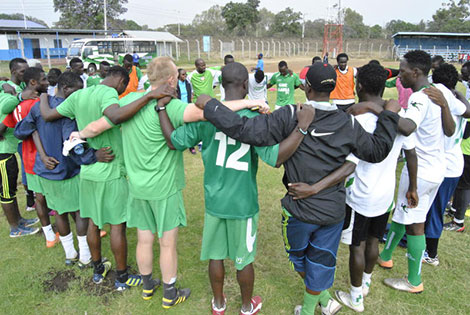 Having beaten lower tier side Bidco FC in their first friendly of 2015, Gor Mahia continued their preparations for the CAD Champions league with a 1-0 win over KPL side Western Stima.
The goal was scored by new signing Ronald Omino who ran down the flank before cutting inside to score in a manner reminiscent of Dutch forward Arjen Robben. Incidentally, Omino was playing against his Father Henry Omino who coaches Western Stima.
Coach Frank Nuttal was satisfied with the win.
"I am trying to get my first XI and so far I have played different teams for each half and I am satisfied that the team is taking good shape," coach Frank Nuttall said to goal.com.
Travel to the Coast
Gor Mahia will continue their preparations by travelling to Mombasa to play Bandari on Saturday. They will then play Coast Combined on Sunday. The tour of Mombasa will somewhat prepare the Kogalo for the weather in Madagascar.
After Mombasa, Gor Mahia will play high profile friendlies against Power Dyanamos of Zambia, SC Villa of Uganda and Vipers of Uganda.
"We have invited Power Dynamos over for a friendly match and they have given a strong indication that they will be here next weekend, so we are only awaiting official communication from their end before we embark on the necessary logistics."
"Uganda's SC Villa and Vipers FC had also jointly invited us for a friendly on that same weekend, but we have requested them to push the invite to the 8th of February so that we can play Dynamos first," said club official Ronald Ngala to the Nation.
Coach Frank Nuttall is determined to make an impact at the continental level, something Gor Mahia has not done in this millenium.
"In my opinion, the club has made enough impact in the local front so it would be a good thing if we could replicate the same impact outside the country. To do that, we must get out of the comfort zone and go the extra mile and playing these build-up matches is one way of doing that," said Nuttall to the nation.
The Gor Mahia defence should be solid this season following the signing of the Rayon sports duo of Karim Nizigiyimana and Abouba Sibomana.
Rayon sports official, Aimee Emmanuel Ndayisabye said that Gor Mahia paid $8000 for the duo.
"It is true that they have gone to Gor Mahia and we have given them everything they needed to go, we wish them all the best," Ndayisabye said to the Rwandese daily New Times.
Karim Nizigiyimana impressed when he played against Bidco United on Saturday. Abouba Sibomana has represented Rwanda since 2010. He thus brings a wealth of experience.  With the duo available, there will be competition for positions in defence with Musa Mohamed, Simon Pierre and Godfrey Walusimbi also able to play at left back.
However it is worth noting that the CAF deadline for registering players for the 2015 Africa champions league was on January 15 which means Gor Mahia most likely missed the window to register the two players.
The defence now looks okay with the addition of Dirkir Glay and Bernard Odhiambo in central defence. But whereas the defence looks ready, there is plenty of work that needs to be done on the attack.
Having beaten Bidco FC  in a friendly match this past weekend, Gor Mahia will now face a sterner test against KPL side Western Stima. According to goal.com, the match will be played on Wednesday at Moi stadium Kisumu. This stadium was the scene of wild celebrations when Gor Mahia won the league last season.
Though this is a friendly match, the turnout is bound to be high given the passionate support that Gor Mahia has in this town. It is therefore important for Gor Mahia and the county of Kisumu to cooperate in providing adequate security. The club cannot afford any lapses.
For coach Frank Nuttall, it is an opportunity to once again test his new and existing players and continue to explore various combinations. Nuttall expressed his happiness at the win over Bidco last weekend:
"I'm happy we have started the New Year on a sound note. I believe we are on the right track and I look forward to a good season. To me, it doesn't matter who scores, the team victory has to come ahead of everything else" he said to michezoafrika.com
However Nuttall should be concerned about his strikeforce which appeared blunt. Whereas at the beginning of last season, we knew going in that Dan Sserunkuma would spearhead the attack, it is not clear in 2015. Nuttall has about one month to find the two players who can play well together upfront.
Assistant coach Frank Ouna also expressed satisfaction with the win over Bidco and expressed the club's intent to beat Western Stima.
"We want to win the game. It is an important game for us. We have a new team and every match for us counts a lot. We are taking every match very seriously. This is perhaps the second time we are playing together in a friendly match after playing Bidco United."
For Gor Mahia fans its another opportunity to assess the new signings. Some players did well on Saturday most notably, Karim Nizigiyimana, Khalid Aucho and Bernard Odhiambo. In particular, new signing "Rooney" Omino will play against the team his father coaches.
But It is one thing to play well against Bidco which is a lower tier team. Fans will be interested to see what the team can do against KPL calibre players. Others who did not impress should be using this opportunity to show improvement.
 Power Dynamos
Famous Zambian side, Power Dyanamos will be camping in Nairobi in preparation for their CAF confederation encounter with Al Khartoum of Sudan. While in Nairobi, they will play a friendly against Gor Mahia on February 1.
Club secretary Ricky Mamfunda said in an interview from Kitwe yesterday that weather conditions in Kenya are similar to Sudan. "We decided to take the team to Nairobi because its proximity to Sudan and the weather conditions,".
Power are expected to leave for Nairobi on January 25. They will face Al Khartoum on February 14.
Julius Situmbeko who is famous for the botched deal with Gor Mahia in January of 2014 was in the Power Squad until November of 2014. It is not clear if he has re-signed with Power.
K24 caught up with former Gor Mahia captain Julius Owino who explained what he has been up to. He says that all his plans came apart when he was dropped by Gor Mahia. he has since started various ventures like recycling, dog breeding and now runs a youth team in Kayole.
This is a cautionary tale for players who do not plan their post football activities. The case of Owino is especially egregious since he was 34 years old by the time his career ended which means he had over a decade to plan for his post football career.
Players know that football does not last forever and should therefore plan ahead.
Gor Mahia narrowly squeezed a win over Bidco whom they beat 1-0 at the City stadium on Saturday. The all important goal was scored by Simon Pierre who capitalized on a through pass from George "Blackberry" Odhiambo.
In action were several Gor Mahia new signings among them returnee Ali Abondo who was captain and played in midfield with Khalid Aucho coming in later and displaying astute passing. Bernard Odhiambo who is the brother to David Owino Calabar also played. Odhiambo made an impressive debut and shows the potential to achieve what his elder brother achieved. Most impressive in the Gor Mahia defence is right back Karim Nizigiyimana. He looks good going forward, has good positional sense and is composed and a good crosser.
Whereas the defence looked solid, the attack looks blunt. Blackberry played well but it will take some time before his combination with other strikers like Olunga, Tim Otieno and Taofiq clicks. Remember that Blackberry hardly even played with Tim Otieno last year.  Coach Frank Nuttall has his work cut out to identify combinations and gain some cohesiveness upfront before the match against CNAPs of Madagascar.
After missing out on an opportunity to play KCB, Gor Mahia will now play Bidco FC in their first match of 2015.
Coach Frank Nuttall has had an opportunity to work with his new charges for a week now. This is first chance to test combinations.
Though this is not a real test, it will Gor Mahia fans a chance to see the new signings in action. Collins Okoth and Dirkir Glay will likely not play after they picked up minor injuries.
Gor Mahia fans for their part will be eager to see the new signings in action.
Next Page »