Gor Mahia has been named Kenya's best sports brand by ICERTAS (International Certificate Association) The firm places the Kenyan Premier League champions among top corporate and personalities who it terms as most saleable brands. This according to a report in the Daily Nation
Who are ICERTIAS ?
It is a Swiss organization that conducts research about customer satisfaction, product quality and customer behaviour using innovative research scheme and methodologiesis primarily focused on the global recognition and promotion of product quality and value. They have conducted research studies in well over 40 countries in five continents.
The fact that this is an Independent non-biased consumer research firm lends this study a significant degree of credibility.
Significance
This finding puts Gor Mahia ahead of every other sports team as far as Kenyans are concerned. Gor Mahia officials should be able to parlay .
These findings are significant in that they should open the eyes of potential sponsors. "Gor Mahia is a big brand and we hope to have a shirt sponsor soon," said Rachier to the Nation.
Gor Mahia continues to have an impact away from the field
Meru governor recently cited Gor Mahia as one of the reasons he is spending Ksh 200m to upgrade Kinoru stadium in Meru and millions more to set up a sports academy in his county.
Munya said his government considers sports as a major business for locals due to high number of people attend matches at the stadium, hence the heavy investment.
"People spend in our hotels when teams come to Kinoru stadium. Food suppliers will also get business. When Gor Mahia came to play Tusker, all hotel rooms were full. We want to sustain this." said Munya.
So how can Gor Mahia take advantage of these findings ?
The evidence clearly suggests that Gor Mahia should be receiving far greater sponsorship than all other sporting entities. So why is'nt it ?
Consider rugby for example. The amount of sponsorship that Kenya rugby receives considerably dwarfs football. The Kenya XV team recently penned a Ksh 75 million sponsorship with EABL. This is almost twice what any Kenya football team receives. But if you think that is amazing then consider the fact that the Kenya sevens team has a sponsorship from Kenya Airways that is worth a whopping Ksh 400 million over two years. And we havent even mentioned the sponsorships that Kenya rugby receives from entities like Bamburi cement and so forth.
Therefore we must ask ourselves why rugby is so successful at garnering sponsorship and what can we learn from them.
Firstly its a question of and public perceptions. Rugby is seen as well run, transparent, fashionable and marketable.
Secondly its a question of public relations . Gor Mahia has an uphill task in this regard. But the hill can be climbed. Gor Mahia fans have been on relatively good behaviour of late. The club lost to arch-rivals Ingwe recently and fans left the stadium peacefully. They were eliminated from the Shield last weekend and once again fans left peacefully.
If I were Ambrose Rachier I would highlight the peaceful behaviour by publicly congratulating the fans for being calm. I would take every opportunity to highlight the positives.  Remember the media is quick to highlight even the slightest negativity from Gor Mahia fans. Its therefore up to the club EC to highlight the club's positives. Aside from garnering sponsors, it will bring more fans to the terraces. And why not build on the sentiments expressed by Meru governor Peter Munya which bolster what this column has been saying for a long time : Gor Mahia is good for this country. It must be said however that Mr. Rachier has indeed fought a good fight in ridding the club of bad elements. More needs to be done by him and other stakeholders including fans.
Will history repeat itself ?
Three years ago, media monitoring company Realforge  reported that KPL attracted media coverage worth Sh686 million over the period of March to November with Gor Mahia enjoying  a coverage worth Sh200 million  as Advertising Value Equivalent. This was by far the highest of any Kenyan team. It was around the same time that Gor Mahia entered into a partnership with Tuzo. Will this ICERTIAS study be a harbinger of good things to come ?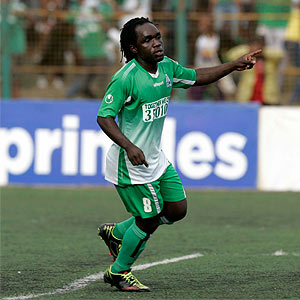 Gor Mahia deputy secretary general Ronald Ngala yesterday indicated that striker Dan Ssserunkuma might be available for the Mashemeji derby second leg to be played on Sunday.
"His trials in Denmark were to last until July 24. We expect that he will fly back home immediately in time for the derby," Ngala told goal.com
Sserunkuma left for Denmark for trials with HB Koge and has since featured in at least two matches during their tour of Germany. He is set to return on Thursday while he awaits a decision from HB Koge.
Sserunkuma's has scored several crucial goals against AFC Leopards. Indeed his scoring record in this derby is second only to the legendary Sammy Onyango "Jogoo".
Gor Mahia could use his firepower given that the forwardline appears to have stalled in the last two games. More importantly, Gor Mahia will be trying to redeem themselves after losing to AFC 1-3 in the first  leg match a few weeks back.
Coach Bobby Williamson who has yet to beat AFC has indicated Sserunkuma will certainly be in his plans if he makes it home before the derby. "I will be glad to have him for the match. He is a good player, who can help us in the derby." he told goal.com. Indeed Williamson's record in the Mashemeji derby is a starke contrast to his predecessor who always beat AFC. The Scot will be eager to record his first Mashemeji win. A victory this Sunday would be  a harbinger of good things to come as far as the CECAFA cup which starts next month.
Gor Mahia have been playing well in the last three KPL matches with the exception of the forward-line which at times has appeared blunt. Much of that is likely due to turnover of players which has seen Williamson try several players of late including new signing Arthur Ssemazi, Blackberry and Oboya. Strikers need to play together for some time in order to build cohesion. The addition of Sserunkuma and his budding partnership with Timothy Otieno could be what Kogalo needs this Sunday.
Kenya Premier League side [KPL] Gor Mahia FC has completed signing a three year kit sponsorship deal with Italy based Sports Studio company to fully kit the club. The new kits with the company's Joma brand name will be launched on Wednesday July 23 at 680 hotel, Nairobi. This according to futaa.com
With the club having lost its primary sponsor Tuzo, the next best source of finances is the fan base and the general public. And there is no limit to what kind of Gor Mahia branded merchandize can be sold in partnership with Joma because Joma markets everything from polo jerseys to shoes to gym bags and T Shirts.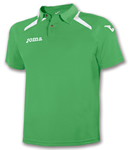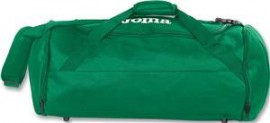 .
Bad deals
When Gor Mahia signed a similar deal with Legea in 2011, only 10% of the proceeds from merchandize sales were to go into the club's kitty. This lopsided deal left many fans disgruntled and many decided to purchase the official Legea-Tuzo jerseys altogether. One certainly hopes that the club management has learned from that experience.
Piracy and fake merchandize
A second issue that was not properly addressed last time was the issue of piracy. In fact Chairman Ambrose Rachier once claimed that Gor Mahia makes no money from merchandize due to piracy. Which means according to Mr. Rachier that all the jerseys you see at the stadium added nothing to the club's coffers. This can be addressed by educating fans on the locations that are selling legitimate merchandize. This will also solve the third issue which is that some fans often find it difficult to buy club merchandize.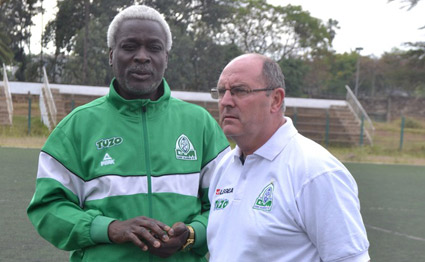 Reports from the Standard suggest that Gor Mahia head coach Bobby Williamson has emerged as the firm favourite to take over at Harambee Stars following the one year suspension of Adel Amrouche.
It is understood Football Kenya Federation (FKF) has already inquired about the availability of the former Uganda Cranes coach. Sources in the federation who did not want to be named said: "We have already started looking for a possible replacement for Amrouche and Williamson is being considered first. "He has the experience of working at this level and everybody knows what he achieved while working in Uganda. We are talking to his club and expect to make a firm decision in the next few days."
The FKF is eager to hire a new coach especially after the below par performance by Harambee stars where they drew 0-0 with Burundi at home before losing to lowly Lesotho 0-1. Given that Lesotho are ranked #139 by FIFA , fans can fully expect that Kenya FIFA ranking to plummet from #95 to perhaps #110.
This is not the first time FKF are after a Gor Mahia coach. In 2011, Zedekiah Otieno "Zico" then the Gor Mahia coach, was also tapped to take over as Harambee stars coach on a part time basis. This happened after Zico had steered a young Gor Mahia squad to the brink of winning the league. However the performance of Gor Mahia suffered as the coach split his time between the national team and Gor Mahia. In this case it is not clear if FKF want Williamson on a full time or part time basis.
Aside from Williamson, FKF have also indicated that they might recycle Francis Kimanzi or Jacob "Ghost" Mulee. Truth be told, Zdravko Logarusic who seems to be on his way out at Simba might be a better option than these two. However with Harambee stars coaching is far from the main problem. Their preparations were poor and consisted of a trip to Brazil for "motivation" followed by a hurried friendly with Burundi. There are also deeper problems that are too numerous for this article to delve into. The point is that hiring Williamson will surely hurt Gor Mahia and is unlikely to help Harambee stars.
courtesy of goal.com
K'Ogalo deputy secretary reveals to Goal that they had written to the federation requesting their match against GFE 105 is put off but were dismissed
Gor Mahia are now accusing Football Kenya Federation (FKF) of using non-sporting reasons in denying them a postponement of Sunday's GOtv Shield match against GFE 105 at Moi Stadium, Kisumu.
It is now emerging that K'Ogalo had last Thursday asked for a postponement quoting article 9.5 of Kenyan Football rules which stipulate that a match can be postponed if a team has one player on national team duty.
"We asked for the match to be called off because we felt it was unfair to play without more than four of our first team players. Our request was rejected on the basis that all arrangements had been made to host the fixture and so we had no choice but to honour it," Gor Mahia Deputy Secretary General Ronald Ngala told Goal on Monday.
In rejecting their request for a postponement, FKF seemed to give non-sporting reasons for the refusal. In a letter to Gor Mahia from Kenya FA Secretary General Michael Esakwa he says:
"We wish to inform you that the federation in conjunction with our broadcast sponsors SuperSport have already lined up the match for live television coverage and all necessary logistics have already been finalised and broadcast satellites already secured.
"Therefore, the federation hereby wishes to inform you that we are not in a position to postpone the match as per your request."
Gor Mahia were bundled out of the knock out competition after falling to minnows GFE 105 on post match penalties.
Coach Bobby Williamson has contended that the Shield match against GFC 105 should have been posted given the sheer number of players away on international duty.
"The game should have been cancelled we were forced to play the match without with our players out for international duty. Rule is when you got players out on national duty , you cancel a match", he said to futaa.com
Indeed Gor Mahia were missing the Ugandan duo of Walusimbi and Kizito as well as goalkeeper Jerim Onyango and David Owino.
He also lamented the ineligibility of Timothy Otieno. "We couldn't use the player (Timothy Otieno). We initially knew he was cap tied only to be informed that he is eligible to play very late when he was back in Nairobi" said Williamson to futaa.com
However it must be said that even without these players, Gor Mahia should have been able to beat GFC. They were replaced by high calibre players. And it was anti-climatic given that Gor Mahia were returning to Kisumu which is historically their spiritual homeground after years of anticipation. And the team had been flown there. Morale should have been high.
Nevertheless Gor Mahia dominated possession. It was the missed chances that let them down as well as the fact that GFC parked the bus quite effectively.  Thousands of Gor fans thronged the venue with some atop the terrace wing and hundreds on the dump-site heap outside the stadium to watch the game.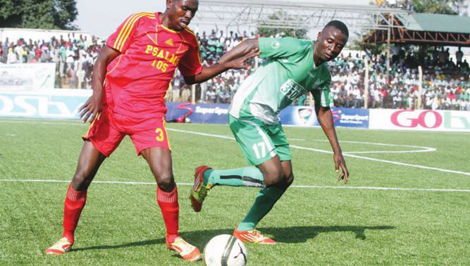 courtesy of futaa.com
2013 shield cup finalists Gor Mahia have been bundled out of the Shield Cup third round by National Super League side GFC 105 in a game played at the Moi Stadium kisumu on Saturday 19 July.
The game ended in a one-all draw in regular time, forcing the game to go to sport kicks where GFC won 4-2 after Gor's Simon Mburu and Musa Mohammed's penalties were saved, while GFC converted all theirs.
Gor had taken the lead in the 82nd minute through second half substitute Simon Mburu. GFC however equalized seven minutes later through Dennis Shiveka to send the game extra time.
First half
The game started on a slow note and it was not until the 19th minute that there was a real chance of the game. Patrick Oboya sent clear by Joseph Kariuki but good defending from GFC saw them clear the ball off Oboya's feet for a corner that was easily dealt with.
In the 27th minute, Gor e through Herbert Kompany, a shot that forced Caled Wafula into a finger tip save. The resultant corner was once again wasted. A minute late, GFC won a free kick that was brought in by Dule Abuya. Vincent Mageto's strike however went over the bar.
In the 44th minute, GFC had the best chance of a goal. Hezron Ochieng was (Mageto) shot wide.
Second half
In the second half, Gor came back the stronger side but were not able to find the back of the net. Arthus Ssemanzi, Joseph Kariuki and Oboya were guilty of missed chances in the second half.
In the 74th minute, Gor's best chance Mburu. Gor had been awarded with a freekick that was floated in by Eric Ochieng'. Mburu's connection however rolled across the goal mouth.
In the 82nd minute, Gor found the opener through Mburu. Simon Pierre's cross found Artur Ssemanzi but his shot hit the cross bar and bounced back to the field of play, Kariuki's rebound attempt was blocked by the GFC defence but not cleared and Mburu made no mistake scoring from close range to give Gor the lead.
Post match penalties
The lead lasted for only six minutes as GFC's Hezron Ochieng's across found Dennis Shiveka who beat Juma with a hard shot to draw the hosts level.
The final whistle went with both teams tied at a one-all draw, forcing the game to go to post match penalties.
Harun Shakava and Eric Ochieng' converted theirs while Simon Mburu and Musa Mohammed's penalties were saved.
GFC scored all their four penalties through Sammy Kiptoo, Hezron Ochieng', Dennis Shiveka and Duke Abuya.
Starting X1: David Juma, Simon Pierre, Harun Shakava, Musa Mohammed, Kennedy Opiyo, Daniel Onyango, Eric Ochieng', Collins Okoth, Joseph Kariuki, Herbert Kompany, Patrick Oboya.
Subs: Joel Bataro, Innocent Mutiso, Arthur Ssemanzi, Simon Mburu, Charles Bruno,Angelo Okumu.
GFC starting 1X: 29 Caleb Wamalwa,5 Leon Ambeta, 16 Eric Asuma,3 Ken Mola, 6 Elly Otieno, 8Sammy Kiptoo,17 Godfrey Osome, 10 Asila Ayub, 13 Hezron Ochieng (Cpt), 17 Abuya Duke, 15 Vincent Mageto
Substitute: Bildad Kiptoo(Gk),4 Geofrrey Gachoka, 14 Suleiman Yusuf, 11Bahati Livingstone, 2 Ben Muchiri, 12 Denis Shiveka, 9 Abong'o Kennedy.

Gor Mahia will be returning to the CECAFA club cup, aka Kagame cup after a long hiatus. Gor Mahia has a proud record in this tournament having won it three times (1980, 1981 and 1985). However the last time they participated was in 1996 when the tournament was held in Tanzania. On that occasion, Gor Mahia started brilliantly and topped their group after drawing 1-1 with hosts Yanga and beating Express of Uganda 3-1 before being awarded a walk-over in their last game. However they lost to hosts Simba 0-1 in the semis. They ended the tournament by beating Yanga 4-0 for the third place.
They return after eighteen years eager to make a mark in a tournament that made players like club legend and current assistant coach Bobby Ogolla a famous all over East and Central Africa. There was a time this tournament and the senior challenge cup was followed with as much fervour as the world cup. And that is not a an exaggeration. And since none of the matches were transmitted on television, everyone followed Bobby' and the rest of the team's heroics on radio.
In 2014, Gor Mahia have been placed in group B where they will be pitted against Kampala City Council of Uganda, APR of Rwanda and Flambeu d est of Burundi in what looks like a difficult group that has no pushovers.
Kampala City Council
KCC have won the Ugandan national league 9 times, the latest being the 2012-2013 season. The squad is composed entirely of Ugandans including national team players Hassan Wasswa,  and Brian Majwega. As of 2014, they lead the Ugandan league by one point.
In the 2014 Africa Champions league, they scored an upset when they eliminated a strong Al Merreikh side from Sudan 3-2 on aggregate after having shockingly won the 1st leg 2-0 in Sudan. In the second round they narrowly lost 4-3 to Nkana FC.
A memorable encounter between Gor Mahia and KCC came in the opening match of the 1984 edition of the CECAFA club cup. On that occassion, KCC surprised everyone at Nyayo Stadium by taking the lead in the 29th minute via Joseph Ssekito. Gor Mahia looked destined for defeat until late in the game when substyitute and former Ugandan international Abbey Nassur made a menacing run into the KCC penalty box before being felled. New signing George Onyango Fundi slotted home the resulting penalty to salvage a 1-1 draw. This period of the late 1970s to the early 1980s was the golden era for KCC when the greatets Ugandan players ever : Philip Omondi, Davis Kamoga and Jimmy Kirunda played for them. Like Kenya Breweries in Kenya, they attracted the top players by offering them employment at the City council.
KCC coach George Nseimbe recently declared that he is confident of beating Gor Mahia. "I believe our group is tough but Gor Mahia is not a problem to me. I have been watching the Kenyan league on TV and I know how to confront them. APR is the problem because you know clubs have evolved their approach to playing," Nsimbe said.
Perhap's Nsimbe's confidence stems from the fact that they won the Mapinduzi cup in January. But they did not just win. They thrashed AFC Leopards 3-0, beat Tusker on penalties before beating Simba 1-0 in the final. Now keep in mind that not only were Simba the hosts but they were also coached by Zdravko Logarusic.
APR (Armée Patriotique Rwandaise)
They need no introduction to this generation of Gor Mahia fans. It was they who beat a Gor Mahia team laden with schoolboys and recent school leavers by a score 0f 5-0 at Nyayo stadium. The two players left from that squad are Jerim Onyango and George Odhiambo. Nevertheless Gor Mahia will be gunning for a measure of revenge.
There last outing in the Africa champions league was in 2013 when they lost to Vital O of Burundi in the preliminary round. The very same Vital O side beat them in the CECAFA cup finals held in Sudan after APR had upset hosts Al Merreikh of Sudan.
APR will be the most formidable opponent that Gor Mahia will face given their home ground advantage. But APR have a quality side. They have at least 10 players who have played for the national team within the last 2 years. Despite their short history, they are Rwanda's leading football club having won 14 Rwandan league titles, all since 1995, the Rwandan Cup seven times and the CECAFA Clubs Cup in 2004, 2007 and 2010.
APR are also on a high having won the Rwandese league in May and the Peace cup  2 weeks ago. Striker Michael Ndahinduka who scored the winning goal in the Peace cup is one player Gor Mahia has to watch out for.
Flambeau de l'est
Their name means "Beacon of the East". They won the Burundian league by a 3 point margin. They are among the least experienced side in the tournament. They have only played in a CAF tournaments once in 2014. In the preliminary round, they beat Diables Noirs of Congo Brazaville 2-1 on aggregate before losing 5-1 to Coton Sport of Cameroun in the 1st round.
Despite winning the Burundian league, they have only one player in the national team, that is goalkeeper Arthur Arakaza. The Burundi national team eliminated Harambee stars from the CHAN tournament in 2013. And Burundian teams have always proven a tough nut to crack for Kenyan teams.
The 2013 edition of the cup was won by a Burundian side Vital O who beat APR 2-0 in the final.
Though Gor Mahia have not played Flambeau de l'est, they have played Burundian teams before, most notably Vital O in the 1983 Africa cup winners cup. On that occasion, a player mutiny saw Gor Mahia lose the second leg in Nairobi 0-3 after having won the 1st leg in Bujumbura 2-1 with goals from current assistant coach Bobby Ogolla who scored from a direct free-kick and a second goal by striker Abdallah Shebe.
The Tournament
The event scheduled between; August 8 – 24 will be hosted at Amahoro stadium in Kigali and Kigali Regional stadium in Nyamirambo.
The full fixtures of the event were not released but will soon be communicated.
Rwandese president Paul Kagame, who is also patron of CECAFA, has sponsored the regional club championship to a tune of US$60,000 in cash prize annually since 2002. A further $15,000 has also been channeled into the organisation of the event. The winner of the championship will bag $ 30,000 while runners up and third placed team will smile away with $ 20,000 and $ 10,000 respectively.
Supersport, the long time Cecafa partners is one of the sponsors and will show all the matches live.
It will be a tough tournament with several good teams. Gor Mahia will be eager to put on a good performance since they have not been able to shine in continental tournaments.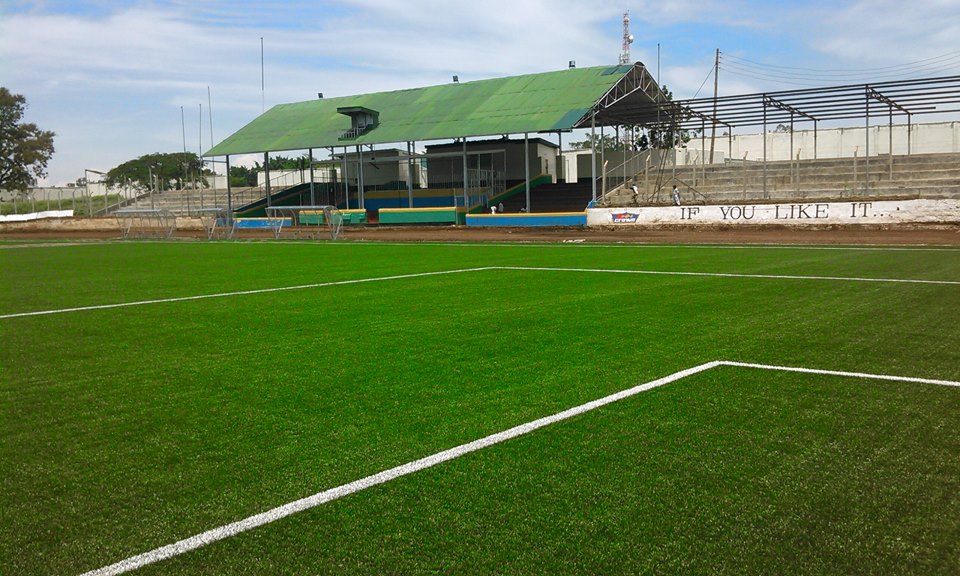 courtesy of goal.com
After more than ten years, the newly refurbished Kisumu Stadium will host top flight action with Gor Mahia taking on minnows GFC 105 on Saturday
After more than ten years, the newly refurbished Kisumu City Stadium will host top flight action this weekend.
The facility has been upgraded at a cost of more than Sh100million with world governing body Fifa donating a Sh50million astro-turf facility.
Kenyan Premier League champions Gor Mahia will take on GFC 105 at the venue on Saturday. Agro-Chemicals and Nairobi Stima will also play at the same venue in another GOtv Shield fixture.
On Sunday, the venue will host one match pitting Nyakach United against KPL side Muhoroni Youth.
But speaking ahead of the fixture, Gor Mahia Deputy Secretary General Ronald Ngala says the team is considering asking for a postponement of the match.
"We picked so many injuries against Nakuru Top Fry on Wednesday and as a result the coach has asked that we postpone the fixture. We are still thinking about it before making the request. We do not know whether Football Kenya Federation will take our request," Ngala told Goal.
Full Fixtures: Friday: West Sugar v Imara (Bukhungu), Homeboyz v Shabana (Bukhungu). Saturday: Mumbi Nationalle v Ulinzi Stars (Ruaraka), City Stars v UON Wazito (Ruaraka), Agro Chemicals v Nairobi Stima (Kisumu), Gor Mahia v GFC 105 (Kisumu), Top Fry v Inter City (Afraha). Sunday: Ligi Ndogo v Zoo (Ruaraka), Bandari v Finlays (Mombasa), Rangers v Ulinzi Warriors (Ruaraka), Sofapaka v Hotsprings (Ruaraka), Nyakach United v Muhoroni Youth (Kisumu), FC Talanta v AP (Oserian), Nakumatt v Tusker (Oserian), Chemelil v MOYAS (Chemelil). Wednesday: AFC Leopards' v Mathare United (Nyayo).

In this video, Manasseh Otieno of the Gor Mahia fans foundation and coach Maurice Onyango Ogutu discuss at length the Gor Mahia U19 team.
In the video, Mr. Otieno explains that the Gor Mahia fans foundation decided to partner with the club when they found out that club was forming a youth team. The goal of the youth team is to develop players for the senior team and possibly for other clubs either at home or abroad.
This is a good initiative that deserves the support of fans. The interview appeared on Lolwe TV.
Next Page »