Gate Collections from Ulinzi match
Gor Mahia dropped 2 crucial points against Ulinzi. But on a positive note for Gor Mahia, the match raised Ksh 648,150 in gate collections. This according to goal.com This amount is 20% higher than typical midweek collections which are usually less than Ksh 500,000. Not a bad result for a match that kicked off on a Wednesday at 4pm. This year Gor Mahia has played an inordinate amount of midweek home games.
Out of that amount, the club took 372,650 while the rest went to statutory deductions.   Ticket charges were Kshs 600 for the main stand (VIP) and Kshs 300 for the terraces.
Chemelil Up Next
Gor Mahia will next take on Chemelil on Saturday at 3pm. Gor Mahia fans will be hoping to put Chemelil coach Mike Mururi in his place. He is the one who claimed that referees have been helping Gor Mahia in the league.  Interestingly, Tusker official Leonard Odipo also claimed that referees were helping Gor Mahia. This has now become a theme by officials of other teams who are clearly trying to play mind games with referees.
Nevertheless, the match against Chemelil will not be easy. They are having what is probably the best season they have had in almost a decade.  In fact former Gor Mahia striker Goro Oronge thinks Chemelil will win the league. Oronge said the fact that Gor Mahia had two matches in hand was of little consequence, given the quality of all the teams contesting this year's league. Oronge thinks Gor are still capable of slipping up and expects Chemelil to exploit that as the season draws closer towards its business end.
Oronge states that because there is a dearth of scoring in this year's league, every team has a chance. "During my days in Gor under the then head coach Len Julians, virtually every player could score. It was not a case of individual players trying to shine and earn credit but winning those days had everything to do with teamwork and a good goal-scoring system in place," said Oronge, who felt this was an aspect that all clubs were struggling with this term.
It is this lack of scoring that Gor Mahia will need to fix. The club is going through a dry spell in gaolscoring. In fact the last time they scored during the run of play was against AFC on July 27. Gor Mahia have scored only two goals in the last four games. One from a free-kick and one from a penalty.
Hopefully the club will soon come to term's with coach Nuttall's tactics. The new coach will also need to bring some poise and composure to striker Timothy Otieno and possibly help Blackberry regain his form of old. The good news is that Gor Mahia has a much better against Chemelil than they do against either Ulinzi or Tusker, especially at home.
courtesy of the Standard
Gor Mahia dropped another two crucial points after being held to a barren draw by a 10-man Ulinzi Stars at City Stadium on Wednesday but still went top of the Kenyan Premier League (KPL) log. Ulinzi Stars captain Stephen Ocholla was given his matching orders after picking two yellows, but K'Ogalo failed to utilise their numerical advantage to secure all the three points.
The first half of the match was mostly uneventful with none of the teams coming closer to breaking the deadlock. Ulinzi Stars had the first shot on goal in the 16th minute but Steven Waruru's effort did not seem to bother Jerim Onyango in between the Gor Mahia's posts. Gor Mahia had the best chance to score when Timothy Otieno was denied by James Saruni in goal from a one-one situation in the 37th minute. The game came alive in the second half as both teams pushed forward in search of a goal.
In a high-tempered second half, Ulinzi Stars captain Stephen Ocholla was sent off for a second bookable offence. However, the player had to be pulled off the pitch by Ulinzi Stars' technical bench as he protested his send-off even as a section of Gor Mahia fans threw missiles onto the pitch. Apart from the incident, there was slightly more action in the second half compared to the first half with the KPL champions having more chances in front of their opponent's goal.
New coach Frank Nuttall rested Daniel Onyango for Patrick Oboya in a move that ensured more balls got to the front men. Five minutes after coming on, Patrick Oboya beat his marker but was hacked just outside the Ulinzi box. Godfrey Kizito took the resultant free kick going for goal with a powerful shot but the effort was headed out for the first corner of the second half.
Then at the one-hour mark, Oboya found himself at the end of a Dan Sserunkuma pass but he slid and the final shot lacked power to beat James Saruni in goal. The soldiers then rested their top scorer Steven Waruru for John Nairuka as they sought more punch upfront. Ulinzi coach Robert Matano protested the send-off and accused the centre referee Amos Ichingwa of making unnecessary calls aimed at frustrating his team. "Some of the calls made by Ichingwa were not necessary. They only brought a lot of tension to the game and were aimed at frustrating us. The red card on Ocholla should not have been as the player kicked the ball convinced that the whistle may have been blown by one of the fans," he said.
Nuttall said his players should have taken advantage of their numerical strength to win the match. "We did not take advantage of the situation. We must learn to be more lethal upfront," he said.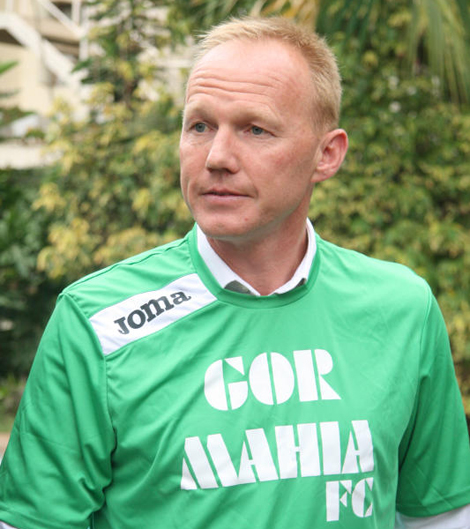 Gor Mahia coach Grank Nuttall has denied that there is a rift in the technical bench. There have been reports that Nuttall had fallen out with fitness trainer, Tom Ogweno. Nuttall has however dimissed the allegations.
"The reports going round in media are not true I did not expel nor suspend the fitness trainer on Sunday as reported. I'm happy with the staff and on what we are doing behind the scenes with regard of the technical bench.
"I'm happy with the decisions that are being made in the club and we have unity since everyone has his own role," said Nuttall to capital FM.
Other reports suggest that new fitness trainer Tom Ogweno and new team manager Jolawi Obondo were brought by Vice Chair John Pesa and Sec Gen Chris Omondi in order to settle scores with Frank Ouna.
However Sec Gen Omondi has dismissed such allegations saying he does not have the power to bring new officials as he sees fit.
Apparently Frank Ouna was attacked by unruly youth sent by one of the new officials.
However team captain Jerim Onyango has stated that the team and the technical bench are united and ready to play their next match.
Captain and goalkeeper Jerim Onyango echoed his coach's sentiments and urged the Green Army to be calm since there are is no trouble in the club.
"I don't think if there is any problem because there is good collaboration within the technical bench. The coach has assigned everyone his role and everyone is happy. I'm calling upon our fans to be calm since everything is okay," Jerim said to capital FM.
Reports published by a local daily alleged that assistant coach Frank Ouna misled Nuttall on team selection following their 1-1 draw against Tusker, but the Bobby Williamson successor says the match was tough and he expects every game in KPL to be difficult.
Ulinzi will be a tough game. I have watched them play last week against KCB and we have gone through the DVD's of their previous games to get more familiar with them.
"Players are ready and willing to go and like every coach I want to win the remaining matches and hopefully retain the title. Ulinzi is a strong team and we are not going to relax because we beat them in the first leg, a lot has changed in that period including the squad," Nuttall said.
It will be remembered that Ogweno was fired when he fell out with Zdravko Logarusic at the end of the 2012 season while Obondo was accused of infighting and fired along with coach Anaba Awono, Julius Owino and others.
Tactics
Godfrey Walusimbi had a stellar game when he was given free reign without full defensive responsibilities. He will provide further attacking options for coach Nuttall especially now that Gor Mahia has lost quite a few of its playmakers.
Timothy Otieno, while promising needs to work more on his poise,, composure and accuracy. He is one striker who needs several chances to score. Nuttall being a FIFA instructor will know how to sharpen Timothy. He will have to because his attacking options are not plentiful. Blackberry is far from his 2010 best and Patrick Oboya has not been fully fit all year.
With David Owino "Calabar" missing due to suspension, Nuttall may opt for Israel Emuge to replace him. The latter is now fit after an injury.Nuttall also has the option of deploying the youthful Charles Bruno.
It will be a tough outing against Ulinzi. Coach Matano is very adept at playing disruptive football.
"I have watched their (Ulinzi Stars) games. They are a compact, physical side and we expect a very tough game," said Nuttall said.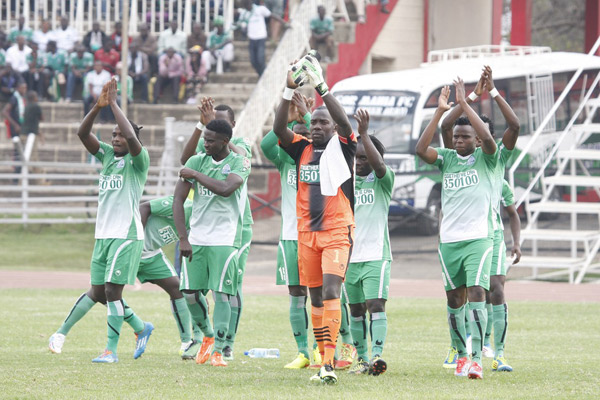 The 2014 Tusker Premier league is destined for one of the most heart stopping finishes in its history. The four teams at the top are separated by only two points. Gor Mahia had a chance to put some space between them and the closest challengers but two succesive draws have complicated the situation at the top.
Still Gor Mahia has a chance to go top when they take on Ulinzi on Wednesday. They will have only 3 days to correct some of the errors they made against Tusker on Sunday. According to assistant coach Bobby Ogolla, the defense gave Collins Kimani too much space.
"We had victory snatched from our grip by a lapse in defence. Our defenders allowed Kevin Kimani too much space on the left and he destroyed us with that killer pass to Clifford Alwanga," he told goal.com.
Both Bobby Legend and new coach Frank Nuttall have their work cut out to fix the issues. Bobby thinks Gor Mahia played well and are still in the driving seat.
"Overall, we played well. Of course we are disappointed that we did not win this match as we had wanted to. We are however, still focused on retaining the title and are looking at our next game against Ulinzi Stars. We still have the advantage of having played one less match and this may just make a difference at the end." said Bobby Legend to goal.com
If the defenders played below average, then one player who played well above average is captain Jerim Onyango who was rock solid between the sticks.
Ulinzi are surprisngly even with Gor Mahia in their all time record over the past few years. In April of this year, Gor Mahia beat them 1-0. In 2013, Ulinzi won the first leg while the second leg ended 0-0. A win for Gor Mahia will see them go to 46 points and atop the premier league. A draw will complicate things further and pull them further into the crowded leading pack.
New coach Frank Nuttall  has yet to win a match since he joined and Wednesday would be a good time to get his first win. Many have blamed a lack of player depth.  One person who thinks Gor Mahia's playing unit is fine is former AFC Leopards and Harambee stars goalkeeper John Busolo.
"Only Tusker can prevent Gor Mahia from winning the trophy for a second time in a row. The KPL champions have everything they need to defend the title; Young players and passionate fans." said Busolo.
He also thinks there are plenty of positives to pick from their recent CECAFA cup campaign.
"If you ask me, I think the tournament was a good opportunity to expose the young players in a very competitive environment. The experience will push them to win the title."
Busolo had an illustrious career and was Kenya's goalkeeper at the 1992 Africa Nations cup. More recently he was the goalkeeper trainer at AFC Leopards.
The match against Ulinzi will kickoff at 4pm on Wednesday at City stadium. May the 12th man turn out in large numbers.
Calabar Not eligible to play
Gor Mahia will have to shore up their defence. But they will have to do it without dependable defender, David Owino "Calabar". Owino was booked on Sunday and Secretary General Chris Omondi has indicated that having accumulated 5 yellow cards, Calabar is required to miss one game. In his absence, Gor Mahia might count on new signing Charles Bruno.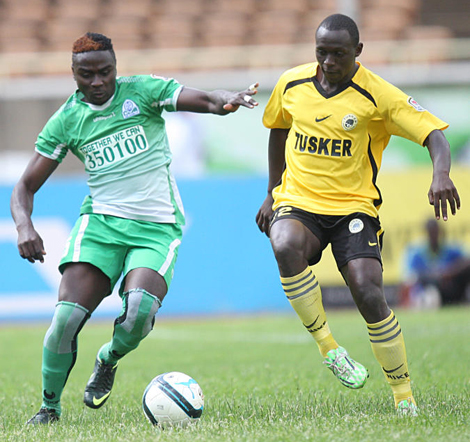 courtesy of goal.com
Ugandan striker Dan Sserunkuma scored for Gor Mahia before Andrew Tololwa equalised for the brewers with six minutes to full time at Kasarani
Tusker came from a goal down to hold Gor Mahia 1-1 in a top of the bill Kenyan Premier League match at Kasarani on Sunday.
Dan Sserunkuma scored for Gor Mahia in the 59th minute before Andrew Tololwa equalised for the brewers with six minutes to full time.
Tusker kept up the pressure on their opponents in the opening minutes of the game and were duly rewarded with two successive corners one of which was cleared off the Gor Mahia line. It was Ismail Dunga who should have put Tusker ahead but was denied by Jerim Onyango for a fruitless corner in fourth minute.
Gor Mahia got their first chance in the 9th minute. Godfrey Walusimbi picked out Timothy Otieno with a beautiful effort. The young striker left Jockins Atudo stranded but his final shot was ably stopped by Samuel Odhiambo in the Tusker goal for a corner.
The Tusker backline did well to deny Dan Sserunkuma an opportunity to attack them directly but the Ugandan still found space to try and get a goal from the flanks. His sudden burst put Tusker under a lot of pressure. Gor Mahia made first substitution resting an injured Eric Ochieng for Dan Onyango.
Both teams displayed a highly physical game leaving centre referee Sylvester Kirwa with no option but to caution a number of players. First on Kirwa's book was Tusker defender Lloyd Wahome. Aboud Omar followed next.
On Gor Mahia side, Godfrey Walusimbi, Collins Okoth and David Owino were all booked. Gor Mahia raced ahead in the 59th minute when Dan Sserunkuma scored from the penalty spot.
Jerim Onyango denied Khalid Aucho in 67th minute with a low shot. Then Tusker coach Francis Kimanzi made some super substitutions which worked well to get his side a point.
He rested Robert Omunuk for Clifford Alwanga, pulled out Athman Buki for Andrew Tololwa to remain with a three man backline with no reason to defend. Gor Mahia on the other hand rested goal scorer Dan Sserunkuma for George Odhiambo but it was Tusker's substitutions which worked.
Tololwa worked well with Anthony Kamau and Clifford Alwanga in a forward line that gave Gor Mahia plenty of trouble. In 84th minute, Kimani found Alwanga, who headed towards goal and was denied by Jerim Onyango but Tololwa scored from the rebound.
Tololwa could have easily made it two at full time but was denied by the wood work with Onyango well beaten.
New Gor Mahia coach Frank Nuttall could not have asked for a more difficult in which to make his local debut. On Sunday Gor Mahia take on Tusker, in a top of the table clash at Kasarani.
Tusker has been a tough nut to crack of late. It was Tusker who eliminated Gor Mahia from the KPL top 8. The first leg encounter between the two teams ended in a 1-1 draw. And in 2013, it was Tusker who almost derailed Gor Mahia's match to the title when they beat them 1-0. You might have to go back as far as 2012 to find the last time Gor Mahia beat Tusker.
And Tusker coach Francis Kimanzi is promising Gor Mahia another torrid afternoon.
"It will be a tough game and we are promising them a real battle which we are ready for. Being a match that involves the leading pack, fans should expect to be entertained as both sets of players will give their best on the pitch," said Kimanzi to goal.com
But coach Nuttall is unperturbed. He says he cant wait to lead his charges against Tusker.
"I'm really excited and cannot wait for my first league match. I know it is going to be a difficult match on Sunday because Tusker also want the title," said Nuttall to the Nation.
Nuttall is using the 3-0 loss to Simba as a teaching moment for the players.
"The friendly was an eye opener. At least it gave me a good view of the squad I have in the team and the areas that I need to improve on. Generally, we have quality players who I do believe can win the league for us," continued Nuttall.
A win for Gor Mahia will put Gor Mahia firmly in the driving seat. A draw keep the status quo over Tusker, whereas a loss will be disastrous as it will mean Tusker is now technically ahead of Gor Mahia. Coach Nuttall knows how crucial this match is.
"Gor Mahia has very talented boys. It is for me to ensure they turn that talent into success. Sunday's match is very crucial because we are up against one of our biggest rivals so it is quite important that we give our best," he said.
Gor Mahia will also be looking for a positive start to their stretch of 4 matches in 10 days. On the positive side, Gor Mahia had 7 days in which to rest, work on fitness and fix the issues that were exposed by Simba last weekend. Gor Mahia fans will be hoping for their first big win since June. During the past few months, they have lost to AFC and drawn with them, finished last in their group in CECAFA, been eliminated from the GoTV shield and lost to Simba.
One player Gor Mahia used to count on to beat Tusker is George Odhiambo "Blackberry". Who can forget the goal he scored in 2010 when he dribbled past three Tusker defenders then fired with his left foot. The ball ricochetted of Tusker defender Shikokoti before sailing into the net.  If Blackberry could rediscover his old form, Tusker would be in trouble. On Sunday however, Gor Mahia are more likely to depend on Sserunkuma, the leagues top scorer and Timothy Otieno for goals.
One of the few bright spots at Gor Mahia during the past two months has been Collins Okoth "Gattuso". The diminutive but relentless defensive midfielder has a tremendous asset for the club since he rejoined at the halfway point of the season. What is even more impressive is that he had a long layoff prior to returning to football in June.
"When you have been out for a long time like me, then you have to work extra hard to keep up your fitness and competitive level. This is what I did and that is why it was easy for me to fit into the team," he told the Standard.
In fact "Gattuso" was back in the starting line-up as soon as he rejoined. And despite taking long layoffs from the sport for disciplinary reasons, he seems not to have lost any of the form that saw him become a national team regular in 2010 and 2011.
"Gattuso" is looking forward to playing against his most recent former club Tusker who are the team closest to Gor Mahia in the league table.
"From now on, we must work as a team and pick the maximum points at stake. We are approaching this match against Tusker with the seriousness it deserves because it will be a big plus for our title ambitions if we beat them", continued Okoth.
After leaving Gor Mahia, Okoth joined Mathare and Sofapaka and was released from both clubs for disciplinary reasons. Okoth who had joined Tusker in 2012, demanded to be released by Tusker as soon as coach Francis Kimanzi arrived there. His reason was that he had never gotten along with Kimanzi. When this happened, most observers figured it was just Gattuso's indiscipline problems resurfacing. In fact many fans were skeptical about his return to Gor Mahia. Those concerns were swept aside when he played his first game back.
Indeed Okoth appears to have calmed down and his hard work is paying off.
"My desire is to win silverware with Gor Mahia at the end of the season and this motivates me to work hard every day. It will be exciting to line-up against them on Sunday having featured for them in 2012," he said to the Standard.
Okoth also spoke highly of the new coach Frank Nuttall whom he said had what it takes to steer the team to the league title.
"He understands his work and the players love his professional approach. In the short time, we have trained with him, he has imparted so much into the team if it all goes well, then there is no reason why we cannot retain KPL title,"said Okoth to goal.com
Gor Mahia fans will be hoping that playing against Tusker will give 'Gattuso" extra motivation when the two teams meet this weekend.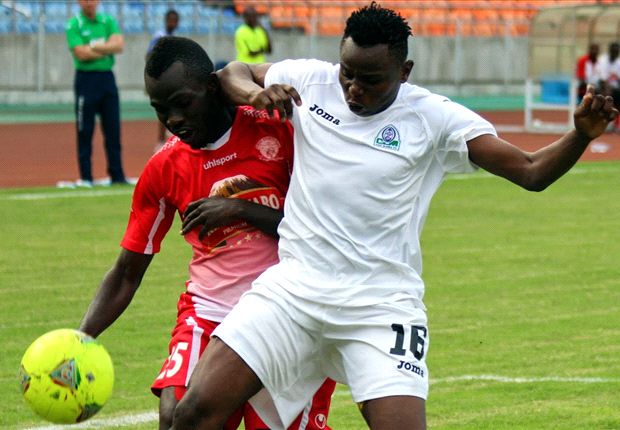 The new Gor Mahia coach Frank Nuttall has not pushed the panic button yet.  Rather he is going to work to improve key aspects of the club ahead of the crucial 4 games stretche which starts against Tusker next Sunday.
"My view is we take one game at a time," the Gor mentor said. "The next match is very crucial because we are up against our closest rivals (Tusker).
"The time we have together is very limited, but I won't say I will introduce a crash program. My predecessor did a very good job and that is why the team is at the top of the league table.
"It is now for me to ensure we remain up there till the end of the campaign. The most important thing I have told them is they need to understand that fitness is key to success in any football game.
"The level of fitness is good, but there is room for improvement. Some players are not at par with the rest." said Williamson to football 411.
With Gor Mahia playing four matches in 10 days, they will desperately need Nuttall's core expertise which is fitness, especially now that the squad lacks depth.
FKF paying for Nuttall's accomodation
Meanwhile it has emerged that the Football Kenya Federation is paying for the accomodation of Frank Nuttall to the tune of Ksh 15,000 per day.
The Scott is yet to move into the club's official accommodation as former coach Bobby Williamson, who has since joined Harambee Stars, is yet to be given a house by the federation. In this regard, FKF has undertaken to pay Nutall's accommodation expenses until they get a house for Williamson. Former coach Adel Amrouche is yet to vacate a house allocated to him by the federation, making it impossible for Williamson to move in.
According to Gor Mahia chairman Ambrose Rachier, Nuttall will stay in a hotel until the matter is sorted out. "The house Williamson stays in belongs to Gor Mahia and since he has not moved out yet, the federation has agreed to pay hotel bills accumulated by Nuttall until such a time that the situation is sorted out," Rachier said to the Standard.
The house that Williamson currently occupies is being used by Gor Mahia courtesy of Nairobi governor Evans Kidero. It is located in the Kilimani area.
Gor Mahia have announced that they will hold a major fund raiser next month. Nairobi Governor Evans Kidero will preside over a major funds-drive next month to raise Sh60 million for Kenyan Premier League (KPL) champions Gor Mahia.
The club has been struggling to meet their obligations after shirt sponsors Tuzo pulled out of sponsoring them a few months ago.
According to officials involved in the exercise, this will be the biggest funds-drive ever and is meant to sustain the club operations for two seasons.
"We have set a tentative date for October 4. The Governor is deeply involved in the matter because he wants Gor Mahia to do well. A private company has been given the mandate to go and out and talk to friends of Gor Mahia to contribute generously, the official told goal.com.
But like other recent initiatives such as the 350100 campaign and the membership drive this effort also appears headed for failure or at least not meeting the expected Ksh 60 million. The reason is that it is being plagued by the very same issues that have plagued the other recent campaigns.
Lack of publicity
Firstly, there has been very little publicity and / or information. A significant proportion of the fans do not even know that there is a major fund raiser coming up. And many of these who know, are not aware of the exact date and venue. Much like the membership drive, the club simply announced the event and now expects fans to show up at the venue because they are Gor Mahia fans. Without prodding fans, appealing to fans and without publicizing the event, it might be headed for failure.
Note that the officials stated October 4 whereas the promotional materials available online state October 2. My guess is that the promotional materials are wrong, which is why it is even more important for the club officials to come forward and clarify.
Accountability
The reality of the situation is that the club chairman and other officials should be front and centre telling fans why it is important to participate. And if they want maximum participation, they should go further to assuage the concerns of any fans who might be wary about lack of accountability by outlining the measures they are taking to be more accountable. Many fans will participate but some will not because they are concerned that the money might be misappropriated. The club can address this issue weeks before the main event by assuaging the concerns of fans who are wary.
And this is where the argument fronted by Secretary General Omondi  about accountability being only for members falls flat on its face: Most of the money the the club gets does not come from members and even potential sponsors often demand accountability. This fund raiser could be an opportunity to impress said potential sponsors.
No grassroots initiatives
One of the most unfortunate aspects of Gor Mahia nowadays is that the club has not seen it fit to strengthen the branches, to include them in the day to day running of the club. In past years, especially the 1970s and 1980s, the highly active branches were among the most crucial aspects in fund raising. Prior to each fund raiser, each branch would hold its own mini fundraiser then bring the money to the main fund raiser. In some cases, the branches would compete with each other to see which branch could raise the highest. The winner would actually receive a trophy.
Why branches are important is because not all fans can go to the venue of the fundraiser. In fact most Gor Mahia fans will not be at the venue. So how does a person who lives in Mombasa or Kisumu contribute now? Well the club has not made that clear….. But in past years it was not an issue since the Mombasa and Kisumu and other branches would hold their own mini-fundraiser to give grassroots / mashinani fans a chance to contribute whatever they have. Imagine having a situation where over 30,000 fans contribute ? That means that the money raised in the mini-harambees could be as high as that raised at the main venue perhaps even more.
The larger point here is that there are thousands of fans who will not be able to make it to the venue and the club has not announced any plans for how they will get these fans to contribute. So we must assume that no such plans exist currently.
 What about diaspora based fans?
It has been mentioned several times on this forum that there are dozens of diaspora based fans who would be willing to contribute to the club, but the club has not reached out to them. Some bloggers have mentioned a variation of MPesa that can be used by diaspora based fans. But unless the club reaches out to diaspora based and specifies the exact methodology they should use, said fans will not take the initiative.
Once again I would urge the club's officials to step forward and explain exactly why this particular fund-raiser is critical to the club, not just in 2014 but also in 2015 when Gor Mahia will need to replenish a badly depleted playing unit.
Next Page »