courtesy of the Nation
Heads are set to roll at Kenyan Premier League champions Gor Mahia with up to 13 players set to be released at the end of the month.
The move according to club secretary general George Bwana is "part of a rebuilding exercise aimed at injecting fresh blood into the playing unit as they set focus on next year's congested fixtures".
Gor will not only be competing in the African championship but also in the Cecafa club championship midway through the season.
Domestically, they will face a herculean task of defending their league crown as well as the battle to reclaim the KPL Top Eight trophy and the GOTv Cup, titles they won in 2012 but failed to retain in last season.
Topping the list in the mass clear-out is left footed winger Patrick Oboya who is expected to return to Europe after the expiry of his six month contract with the 13 time league champions.
"We are going to release up to 13 players. We will reveal their identities by the end of the month. This however has to be done systematically after we have dully informed and cleared them," said Bwana, adding that those earmarked for the boot are either fringe players or those that have run down their contracts.
Though Bwana remained tight-lipped on the players' identities, Ugandan defender Ivan Anguyo, left back Christopher Wekesa, right back Solomon Nasio and deputy skipper Moses 'Dube' Odhiambo are thought to be likely to leave.
Anguyo barely featured in the ended season despite being voted the league's best defender in 2012. Wekesa, Nasio and Odhiambo have equally found playing time hard to come by since Bobby Williamson took charge of the club.
At the same time K'Ogalo have signed Daniel Onyango from Western Stima and Joseph Kariuki from relegated Karuturi Sport.
The two are Gor's first signings in the transfer window as they embark on an ambitious recruitment drive aimed at giving the playing unit the depth needed to compete at continental level.
Onyango, who was one of the star performers for Stima, penned a three year deal while Kariuki signed a two year deal.
"Onyango (Daniel) is a great player. He is promising and has a great future at Gor Mahia. He is strong on the ball, has good passes and shots. He will no doubt add depth and continuity to our squad," said Bwana.
Onyango, 23, best flourishes in the free role and his arrival is set to spark intense competition in Gor's congested midfield. Besides the duo, Gor is courting two Ugandan internationals.
The club has also opened talks with their lead striker Dan Sserunkuma and custodian Ivo Mapunda. The highly sought-after Sserunkuma still has a year left on his contract while Mapunda will be a free agent from December 31st but Gor want to tie them down to new deals.
"Ivo (Mapunda) is a big player; his quality is never in doubt and we want to keep him," said the club secretary general.
courtesy of the Nation
Gor Mahia are desperate to keep their lead striker Dan Sserunkuma and have already opened earnest talks with the player.
The Kenyan Premier League champions are also preparing for talks with Paul Kiongera to make his move permanent as his loan deal expired at the start of this month.
Sserunkuma, who is currently with the Uganda Cranes squad playing in the GOtv East and Central Africa Senior Challenge Cup, had at the end of the season tendered a transfer request to allow him to join Armenian club FC Banants but according to Gor Mahia officials, the 2012 KPL Player of the Year has softened his position and is open to talks after the end of the Challenge Cup.
"Sserunkuma is open to talks. True he had shown intentions to leave but we also want to keep him so we shall sit down with him and see the way forward," said Gor Mahia deputy secretary general Ronald Ngala.
"He has told us he wants to concentrate on Cecafa first then he will be available for talks and we respect that," added Ngala.
Ngala said that as the club prepares for the Caf Champions League, they will want to retain all their top players while bringing in new faces to strengthen the squad.
Gor Mahia, meanwhile, is still in hot pursuit of Zambian winger Julius Sitombeko.
with club secretary George Bwana saying they will discuss with the player and his club once the Senior Challenge is over.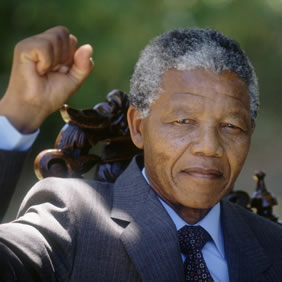 GorMahia.net would like to take a moment to remember the greatest hero of our time. A selfless leader who put the best interests of his country ahead of his own which is very rare in Africa. This is a man who willingly sacrified 27 years of his own life. He fought so that people are treated equally regardkless of race, gender, colour or tribe.
Mandela also holds a special place in the hearts of Gor Mahia fans because when Gor Mahia won the Africa cup winners cup in 1987, it was the very first time that the tournament was called the Nelson Mandela cup. So Gor Mahia won the first ever Nelson Mandela cup.
This site would like to take a moment to thank Mandela for everything he did for humanity. May he rest in peace.
Here is how some famous figures from the sporting world and elsewhere have remembered Mandela today:
Pele : Today, I am very saddened. Nelson Mandela was one of the most influential people in my life. Let us all continue his legacy with purpose and passion.
Barrack Obama : Let us pause and give thanks for the fact that Nelson Mandela lived."
Muhammad Ali : What I will remember most about Mr. Mandela is that he was a man whose heart, soul and spirit could not be contained or restrained by racial and economic injustices, metal bars or the burden of hate and revenge
Kareem Abdul Jabar : Nelson Mandela was a great man. A bright light has gone out. His ability to lead & inspire are unparalleled in my lifetime.
FIFA President Sepp Blatter said he and world soccer were in mourning at Mandela's passing and ordered that the 209 flags of the world body's member countries at FIFA headquarters in Switzerland be lowered and flown at half-staff.
Tiger Woods: It's sad for everyone who got a chance to not only meet him, but I've been influenced by him,
Lebron James: "In his 95 years, he was able to do unbelievable things not only for South Africa but for the whole world. What he meant to this world while he was able to be here, is everything
Usain Bolt hailed Mandela as "the world's greatest fighter".
Vincent Kompany: RIP Nelson Mandela. No words to describe the goodness you have brought to this world. Sad to see you go. Inspirational, my only ever hero.
Yaya Toure: A hero is someone who has given his life for something bigger than oneself…The world lost a hero, Africa lost a father…RIP Mandela
Christiano Ronaldo: Thankful Madiba for your legacy and your example. You"ll always stay with us.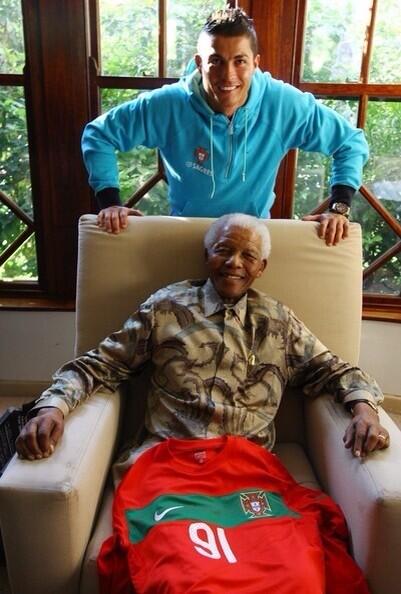 Emmanuel Adebayor: Nelson Mandela the most amazing,inspirational leader of all time.Leaving a legacy which will be around 4centuries.RIP
Sebtastien Bassong: I will always love you madiba! You were one my heros RIP
Michael Carrick: A real inspiration. Lived once but his legacy lives forever.
Andre Ayew: One of the greatest man in the world and the greatest in our continent!!:( RIP Nelson MANDELA. MADIBA

courtesy of futaa.com
Gor Mahia's Tanzanian international keeper Ivo Mapunda has stated that he is ready to quit the Kenyan Premier League (KPL) champions if talks for a contract extension are not initiated.
The keeper's current deal runs out on Monday 16 December and he has not had contact from the club as far as contract extension is concerned and he says if that doesn't happen by the date his deal runs out he will be willing to talk to other clubs for a possible move.
No talks yet
-My contract with the club expires in about two weeks – on 16th of December and the club management has not initiated talks for an extension so I am just waiting. I might say I want to stay yet they have other plans.
-If nothing happens by that time I will be open for talks with any other willing club for a possible move, he told futaa.com.
Mapunda has been key in Gor Mahia even as he played second fiddle to Kenyan international Jerim Onyango at the KPL champs.
Gor Mahia / Sadili to hold 3 day camp
Meanwhile
The Kenyan Premier League (KPL) champions Gor Mahia in conjunction with the Sadili Oval will hold a three day talent search camp in Lang'ata as from Thursday 5 – Saturday 7 December.
The two parties recently signed a partnership that will see Sadili have a feeder program for the KPL champions and for a start children within the ages of 9 – 15 have been invited to apply to be considered for the Sadili Africa Talent Training Academy.
Select team
To take part in the three day camp, the children have been asked to carry along their birth certificates and a passport size photo.
A select team of Sadili and Gor Mahia coaches will conduct the training.
courtesy of futaa.com
Kenyan Premier League (KPL) Champions Gor Mahia FC and Tusker FC have been invited for the annual Mapinduzi Tournament that is set to kick off on Thursday 2 January.
In the draw conducted today (Tuesday 3 December), Gor Mahia is in Group B alongside Tanzanian giant Simba SC, KCC from Uganda and a Zanzibari side yet to be named.
Tusker FC is in Group A alongside champions Azam FC, Yanga FC and a Zanzibar team to be named later. Group C has Mbeya City, URA from Uganda and a Zanzibari team that would be named later too.
The Zanzibar Football Association (ZFA) said it would name the teams from the country to take part in the tournament after a consultative meeting on Thursday 5 December.
Azam won the tournament early this year after beating Tusker FC 2-1 in the final match played at the Amaan Stadium.
DSTV Cup
Gor will end their season on the weekend of 14 December 2013 with the DSTV Super Cup clash versus Tusker FC.
Night of Champions
Gor Mahia will host a 'night of champions' where fans can catch a glimpse of their favourite players and have dinner with them too.
The dinner will be held Wednesday 18 December 2013 at the Laico Regency Hotel in Nairobi, where there will be an award ceremony for the players to celebrate the 2013 season.
High table
The high table will cost Ksh 10,000 with tickets for a normal seat going for Ksh 5,000.
The dinner will start at 0700 hrs.
courtesy of CAJ news
Nairobi — ERIC Adede, who is vying for the chairmanship of Gor Mahia, has expressed disappointment at the delayed announcement of the club's election date.
He added that he was no longer sure whether the elections would still be conducted on December 15 as earlier announced.
He demanded that the elections be held within the next two weeks noting that a postponement of the elections date would be a "scheme to loot the elections."
Speaking in Thika, he accused the current leadership of the club from failing to curb hooliganism within the club's fans.
"We want Gor Mahia to be placed on map where it is supposed be and the only way to do this is by making it attractive. We cannot attract anybody with the kind of hooliganism that we are having in the club right now, you will just be stumped out, and there is no question about this.
"I have said and told everybody if hooliganism is your policy then I am not your candidate," he told the side's followers.
Adede said that he would ensure that the club's funds were well utilized and fund raise over KES. 1 billion (about US$ 11,5) for the construction of a 35 000 capacity stadium that would also be carpeted.
He further pledged to ensure players' rights were safeguarded.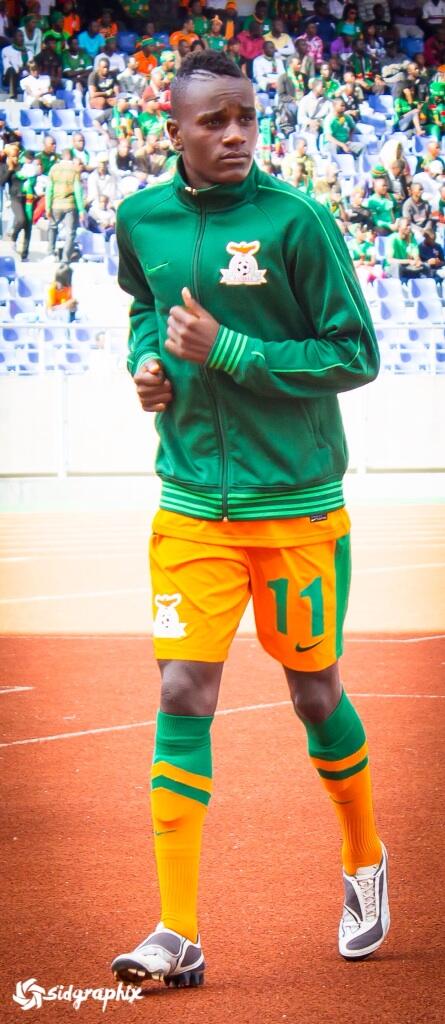 courtesy of supersport.com
Kenyan Premier League (KPL) champions Gor Mahia have signed Zambian exciting winger Julius Situmbeko on a two year deal.
The 20 year old has been in K'Ogalo's radar for some time now and is currently in the country with the Zambian squad in the Gotv Cecafa Senior Challenge Cup.
Situmbeko currently plays for Power Dynamos in the Faz super league and has been touted as a great talent.
"It's true I have signed a two year deal and I am supposed to report back in Nairobi on December 27. I have heard of Gor Mahia and I believe I can make difference in the team by working hard with the rest of the players," Situmbeko also known as Julio told supersport.com.
Situmbeko's lucrative deal will see him as one of the top earners in Kenya .
KPL defender of the year David Owino "Calabar" scored Kenya's third goal as the Harambee stars recovered from their poor start against Ethiopia to defeat South Sudan 3-1 in their second CECAFA cup match. Owino's goal came in the 77th minute when he made a brilliant solo run down the left lank then clinically placed the ball beyond the Sudan keeper.
Kenya's first goal came via Jockins Otieno Atudo who converted a penalty in the 17th minute. Richard Jistin leveledfor South Sudan  in the 26th minute. Jacob Keli scored the second goal in the 29th minute.
The other Kogalo player to see action was Edwin Lavatsa who replaced the injured Jacob Keli.
Other Kogalo players in the CECAFA tournament are Ivo Mapunda who is between the sticks for Tanzania and is said to have received offers from other teams as well as Dan Sserunkuma who scored the winning goal for Uganda Cranes over Rwanda.

courtesy of futaa.com
Gor Mahia will spend on new players in the transfer window, a club boss has revealed. Gor will be looking to do well once again in the Kenyan Premier League and make an impression in the CAF Champions League and according to Ngala, they will spend to ensure they do so.
Transfer
- We will spend money in this window. We will do our best to strengthen the squad we have and give is as much as chance of performing well as we can, he told Futaa.com.
- We are just awaiting the coach's recommendations and then we will move on from there, he said. Gor Mahia are reportedly chasing for the services of CECAFA guests Zambia winger Julius Situmbeko. Reliable sources said the player was among the clubs' wishlist. Situmbeko was not fielded in their one-all draw against Tanzania.
Approached
In a separate interview with futaa.com, the 22 year old confirmed of being approached with a decision not yet made.
-Yes I have been approached by various KPL clubs, Gor Mahia in particular, stated Situmbeko. I am yet to agree as I have to know the terms and conditions at the club before I make a move. Situmbeko features for Zambian top tier side Power Dynamos with an ability to ply freely on both flanks.
Drop
Gor will also drop some players in the coming days.
Unlike past seasons, Gor Mahia started the 2013 season with a modicum of stability in both the technical bench and the playing unit. Croatian coach Zdravko Logarusic was returning for his second season after having come agonisingly close to winning the league on 2012. And unlike the previous coaches, Logarusic would brook no interference from the club's executive committee when it came to technical aspects of the club.
Brazilian Import
That absolute authority was put to test when Gor Mahia brought a Brazilian to the club. Amid much hype from the media and excitement , Giovanni Rodriguez Bissolli arrived set to become the first South American to play for a Kenyan side. The media and fans were abuzz with excitement about the arrival of this Brazilian and many wondered how Gor Mahia had pulled off such a spectactular coup.  Fans had watched what were purported to be his videos while playing in the Iranian league.
However when Rodriguez arrived, fans noticed a starke contrast between what they had seen in online videos versus what they saw on the field at City Stadium. The Roriguez they saw was technically challenged and was clearly in no shape to play. In the end he did not make the cut and Logarusic announced that he had "personal problems" he needed to take care of at home.
CAF Confederations cup
Rodqriguez had been named to Gor Mahia's Africa cup squad but that did not come to pass. Gor Mahia were slated to play Anse Re-Union in the preliminary round of the Confederations cup, whose first leg was played at Nyayo stadium. Fans came in expecting an easy win but it was not to be as the plucky Islanders held on for a scoreless tie. In fact they would have scored had Anthony Akumu not committed a professional foul. Coach Logarusic was left lamenting the poor performance. "We played a very disjointed game and failed to capitalise on easy chances as the players were very uneasy at goal and my strikers failed to calm down." said Logarusic.  In the return leg, Gor Mahia put aside their scoring woes and won 5-0 to advance to the first round, where as luck would have it, they were pitted against ENPPI who at the time, were the league leaders in Egypt.
The Egyptians proved a bridge too far beating Gor Mahia 3-0. The match was played in an empty stadium due to civil unrest. "We did not play very well, we gave them so much space" Logarusic said. The return leg ended 0-0 thus continuing Kenya's sorry record against Egyptian teams. Logarusic lamented the lack of quality finishing: "We were solid at the back but could not score the needed goals. We missed Paul Kiongera and Edwin Lavatsa but still managed to do well. We needed a player who could plant the ball into the net and sincerely speaking we did not have such player in the field today. "
Start of the 2013 League
Having missed out on the last day of the 2012 season, Logarusic and his team were determined to make amends. They started in positive fashion beating Sofapaka 1-0. New signing Paul Kiongera made a dream debut scoring with a audacious backheel off Lavatsa's cross. The second game however ended in disaster as Gor Mahia's 20 game unbeaten streak came to a crashing end when they lost to Ulinzi. In fact Gor Mahia's form in the opening stages of the league was far from inspiring, despite wins over KCB, there were also dissapointing draws with SoNy Sugar and Homeboyz.
Still Gor Mahia ended the first leg on a sound note recording their thiurd succesive win over AFC Leopards. It was a match that Leopards dominated but Gor Mahia hit them with a sucker punch when they quickly turned defence into attack enabling Dan Sserunkuma to score off a rebound after Rama Salim's effort had been stopped by the keeper. Loga was elated after the win : "I am a very happy man today as it was a very tough match but we held on despite the strong challenge from our opponents. The resilience and determination by my players paid off handsomely as they effectively used a counter attack to finish off leopards and this are some of the tactics we have been practising," an elated Logarusic said. Gor Mahia were now only three points adrift of league leaders Thika United as the first leg ended.
Whereas Gor Mahia had difficulty scoring in the first leg, the team was kept afloat by the superb goalkeeping of a Jerim Onyango and a solid defensive backline with David Owino, Musa Mohamed, Israel Emuge and Donald Mosoti.
League Intermission
At the end of the first leg, Gor Mahia dropped five players : Moses Otieno, Victor Ali Abondo, Zachary Onyango, Yusuf Juma and Abbey Nattey. They were replaced by Paul Odhiambo from Homeboyz, Joseph Wanyonyi, formerly of Aspire academy, Joel Bataro from Thika United, Eric Ochieng and Ronald Okoth from Bandari and the sensational Patrick Oboya who was previously based in Vietnam.
Meanwhile the Standard newspaper did a sensational story A story appearing in the Standard indicates that Gor Mahia coach Zdvarko Logarusic is fond of pursuing women including those of team players.  Whereas this story may make some fans uncomfortable, it is already in the public domain so there was no point having this blog avoid the story.
One of the players was quoted saying : "Most of us now leave our girlfriends at home when going for training," said one of the disgruntled players. But it did not stop there as Loga was also accused of pursuing members of the Kenya volleyball team. "Ladies love him. Maybe it is because he is a mzungu and he treats them well," a top volleyball player said.
It happened when Loga was due to go on leave. Once in Croatia, Logarusic cast doubts over his future at the club, claiming that a section of its officials would want to see him go, further insisted that he wants a return ticket to Croatia in case he falls out with Gor before the season ends. He also revealed that the club has never got him a work permit and has always lived in Kenya on a tourist visa. He also said he would not return unless the club gave him the raise they had promised him if the club was able to negotiate a better sponsorship deal. Gor Mahia officials for their part vowed not to be intimidated. After much back and forth it became clear that Loga was not returning and he was fired. Bobby Ogolla took over on a interim basis and announced his intention to become the head coach. Loga said he had no regrets : "For now, I have no regrets leaving the club. I wish Gor Mahia all the best and I pray that they win the league this season. Bobby Ogolla is a reputable coach, who can take the team places and I wish him all the best", said Loga.
Williamson era begins
With Logarusic gone, Gor Mahia officials sought to find a new coach. They settled on former Uganda Cranes coach, Bobby Williamson. "Gor Mahia is a top club with a massive following and any coach would be interested to be part of that family. I have been following keenly the club's activities while in Uganda and I know they won a double and were on the verge of winning the league last season." said Williamson on his arrival. The Williamson era started in a good note with succesive wins over Bandari (1-0), Wester Stima (2-0) and Chemelil (2-0).
But soon after Williamson's bright start, Gor Mahia were struck with bad news when Rama Salim and Dan Sserunkuma, two key players, both left the country for trials in Qatar and Armenia respectively. In the end Rama left for Qatar but Sserunkuma returned. His return turned out to be one of the most important events of the club in 2013. In fact the bloggers branch voted it as the most important turning point for the club.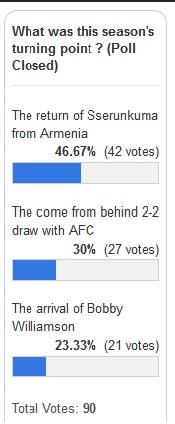 Sserunkuma went on a tear, scoring crucial goal after crucial goal as Gor Mahia sought to hold off arch rivals AFC Leopards who were determined to catch them. Perhaps the most important goal he scored was the match the first goal against AFC on Augsut 25. Gor Mahia looke dead and buried down 0-2. Sserunkuma scored a typical poachers goal, tapping home a rebound before David Owino "Jashirati" who had found a rich vein of scoring form scored the critical equalizer with a brilliant volley. The game ended 2-2 but could have been 3-2 in Gor Mahia's favour had the referee not denied them a penalty in the last minute.
That come from behind draw was essentially a moral victory that put wind in Gor Mahia's sails. For a moment it looked like AFC were catching up as Gor Mahia floundered with draws against teams like City stars, a draw which unfortunately led to another round of hooliganism. The match against SoNy in Awendo also ended in confusion when SoNy players led by notorious goalkeeper Wycliff Kasaya acosted the referee causing the match to be abandoned while the score was 2-2. Once again David Owino had come to the rescue scoring the crucial equalizer. KPL secretary general Jack Oguda initially ruled that the match would be replayed. Gor Mahia appealed and the KPL ruling was over-ruled by FKF chairman Sam Nyamweya. KPL refused to accept the ruling and insisted that the match would be replayed.
When Gor Mahia lost 0-1 to Tusker on September 24, it looked like the title was about to slip away from the club for the third time in five years. Fans were on tenterhooks. The match against Tusker was a rugged battle which Tusker won simply by playing spoiler and taking an opportunity that came there way.
GOTV Shield
Gor Mahia were defending champions and started their cup campaign with a convincing 6-0 whitewashing of former national league side Shabana FC. In the next round, new signing Patrick Oboya showed his class and experience scoring one goal and setting up Sserunnkuma to score the other another in a brilliant display that saw Oboya earn man of the match honours as Gor Mahia beat Thika 2-0. Thika United coach John Kamau was so impressed by the Gor Mahia display that he declared that "Nothing would stop Gor Mahia from winning the title this time".
In the quarter final, Gor Mahia was pitted against Western Stima. Once again Dan Sserunkuma was fine form scoring two breathtaking goals and Kogalo sunk the Electricians 2-0.
For the semi-finals, coach Williamson rested Sserunkuma as Kogalo came up against SoNy. The hard fighting millers held on for a scoreless draw. Gor Mahia eventually won 4-2 on penalties. Once again the penalty saving magician, Ivo Mapunda eliminated SoNy. He saved one kick and SoNy missed another thanks largely to Mapunda's "psychological intimidation factor". Gor Mahia put all four spot kicks past Wycliff Kasaya to book a place in the finals.
In the finals, Gor Mahia met arch rivals AFC Leopards who were determined to win at least some silverware this season and who were also motivated by the fact that they had not beaten Gor Mahia since 2011. Indeed Zdvarko Logarusic left the club with the distinction of never having lost to AFC. In a tense encounter, Gor Mahia went down 0-1 thus ending their stranglehold on the tournament they had won two years in a row.
Final Lap of the league
After the loss to Tusker, Gor Mahia refocused and Dan Sserunkuma in particular was in sensational form. On October 2, he scored a goal and set up another to enable Kogalo to beat Mathare 2-1. With that win Gor Mahia fans were able to finally see light at the end of the tunnel and Gini Wasekao was now in full swing.
Up next was Thika United, a team that had forced a draw against Gor Mahia in the first leg. Goals from new signing Eric Ochieng and another by Dan Sserunkuma ensured that Gor Mahia remained on course as other teams became resigned to the fact that this time Kogalo were not slipping up.
Then came the pivotal encounter of the 2013 season, the match against Sofapaka at Kasarani. Sofapaka were at the time Gor Mahia's closest challenger. A loss would throw them out of contention and leave Gor Mahia with virtually both hands on the cup. And indeed Sofapaka played like their very lives depended on it. They dominated the proceedings for long periods and were it not for some poor finishing, they might have scored. However special players are those who are capable of single handedly winning a game against the odds. And that is exactly what Sserunkuma did. The move that resulted in the goal started with Wanyonyi heading the ball towards Oboya who in turn back-heeled to Sserunkuma. The stocky Ugandan outpaced the Sofapaka defence to slam home the winner which went in via the cross bar cuing absolute bedlam on the terraces.
Finally the 18 year wait was over as Gor Mahia had beaten their closest rivals and now needed only 1 point from their remaining three games. Gini Wasekao was now a fact. With Gor Mahia having all but sewn up the league, KPL finally gave in and awarded them the 3 points from the abandoned match against SoNy.
Congratulations rained in from all angles including former players like Austin Oduor, politicians and most notably FIFA chairman Sepp Blatter. The win triggered wild celebrations reminiscent of Gor Mahia's 1985 CECAFA cup victory.
Over to the bloggers. What are your memories of the 2013 season ?
Next Page »