Having lost the home leg 2-3 to Esperance in Tunis Gor Mahia will now seek to accomplish the impossible on Sunday. To advance, Gor Mahia will need to win by two clear goals.
Gor Mahia vs LPRC Oilers 1988
The last time Gor Mahia beat a team by two goals in a continental competition was in the quarter final round of the Africa cup winners cup in 1988 when they beat LPRC Oilers of Liberia 3-1 in Monrovia.
Gor Mahia had put up a dismal display against Oilers during the first leg in Nairobi which ended 0-0. Coach Jack Johnson had quit only a few weeks earlier and Gor Mahia were coachless.
After that game, the Liberians celebrated as if they had won the cup.Yours truly remembers one Liberian player taking off his shirt and waving it as he ran around the track at Nyayo stadium.
Asked about the Liberians celebrations, the then Gor Mahia team manager David Ouma remarked "These Liberians are very inexperienced in African football. Only an inexperienced team would celebrate after the first leg. "
For the second leg, veteran coach Mohamed Kheri was seconded to the team. He worked his magic and Gor Mahia won 3-1 to advance to the semi-finals.
Gor Mahia will need a similar feat on Sunday. The good news is that the second batch of players arrived in Tunis safely.
Esperance not taking chances
Coach Ruud Krol indicated that his team will not under-rate Gor Mahia. "A Champions League match is always difficult to negotiate. Whether at home or outside, we must concentrate. It is true that we won 3-2 away but we're still not qualified. There is a match to play, "said the Dutch coach at a press conference Friday before talking about Gor Mahia
"Gor Mahia are a good team. They  took advantage of height. They were fast and sharp. They are young and I think they are to be taken seriously. "
On Friday, Esperance official Semah Derbali said his team was focused on the game. " The Blood and Gold " need to stay focused and be wary of Gor Mahia : "We need to maintain our performances, stay focused , do not underestimate the opponent and confirm the victory.
Hethim Jouini, the young striker who will replace Yannick Ndjeng is eager to make the most of the opportunity, he said : "We are ready to play this game can I replace Yannick so I must seize my chance help maintain our lead.
 Gor Mahia must go on all out attack
Whereas Gor Mahia started with only one out and out striker last week, this time they might consider an additional striker to assist Sserunkuma. George Odhiambo Blackberry has been a livewire each time he had entered the game. He is a good candidate to start alongside Sserunkuma. If not Blackberry then Rama Salim or Patrick Oboya will fit the bill.
In goal, there is no clear-cut candidate to replace Jerim Onyango. Joel Bataro has more international experience having played for the Kenya U23 team. Yours truly watched his game against Senegal in Dakar and he was solid between the posts and made some daring saves. David Juma has more experience overall. Coach Williamson is observing both in training and can make an informed decision.
In defence, the return of David Owino is welcomed and he will help shore up the defence which was shambolic last weekend. A more solid performance will be needed especially as a large crowd is expected to cram the Rades stadium.
The first batch of Gor Mahia players arrived in Tunis on Thursday , ready to do battle with Esperance in the second leg of the Africa Champions league.
Deputy secretary general Anima Oketch expressed appreciation at the good reception accorded to Gor Mahia by the hosts.
"This was beyond our expectations and the hosts have done a wonderful job in receiving us. They promised to handle us well and indeed they kept their word. They have helped in Visa clearance; gave us the best means of transport, the smooth transition of process after process with their help and to our surprise, to be booked in the best hotel here in Tunisia," Anima said to the Standard.
The rest of the contingent will arrive on Friday. They include Geoffrey Kizito, Dan Sserunkuma, Anthony Akumu, Timonah Wanyonyi, Musa Mohamed and David Owino.
Joy Riders
Questions have been raised as to why Gor Mahia are sending a bloated delegation of 33 individuals of whom 13 are officials most of whom have no business travelling to Tunisia. The tickets alone cost Ksh 100,000. This at a time when Gor Mahia are having difficulty funding their Africa cup campaign.
When contacted, club chairman Ambrose Rachier said he understands the fans' concerns, especially with regard to the four extra officials the club is supposed to pay for. Rachier is one of the officials who will pay their own bills while away in Tunis. The others are David Kilo and Frank Wasuna. "The fans are right in questioning such expenditure considering it will cost us Sh100,000 per person in air fare alone," he explained.
Rachier said the club is obligated to pay the expenses of 25 people who include 18 players, five members of the technical bench, one head of delegation and another club official who has been representing them in pre-match meetings. "When we travelled to Gabon, the executive agreed that the four officials who went should give room for others to travel to Tunisia. However, in the event that they still wanted to go then they should pay for themselves. "I admit that the current situation – where we have to carry four officials – is debatable and we should ask ourselves whether it is right to burden the club with the expense," he said to the Standard
courtesy of goal.com
K'Ogalo will be without first choice goalie Jerim Onyango when they travel to Tunis, Tunisia for Caf Champions League return leg match against Esperance
EXCLUSIVE
By Otieno Otieno
Gor Mahia have been dealt a major blow after first choice goalkeeper Jerim Onyango pulled out of the team due to a shoulder injury just days before the team takes on Esperance of Tunisia in a Caf Champions League return match.
Onyango has confirmed exclusively to Goal that he cannot make it for the match and admitted that his absence will be a major blow to the team.
"I have been having a shoulder injury for a while now and made me struggle during the first leg match against Esperance. The doctors have tried everything but looks like I cannot make it. It is a big blow to the team but there is nothing I can do.
"It was also the reason why I did not make Harambee Stars squad to Khartoum for the friendly match. I have a strong belief that whoever, the coach will choose will perform better and help the team qualify."
He wished his fellow players best of luck during the match. Onyango was in goal when Gor Mahia lost 3-2 to Esperance last weekend. He was also the hero for K'Ogalo as he saved four penalties to help the side eliminate US Bitam of Gabon in the preliminary round.
Coach Bobby Williamson admitted that Onyango will be missed. "Onyango is our first choice keeper and for sure we will miss his services. We have no option but give him a rest."
In his absense, Williamson will try hands of either David Juma or former Thika United custodian Joe Bataro as Gor Mahia try to overturn the first leg defeat and advance to the next round of the lucrative competition.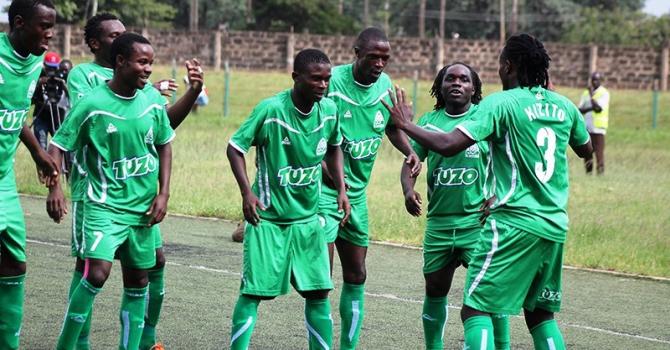 courtesy of mobifootball.com
Gor Mahia defender Haron Shakava is proud of the way he has adapted quickly to life at the Kenya Premier League champions.
The youngster joined from Kakamega Homeboyz during the off-season and has made a significant contributions in both domestic and CAF assignments for the club.
"When I got the chance to join Gor Mahia, I took it as an opportunity to face a bigger challenge and I'm relishing every moment," Shakava said in an interview with The Star.
"It's always a challenge as a footballer to try different things and integrate into another club. (But) it hasn't been difficult adapting here.
"Football here is good and the team members are great too. I'm learning more from my team-mates and I'm very happy with how my few months here have been, especially the last one month."
The youngster has made five appearances in the KPL and CAF Champions League, where has netted twice in his team's bid to reach the second round of the African competition.
"I feel valued here and the manager gives me confidence with every selection and within the team I have a responsibility that I love having," he added.
"Little by little, I hope to keep improving and I hope to help the team as much as possible."
As Gor Mahia prepare to play Esperance in the Africa champions league return leg, three of their players have taken time away from the club to travel to Darfur to play Sudan. The three are David Owino, Musa Mohamed and Anthony Akumu.
In addition, the Ugandan trio of Dan Sserunkuma, Geoffrey Kizito and Godfrey Walusimbi who were set to link up with the Uganda Cranes for their clash against Zambia.
Coach Bobby Williamson is understandably furious.
"This is absolutely crazy. How do I plan for the weekend game with six of my first team players missing? It means I will not have them for three days. On Tuesday they linked up with their teams, they play on Wednesday and will be travelling back on Thursday. Now you understand what I'm talking about,"
"I don't mind them playing for their national teams but my fear is the risk of them picking injuries while on international duty." said Williamson to the Nation.
Esperance gets exemption
Meanwhile the Tunisian national team are due to play Colombia in an international friendly. All the Tunisian players who are involved in African club competitions have been exempted from the friendly. This is a stark contrast to Kenya where FKF has offered no such breaks.  And you wonder why Kenyan teams cannot make a breakthrough in African football ?
Update: Stars now stranded in Khartoum
Harambee stars were apparently stranded on Kharotoum. Striker Dennis Oliech has taken to Social media to voice his complaints.
"We are in Sudan for the game and we don't know where is the game or which city the game is but we have been told that we have to travel again for 2hrs to go to the game and it's 11am," wrote Oliech on his facebook page.
The match against Sudan has now been cancelled. FKF Chair Sam Nyamweya has accused the Sudanese federation of changing the venue at the last moment. FKF only accepted that Harambee Stars plays the match as per the terms stated on the invitation letter, which did not suggest anything to the contrary as regards the match venue being elsewhere other than Khartoum. Neither was there any insinuation of possible change of venue or match date before our team left Nairobi. " said Nyamweya to futaa.com
This means that at least the Gor Mahia players in the team will avoid picking up uneccesary injuries. But it still means that Gor Mahia's training program was disrupted for two days.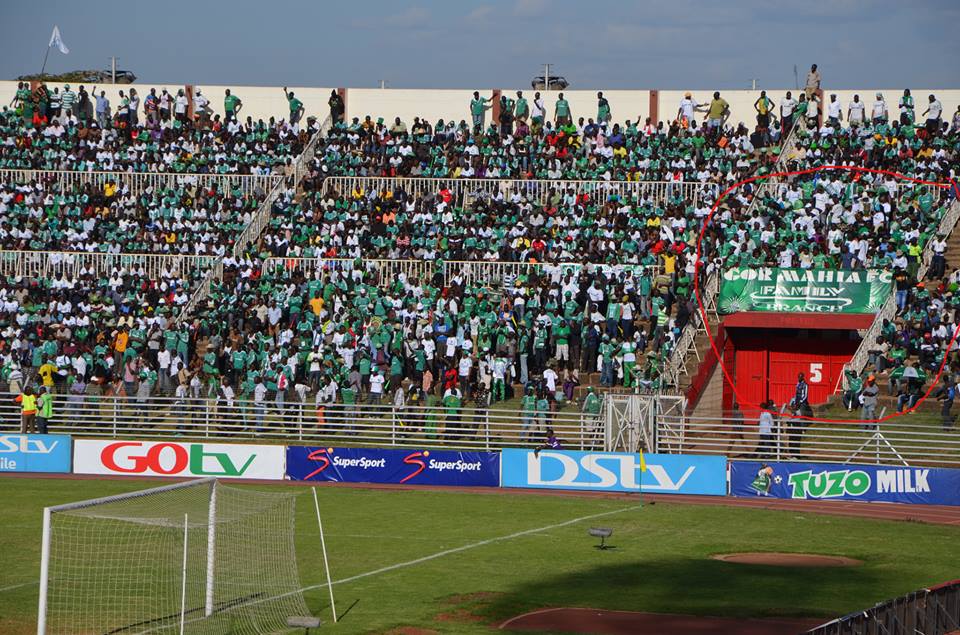 courtesy of futaa.com
Ksh 2.6 Million was raised from the ticket sales of the CAF Champions League match pitting Kenyan champions Gor Mahia and Tunisian side Esperance.

This has been confirmed by the club's Secretary-General, Chris Omondi. Each V.I.P section ticket was going for Ksh 1000 while those for the terraces section cost Ksh 200 each.
More could have been raised from the match but cases of fake tickets being sold on some designated ticket selling points were rampant and word has it that some club officials were behind it.
Hope
Chris, who took over from George Bwana, has in the meantime congratulated the players for putting a solid display against their much fancied opponents.
-They (players) gave a good performance and I salute them. We gifted them three easy goals maybe out of naivety and reckless blunders but outplayed them in every department, Chris told futaa.com,

-We are hoping to perform better in the return leg and advance to the next stage, he added.
Squad for Tunis named
The Kenyan champions have named their squad to face the North Africans in Sunday's decisive Champions League return leg match away in Tunisia
Gor Mahia will depart for Tunisia in two batches to honor their weekend return first round Champions League match against Esperance.
The Kenyan champions lost the first leg 3-2 last weekend and have to win by two clear goals to be sure of going through to the next round.
The first batch will travel for Tunis on Thursday and will be followed by another group on Friday. The match will be played on Sunday. Those leaving on Thursday include Martin Kimani, who will be the head of delegation, club vice-chairman John Pesa as well as goalkeeper trainer Salim Iddi and several players among them Timonah Wanyonyi, Frederick Otieno, David Otieno and Eric Ochieng.
The final travelling party has: Rama Salim, Patrick Onyango, Musa Mohamed, George 'Blackberry' Odhiambo, David 'Calabar' Owino, Innocent Mutiso, Kevin Oluoch, Kevin Omondi, Jerim Onyango, Shakava Haron, Emuge Israel, Kizito Geofrey, Anthony Akumu, Walusimbi Godfrey and Dan Sserunkuma.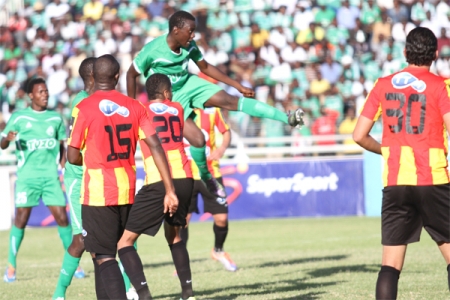 courtesy of futaa.com
Esperance coach Ruud Krol acknowledged that Gor Mahia are a good outfit and praised his side for pulling off a big win.
The Tunisian outfit pulled off a 3-2 win over Gor in their CAF Champions League meeting at the Nyayo National Stadium on Saturday and the Dutch coach said his side faced a strong opponent.
Good
- They are a good opponent and have supportive fans. We expected a good game but we did not kn ow they would be as good as they were, he spoke of Gor after the clash.
- My players did well and gave a go effort to beat a strong opponent and I praise them for that, he added.

Tunis
The Tunisians will be overwhelming favourites to go through to the next round of action after their big win.
One of the lessons learned from Gor Mahia's first leg encounter with Esperance de Tunis is how critical youth development is. Typical of North African teams, Esperance players show a lot of poise and precision and require only 1 or 2 chances to score. Their runs are timed to perfection and they are technically astute. None of this happens by accident.  Most Esperance players are products of youth development. Ahmed Akaishi, scorer of one of Esperance's goals was at the youth team of CA Bizerte by the time he was 14.  And goalkeeper Moez Ben Cherifia was recently promoted from the Esperance  junior team.
If Gor Mahia and other Kenyan teams are to ever start beating their North African counterparts consistently, one of the areas they must address is youth development
Gor Mahia youth team
It is commendable that the current Gor Mahia officials have taken the first tentative steps towards youth development.
The youth team will play in the Nairobi county league. However it is important that the club understands that the primary goal of a youth scheme is to produce high calibre senior players.
The first step in this regard is to identify players with potential to become excellent senior players. Gor Mahia did this on Thursday by holding tryouts where talented players were invited to attend.
The problem with trials is threefold:
1. Too many players show up making it impossible to properly assess each player especially in such a short period.  2. Watching a player on the practise field cannot offer an objective viewpoint. You have to watch a player in a real game situation.
3. Tryouts limit players to only those who are able to make it to the stadium. This means that only players who live near City stadium where the trials are held are likely to show up. Anthony Gathu types who will walk from Thika are very rare. And you can forget players based as far as Nakuru or Kisumu.
Scouts
The best way to recruit players for a youth team is to utilize scouts at the grassroot level. This is what coach James Sianga did. During his days as Gor mahia coach, Sianga was always in touch with grassroots coaches who brought to his attention players like Jerim Onyango, Eric Masika, Musa Mohamed and others. And in past years, Gor Mahia had scouts all over the country and in places like Kisumu, Homa Bay and Kakamega.
Once a player with potential was identified, Gor Mahia officials would be dispatched to go and watch them. Schools matches are an especially good venue for identifying talent. During the 1980s, Musingu and Kakamega high school were the top football playing schools and matches pitting the two schools were always keenly watched by scouts from both Gor Mahia and AFC. Players like George Odembo "Nyangi" and Mike Otieno came from these schools and joined Gor Mahia soon after finishing school.
With this in mind, Gor Mahia must soon engage a network of scouts all over the country. Not all the best players will be from Nairobi Eastlands.
Hire qualified coaches.
Being a youth coach requires specific skills that are not typically found in regular coaches. A youth coach has to be adept at identifying potential. They then have to identify weaknesses and bad habits and work on them. An effective youth coach must also understand the psychology of a teenage player and be good at getting their message through. With all this in mind, it is important that the Gor Mahia youth coach receive appropriate training and receive the appropriate certification.
Gor Mahia Secretary General Chris Omondi has confirmed the appointment of former Zetech College FC Head Coach Maurice Onyango and old boy Zablon Pro Otieno as the Head Coach and Assistant coach of the Gor Youth team respectively. There has been no word yet on what kind of qualifications they have.
Judge a coach by his products
The goal of the Gor Mahia youth team should not be to win the Nairobi county league. Rather, the coaches should be judged based on how many high calibre players they produce. A typical example of a succesful youth coach was the manchester United youth coach whose youth scheme produced David Beckham, Paul Scholes, Gary Neville, Ryan Giggs and Nickey Butt, all of whom went on to win trophies with Manchester United. Winning the Junior FA cup was a feather in his cap but his real feat was producing such high calibre players.
Amid a scandal that saw fans issued with fake tickets, the club's organizing secretary Ronald Ngala has cautioned fans to only purchase tickets at designated selling points.
During the Gor Mahia versus Esperance clash at the Nyayo National Stadium on Saturday a number of fans in possession of fake tickets were barred from the stadium.
he also noted that the security people entrusted with verifying the match tickets should be vigilant to ensure that the vice is checked.
-This issue of fake tickets has been there for some time and the only important thing is that the verifying officer detects such happenings and stops entry said Ngala to futaa.com
It turns out that the tickets being sold at Kenya Cinema by Wells Fargo were fake. Yet this is venue that typically sells match tickets. How this happened is still not clear and the club owes fans an explanation.
This is the second time this season that match tickets have become an issue. During the first league game against City Stars tickets were sold out before the stadium was full and some fans forced their way into the stadium. At the time, newly elected Secretary general accused some dark forces, specifically officials who had recently been voted out, whom he accused of sabotage.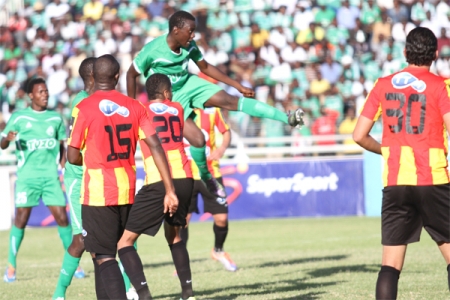 Gor Mahia coach Bobby Williamson has lauded his players despite their 2-3 loss to Esperance of Tunisia.
"My boys played extremely well against a very experienced side. It was not easy at all but we were caught napping in the last quarter of the game and failed to cover well. However I feel it will be inappropriate to blame any players as they gave their best despite the underlying circumstances. Playing away in Tunis will be a tough encounter and it will be extremely difficult to beat them in their own turf as we need to score two goals and not concede." said Williamson to supersport.com
Williamson will be busy this week trying to come up with a game plan to achieve the impossible against a vastly experienced side with .
"We played against a side that has been consistent in the Champions League but all in all we have to go back to the drawing board to plan for the away game which will be a daunting task considering our opponents scored vital goals," Williamson told supersport.com.
Esperance is indeed a vastly experienced side. Not only have they been a perrenial fixture in the Africa champions league, but in 2011 , they played in the FIFA club world cup.
But another key factor in favour of Esperance is the precision with which they make their passes, their coordination and the precision of scoring.
Next Page »