courtesy of football365.com
Frank Nuttall is manager of the Kenyan champions, Gor Mahia. The 46-year-old has coached across the UK, including for R
angers and the England youth teams, and has worked for the Chinese national team and Qatar under-23s. He's also employed by FIFA to run courses across the world. Here he talks about life on the road, winning titles in Scotland, and Kenyan fan culture…
The Kenyan fans are very, very passionate. There are hordes of them outside the stadium before and after games. They lead the team bus to and from the ground, stopping the traffic, making sure the bus gets out. They're very vocal, and very colourful. It's an unbelievable atmosphere. But of course, if you're not doing well, they'll soon let you know. Thankfully I haven't seen that yet.
Gor Mahia probably have the best support in Kenya. The stadiums are pretty full when we play – we can get between 8,000 and 10,000 in the city stadium (in Nairobi). The last couple of games we played in Kisumu at Lake Victoria (around 200 miles west of Nairobi) and there were maybe 15,000 or 16,000 there. It was packed. Outside there were maybe 10,000 who couldn't get in. We're also on live television most of the time, so we're getting a huge audience. The passion is unbelievable.
I took over the Gor Mahia job from Bobby Williamson. I'd known Bobby for a number of years, from before he went out to manage Uganda (in 2008). When he moved from Gor Mahia to the Kenyan national team job (in August) he contacted me and said: "Do you fancy coming out?"
Bobby encouraged me, told me I'd enjoy it. He said: "Come for a few months. If you like it, you like it. If you don't, it's not the end of the world." He spoke to one or two people, and recommended me to the club. Other names were mentioned – foreign guys – but they had faith in Bobby's judgment.
The club looked after me from the moment I arrived. The chairman, the committee, all the staff…they've been really supportive. They couldn't have done more. I've been living in a hotel – I was due to move into Bobby's apartment, but he hasn't been able to move on. But the hotel suited me fine.
Bobby had the club first or second when I arrived. So it was a strong unit. The problem was, a couple of months before I arrived, one of the sponsors pulled out and a lot of players left. They were down to the bare bones. Bobby didn't tell me that before I came, mind you!
The players are not millionaires, believe me. You have to make allowances for their situation – their living conditions, where they're travelling from, how they're travelling. So if they're a little late for training, you make allowances. They are very focused – they want to get on, they want to progress.
From a technical point of view, they're very good players. And from a physical point of view, they have great attributes. Quick, strong, fit. When I arrived, we played four games in ten days. And they were very hard games; the type I haven't seen for a long time. And yet not one of them complained.
I am in the process of negotiating a new contract with Gor Mahia. If we can agree something, I'd be happy to go back. It was fantastic to win the league, and the African Champions League would be great. Part of my negotiations is, "Do we have the finances and ambition to compete, to get us to the group stages?" Because that would be a great experience.
I was a young pro at Celtic but got released in 1987. There was a lot of competition. I could have gone to other clubs, but I was disillusioned. I was 20 – there were no advisers then, no agents, so I just got on with things. Thankfully I had the grades for uni so I went down to Cardiff to study physical education at UWIC (now Cardiff Metropolitan University). Then I went to Loughborough to do a masters in sports science.
I started my coaching qualifications at uni, and by age 24 I was doing coach education for the Welsh FA. I worked with their under 14s and under 15s, I worked for the Sports Council, and I was a sports science lecturer at university. But my ambition was always to get back into full-time football.
In the 1990s, there weren't as many possibilities. If you weren't an established ex-pro, it was very difficult. That has changed a lot now, but then, it was much harder. To get back in, I took a job as fitness coach at West Brom (in 1998). I had no intention of being a fitness coach (long term), but it was a way in.
I found myself in a situation where I had a reputation as a good fitness coach. I was pigeon-holed, and I didn't want that. I did my A Licence at 29, and my Pro Licence by the time I was 34. So the capability (to coach more broadly) was there, but not the opportunity. I tried to keep the frustration in abeyance, tried to keep it private, and wait for the moment. But it was frustrating.
I became fitness coach at Rangers in 2004. I was brought up a Celtic supporter, I played there, and for many people it would have been difficult. But being a professional, I knew I should take it. Alec (McLeish) gave me a lot of freedom to work, and we were successful. We won the league the last game of the season, and won the League Cup. The next year we got through the Champions League group stages and came very close to knocking out Villarreal (going out on away goals).
Was it difficult beating Celtic to the league on the last game of the season? (Celtic were on course for the title but conceded two goals in the last two minutes against Motherwell). Look, I'm the sort of person who wants to win. The Celtic factor didn't come into it. I enjoy winning football games and winning leagues. It was all about winning.
After Rangers, I went to Dubai to coach for Al Nasr, but I couldn't settle. The family couldn't come out and it was hard. As a family, we moved around early in my career, but it got to the point where they needed stability, especially with schooling. So they stay in Scotland, and I work around that. Football can be fickle and insecure – you could move your family to the other end of the country, and the next minute, you're out of work.
When I came back from Dubai, I did some scouting for Middlesbrough. I also did part-time work for St Mirren and the English FA (working with youth teams from under-17 to under-20) and then Gareth (Southgate) asked me to become full-time fitness coach at Middlesbrough.
I was a bit reluctant at first. I was building up contacts and life was fine, but it was a way into the Premier League. Unfortunately we were relegated, budgets were cut, and I lost my job along with six other people.
Over the past four or five years I've been going back and forth to China (to work as a coach for the Chinese national team and Chinese clubs). It's good to be able to dip in and out, because that's a completely different culture. It's a different life, different food, everything. You've really got to be able to get your mind round it. You've really got to build relationships.
My advice to British coaches who want to work abroad? Build your network. Find your contacts. And through your work – and your character – make a good impression, so they want you back. And also, a lot of jobs I've taken have been a means to an end. It doesn't have to be your dream job. It can be about development.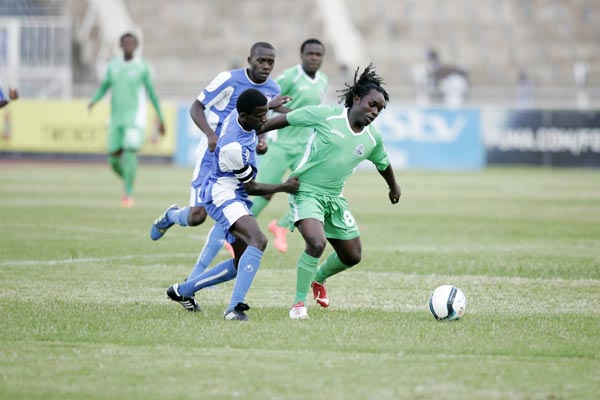 Gor Mahia secretary general Chris Omondi has indicated that the club has opened contract talks with Ugandan talisman Dan Sserunkuma.
"We are in talks with him and he has shown a willingness to remain with us. He knows what is on the table and we know what he is worth; so that is where we are," said Omondi to the KPL website.
Sserunkuma has played a pivotal role in the club's success over the past 3 years and fans will be eager to see him renew at the club after his contract runs out in December.
Omondi also denied rumours that are running rampant that Sserunkuma has already agreed to terms with Simba of Tanzania.
"We have not received any official communication from Simba. These are just things we are reading on social media but nobody from Simba has approached us on the same," continued Omondi.
Sserunkuma for his part has remained silent on his future.
"At this point, there is bound to be many rumours but I don't want to get involved with that. I have my agents doing their part, and I will make that decision when the transfer window opens," he said a fortnight ago before jetting out to Uganda for international duty.
Mutiso to undergo another surgery
Gor Mahia winger Innocent Mutiso who missed most of the 2014 season, is set to miss at least half of the 2015 season because he will undergo surgery before the end of the year. Mutiso's last injury occurred during the GoTV shield match against GFC 105.
Mutiso praised the club for treating him well during his injury.
"It is been tough to be out for so long but I am confident that I will regain my fitness and fight for my place in the first team,"
"The club has treated me well and I look forward to when I return to also give back through my performance on football pitch, it is the best way I can thank the entire Gor Mahia family for standing with me during my injury."
Mutiso scored one goal this season and it was a gem, perhaps one of the best goals scored this season in the Kenya Premier League.
Mutiso was elated to see Gor Mahia retain the title they won in 2013
"I am happy that we won, I am happy that my teammates won it for us while I was injured. I look forward to next season and I hope I can contribute to our run when I return.
"My desire is that we can retain the trophy again next season to keep it in our cabinet, I hope that happens because we have quality in our squad and motivation of fans is tremendous."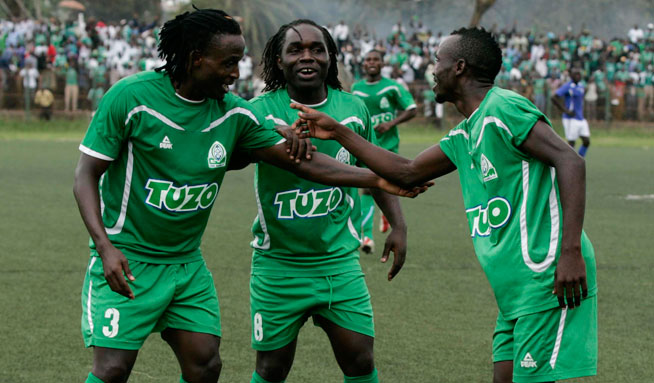 It cannot be gainsaid that the Ugandan Cranes trio of Dan Sserunkuma, Godfrey Walusimbi and Geoffrey Kizito have played pivital roles in Gor Mahia's success in retaining the league in 2014.Their superb play on the field, professionalism and commitment  has been noticed by fans and highly appreciated. They have set an excellent example for the rest of the playing unit. But their success on the field has also attracted the eyes of other teams.
Club official Ronald Ngala, fresh from his success at the KPL awards indicated that the club is busy trying to retain the three players.
"Sserenkuma has showed willingness to remain at the club while Kizito has given us some conditions that we believe can be met," Gor Mahia's Deputy Secretary General Ronald Ngala said,
"We are in discussions with the two players and we strongly believe they'll be with us next season. Our fans should not be worried, we will have a better squad next season,"
"All the other players who are out of contract are willing to renew and therefore there's no need to worry. we've got this," he  said to kplchat.com
Kizito attended trials with a Vietnamese side while Sserunkuma has attracted the eyes of Sudanese side Al Ahly Shendy, Simba or Tanzania and Kaizer Chiefs of South Africa.
Cranes Eliminated
All three players features as Uganda Cranes suffered yet another heartbreak in their attempt top qualify for the Africa cup of nations after a 36 year hiatus. Of all the teams in CECAFA, Uganda and Rwanda have taken the longest to qualify for Africa's premier event.
All three received poor ratings from Uganda's newspaper the monitor:
Godfrey Walusimbi 3
Got early jitters at left-back from Ibrahima Conte, settled in briefly, but later ran out of ideas.
Geoffrey Kizito 4
He just had a bad day in office. Baba imposes his presence on games but his passes were mostly square and the Gor Mahia player barely found midfield partner Mawejje.
Daniel Sserunkuma 4 (Substitute)
When Mwesigwa's actions wrecked the plan, dread-locked Sserunkuma found it hard to link up from the middle. Still, he was an improvement on Miya.
The ratings from Kawowo sports were only slightly better:
Godfrey Walusimbi 5.0: Started the game on a slow note being turned in and out by man of the match Ibrahima Traore. Lucky not to be booked after a number of fouls but grew in stature in the second half though his side was more of an avenue for the Syli Nationale.
Geoffrey 'Baba' Kizito 5.0: Struggled against the quick passing Guineans and provided less cover to the backline.
Daniel Sserunkuma 6.0: Came on for Farouk Miya and gave Uganda some momentum in attack but it was too little too late. He is the only player who registered a shot on target for Cranes.
All in all the Cranes had a bad day at the office with the exception of keeper Dennis Onyango who was rated highly.
The Report from KTN : Chair Ambrose rachier explains how the club overcame its financial difficulty to win the league.
Interview with skipper Jerim Onyango and coach Frank Nuttall after the win
This video includes match highlights:

Gor Mahia jet back from Kisumu to a heroes reception
Coach Frank Nuttall holding the cup upon arrival from Kisumu

Gor Mahia striker Dan Sserunkuma had a phenomenal season in which he finished atop the Tusker premier league scorers chart with 16 goals. He was consistent throughout the season and when he was not scoring goals, he was setting up his strike partners with scoring chances. It stands to reason that he would be considered among the candidates for the player of the year , a title he won in 2012.
When the list of nominees came out however, Sserunkuma was not even listed among the candidates. A report on goal.com suggests that some coaches conspired to lock out the Ugandan talisman apparently because of what they called "the controversial nature of his goals"
"He (Sserunkuma) may have emerged top scorer but we also looked at how some of the goals were scored. Out of 16 goals, he scored three penalties and in our opinion some were not genuine. Furthermore, we felt that some of the goals he scored were from off-side position. If referees did not see it, we did and took note." said a coach who sought to remain anonymous.
These kind of wild claims are reminiscent of Chemelil coach Mike Mururi who claimed that Gor Mahia wins because they get help from referees. At this rate it would have not come as a shocker if they gave the golden boot award to someone else.
Sserunkuma and his team-mate Goeffrey Kizito did not attend the ceremony as they were away with the Ugandan national team which was attempting to qualify for the Africa cup of nations. Unfortunately there was further disappointment as the Cranes once again fell short at the last hurdle.
Gor Mahia must find accommodation for Frank Nuttall
Frank Nuttall is away in Scotland for a 6 week holiday. The Scottish coach has been living in a hotel since his arrival in Kenya. The house he is supposed to occupy is still being occupied by former coach Bobby Williamson while Nuttall's hotel bill is paid by the FKF.Williamson for his part cannot move because the house he is supposed to occupy is still occupied by former coach Adel Amrouche. Its is a mess at FKF.
However reports suggest that Nuttall is tired of hotel life and says  he will not live in a hotel when he returns.
"Nuttall has made it clear that he does not want to stay in a hotel when he comes back. It is a tricky situation for us because we cannot evict Williamson." said a Gor Mahia official.
When Gor mahia visisted president Uhuru Kenyatta at state house after having won the 2014 Kenya Premier League, Famous Gor Mahia fan Jaro Soja was offered a job by the president. On Thursday Nov 20, Jaro Soja officially reported to work. Dressed in a sharp suit, Soja appears to be having a blast in his new digs. Though it is not clear what he will be doing. But since the directive to employ him came from the president, he could even spend all day sharpening pencils while taking visitors in his spacious office. Hopefully Soja uses his new influence to get Gor Mahia cheaper training accommodations.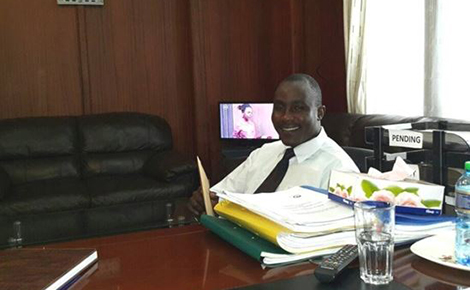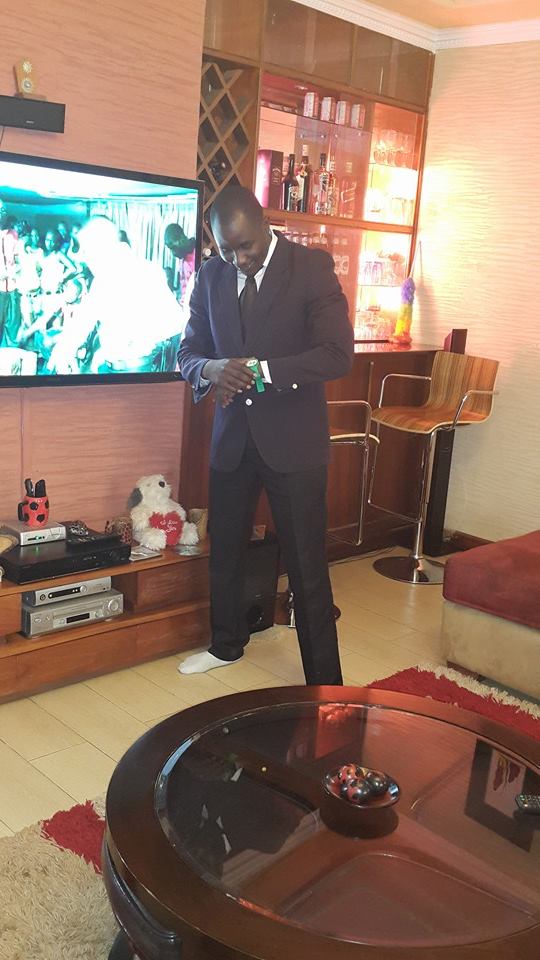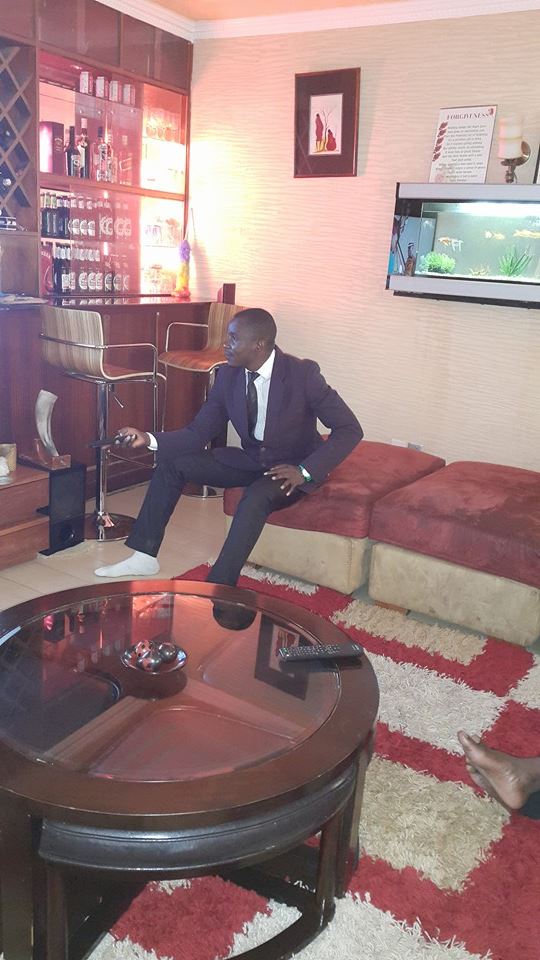 Images courtesy of Jaro Soja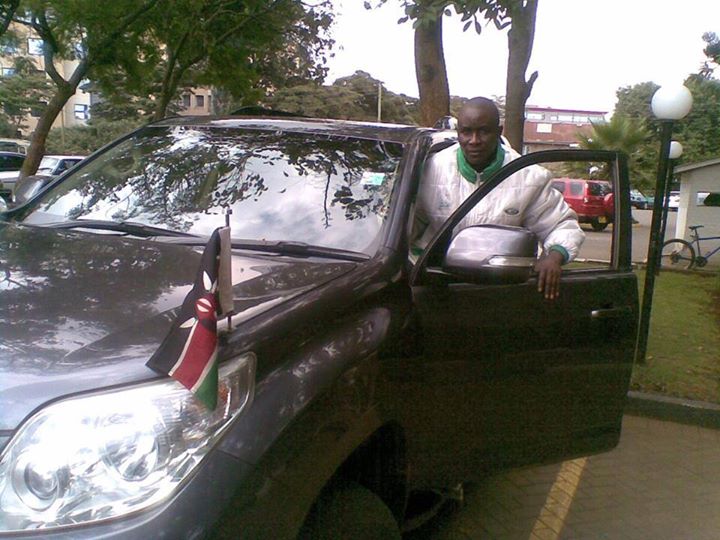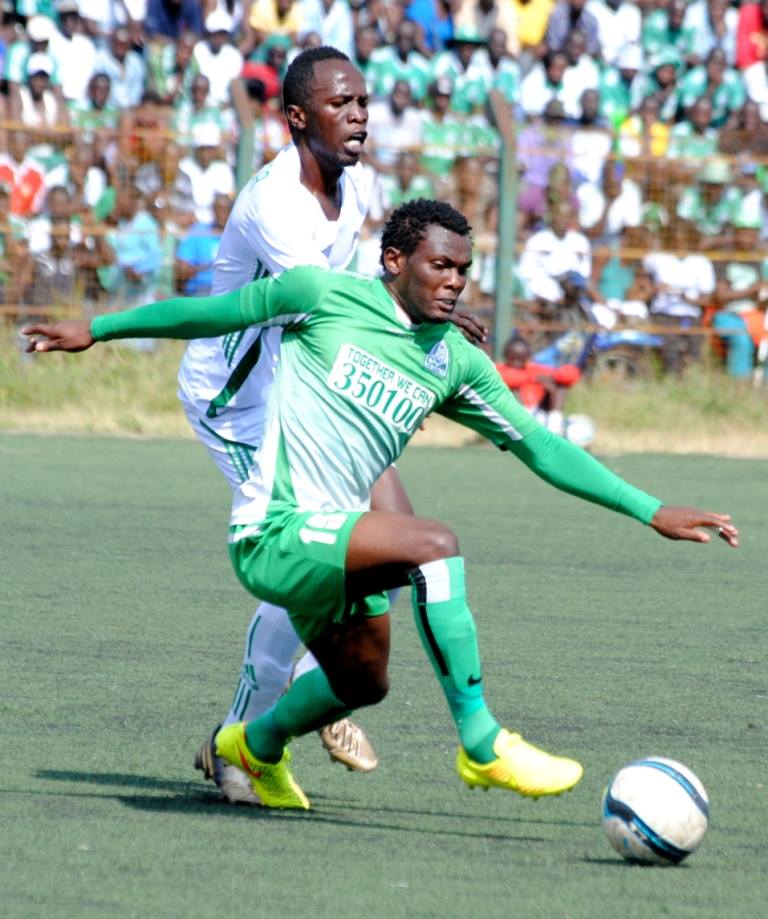 For the second season running, Gor Mahia's dependable defender David Owino "Calabar" retained the defensive player of the year award he won in 2013. A just reward for a player who has been consistent for the past two years.
Dan Sserunkuma was award the golden boot award. However it is not clear why other players were even nominated given that Sserunkuma was clearly the top scorer.
Midfielder Geoffrey Kizito who has been solid and dynamic throughout was somehow beaten by Anthony Ndolo of Sofapaka in both the player of the year and the midfielder of the year awards. It is not clear why Sserunkuma was not nominated for this award.
Allegations of cheating
A report by the Standard indicates that there was widespread bribery and side deals conducted by the coaches who were assigned to do the voting.
"It is unfortunate that, as coaches, we showed open bias yet we are the technical people entrusted with this important exercise to reward deserving players," said a source.
 "A section of coaches want a thorough investigation launched into a clandestine meeting some coaches reportedly held to discuss how they would vote," the source said. Disquiet has been building up over the years, especially that KPL Foya winners, except with Sserunkuma in 2012, have failed to replicate their talent in subsequent seasons.
Apparently some of the coaches approached the nominees and demanded  a slice of the prize money in return for votes. Winners in each category are given KES 100,000 with runners up getting KES 75,000.
KPL 2014 awards winners
Best Player of the Year – Antony Ndolo (Sofapaka); 1st Runner up – Geoffrey Kizito (Gor Mahia); 2nd Runner up – Stephen Waruru (Ulinzi Stars)
Coach of the Year – Mike Muiruri (Chemelil Sugar); 1st Runner up – Sam Timbe (Sofapaka); 2nd Runner up – Robert Matano (Ulinzi Stars)
Golden Boot – Dan Sserunkuma (Gor Mahia); 1st Runner up – Enock Agwanda (Sofapaka), Stephen Waruru (Ulinzi Stars); 2nd Runner up – Michael Olunga (Thika United), Jesse Were (Tusker)
Goalkeeper of the Year – Jairus Adira (Chemelil Sugar); 1st Runner up – Robert Mboya (Mathare United); 2nd Runner up – Fredrick Onyango (Gor Mahia)
Defender of the Year – David Owino (Gor Mahia); 1st Runner up – Charles Odette (Sony Sugar); 2nd Runner up – Felly Mulumba
Midfielder of the Year – Antony Ndolo (Sofapaka); 1st Runner up – Geoffrey Kizito (Gor Mahia); 2nd Runner up – Brian Osumba (Tusker)
Fair Play Player of the Year – Hamisi Mwinyi (Chemelil Sugar); 1st runner up – John Njoroge (Sofapaka); 2nd Runner up – Barrack Odhiambo (KRA)
New Young Player of the Year – Kennedy Owino (Nakuru All Stars); 1st Runner up – Kevin Omondi (City Stars); 2nd Runner up – Nicholas Kamau (City Stars)
Fair Play Team of the Year – Muhoroni Youth; 1st runner up – Gor Mahia; 2nd Runner up – Nakuru All Stars
Most Improved Centre Referee of the Year – Peter Waweru; 1st Runner up – Anthony Ogwayo; 2nd Runner up – Moses Osano
Most Improved Assistant Referee of the Year – Stephen Oduor; 1st Runner up – Dorcas Wanza; 2nd Runner up – Oliver Odhiambo
Team Manager of the Year – William Muluhya (Mathare United); 1st Runner up – Amenipa Bigisho (Sofapaka); 2nd Runner up – George Maina (Thika United)
Chairman's Award – Ronald Ngala
With the season over, attention now turns to the transfer season. This year  Gor Mahia is less active than in past years. One of the players Gor Mahia is rumoured to be targetting is Muhoroni Youth Striker Ezekiel Otuoma. Muhoroni Youth punched way above their weight this season and one of the reasons was Otuoma. The pacy striker gave defenders nightmares with his mazy runs and precise finishes.
Gor Mahia secretary general Chris Omondi indicated that Otuoma was indeed on the club's radar:
"We have been watching him for some time now and can say he has what we need as a club. He is young and fits in well with our aspirations,"he  saidto goal.com
However Muhoroni Youth Chairman Moses Adagala was categorical that Otuoma is not for sale.
"We want to tell Gor Mahia and any other club that is interested in our players that none of them is for sale. We are inspired by our recent performance in the league and intend to go for the title in 2016.
"In this regard, we intend to keep all our good players as by then they will have matured to a point of fighting for the title." he said to goal.com
Another player whom Gor Mahia are said to be interested in is Ugandan striker Robert Ssentongo who plays for Uganda Revenue Authority and is the top scorer in the Ugandan league.
Back on the local scene, Mathare United playmaker Harrison Mwendwa is being pursued by both Gor Mahia and AFC.
"It's true there have been several offers from a number of top teams which I will not mention at the moment but I am yet to negotiate with one," Mwendwa told Futaa.com.
"I am weighing my options before falling for any deal," added the Mathare United star.
Mwendwa first rose to prominence in 2010 at the national schools championships. At the time his brilliant play helped steer Jamhuri high school to the national schols final. Most notable was his brace against Waa secondary in the semis. Mwendwa would be a good fit for Gor Mahia who lacked playmaking last season.
Back in 2012, Michael Olunga was the top scorer and MVP of the national schools football tournament. At the time he declared that he was a Gor Mahia fan and wanted to play for the club. Surprisingly Gor Mahia did not pursue him even when Olunga received high praises from experienced coaches like Mohamed Kheri who described him as the next Mike Okoth.
Olunga was among the top scorers in the league this season and would be a good fit to play upfront with Timothy Otieno and Blackberry.
Shabana Approached Gor Mahia for help
Newly promoted Shabana FC have approached Gor Mahia for assistance. According to a report posted on futaa.com, Shabana wants Gor Mahia to loan them some of the players who are scarcely used at the club.
"It's true we have approached Gor Mahia to loan us few of their quality players who have lacked playtime and since they will be preparing for continental football, probably not all of their players have the mettle to feature in such a pressure-mounting competition, the former Congo United and AFC Leopards coach said.
-We are hoping that our proposal will go through since some of their players have the experience to help us locally and warming the bench at the club won't help them develop as we bolster our ranks for next season." said Gilbert Selebwa, the Shabana coach.
Among the players who saw little playing time are Joel Bataro, Daniel Onyango, Herbert Kopany and Angelo Okumu. The latter went on loan to Nakuru All Stars but they never used him.
Club chairman Ambrose Rachier has said that former coach Bobby Williamson was most responsible for winning the 2014 premier league.
We give credit to Bobby since he played the greatest role in earning us this victory. Nuttal joined us after Bobby's had done 3/4 of the work he is a great coach too, he said to futaa.com
His last match was against SoNy Sugar in early August before he took the Harambee stars job. Williamson joined Gor Mahia in mid 2013 taking over from Croatian coach Zdravko Logarusic who refused to return to the club after going on holiday.
During Williamson's tenure, Gor Mahia was always at or near the league summit. The one blemish on his record was his inability to win the Mashemeji derby.
"I feel disappointed I leave the club having not won any derby in four attempts but I'm happy I leave the club in good position to defend the title and everybody seems to love the way we play," said Williamson on his last day in charge of the club.
Jaro Soja denies reports
Famous Gor Mahia fan Jaro Soja who was offered a job by the president has furiously denied reports that he turned down the job.
"Contrary to the romours going round that I have turned down the job offered by the His Excellency Uhuru Kenyatta, I wish to clarify that I am and will always be available to serve him and Kenya at any capacity he requests me to. To all Gor Mahia fans, I remain one of you. I am a Kenyan first, then a Gor Mahia fan. I once again thank my President for his faith in me."  said Jaro Soja posting in social media.
There was a report on K24 news suggesting that Jaro Soja had turned down the job and was instead requesting money to start a business.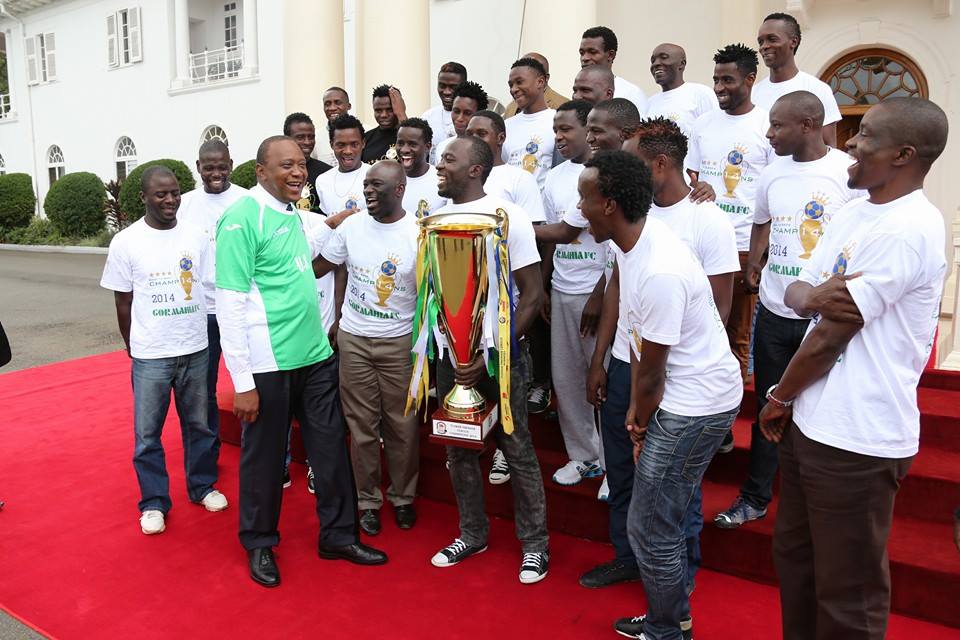 President Uhuru Kenyatta has promised to help Gor Mahia find a sponsor next season. According to a report posted on goal.com, President Kenyatta said he will personally intervene to ensure that Kenyan Premier League champions Gor Mahia have a sponsor for next season.
Club chairman Ambrose Rachier told goal.com that the president said he would take it upon himself to find a sponsor. "leave the issue of sponsorship to me." said President Kenyatta apparently.
"The President was very categorical that he will intervene to ensure we have a title sponsor," said Rachier
Rachier also pleaded with the president to ensure the government deals with hooliganism. "Please help us deal with this hooliganism by arresting and prosecuting those culprits,"
Kenyatta promised that the police would deal with the vice.
"Security agencies are going to deal with that issue of hooliganism," said President Kenyatta.
During the function, the president donated KES 2 million to the club and a further KES 1 million to the team.
This is the first time President Uhuru has hosted a football club.
Next Page »