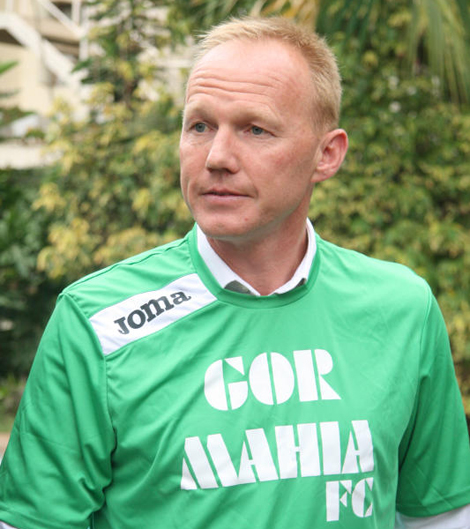 It appears that once again FKF are interested in using the services of the incumbent Gor Mahia coach. The AFCON qualifiers due to start shortly. Kenya open their qualifcation campaign on June 17 against Congo-Brazzaville and Nyamweya wants coach Frank Nuttall to act as Bobby Williamson's assistant.
"We are talking to Gor Mahia to lend us Nuttall when we start our campaign for Afcon 2017." said Nyamweya to goal.com
In a bid to assuage Gor Mahia fans who may worry that FKF are grabbing Nuttall from Gor Mahia, Nyamweya has assured that he will not be hired on a full time basis
"We don't want to engage him to a contract but need him to come on board and work closely with Bobby Williamson because our aim is to make sure that Kenya qualifies for finals to be held in Gabon. We will only require his services when Stars' are in camp and nothing else. We always have a break for our local league when Stars' is playing in international matches. This is the time we will need Nuttall's services." said Nyamweya.
Nuttall apparently already has a working relationship with Williamson given that it was Williamson who seconded Nuttall to Gor Mahia. And Williamson is likely impressed by the work that his successor has done at Kogalo.
And whereas Musa Otieno is a defensive specialist, Williamson probably needs Nuttall's attacking mind.
"We will be borrowing for his services. Williamson will remain our coach and Musa Otieno the assistant and Nuttall will only come in to give a helping hand.
Aside from taking Bobby Williamson from Gor Mahia last season, FKF also engaged coach Zedekiah Otieno "Zico" when Harambee stars were attempting to qualify for the 2012 Africa nations cup.
It is commendable that FKF are taking the qualifications seriously. However Gor Mahia officials need to be careful to avoid any arrangements that will derail the club's aspirations.