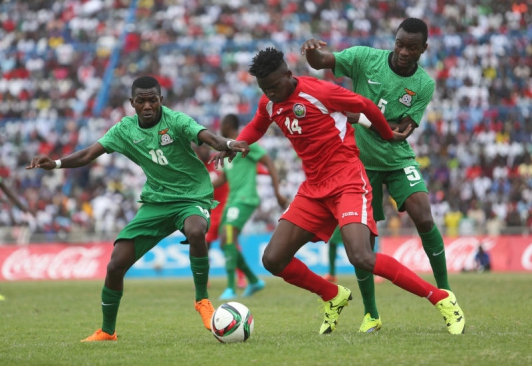 Harambee Stars face a tall order when they take on Cape Verde on Friday. Firstly they will be playing against a side that is ranked number 32 in the FIFA rankings which is fourth in Africa. It is a starke contrast to Kenya who are ranked number 125 in the FIFA rankings. They are coached by Rui Aguas, a vastly experienced coach who also was the top scorer in the European champions cup in 1988. The Cape Verde team is composed entirely of Europe based players.
harambee stars preparations are usually bad but this time they have been especially bad. Both FKF and the Ministry of sports declined to provide any support for the national team with each party pointing fingers at the other. At one point the team did not even have a field to train in. The lack of support lowered the morale of the players many of whom showed up late. The players have expressed dissapointment that despite pleading for proper preparations and friendlies, their pleas have fallen on deaf ears.
"As usual the preparations have not been that good. It's just up to the players to motivate themselves because we know the problems we are going through. We will give our best. Preparations are not always perfect but we are trying hard to work with what we have. Let fans come in large numbers and support us," said Wanyama.
Nevertheless former Gor Mahia coach Bobby Williamson who now handles Harambee Stars was upbeat.
"I am happy with our training though the players keep arriving every day making it difficult to adjust. Preparations must be elaborate especially considering our opponents have pedigree and they are highly ranked in Africa and the World however I have told my players to use the home advantage though it is a pressure cooker situation they must remember they beat Mauritius scoring five goals away."
"We are still waiting to see if our players such as Mandela,Origi, Keli will arrive in time for the game but the delay kind of worries me as most of them are part of our plans for the game. We will also dearly miss the services of Ayub Timbe who has been ruled out with injury. As a coach I am optimistic of good results and it is an opportunity to give our best in the prevailing circumstances while hoping for the best," Williamson told supersport.com.
Foreign based players that have arrived in camp include are skipper Victor Wanyama of Southampton, Johana Omollo of Royal Antwerp, Allan Wanga of Azam Christian Bwamy of Follo in Norway and the former Gor Mahia duo of David Owino now at Zesco, and Teddy Akumu now at Al Khartoum.
Among the players who are likely to feature are Gor Mahia goalkeeper Boniface Oluoch who is sure to start between the posts given the absence of Kenya one Arnold Origi. Oluoch had a shakey performance against Congo in Brazzaville but his performance between the posts has shown steady improvement.
Spearheading the Kenya attack will be Gor Mahia striker Michael Olunga. His performances for the national team has been stellar. He was on target when Kenya played Zambia at Nyayo during which he was one of the few bright spots on the team.
Against Zambia, the national team was plagued by indiscipline before the match, culminating in the suspension of players like Danson Kago and Jesse Were, both of Tusker. At the time FKF chairman Sam Nyamweya vowed to met out lengthy suspensions. But coach Williamson has now recalled the duo.
The last time these two sides met was in 2003, Kenya won both home and away legs 1-0 and went on to qualify for the 2004 Africa Nations cup. On that occasion, Dennis Oliech scored the crucial goal at in the last match at Kasarani and was carried shoulder high by jubilant fans. This time things will likely be different.
Kickoff is on Friday November-13-2015 at 4pm. The venue is Nyayo national stadium.