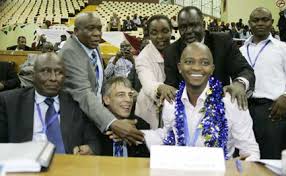 Nick Mwendwa who is the proprietor of Kariobangi Sharks has been elected the new FKF chair. He garnered 50 votes. Ambrose Rachier, the Gor Mahia and KPL chair who ran a spirited campaign, garnered 27 votes. Sam Nyamweya, Ssemi Aina and Sammy Shollei all pulled out upon realizing they did not stand a chance.
Ambrose Rachier accepted defeat but said he lost due to bribery
Rachier said: "I must accept the results. It was a clean and transparent exercise here on the floor but what I can complain about is the bribery of delegates.
"With the level of poverty in this country,  it is hard for a delegate to turn down a Sh150,000 bribe," he claimed. "Some of my delegates asked me to let them go eat the money and come back and it seemed they never came back. I do not have prove but have word that it happened. Now I'll work with the new chairman," Rachier said.
Mwendwa ran a well organized campaign that started in June 2015. He has been lobbying and striking deals with stakeholders. This is the largest margin of victory percentage wise. So dominant was Mwenda that the incumbent Sam Nyamweya was forced to bail out along with the flambuoyant Gor Semelango, Ssemi Aina and former Tusker striker Sammy Shollei.
Another significant loser was former Gor Mahia winger Dan Shikanda who lost to Doris Petra in the race for the Vice Chairmanship position. Shikanda who is a Veterinary Doctor, played for Gor Mahia when they won the league in 1993 and again in 1995.
Two former Gor Mahia players vied for the Nairobi NEC seat. The seat was won by Chris Amimo who polled 31 votes. Eric Obura, a former Gor mahia striker from the early 1990s got 10 votes. Ken Oliech, a former Gor Mahia striker from 2005 and 2006 received no votes.
The good news for Gor Mahia fans is thatRachier can now throw his energies towards building and professionalizing this club. He has seen the level of professionalism existent at teams like Esperance. Gor Mahia too can start taking tentative steps in that direction.