Gor Mahia coach Robertinho played with Brazil Legends Zico, Socrates, Junior
Brazilian Youth Team that won the Toulon Tournament, in France, in 1980.
Standing :Luis Cláudio, Édson Boaro, Dudu, Marolla, Mozer and João Luis;
Crouching Robertinho, Cristóvão, Baltazar, Mário and João Paulo
Gor Mahia's new coach, whose full name is Roberto Oliveira Gonçalves do Carmo, o Robertinho had an illustrious playing career. When it comes to playing achievements among former Gor Mahia coaches, he ranks at the top alongside fellow Brazilian Ze Maria who played regularly for the Brazil national team , popularly known as the Seleceao, as well as Len Julians who played in top English League for Arsenal and other teams, as well as Jack Johnson who played in the top tier of the Danish and Scottish leagues.
The highlight of Robertinho's career came on September 25 1980 when he featured in a friendly for the Brazil national team against Uruguay. On that day he played alongside Brazil legends: Carlos, Junior, Cerezo, Socrates and Zico, the latter two who are considered amongst the greatest players ever tp play for Brazil. On that day he featured as a striker in a 4-4-2 formation. It is quite an achievement considering the array of strikers that Brazil had in those days. And he had just turned 20. He went on to have an illustrious career that saw him play for all the top Brazilian teams of the 1980s: Fluminense, Palmerias and Flamengo.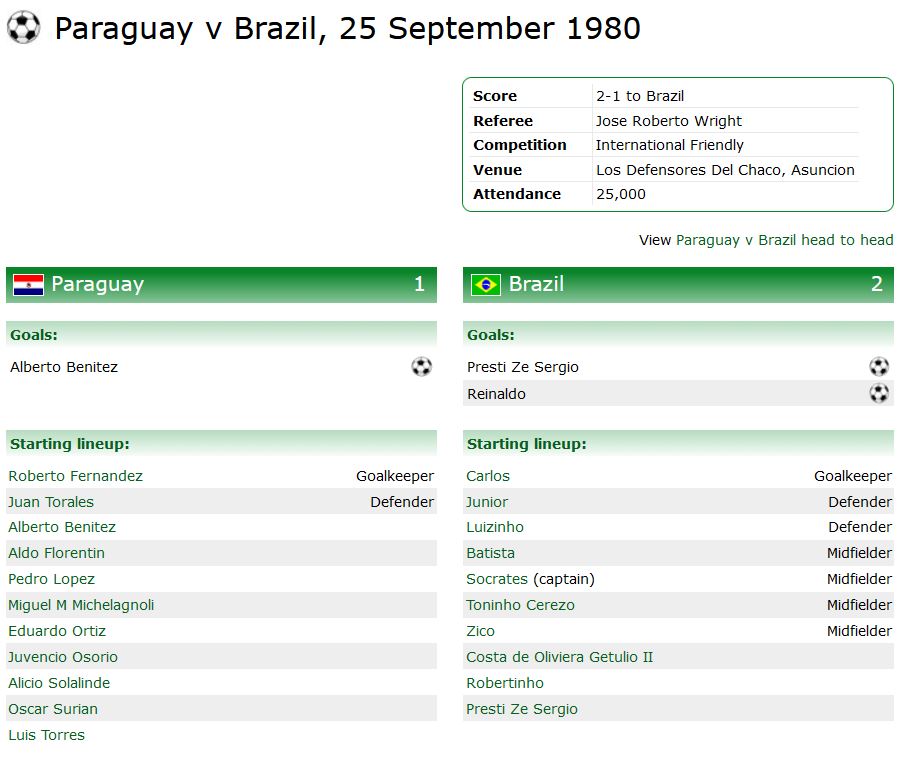 He was born in Carioca Brazil on June 20, 1960. His professional career started at Fluminense. While there he was selected to the Brazil Under 20 team.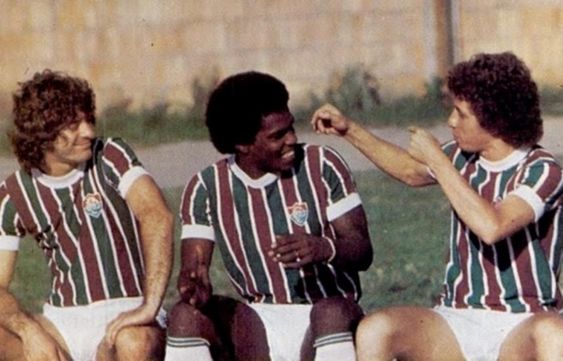 An extremely fast right winger, Robertinho started his career at Fluminense, popularly known as Tricolor das Laranjeira. He was there from 1978 to 1982, scoring 22 goals in 66 matches. At Fluminense he played alongside famous Selecao like Branco and Edinho who both played in the world cup. The team was coached by a Brazil legend: Mario Lobo Zagallo. 
In 1982 he went to Flamengo, the legendary Brazilian side. Among the players in the squad were Brazil legends like Zico, Junior and Julio Cesar. Also in that squad was a young Bebeto who would later steer Brazil to world cup glory in 1994. While at Flamengo, Robertinho helped Flamengo to win the Brazilian championship with a 3-0 over rivals Santos.
"It was remarkable to make the move that resulted in Flamengo's third goal (scored by Adílio) against Santos in the final of the Brazilian 83," recalls the former forward, who played 47 games with the red-black shirt, 22 of which were victories, 11 draws and 14 defeats. He scored scored 11 goals for Flamengo.
That same year he played in the The Mundialito de Clubs, officially Cup Super Clubs or Coppa Supermondiale Clubs. This was an unofficial summer association football friendly tournament that took place in Milan, Italy from 1981 to 1987 every two years.
Robertinho scored the opener in the first match which was against Inter Milan and Flamengo won 2-1. They finished second to European champions Juventus who won the tournament fielding legends like world player of the year Michel Platini, Poland legend Zbigniew Boniek, Claudio Gentile, Marco Tardelli and Paolo Rossi who was top scorer in the 1982 World cup.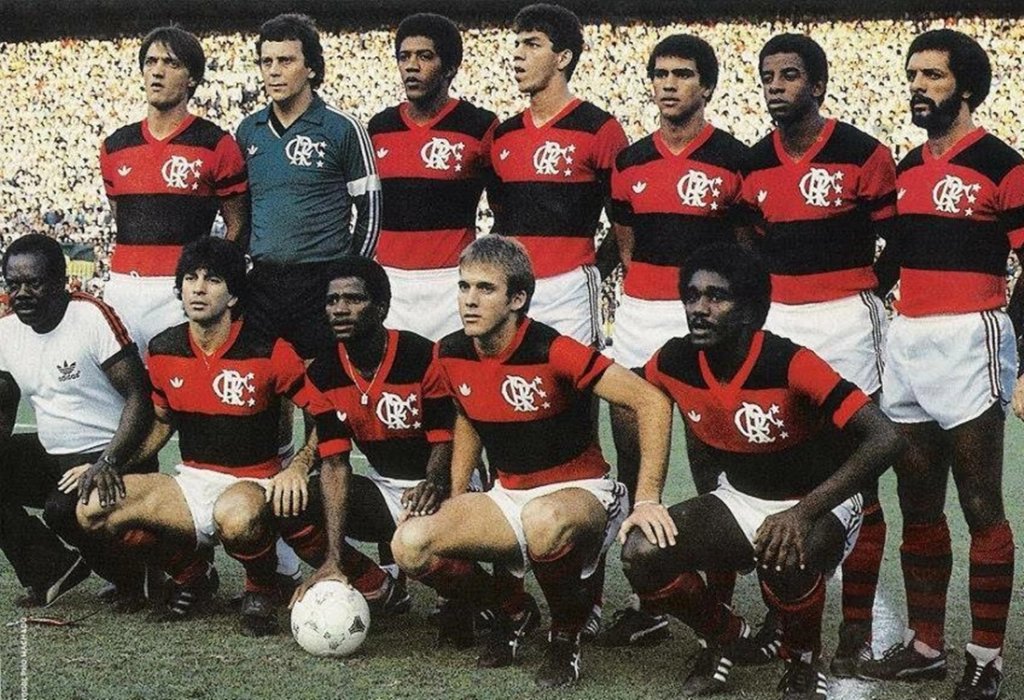 Flamengo before the 1983 Mundialito de Club match against Juventus
Backrow Leandro, Raul, Marinho, Mozer, Ademar, Andrade e Júnior.
Frontrow: Robertinho, Adílio, Júlio César Peu
Robertinho Video highlights from the 1983 season
In a star studded Flamengo side, Robertinho found himself on the bench quite often so in 1984 he left to join Palmeiras. His stay at Palmeiras was short lived. He played 25 games (11 wins, 8 draws and 6 losses) and he scored three goals.
He would then return to Flamengo for the 1985-86 season. It was yet another star studded Flamengo side with legends like Zico, Socrates, Bebeto, Aldair and Jorginho. In those days, the top Brazilian players often stayed in Brazil and rarely ventured to Europe.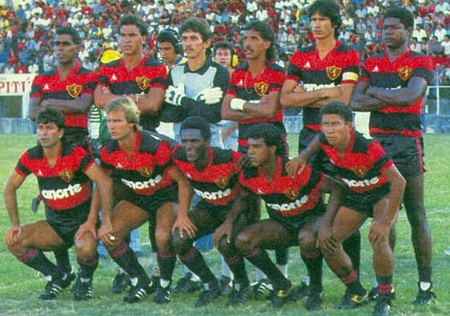 In 1987 he joined Sport Recife, popularly known as Leão da Ilha, where he was Brazilian champion in 1987, playing alongside midfielder Ribamar, right-back Betão, defender Marco Antônio.
He would also play for Internacional-R and Atlético Mineiro popularly known as Galo (alongside midfielder Renato Pé Murcho and the late center forward Gérson). That was the last club he played for in Brazil, in 1989.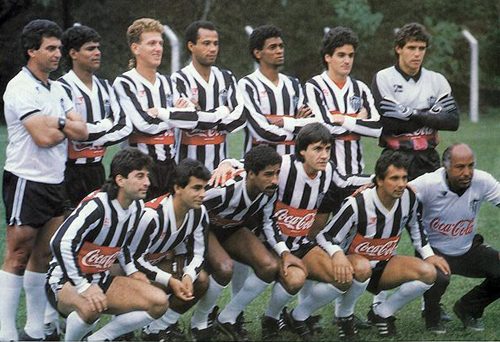 Atlético Mineiro twice champion Mineiro in 1989.
Standing: Jair Pereira, Éder Lopes, Zanata (ex-Bahia), Luizinho, Batista, Paulo Roberto Prestes and Rômulo;
Crouching: Robertinho, Marquinhos, the late Gerson, Renato Pé Murcho, Éder Aleixo and Belmiro (massage therapist)
He then embarked on a European sojourn with Nacional da Madeira of Portugal. He stayed there from 1989 to 1994. He then ended his career with Grössenbacher, from Switzerland, in 1995.
In the next article: His coaching record ……..