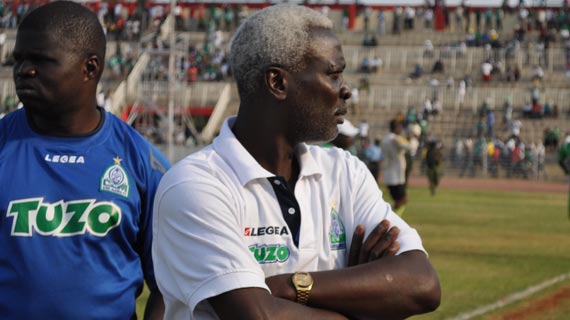 courtesy of goal.com
The ex-international, who was rushed to hospital complaining of chest pains, assures fans that he is recuperating well and will be back on his feet soon
Gor Mahia assistant coach John 'Bobby' Ogolla says he is recuperating well and hopes to be out of hospital soon.
The coach was rushed to Kenyatta National Hospital (KNH) on Sunday complaining of chest pains and malaria which affected his kidneys as well.
He underwent dialysis on Monday after it was discovered that he also has a renal condition. "When I came here on Sunday, I was in bad shape but now I am getting well and hope to be out of hospital in the next few days," Ogolla, nicknamed 'six million dollar man', told Goal on Tuesday from his hospital bed.
"My family is grateful for the support that well-wishers have shown us. They should not worry about my condition as it is manageable and doctors are doing a good job to ensure I am back on my feet soon."
On Monday, Gor Mahia through secretary general Chris Omondi issued a statement saying Ogolla was in stable condition after being rushed to hospital with a kidney problem. "Bobby was rushed to hospital in critical condition, but I can confirm he is in stable condition now.
"He is at Kenyatta National Hospital where he is undergoing dialysis and so far so good. There should be no panic and we will be giving updates on his improvement as we go along."