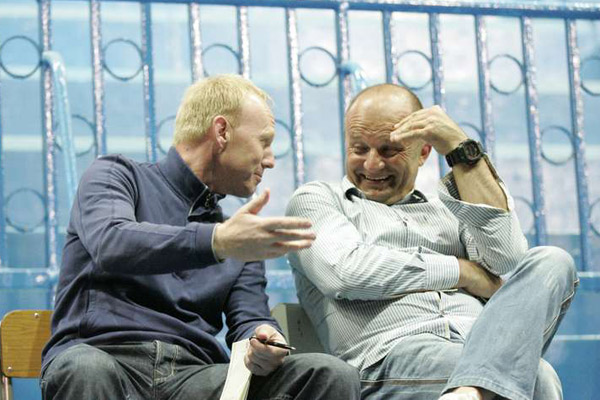 Gor Mahia chairman Ambrose Rachier has hinted at havinga  difficult relationship with former coach Frank Nuttall.
"I am happy he left Gor," said Rachier to the Standard.
"We wish him well in his future endeavours, but the truth is that Nuttall gave me hell at Gor, we were never at peace working with him. He did not tell us when he was leaving, like a thief, he left at night without notice," added Rachier.
Rachier further went on to say that Nuttall was the most difficult employee he has had to deal with. Which is saying a lot considering that he also had to deal with Zdravko Logarusic.
Matters came to a head when Nuttall stormed into Rachier's office demanding his back pay.
The chairman recalled the events that led to Nuttall's sudden departure.
"It was during a postmortem, after falling miserably to Ingwe, that a local journalist called in to inform us that Nuttall was already in Cairo, Egypt and had signed a contract with the former African champions. It was a big embarrassment to the club and the entire board of executives.
Rachier however neglects to mention that Nuttall worked under difficult financial situations yet he kept players and staff motivated. And asking a coach to take a 50% pay cut is not reasonable.
Nuttall for his part considers his brief stint at Zamalek successful .
"At Zamalek, we qualified for the quarter finals of the CAF Champions League and we had an 83 per cent win record. I have gained lots of experience and knowledge about players that will come handy in my next assignment," he told The Nairobian.
Asked why he was fired, Nuttall said: "Mr (Alex) McLeish (the club's manager) left, so as his assistant, I went with him."
Its not so rosy for Bobby Ogolla either
Gor Mahia club legend and former assistant coach Bobby Ogolla, who left the club to pursue a head coaching position at Nairobi City stars, is also having a torrid time. Ogolla is threatening to leave the club along with the players who are on strike due to non-payment of their salaries for two months.
"The players refused to train on Tuesday and Wednesday because they have not been paid. I don't know why they have not been paid. I don't pay them, I only train them," said Bobby Legend to the Standard.
Ogolla started the league very well and even drew with Gor Mahia and beat AFC leopards. But the players have lost motivation due to non-payment and their performance has slumped. They are now in 15th place.
"Everyone knows how we started the league and had a good performance, but this has been affected by our money problems. Personally, I am considering my future with this club.
"I will only stay if I am sure it will not be the same story in the second leg. It looks like this has been the trend every year. It is not fair though. Not the way things ought to be done too," he said.