In another interview on KTN Rachier discussed the realities of how difficult it is to run this club
Rachier said that winning the league in 2018-2019 was not easy due to Gor Mahia's congested fixture. This has been the most difficult season in 11 years.
He says that the 2019 side is one of the greatest teams this club has ever fielded because they were able to withstand the congested fixtures.
He once again said that his greatest achievement is winning six league titles, reaching the quarter-finals of the CAF Confederations cup.
Asked if Gor Mahia could ever be a continental champion again, he said that there were numerous challenges especially financial limitations. Gor Mahia lacks the financial muscle of North African players. This enables them to recruit better players.
According to Rachier, the Sportpesa sponsorship is used entirely for salaries. But there are numerous other expenses. he thanked the government for covering the club's transportation costs to travel all over Africa. Gate collections are sometimes as low as Ksh 6000 per match yet organizing a match costs Ksh 150,000 at a minimum.
On why players appear to be mistreated including delay in salaries and sleeping in airports, Rachier said that delayed salaries happen even in Europe yet European players don't stage go slows if salaries are delayed for a few days.
He also said his own officials and some fans have been pushing players to go on strike. And these are fans who don't want to pay to enter the stadium. Fans are poorly behaved according to Rachier because even financially endowed fans often don't want to pay for tickets.
Yet these same people demand answers on why the players have not been paid. Only 400 people have registered as members.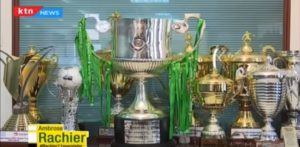 Due to the dearth of stadia in Kenya, the club is often forced to travel large distances to play matches including in Kisumu.
He is now trying to get the constitution of the club amended to commercialize the club to follow the example of Simba dar es Salaam and St Georges of Ethiopia.
On the travel debacle during the trip to Morocco, he says that the original travel plan required travel from Nairobi to Brazzaville, then to Casablanca then to Berkane. But the Kenya Airways flight was canceled and the team was put in a hotel (Laico Regency) on Saturday at 10 am.
A previous contingent had already left via Qatar Airways and had similar travel difficulties but according to Rachier, that set of players did not misbehave like the second group did.
Rachier now says there is a disciplinary committee that will met out punishments to the players before the start of the next season.
Asked why he could not address the issue of errant officials, he said "We have a constitutional problem which does not allow the Chairman to expel errant officials. "
On merchandise, he said there are cartels that prevent the club from stopping piracy. Therefore the club gets nothing from jersey sales.
The club's own jerseys are overpriced (Ksh 5000) because they are authentic and are sourced from overseas. The jerseys sold by pirates cost only Ksh 1000.
The new constitution will ensure that the office is not bloated unlike the current scenario where some elected officials are never even seen.
The constitution will be aligned with the sports act and will enable commercialization of the club.
Rachier is adamant that he had done a lot and achieved a lot as club chairman and is not interested in running again.
He is also absolutely certain that he will not be fronting any candidates because if those candidates are unsuccessful, he (Rachier) will be blamed.
He expressed concern that if he left, the club might not be able to retain sponsors.
Rachier admitted that he failed in certain areas. First in the ticketing area, he admits that there is theft of money at the ticketing turnstiles. Cartels have been stealing money and many fans still force their way into the stadium. Vested interests are preventing the club from digitizing ticketing. He also stated that some fans bribe the stewards with as little as Ksh 50 to enter the stadium.
On membership drive, he has been unable to change attitudes of fans who are not interested in becoming fans. He has been unable to persuade fans to become members.
He has also failed to transform the club via a new constitution. Many officials paid their way into becoming EC members by bringing in lorryloads of supporters, many of whom were not members but are still able to vote in club elections.
On hooliganism, he says that the vice is less prevalent due to fan education as well as the introduction of qualified stewards by the sponsors.
But he also said the government must deal with hooliganism because the club cannot deal with hooligans. Many of these hooligans are arrested and released on the same evening. He even met the police commissioner on this issue yet progress has not been made.
Being club chairman is very difficult. Financially it is difficult. You discuss money issues everyday. The club has many creditors. Each away continental match costs Ksh 8 million . Each home match costs Ksh 10 million. Local league matches cost Ksh 4 million.
Running the club is not easy
For those who have delusions of becoming chairman, this is the reality of what they will have to deal with.
Secondly, the chairman must be ready to contend with demagogues who abuse you, call you names, accuse you of being a thief and so forth.
The chairmanship is also time consuming. Meetings, travel, organization. Each match requires a meeting to discusss issues like stadium hire, ambulance, security, handling officials, players on go slow etc.
Finally he thanked stakeholders who have contributed to the development of the club.
At 70 years old he wants to retire to his land in Gem constituency and take care of his farm animals.