Shikanda has some valid ideas, Rachier is full of excuses.
This Saturday May 23-2020, TV personality Carol Radull interviewed Dan Shikanda and Ambrose Rachier who are the chairmen of AFC Leopards and Gor Mahia respectively. Shikanda came across as a man determined to lift AFC Leopards from its current morass. He is full of ideas and is burning with ambition. Shikanda, being a Scientist, also seems to approach each problem like the Medic that he is. He diagnoses the problem and offers a solution. Just like a medical Doctor diagnoses an sickness and prescribes a treatment, Shikanda had a clear view of the problems his club is facing and indicated that he is already working on remedies.
Rachier on the other hand appears to have completely run out of ideas. He offered no valid solutions. Instead he went back to the tried and failed tactic of blaming fans and trying to guilt fans into offering support to the club. This is a tactic he has applied for the past couple of years and it has not succeeded especially in the last few years. This does not bode well for the club's immediate future.
Whereas Shikanda seems to approach each problem like scientist seeking problems, Rachier approaches each problem like the criminal defense lawyer he is, deflecting blame, daring people to produce evidence of corruption and finding creative ways to avoid postpone the issue at hand so he can buy time.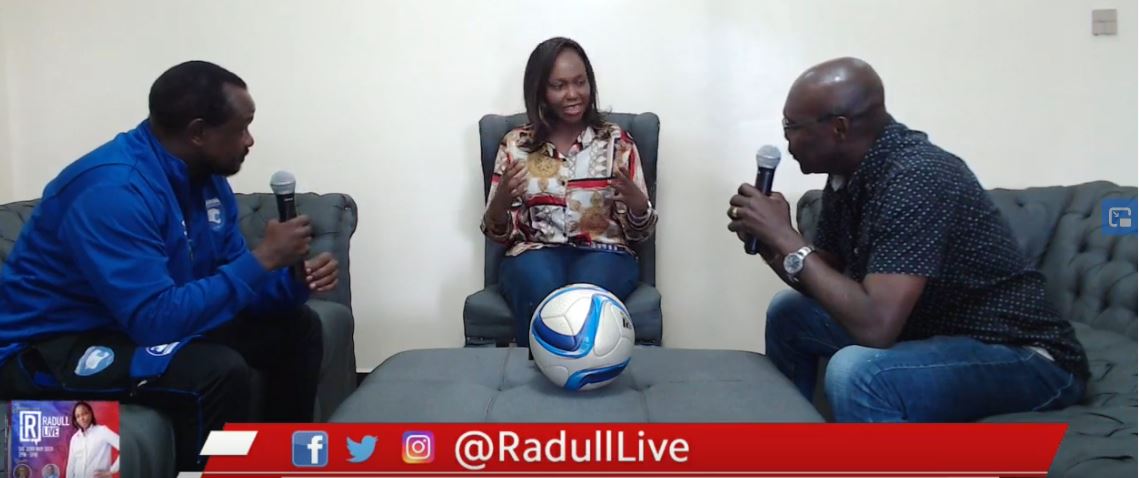 Strategic Plan
Shikanda announced that he has developed a 5 year strategic plan that includes building infrastructure for the club. His made it clear that his goal is to close the gap on Gor Mahia on performance and surpass them. Shikanda's strategic plan involves marketing club products such as cooking oil and bread. He intends to give businesses an opportunity to use the club's new state of the art bus to market their products.
Shikanda has created a media team that shows fans what happens at AFC every day of the week. This will include player interviews, videos of training sessions, interviews with former players etc. Companies will be invited to market their products during these shows.
In other words, Shikanda is already implementing his strategic plan even with limited finances.
Rachier for his part said that he developed a strategic plan but he cannot implement anything due to lack of funds. He has basically thrown his arms up and surrendered because the club has no funds.
One fan wrote in during the show and called Shikanda a dreamer, even delusional. What such fans don't realize is that even if Shikanda accomplishes 50% of his strategic plan, it will still leave AFC in a better place than they currently are.
Merchandize Sales
Radull noted that five years ago she wanted to buy Kogalo jerseys. She bought 5 jerseys then she later found out that the jerseys were being sold by a club official as a side hustle. Therefore all the money she spent went to the pockets of that official.
Rachier then said that merchandize sales have failed because fans are buying pirated jerseys made in China and there was nothing he could do about the piracy. Shikanda on the other hand pinpointed the solution which is that the clubs lack an official shop. As a result, when fans want to but jerseys, they often don't know where to buy official merchandise. Which is one reason why fans end up buying pirated merchandize.
A further reason is pricing. Kogalo at one point had the audacity to sell jerseys at Ksh 5000 at a time pirated jerseys were going for Ksh 1000. This shows that the people running the club are either delusional or lack a basic understanding or merchandising and sales. If it is cheaper to make jerseys in China then why can't the club also pursue that option? Why not just contract with a supplier who can provide the jerseys cheaper? No fan will buy a jersey at Ksh 5000. The club ought to know this.
Membership Goals
Shikanda noted that when he took over the club, there were 700 members. He has increased the base of paying members to 2000 paying members. Shikanda is targeting to have 10,000 members by the end of this year and before his first term his target is 200,000. The effort is being led by Victor Milimu a club official. They are using the media team to create content to keep fans engaged. Shikanda noted that he plans to make the club self sufficient even without a sponsor.
Rachier for his part noted that Kogalo Only has 400 members paying regularly. He offered that he has pursued tactics like addressing fans on Ramgogi FM, Kogalo fan day, hot 96, Dala FM. However Rachier has no set goals or targets for membership.
Rachier noted that the club has a database of 156,000 members who have contributed via bill. But these fans are not regular contributors. Again Rachier did not state what he will do to increase membership. He once again shifted blame to fans. The same thing he has done for the past few years. The question becomes, if AFC can increase membership threefold within 8 months, why can't Kogalo also increase membership? Clearly the club is doing something wrong but the chairman is too proud to admit it.
Branches
Rachier noted that the club has 121 branches. Every branch is supposed to send Ksh 10,000 to the club per year regardless of how much they have raised. The branches are only loosely affiliated with the club. They have their own constitution and can raise money using the club's name without remitting the money to the club. In fact nowadays even famous fans can create club merchandize using the club's name and make money that should otherwise be going to the club. The club has no control over its branches, some of which are now engaged in outright theft of funds. Even funeral funds. The branches are now ruining the club's name. No fan should be using the club name to sell merchandize and no branch should be soliciting funds using the club's name. Rachier being an attorney can implement cease and desist orders.
Accountability
A fan commented that the club's poor attendance and low membership numbers are due to corruption and misappropriation of gate collections and other fans. But Rachier dismissed those sentiments as wild allegations and even challenged the fan to produce evidence of corruption.
Interestingly, Rachier demanded evidence of corruption within the club yet Radull had just told him that a club official was selling club jerseys as a side hustle and that none of the money was going to the club. Rachier also never addressed the issue of how a player Derek Otanga sensationally claimed that a club official demanded a bribe from him before he could be signed. Otanga instead decided to join Wazito
Unfortunately Radull did not challenge Rachier enough on the issue of transparency which is the primary issue holding fans from paying their hard earned money to become members or even to pay for tickets.
Rachier has been in charge for 12 years. In those 12 years, membership has not increased but instead has actually reduced significantly. A few years back, the club had 1700 members. Apparently it now has only 400 paying members. Yet Rachier persists in blaming fans instead of looking inwardly. He has been told many times that the issue of transparency is the stumbling block. But like a good lawyer, each time transparency is brought up, he deflects, shifts blame, creates alibis and postpones the issue. What makes Rachier an excellent lawyer has been detrimental to club membership recruitment.

Player Strikes
Shikanda highlighted the fact that since he took over Ingwe 8 months ago, the players have not gone on strike.
Electronic Ticketing
Radull challenged Rachier asking why the club has not introduced electronic ticketing. Rachier claims that he tried but it failed because fans would send the confirmation message to other fans. These fans would then show up at the stadium with the confirmation message and claim that they paid. Rachier claimed he gave up on eTicketing for this reason.
But Radull corrected Rachier by indicating that there are companies like TicketSasa that offer a system whereby tickets can be scanned on the phone and therefore the ticket cannot be replicated. Radull was basically alluding to the Outsourcing model that was described on this column a few weeks back.
This segment proved what many fans had suspected all along: Rachier was never serious about eTicketing. What he did was a half-hearted attempt. Then he quickly pretended that eTicketing cannot work. Either he is too set in his ways and does not want to change tact. Or he simply does not want to properly account for gate collections.
Sinking Ship
Rachier admitted that the club is in bad shape, the players are going hungry and are being thrown out of their homes for lack of rent. He blamed this pn lack of participation from fans. He noted that hosting a match sometimes costs Ksh 100,000 yet ticket proceeds are sometimes as low as Ksh 7000.
Shikanda for his part noted that his strategic plan will not depend solely on match attendance on gate collections. He plans to pursue other activities such as the sales of AFC bread, AFC water and AFC cooking oil to put money in club coffers.
Post Covid Plans
Shikanda and his team are already planning for the distinct possibility that when football comes back in August, there will be no fans and there will be no sponsorship. So he plans to sustain the club via products like Ingwe water, Ingwe Sanitizer, Ingwe mafuta and so forth.
Rachier claimed that he has put a team together to study post covid plans but he does not anticipate creating a solid plan because the issue of who will run the league has not been settled.
Rachier and Shikanda then went on an unnecessary rant against FKF because they have decided to appoint referees. They both claimed that FIFA funds should be sent to clubs but Radull promptly corrected them that the FIFA money is meant for football development and is not supposed to be given to fans.
So Rachier admitted that he has no plans for a Post Covid 19 league which will have no sponsor and no gate receipts. He will go back to the tried and failed tactic of trying to guilt fans into contributing to the club.

Marketing
A fan sent a message indicating that a major failure of both clubs is the lack of a good marketing strategy and that both clubs needed to engage professional marketers. Rachier indicated that he has engaged marketers who are engaged on a consultancy basis. He however did not indicate what these consultants have accomplished or what their specific purpose was, nor whether they have performance objectives or goals.
Shikanda for his part indicated that he has hired two individuals: Ronald Namai and Joseph Murule to lead the marketing effort by the club. They have clear marching orders to expose the club's brand and each have revenue targets.
Accomplishments
Radull challenged Rachier to explain why he has been at helm for 12 years yet he has not improved the club's financial stability. Rachier took credit for winning the league six times. He said he has failed to stabilize the club financially. He however said the failure was due to lack of sponsors. He blamed his inability to implement his strategic plan on the departure of sponsors.
However it is worth noting that even when the club had sponsors, Rachier never implemented his strategic plan. In 2016, when Sportpesa wwere announced as the new club sponsor, this blog published an article suggesting steps the club should take to stabilize the club financially and plan for a future where there might be no sponsor. Of course not a single idea from that article was ever implemented.
The Sports Fund
Rachier and Shikanda complained that the Sports fund which was created by the government to fund sporting activities. However that fund is likely going to be used for various national teams. It is unlikely that any of that money will ever go to clubs.
Summary
Rachier deserves credit for the six titles the club has won. It must be said however that the titles happened during a period when Kogalo had sponsorship and decent gate receipts. Even in 2015 when the club had no sponsor, they were able to count on good gate receipts and the large donations from politicians. Rachier deserves credit for the six titles the club has won. It must be said however that the titles happened during a period when Kogalo had sponsorship and decent gate receipts. Even in 2015 when the club had no sponsor, they were able to count on good gate receipts and the large donations from politicians.
In 2020 things have changed. There will be no sponsor. There will be no gate receipts, only empty stadia to start the new season. If Rachier does not change tact, the club is doomed. Unfortunately Rachier appears set in his ways and unwilling to change. He is still of the mindset that he should get money from sources like the sports fund, the FKF and from fans. And he believes that he should not have to be accountable or transparent. If this continues, the club is headed for a bleak performance in 2020-2021.
Matters don't look promising. Whereas Shikanda offered plenty of hope to AFC fans, Rachier did not offer anything to look forward to for the fan base. We hope matters change. We hope somebody can intervene and cause Rachier to change direction. The only good news is that towards the end of the interview, Rachier admitted that there is a lot more that he can do. So maybe there is some hope yet.
Please note that the goal of this column is not to simply bash the chairman. This author recognizes that Rachier deserves most of the credit for all the titles the club has won. The purpose of this column is to sound the alarm. This club is headed in the wrong direction. The Chairman seems intent on pursuing tried and failed methods. If matters are not remediated, the immediate future will prove disastrous.
Article by Vincent "Video Editor"  Ogutu