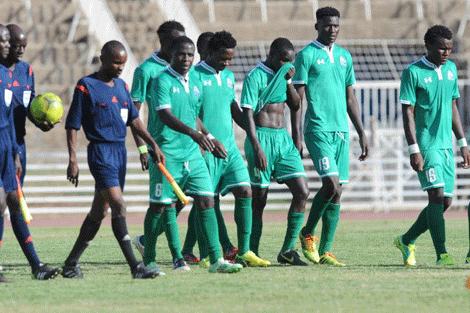 Gor Mahia will travel to Miarinivo Madagascar to defend their narrow one goal lead on Sunday against two time Madagascan champions CNaPS. A draw of any kind will see Gor Mahia through to the next phase. A loss by one goal will also see Gor Mahia through if Gor Mahia score at least one goal (away goals rule).
The same scenario happened last year when Gor Mahia took on US Bitam of Gabon. CNaPS too are experiencing a sense of deja vu because last year they lost 0-1 to Mozambican side Liga Muculmana and were forced to a scoreless draw at home. Indeed CNaPS have never gone beyond the preliminary round of the Africa Champions League.
However skipper Jerim Onyango says Gor Mahia will not be going there to defend their lead, but will attack from the onset
"We are not under pressure and I don't see the win in the first leg as narrow because we already have an advantage. We have been at this stage before and we know what we are expected to do. "We are not going to Madagascar to defend but rather we will be seeking for more goals," said Jerim to Capital FM.
If Gor Mahia go for goals, they will be hoping that Michael Olunga finds the same scoring form he found against Mathare United where he found the net twice. Scoring at least one goal will mean that CNaPS now have to score three.
For Gor Mahia to defend their lead, they will have to do a better job of containing CNaPS danger men Jeannot Vonimbola and Rija Rakotomandimbyir who both proved dangerous in the first leg. And Frank Nutall is in agreement that Gor Mahia cannot afford to underrate the Islanders again.
"We tended to underrate our opponents in the first leg but we must understand that this is a team that won their home league and we have to show them respect." said Nuttall to goal.com
And this is where the return of Dirkir Glay and Collins Okoth can be useful especially if the latter can keep his head calm.  Okoth needs to be spoken to before the game. Fans will remember how he picked up a red card during the away match against Ferroviario in Mozambique during his first stint at the club. The red card was due to dissent. Okoth claimed there was a language barrier between himself and the referee. The net result was that bad situation became even worse as a disjointed Gor Mahia succumbed to the Mozambicans.
Gor Mahia depart on Saturday a day before the match due to climatic conditions and the low altitude according to Ronald Ngala. The conditions will be atrocious due to recent heavy rains that have pounded the Eastern Coast of Madagascar where the match will be played.