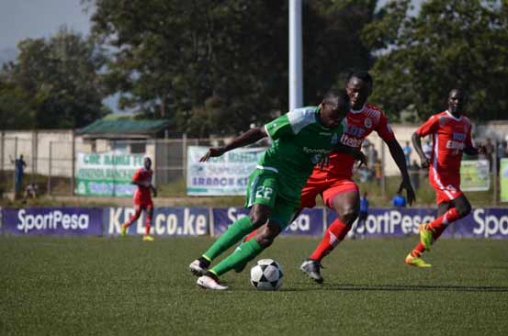 Gor Mahia gave up a 2-0 advantage and ended up being held 2-2 by Ulinzi Stars at Moi stadium Kisumu on Sunday. Gor Mahia's goals came from full back Karim Nizigiyimana and an own goal by Hassan Mohamed. Ulinzi then replied with two goals from Stephen Waruru.
Additional Reporting from the Standard
Ulinzi stars came from two goals down to force a 2-2 draw with hosts Gor Mahia FC in a teargas, highly charged game that nearly saw Geoffrey Kokoyo and Wellington Ochieng fight after Waruru elbowed Rwandan import Jacques Tuyisenge to the ground.
The star of the day for the soldiers was on-form Stephen Waruru, who put his name in the score sheet twice as Ulinzi Stars staged a theatrical retaliation to share spoils with the hosts.
Gor Mahia had started the game on a high note giving Ulinzi keeper James Saruni and his defense of Mohammed, Kokoyo and Oliver Ruto pressure that made Churchill Mulama to sometimes come back to help in the defense.
Karim Nzigiyimana brought in a lovely cross from the 40th yard but the effort was headed out of play by Hassan for a corner kick with just six minutes gone.
Keeper Saruni of Ulinzi was forced to come out of his area to punch the ball off the danger zone as Kenneth Muguna tried to set up Meddie Kagere two minutes later.
Muloma was then booked for a dangerous tackle as he hit Godfrey Walusimbi's face with his elbow sending him down in the watchful eyes of the referee.
ALSO READ: Will Leopards fish out Sharks? KPL Tough test for interim coach in Afraha today
Muguna then sent a nice volley from the left flank to find Karim who was just past the 40th yard, Karim, whizzed past Hassan, Kokoyo and Ruto to score the first goal in the 32nd minute of the game for the first half to end with Gor Leading 1-0.
In the second half, Ulinzi made two changes with John Kago swapping places with Sylas Shitote while Omar Mbongi came on for Oliver Kiprutto.
The change did not deter Gor Mahia from getting another goal as (Hassan) Mohammed scored in his area after he lobbed in the ball past Saruni for an own goal to make things 2-0 for Gor Mahia.
However, the celebration was short-lived as Stephen Waruru grabbed his brace (73rd and 87th) two minutes to stoppage and the game was interrupted for close ten minutes as chaos erupted soon after he scored an equalizer in the 87th minute of the game.
It is this second goal that made hell break loose as Waruru went to celebrate at the VIP wing when Gor Mahia fans started throwing projectiles to him and eventually into the pitch of play prompting the Police and Army officer to start through teargas on fans.
The game was momentarily stopped for ten minutes as fans and police fought each-other, with one police and one fan bearing the cost of the violence as they were hit by objects that flying all over the stadium.