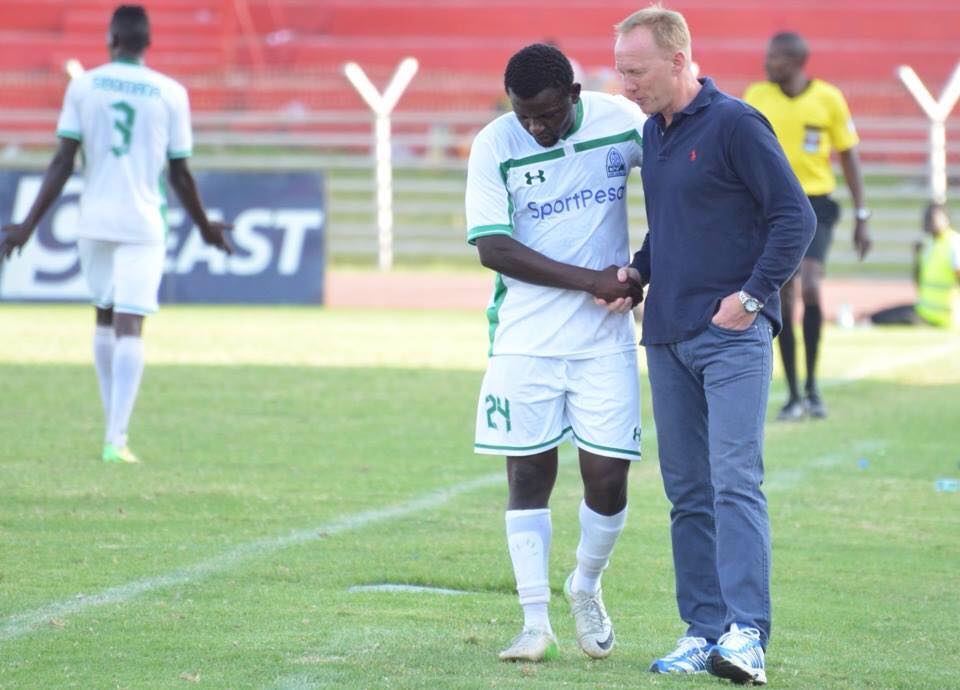 Despite losing the Africa champions league preliminary round first leg match at home to CNaPS, coach Frank Nuttall is optimistic that Gor Mahia can turn the tables on their Madagascan challengers.
"Having lost the first leg makes us the underdogs and we understand it will be a tough match. However, we also know that there is a good chance we can win and so the players will be giving their best," he said.
"It will be a tall order for Gor Mahia. They have scored two goals in the last four matches.Nuttall admitted that the team is having difficulties converting the many chances they create and will need to work on it ahead of the weekend match." said Nuttall to the Standard.
New signing Jacob Keli has yet to show the spark that made him a hot commodity two years ago. Which is surprising considering that he has been playing well for the national team. Perhaps the return of Ali Abondo who is scheduled to resume training on Wednesday will boost the team
When asked about the rift between him and goalkeeper Boniface Oluoch, Nuttall would not commit.
"He trained very well today and is fine. Like all CAF registered players, he remains in contention for selection this weekend,"
Jerim Onyango played well in his place and could very well be preferred between the posts in Madagascar. His return to the starting line-up has further motivated Jerim who spent most of 2015 on the bench.
"Its always good to be out there playing. I am happy with my performance in the two matches. But the most important thing is to have team work. It is not every day that we will all get playing time. Of course one gets disappointed when not fielded but for me it always gives me a challenge to work even harder to get better while at the same time it makes me learn from what the other keeper has done right" said Jerim to the Nation.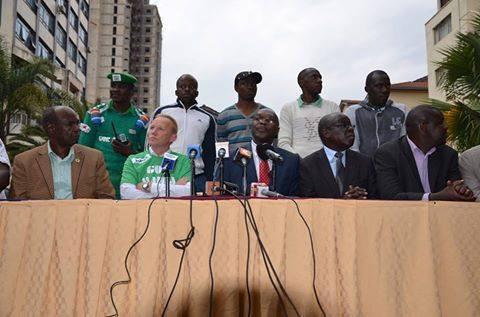 Understandably, there are frayed nerves amongst Gor Mahia fans and officials following the fiasco involving Frank Nuttall's apparent firing. A source indicated to goal.com that the coach is not on speaking terms with the officials.
"The situation is very bad. Most of the elected officials don't want anything to do with the coach because they feel he set them up against the fans," said the source.
Having a club where EC members are not communicating with the head coach is no way to run a club especially considering the fact that Gor Mahia is facing a difficult season ahead.
In many ways, the club is starting afresh. They lost assistant coach Bobby Ogolla who took up the position of head coach at Ulinzi Stars. They also parted ways with Meddie Kagere, Michael Olunga and could also lose Ali Abondo who is now on trials with Cape Town Ajax of South Africa. Losing the three top strikers from last season means the club has to start building the attack from scratch. Coach Nuttall is well aware of the task ahead.
"Looking at the way we played against Bandari, I can say we played well and created numerous chances. We could have finished off the game in the first half even before Shakava (Haroun) was sent off, but unfortunately we did not take our chances," Nuttall told Goal.
"We have a few days before the season proper kicks-off and we need to get that chemistry between the attackers and midfielders. We have to take our chances and avoid situations like the ones on Saturday. However, I am expecting a good season and hopefully we can successfully defend the title. " said Nuttall
And Nuttall also has to deal with the fact that Khalid Aucho is still playing truant and Innocent Wafula's whereabouts are unknown though team manager Jolawi Obondo assured fans that the duo would link up with the team this week. But even if Wafula arrives, the issue of his true nationality would need to be resolved first.
But Nuttall performed similar magic when the club lost several of its attacking options including Dan Sserunkuma, Godfrey Kizito, Rama Salim, Kevin Omondi, Timonah Wanyonyi and others in 2014.
Nuttall led the club to a historic season after losing key players and also had to deal with constant player go-slows.
Given support from officials and fans he can perform a similar feat and even better. So now is the time to put aside hostilities and work for the betterment of the club.
Fans will hope that the EC will realize that the request to Nuttall to take a 50% pay-cut was not reasonable. Here is coach who stayed with the club through difficulties while the likes of Zdravko Logarusic bailed out in mid-season.
Meanwhile details have emerged regarding how politicians Hassan Omar and Eliud Owalo prevailed upon Chairman Rachier to change his stance on Nuttall.
"We hosted the team to a luncheon in Mombasa (on Friday) and you could feel the tension brought by the absence of the coach and frustration from fans on social media," Mombasa Senator Hassan Omar told the Nation.
"We talked to the chairman (Ambrose Rachier) and he was categorical the club couldn't afford him. But we are talking about a good and experienced coach here and they don't come cheap. I'm glad we have convinced both parties to negotiate the way forward."
"I was bombarded by calls from supporters. They told me we don't want to hear about the food, they just want the management to reinstate the coach," said Eliud Owalo, a political analyst and an ardent Gor Mahia fan.